Lineup Announced for Blumenthal's New Charlotte International Arts Festival
(August 1, 2022) Charlotte, NC – As previously announced, Blumenthal Performing Arts is launching CHARLOTTE INTERNATIONAL ARTS FESTIVAL (CIAF), a new annual festival that will celebrate local and international arts across genres, mediums, and cultures for multiple weeks of enjoyment in Charlotte and surrounding areas September 16–October 2, 2022. Locations from Uptown to Ballantyne will transform into a sensory playground for all ages with exceptional artists and entertainment from more than 10 countries, as well as a showcase of local international cultures and traditions. With many events free and open to the public, ticketed events and performances will range from $5 and up. The festival lineup has been announced with the launch of a new website at charlotteartsfest.com. More events will be announced over the coming weeks.
"Blumenthal has been building its capacity for a festival of this scope for quite some time, from the Charlotte Jazz Festival through Charlotte Shout!," said Blumenthal CEO Tom Gabbard. "Charlotte is a top-25 metropolitan city. Our community is ready for a festival on the scale of other major arts festivals around the world. We are excited to bring compelling art and entertainment from all over the world, as well as highlight the rich international cultures right here in town. In addition to the ticketed events, we are also thrilled to offer opportunities for discovery; you might be walking down the street or out having dinner and discover a new piece of art you haven't seen before or experience something new. That's what we're bringing during this 17-day festival: moments of joy, discovery, and play for all ages."
While CIAF will be centered Uptown, Blumenthal is excited to partner with several other campuses that will host events and installations throughout the city, including Ballantyne's Backyard, a former golf course turned green space and host to a number of outdoor events, retail, pop-ups, and Blumenthal's very own Vincent van Gogh hot air balloon, which soared above the park at the end of 2021.
"We are honored to partner with Blumenthal Performing Arts and spotlight these captivating exhibits in Ballantyne's Backyard," said Hailey Rorie, Director of Community Relations at Northwood Office. "Northwood is committed to supporting the local art community, and we welcome the greater Charlotte region to experience and enjoy more inspiring installations through CREATE Ballantyne this fall."
The Queen City will bustle with live performances, immersive art installations, and an abundance of inspired creations with a focus on the visual and performing arts—all in celebration of creativity, innovation, and community. Keep an eye on charlotteartsfest.com and follow CIAF on Facebook and Instagram for updates, location details, and surprises! Tag us in your posts using #cltartsfest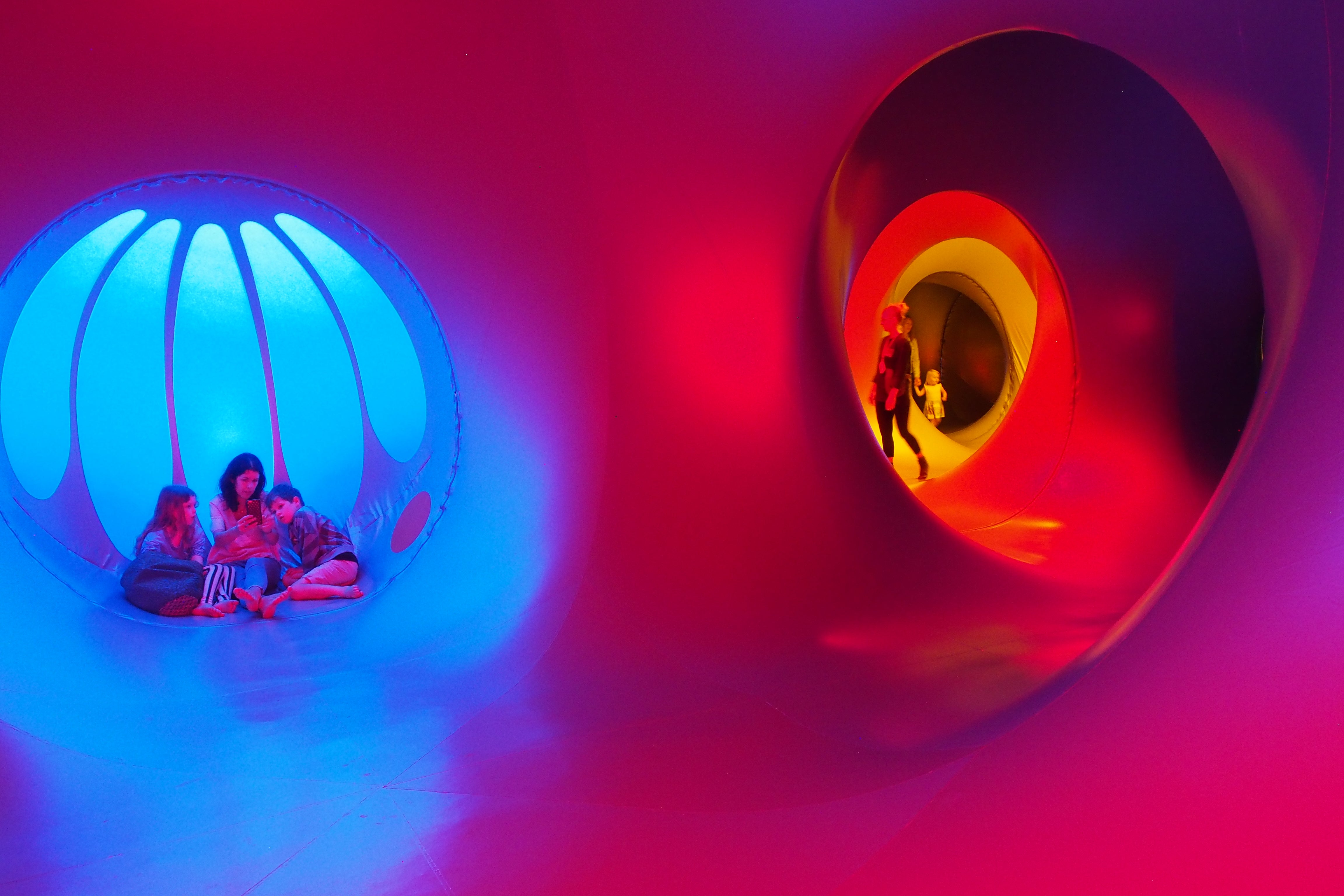 This year's featured acts include Architects of Air, out of Nottingham, UK, an immersive walk-through experience that invites visitors to a world apart from the normal and everyday through labyrinthian tunnels and cavernous domes of saturated color accompanied by a gentle sensory soundscape. The exhibit plays through the entirety of the festival, September 16–October 2 in Ballantyne's Backyard. Tickets are $5.
Blue Lapis Light returns to transform the Charlotte Mecklenburg Government Center on East 4th Street into an inspired work of art, creating beauty that transcends space to connect us to a sense of wonder, possibility, and hope. Family-friendly performances will feature aerial dancers swinging from the 12-story building, ground dancers, and larger-than-life projection-mapped imagery. Performances at 7:30 pm and 9 pm between September 30 and October 2. Admission is free.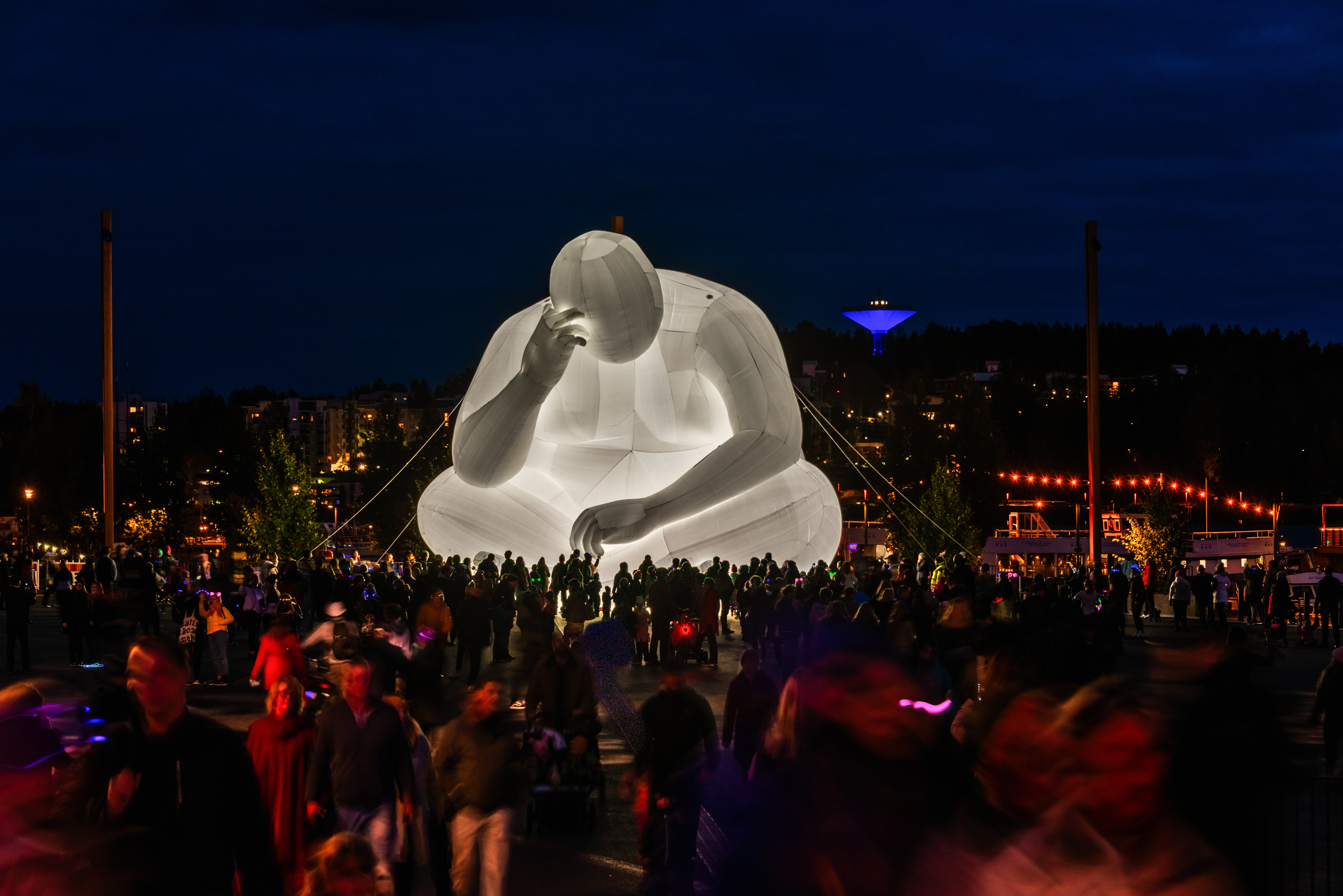 From Australian artist Amanda Parer and the studio that brought us the "big bunnies" invasion of Uptown comes Man, a large-scale, contemporized version of Rodin's "Thinker." Man holds his head in search of answers and invites visitors to do the same. Man will set up camp in Ballantyne's Backyard; he is free and open to the public throughout the duration of the festival, September 16–October 2.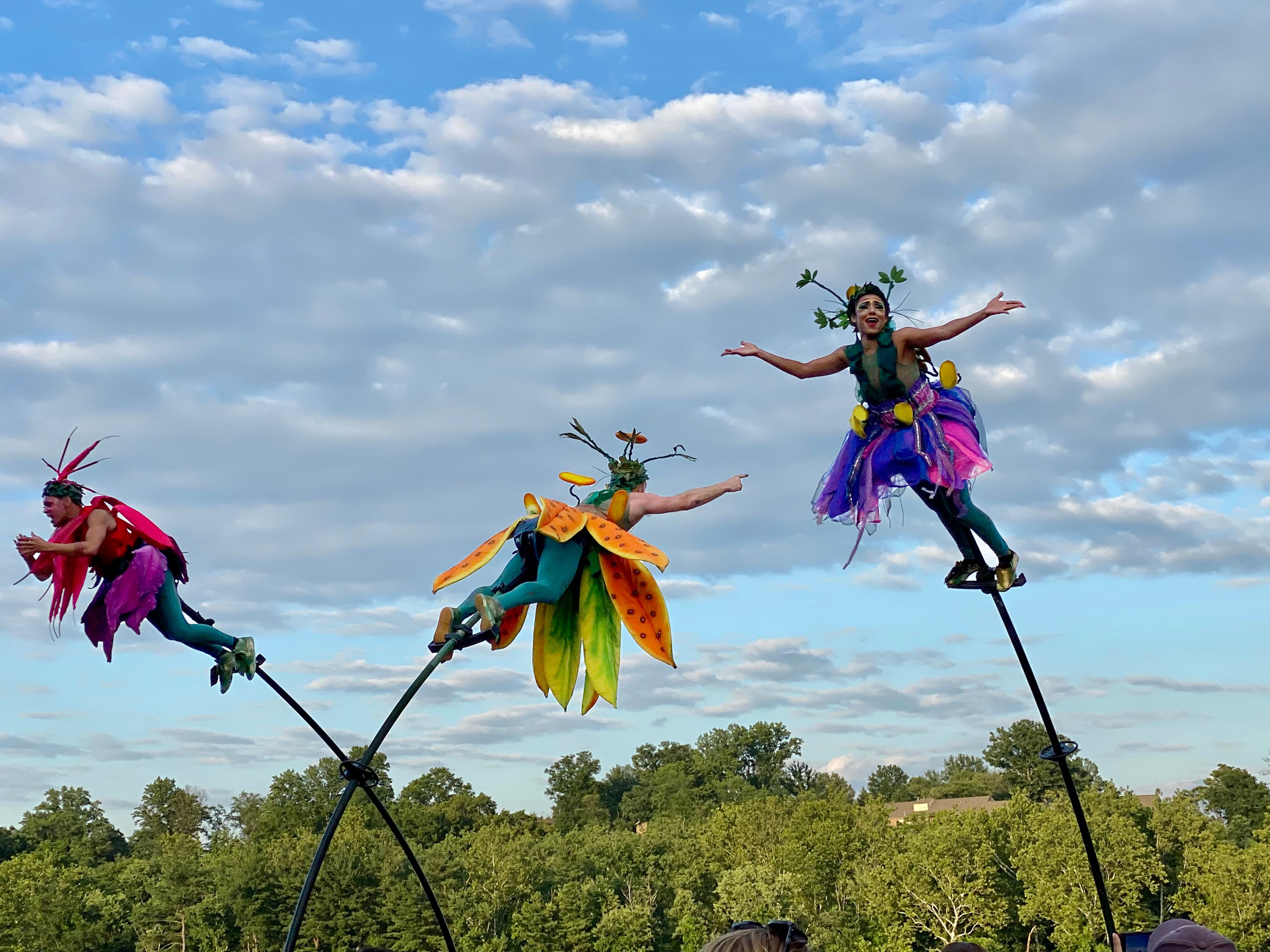 Also out of Australia is SWAY's Bloom!, a colorful and spirited spectacle performed by aerialists atop 15-foot swaying poles. Originally commissioned for Dollywood's Flower & Food Festival, the performance is inspired by the beautiful flowers of the Smoky Mountains in a celebration of the natural world. Performances will pop up September 16–18; September 22–25; and September 29–October 2. Keep an eye on Blumenthal's website and social media for location and details.
Additional acts will bring artists from the Middle East to Europe, Latin America to the African Diaspora, and our own backyard. Events will fall into three categories: participatory, free, and ticketed. Featured events include:
PARTICIPATORY
Moradavaga – Kraken
Charlotte Shout! brought us the bunnies; CIAF brings a giant squid in the form of Kraken, whose look was inspired by late 13th-century descriptions of a legendary sea creature that most likely influenced the best-known writings of Herman Melville and Jules Verne. The free immersive, interactive art installation inspires play from visitors of all ages. Tune in to Blumenthal's website and social media for location details.
FREE
Mentalgassi
The trio of German artists combine photography, sculpture, image manipulation, and street art to
create playful large-scale photographs which they tape on outdoor objects to make passersby smile. The installation will be perched atop the Knight Theater throughout the run of the festival.
eVenti Verticali – WANTED
Live virtual animation inspired by comics and videogames from the 80s that portrays different landscapes and scenarios in which the characters interact. Two aerial artists are tossed around between spy story scenes and acrobatic combats. September 16–18 and September 22–25 at 7:30 pm and 9 pm. Location and details will be shared on Blumenthal's website and social media at a later date.
TICKETED
We Are Hip Hop
The mini-festival-within-a-festival kicks off CIAF with a celebration of Charlotte's hip hop culture and artists with performances, DJ and B-Boy battles, a block party, and more. September 17 and 18 in and around the Knight Theater.
In addition to these featured acts, CIAF will include installations by the 13 remaining artists from Blumenthal's Fellows Class of 2021. More details about this incredible program to come.
MORE!
CIAF will also offer chances for local artists to shine, with opportunities to work alongside visiting international artists and create work for various public projects. Blumenthal has released a call for artists to participate in the 100 Tiny Things project (open August 1–August 10). Additionally, artists are needed to paint corn hole boards, picnic tables, and more for the CIAF Biergarten. Artists should visit the website for more information or to submit applications.
For even more—many more!—events, tickets, performance times, and more information, visit charlotteartsfest.com.
Follow CIAF on Facebook and Instagram for updates, location details, and surprises! Tag us in your posts using #cltartsfest!