LOL August: With the Queen City Comedy Experience, the Blumenthal turns the hottest month of the year into the funniest
Jordan Centry's stand-up comedy is based on his experience working in corporate America. He couldn't help but notice it's an environment replete with comedic potential.

"There's the whole thing of unnecessary meetings," he said. "And then having to chip in for a baby shower gift for a co-worker you just met a few days ago."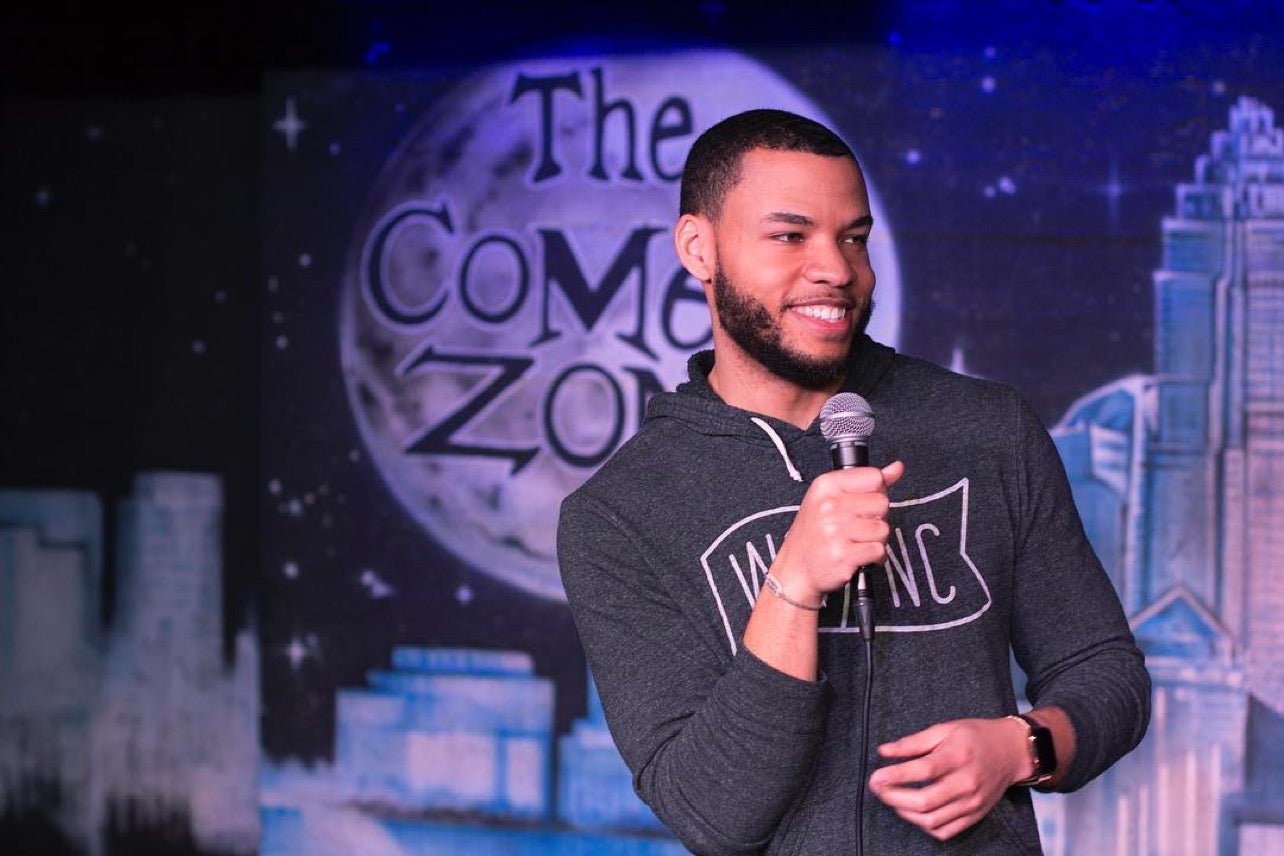 (Comedian Jordan Centry performing at The Comedy Zone)
Anyone who has ever worked in a corporate cubicle and spent their days on conference calls ("I think you're on mute") will relate to Centry's humor. He's just one of many local and regional comedians who will perform, along with an impressive line-up of nationally known acts, at the Queen City Comedy Experience in August.
After a COVID-prompted hiatus, the festival returns with three laugh-packed weekends of comedy!
Headliners include Weird Al Yankovic ("The Unfortunate Return of the Ridiculously Self-Indulgent, Ill-Advised Vanity Tour," Aug. 13), Comedy Bang Bang! Live! (Aug. 18), stand-up comedian Bill Bellamy (Aug. 12-14) and legendary sketch and improv comedy troupe The Second City ("Out of the House Party," Aug. 19). Local acts providing chuckles include Improv Charlotte.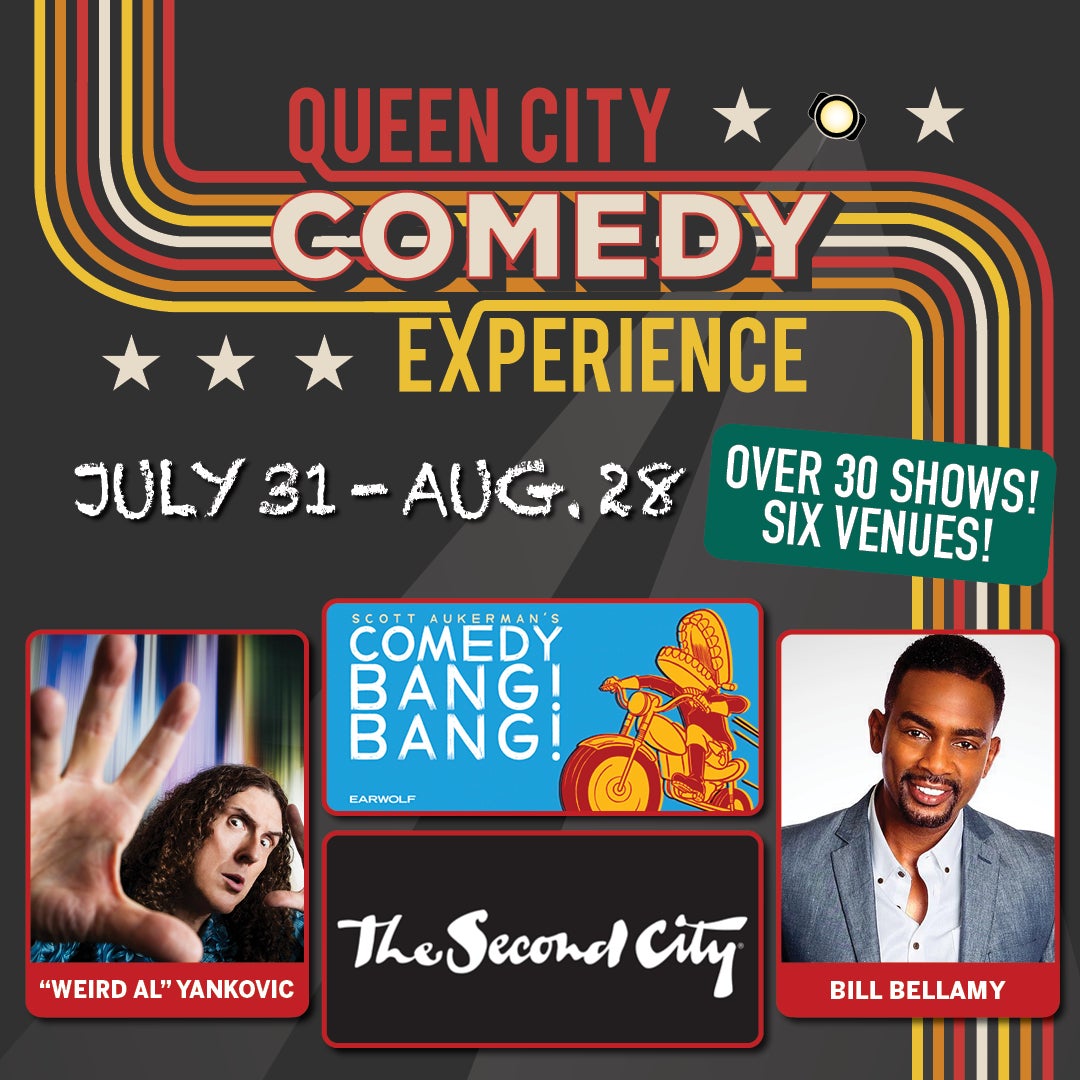 For the first time since 2019, partners Blumenthal Performing Arts, Queen City Comedy and The Comedy Zone will host the festival, which is spread over multiple venues in and around uptown through Aug. 28. The bigger-than-ever festival brings the laughs to The Comedy Zone, Belk Theater, Knight Theater, Booth Playhouse and lots more. There are even several virtual events scheduled.
The festival is for fans of comedy, of course. But it's also for practitioners of the art. Veteran and budding performers of all levels will have the opportunity to get hands-on comedy experience with workshops for teens and adults by The Second City, Comedy Dance Chicago and some local comedians.
Karla Dingle, education and marketing director at Queen City Comedy and one of the festival organizers, teaches acting and improv. "Flexibility, teamwork and confidence are among the skills you can learn from improv," she said. "It's all about the ensemble. I always say: Improv is the sport for the non-athletic."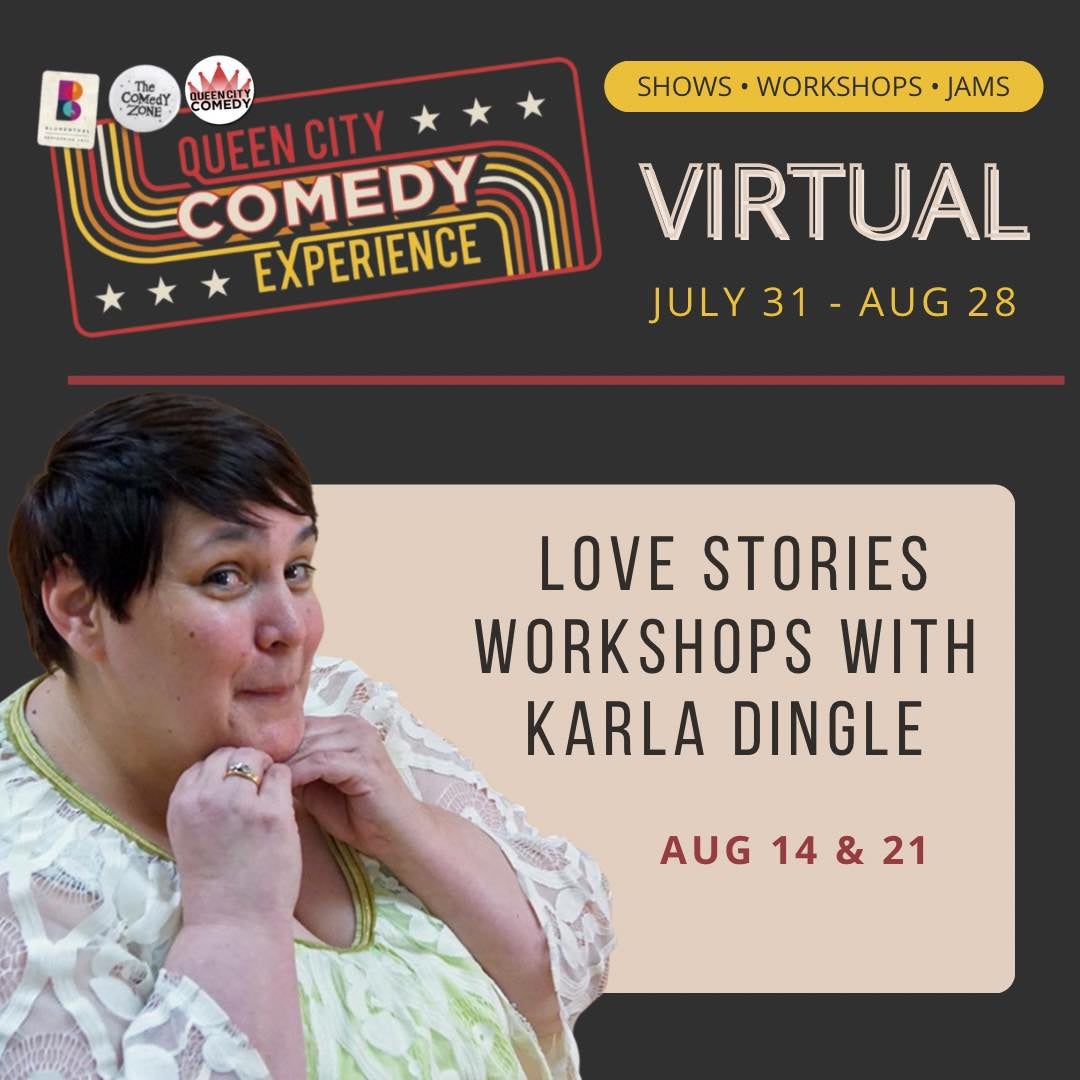 Humble beginnings
The Queen City Comedy Experience started out small. It was 2017, and Joe Hunsaker, Blumenthal's Special Projects and Events Manager who trained at the Players Workshop of the legendary Second City in Chicago, went to Acting Out Studio in Ballantyne to catch a comedy festival he'd heard about. "I had recently started booking more comedy shows at Blumenthal, taken a class at Comedy Zone and started doing and hosting some stand-up shows," he said.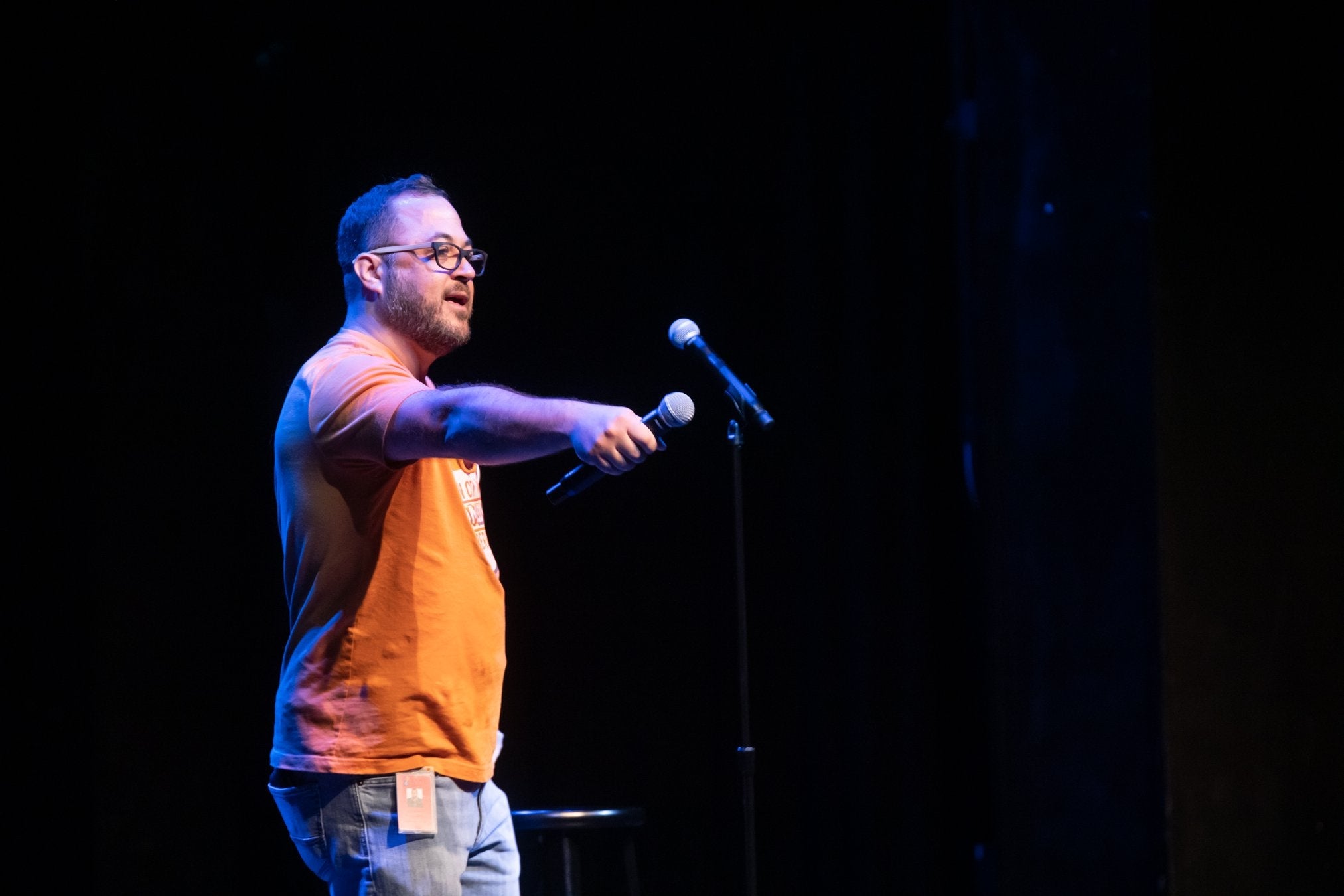 (Joe Hunsaker - Blumenthal's Special Projects and Events Manager)
He realized there was loads of comedic talent in town. Dingle, now one of Hunsaker's festival co-conspirators, was one of the improv artists Hunsaker was especially impressed with. She teaches at Acting Out and is a member of the locally famous Now Are The Foxes improv troupe.
"After these last few years, people just need to laugh," she said. "And, the thing about this festival is that there's something for everybody. For me, representation is such an important piece of it. If I'm sitting in the audience, I should be able to see someone that looks like me on stage."
"Whether it's teenagers, someone from the queer community or someone who's Asian or whatever, we're making sure we're representing everybody," Dingle continued. "Comedy used to be a white man's game. It's not anymore. We'll have all different perspectives represented. Comedy is about perspective and point of view."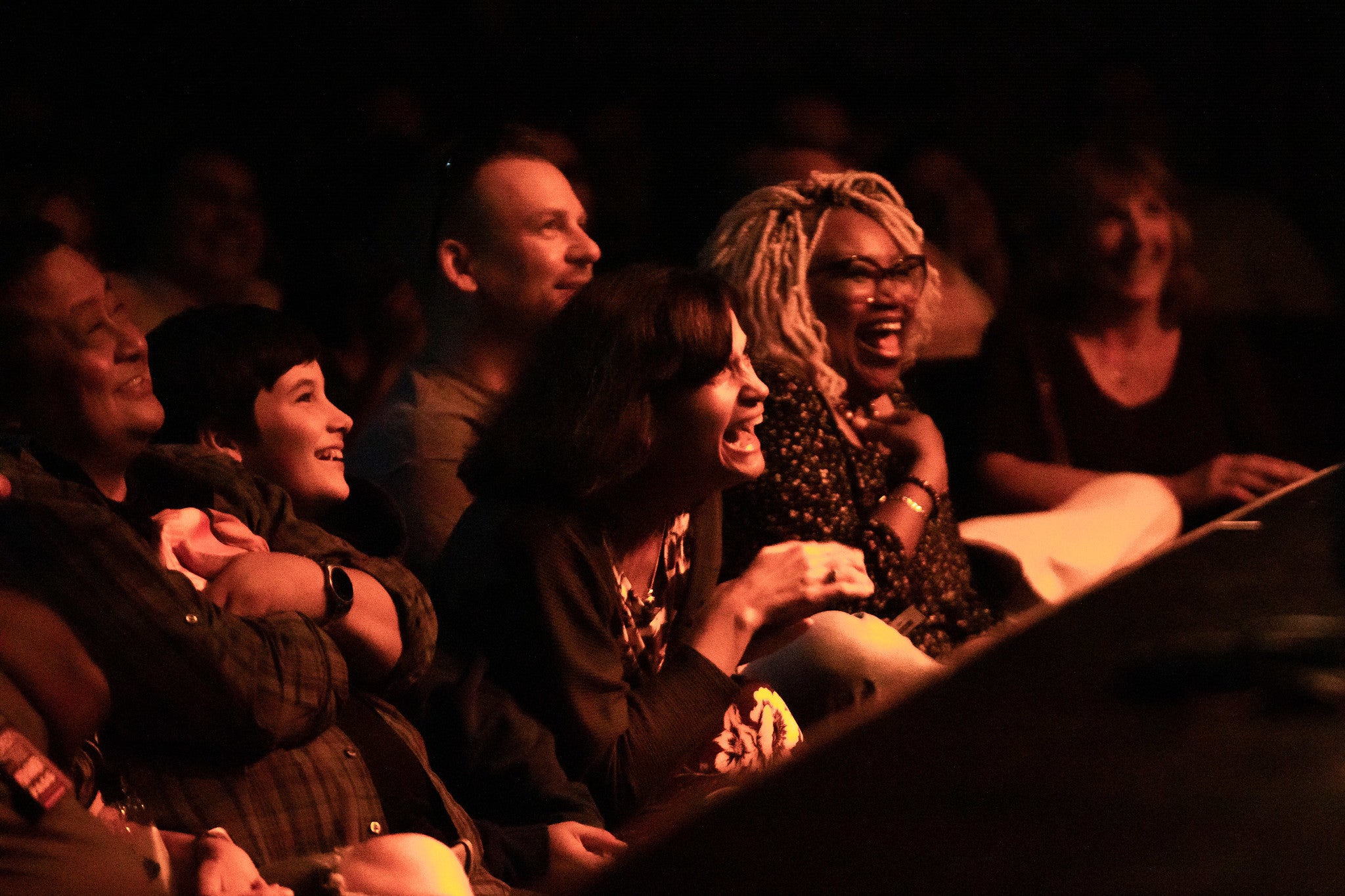 Back in 2017, Hunsaker approached Tom Gabbard, the Blumenthal's president and CEO, with the idea of a full-fledged festival and then asked the comics he'd seen in Ballantyne if they'd be willing to move the event uptown.
The new festival began as the Queen City Improv Room, modelled after Jazz Room Charlotte. It was held in the same space – the Stage Door Theater – and held the night before the monthly jazz concert.
"I was thinking I'd have to build an audience," Hunsaker said. "But these improv troupes, as it turns out, already had loyal followings. They were performing all over town. One of them was playing at the Charlotte Art League; some were performing in the back of restaurants. They jumped at the chance to be together uptown, and the show started selling out right away."
One of Hunsaker's goals from the beginning was to highlight local talent. "You don't have to go to L.A., Chicago or New York for great comedy," he said. "It's right here in Charlotte. So, we're trying to create something here that you don't usually get in a city our size."
The 2018 festival was even bigger than the first one. Janeane Garofalo, Rob Schneider, Jay Pharoah – all "Saturday Night Live" alums – were the headliners at Spirit Square's McGlohon Theater. Brian Regan, known for being sarcastic, self-deprecating and focusing on quotidian events such as shipping a package via UPS, performed his stand-up act at the Belk Theater.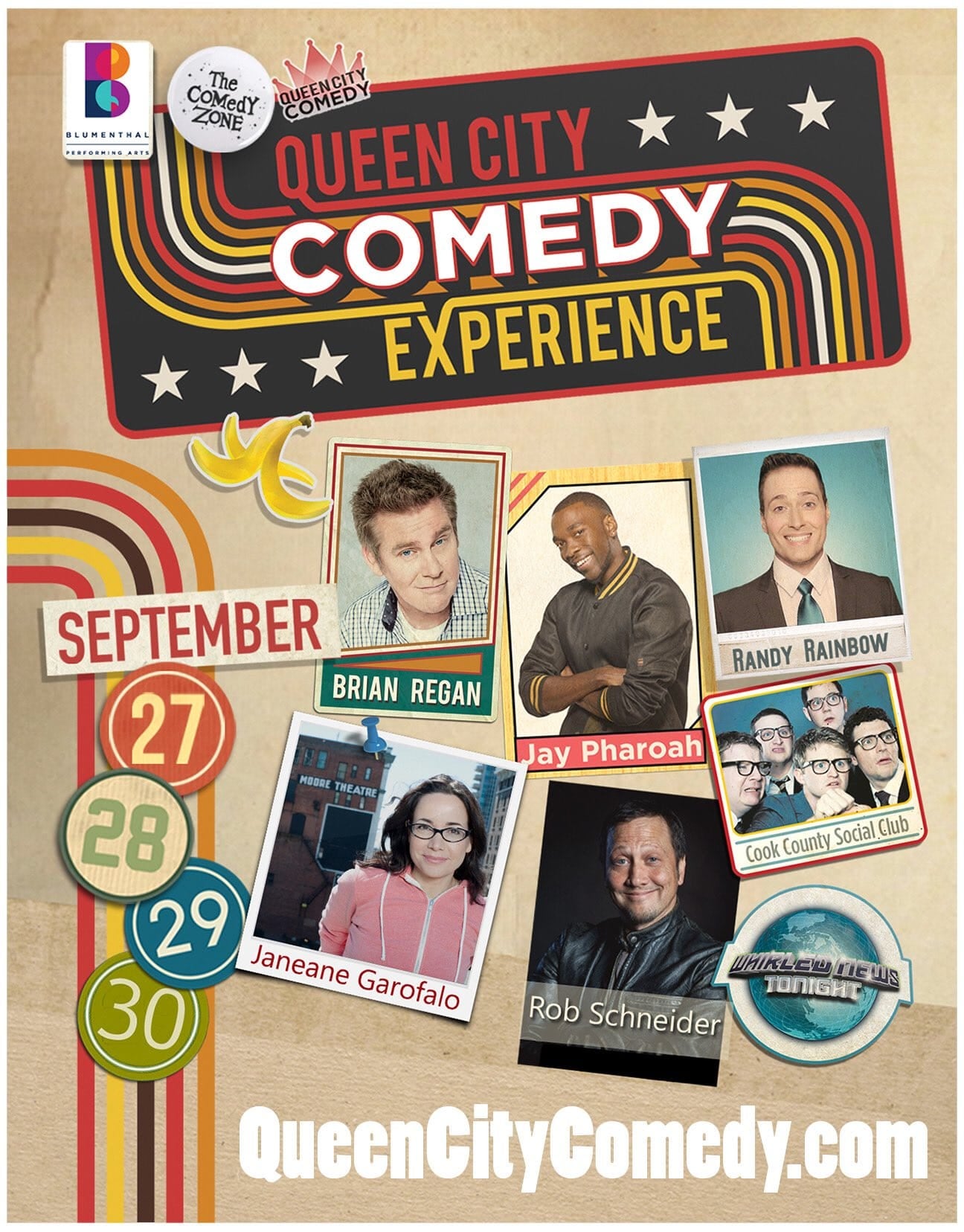 (Queen City Comedy Experience 2018 Headliners)
Classrooms at Spirit Square were converted into small comedy clubs. The whole festival was in one spot, so several shows and improv classes could be going on simultaneously. That was September 2018, and the festival lasted four days.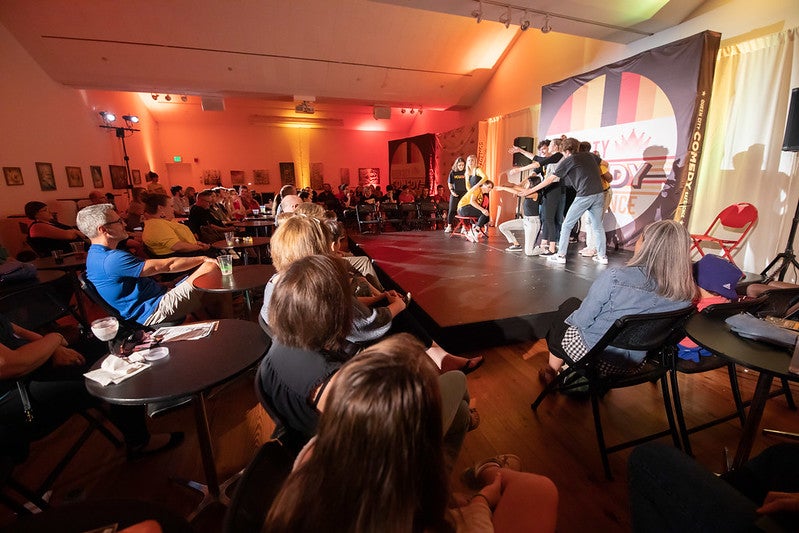 In 2019, Gastonia native Fortune Feimster was the festival's headliner. In fact, she filmed her Netflix special, Sweet & Salty, here. Preacher Lawson, a finalist from the 12th season of America's Got Talent, also had a sold-out show at the McGlohon and did several impromptu smaller shows.
(Audiences lined up outside McGlohon Theater for comedian Fortune Feimster's sold out Netflix special taping, Sweet & Salty, in 2019)
Tapping into local talent
Charlotte Comedy Theater's Stuart Ranson, who trained at Second City, will be performing, producing and teaching during the festival. His advice for people coming to any of the events? "Expect the unexpected."
One of those unexpected events might be his "Yogaprov" (Aug. 13 from noon to 2 p.m. in the Founders Room inside Founders Hall; "love offering" at the door suggested at $20) that improbably combines improv and yoga. It's designed for all skill levels, including people who are new to both yoga and improv.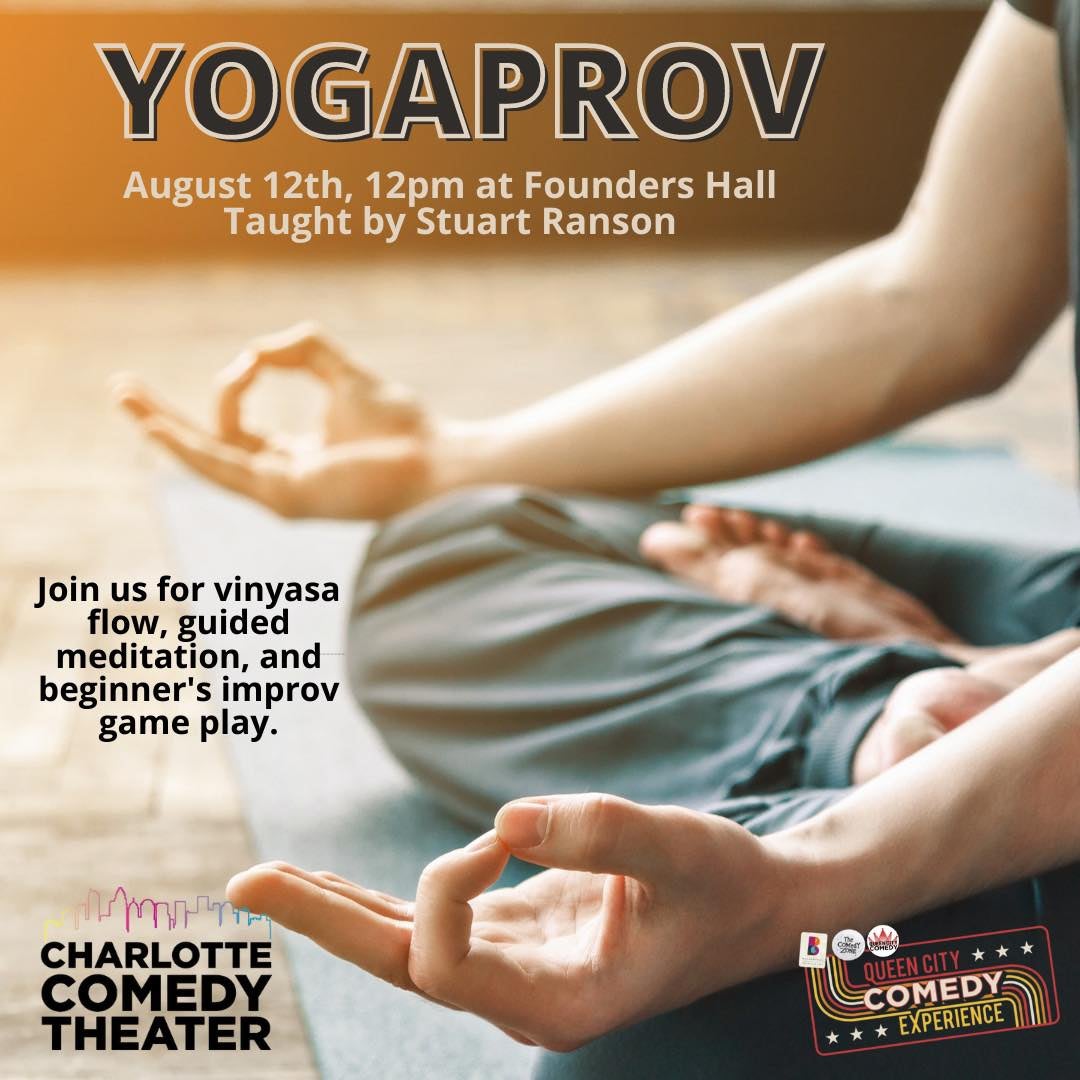 "I moved to Charlotte last year from Chicago, where I had been deeply immersed in the comedy scene," Ranson said. "And I've been doing yoga for about 15 years. Over time, I noticed the parallels between them. They're both disciplines of being in the moment."
Ranson said Charlotte Comedy Theater has several improv teams that will be participating in the festival. The all-female ensemble, That's What She Said; the queer comedy group, Alphabet Soup; as well as Residual Effects and Group Hugs will all get their time in the spotlight.
Jordan Centry, the "corporate comedian" and past participant in the festival, is hosting some shows in addition to performing. He's hosting "Funny on the Fly," in which stand-up comedians got their topics 30 minutes before show time and have to write their jokes within that time constraint. "There's no telling what might come up during that show," Centry said.
One topic that's been done in the past: If you could commit one crime and get away with it, what would you do? (Centry went with armed robbery.)
Shaine Laine is a local comedian who trained at The Comedy Zone. He's producing and hosting two shows for the festival. One is "I Started Comedy During the Pandemic," which is made up of some of the city's newcomers to the comedy scene.
As for Laine, he began doing comedy about six months before COVID hit. He honed his comedic chops via Zoom (how else?) during the lockdown. "I actually built a stage in my house," he said. "That way, when I did my Zoom shows, I could still perform with a mic on a stage and have that feeling of being at a club. The audience would often have their cameras off, so I couldn't even see their reactions. I wanted to do this show for those people who started like I did."
The other show he's producing is AQRONYM, a queer variety show that showcases LGBTQ comedians whose act contains a mixture of stand-up and interactive sketches.
Comedy festival organizers have ensured there's something to tickle everyone's funny bone throughout August.
"There's fun-for-the-whole family comedy," Dingle said. "There's PG-13 comedy, and there's dirty and raunchy. We make sure there's something for everyone."
###
Check out the full lineup and get tickets at blumenthalarts.org/comedy.