Mary Doctor Performing Arts Scholarship Winner Gives Back to Charlotte through Dance
Dancer Javontre ("Tre") Booker says the Charlotte community has always helped support his dreams. Now, he's thrilled to have the chance to give back.
This year, the 2015 Mary Doctor Performing Arts Scholarship recipient choreographed the spring musical at Myers Park High School (the show opened yesterday!), one of the 43 schools participating in the 2022 Blumey Awards. It was his first time choreographing a musical but it's definitely not his "first."
Booker, a Northwest School of the Arts (NWSA) alumnus, made national news last fall as one of the first male cheerleaders to join the Carolina Panthers TopCats squad.
He says that milestone and so many others in his journey as a professional dancer have been possible thanks to the support of people around him - family, godparents, teachers and many others. At the top of the list is the Doctor Family Foundation, whose competitive scholarship is managed by Blumenthal Performing Arts' Education Department.
"They really kind of set me up for the rest of my life," says Booker, 25, who studied dance at University of North Carolina's School of the Arts for three years before joining the prestigious Scholarship Program at The Ailey School, the educational wing of Alvin Ailey American Dance Theater, for his final undergraduate year. The Scholarship Program only goes to dancers who show the most promise for a professional career in dance.
The Early Years
Booker's love for dance started early. He recalls staying up late, as a young child, to watch "Showtime at the Apollo." He would mimic the moves he saw performers, like Prince and Michael Jackson, doing.
He exhibited a natural talent too—as he'd spin around and around in pirouettes. His godparents noticed his enthusiasm and suggested enrolling him in dance classes. By 4th or 5th grade, he started training in ballet, modern, and jazz, and he's never stopped.
Money was tight but his mom, a single parent, always found ways to get him where he wanted to be. Booker was often a scholarship student for extracurricular activities and dance. That taught him the importance of a strong work ethic, he says, since he knew he had to show up and work hard to keep his spot.
Others lent a hand too, he says, like the parents in NWSA's Theatre Arts Guild, who always made sure he got a cast t-shirt and had enough money to get meals when he participated in activities.
"I knew I couldn't afford college,'" Booker says. "I grew up in a home where my mom made 20K a year and that was just how we lived. And, I think, that young, I didn't know that we were—I guess what I would consider—poor. It was just never told to me."
But he had his heart set on studying dance at UNC's School of the Arts in Winston-Salem. It was the only college he applied to, and he wondered if he had the talent to get him there.
That's where the Mary Doctor Performing Arts Scholarship comes in. Booker says being selected for that award was an essential, life-changing experience that has given him the confidence to continue in his craft and push himself further.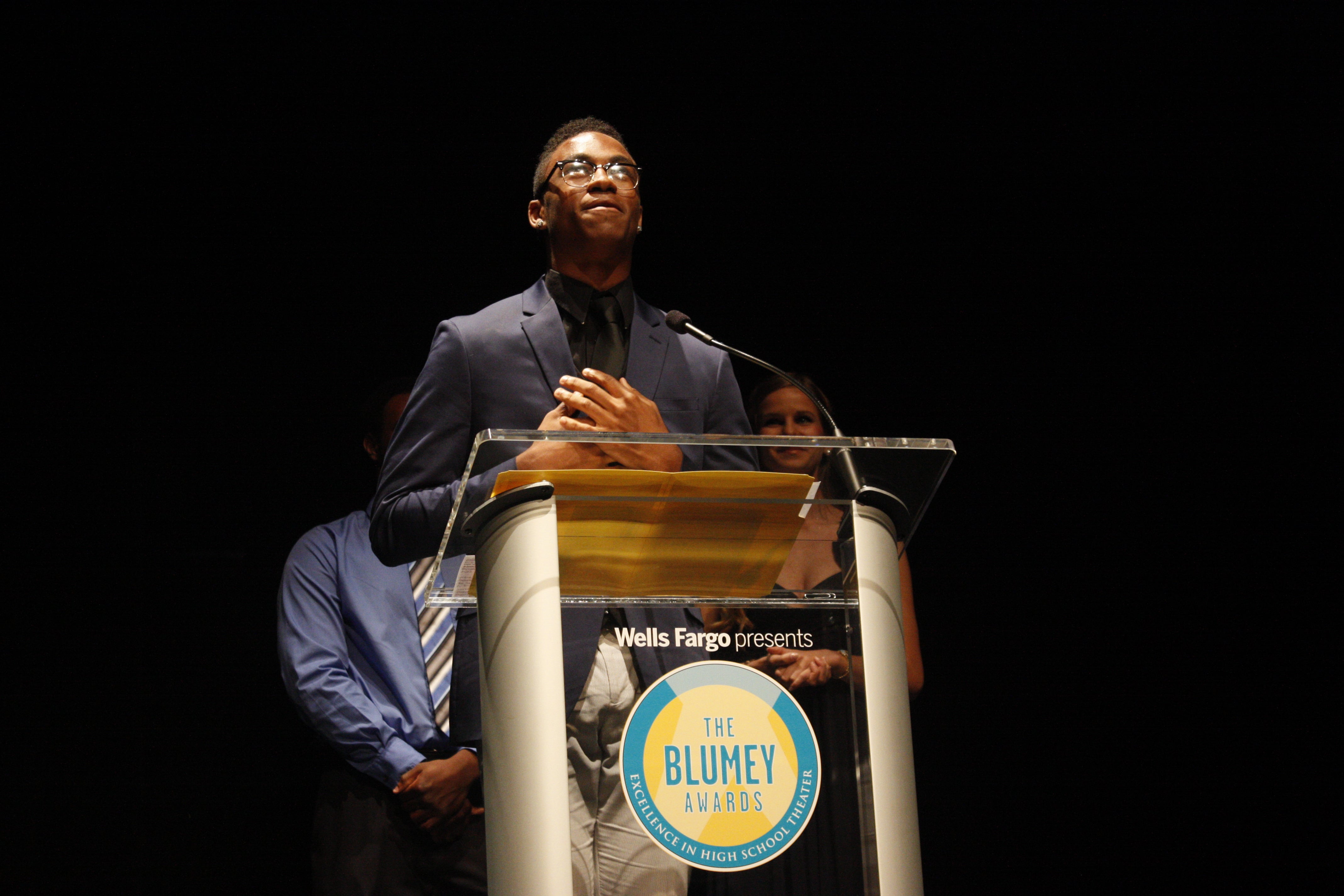 (Booker accepting the Mary Doctor Performing Arts Scholarship at the 2015 Blumey Awards Ceremony)
The scholarship is a $10,000 annually renewable award given to one or two graduating seniors each year. Qualifications include a demonstrated passion and talent in one or more areas of the performing arts, plans to pursue an undergraduate degree in the arts and significant financial need.
"I remember my audition like it was yesterday," says Booker, who hadn't known in advance the Doctor family would be in the room. There were tears, enthusiasm and strong emotions in response to his audition. That experience enabled him to grasp, for the first time in his life, the power of art and his own abilities as a young dancer.
At the time, Booker had not yet come out as gay (he's now happily married to fellow NWSA and UNCSA alum, Jordan Medley) but looking back he says this moment of acceptance and celebration affected him profoundly.
"As a Black, gay man—for someone to really see the raw talent that you have and to accept it and to invest in it, at such a time where, I think, it was almost taboo to be all these different things, that family doesn't get the credit that they deserve," he says.
"Because it wasn't about helping a poor Black kid; it was about helping an artist become an artist. And that has stuck with me for the rest of my life."
That experience spring boarded him to the School of the Arts and The Ailey School, he says. It also has pushed him as a professional dancer to audition for new opportunities and even return for more education, with the eventual goal of obtaining a PhD in Physical Therapy alongside his dance career.
"There are so many different ways that my community invested in me and I always felt that it was right that I honor them by continuing to do what I'm doing," Booker adds.
Choreography and life lessons for students
At Myers Park, Booker is sharing his own love of dance with students there and says he's enjoying every minute of it.
"For me to be choreographing this year in relation to the Blumey's, it's full circle," says Booker, who participated as a student in the annual high school musical theater awards from 2013- 2015. He remembers what it felt like to be stressed out about the competition, to be going through college interviews and auditions, and applying for the Mary Doctor Performing Arts Scholarship.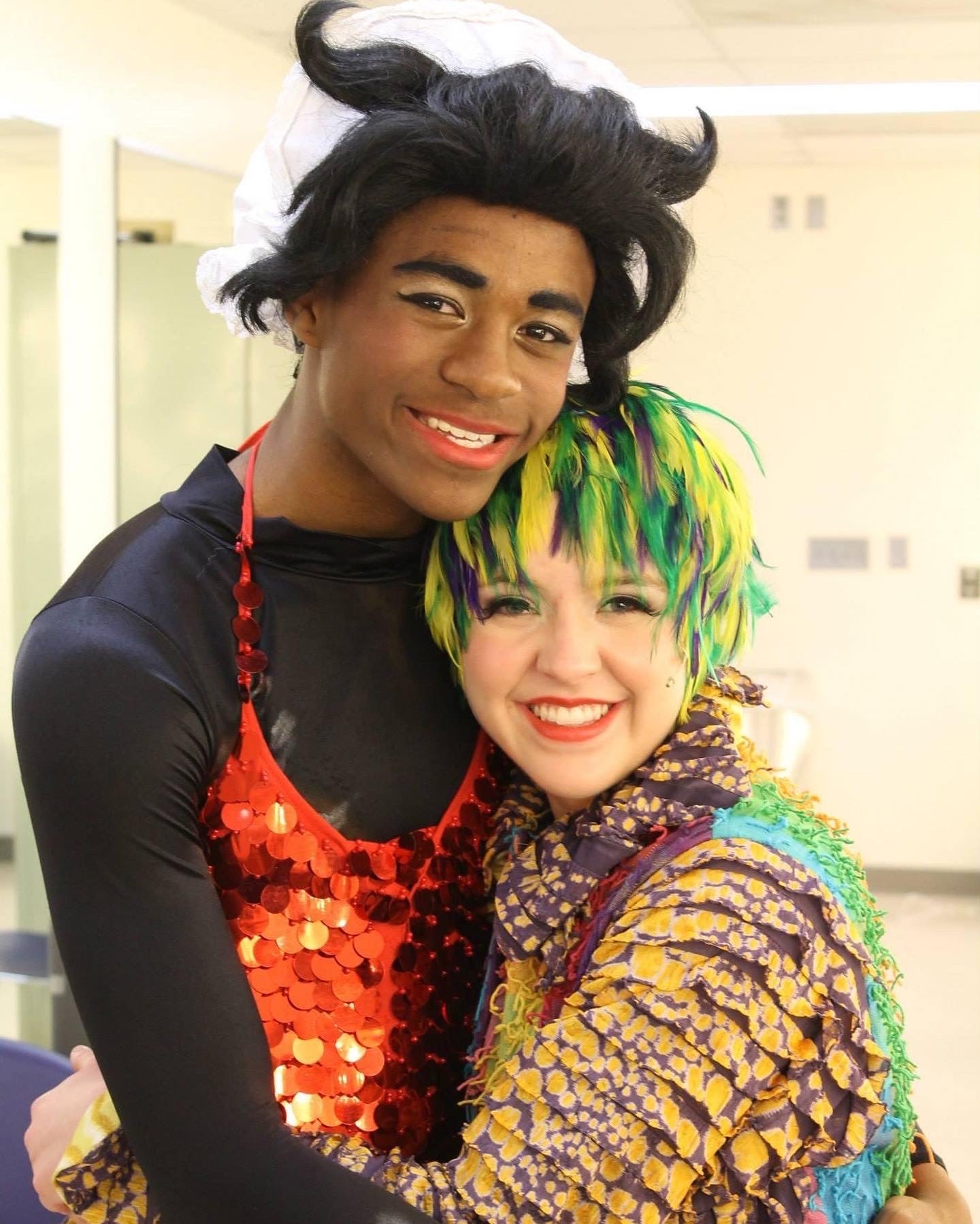 (Booker poses with castmate Posey Bartol at Northwest School of the Arts' 2014 production of "Shrek the Musical.)
As students work on their choreography for "Mamma Mia," which they will perform April 28 - 30, Booker reminds them to have fun and channel their energy into their dancing. He also wants each of them to know they have an important role to play.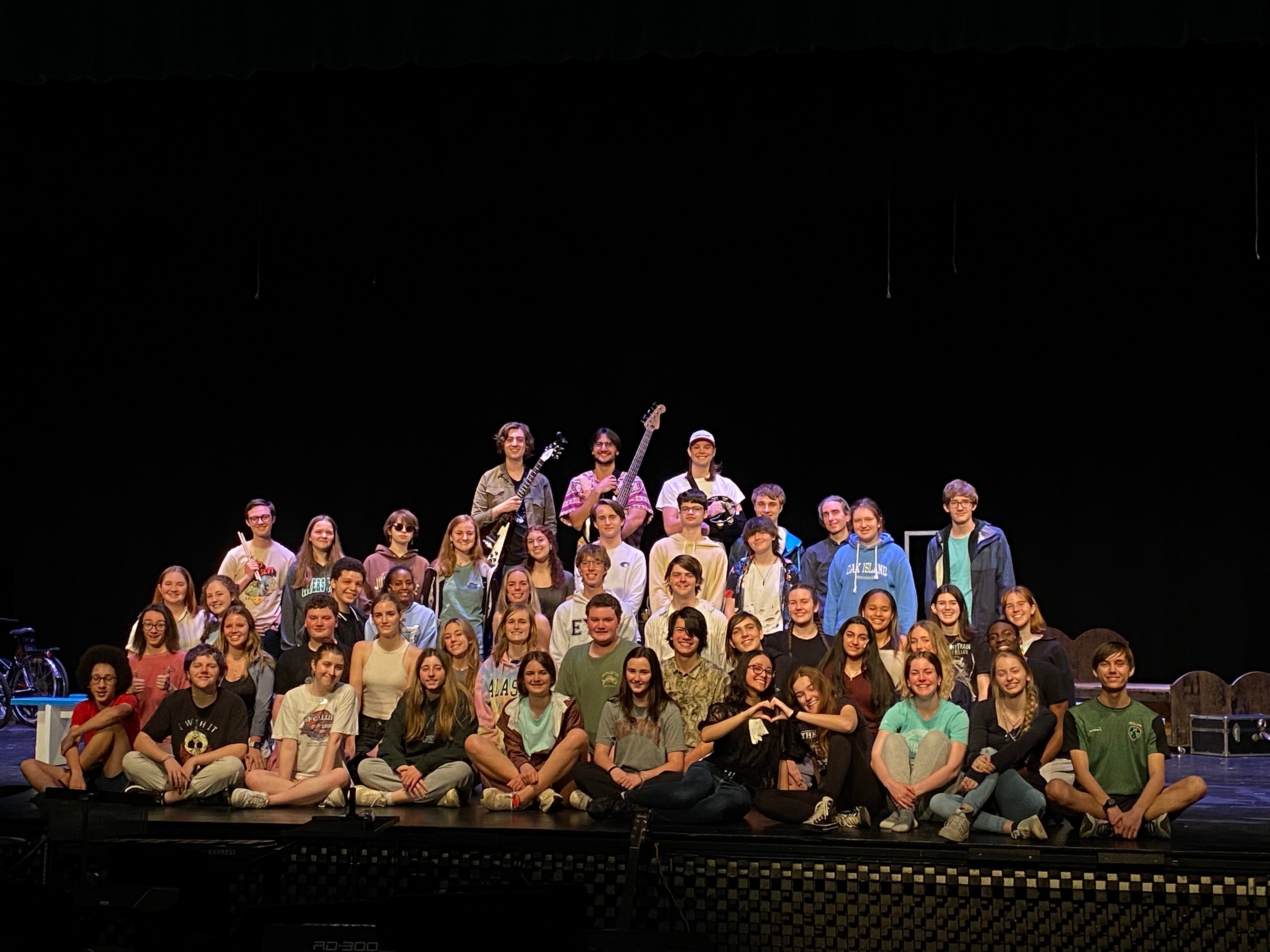 (Cast of Myers Park High School's production of Mamma Mia!)
Some people think if you're in the ensemble it means you are not good enough to be a lead, he says. But ensemble members have a lot of work to do and they need to be engaged and focused in order to push themselves as artists.
"I strongly believe that the ensemble is the backbone of the story," Booker says.
He tries to model an openness to trying new things—something he learned from his own mentors—adapting and adjusting choreography, when it doesn't work the way he planned. It has been a challenging, eye opening, and rewarding experience, he adds, since he's used to being the performer rather than the choreographer.
He hopes to convey a larger life lesson too: an artist's process can take many forms and have unexpected twists and turns.
The key is to trust your process, he says, since every experience helps make you who you are.
"Just because it's a 'no' or it's a 'not yet' or it's a 'yes,' doesn't mean everything's gonna go bad or everything's gonna go great," he says. "You have no idea. The world is your oyster."