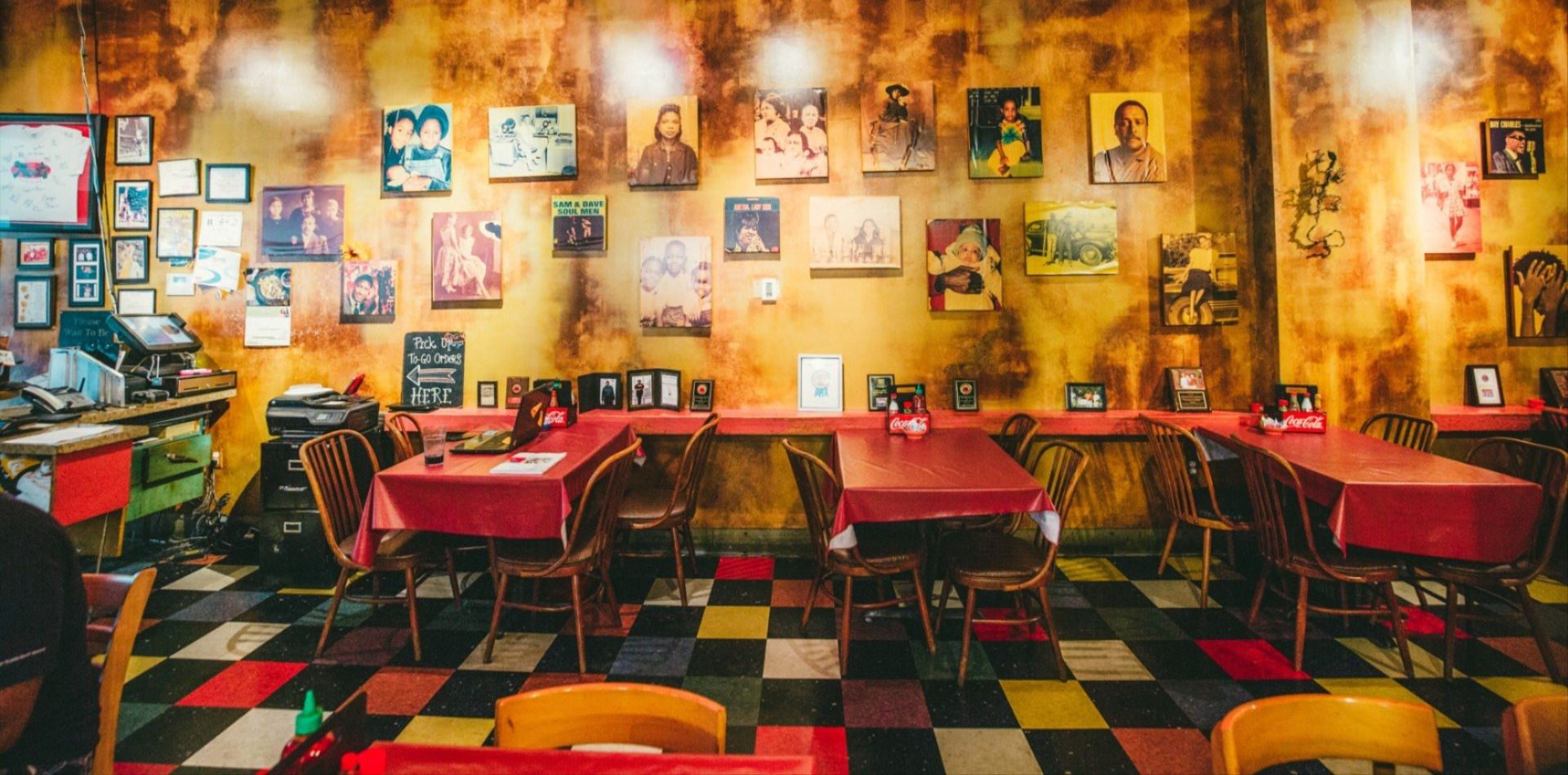 Mert's Heart & Soul: A legend in Charlotte and Beyond
What do Mariah Carey, Metallica, Common and Hillary Clinton share? They've all been spotted enjoying a meal at Mert's Heart & Soul in uptown Charlotte.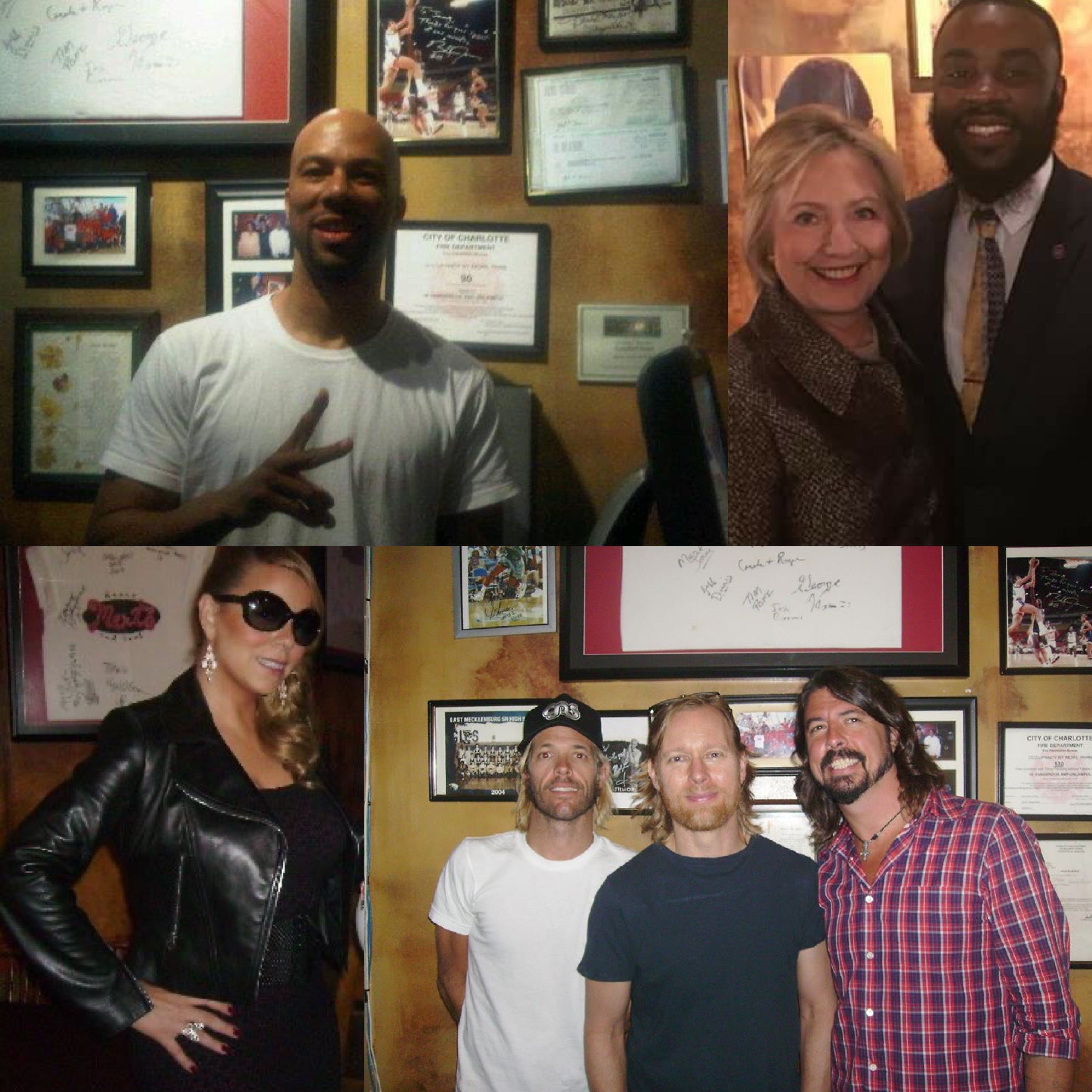 The restaurant, located on College Street, just steps from the stage door entrance to Belk Theater, has long been a popular dining destination for performers and crew members when they come to town for a show. Like local fans, they come for the food, the ambiance and the warm welcome.
Mert's, now in its 22nd year of business, serves freshly-prepared Southern regional cuisine including Low Country and Gullah-inspired dishes, like Red beans and Rice with Smoked Turkey Kielbasa, and Shrimp and Grits. It also prepares classics like Southern Fried Chicken, Barbecue Beef Ribs, and Blackened Pork Chops. Owner James Bazelle puts his own spin on dishes too, serving Salmon Cakes (instead of more typical crab cakes), mini loaves of warm corn bread, and his signature appetizer, Soul Rolls (chicken, black eyed peas, rice, and collards in a wonton wrapper), which have even been featured on "Diners, Drive-Ins and Dives."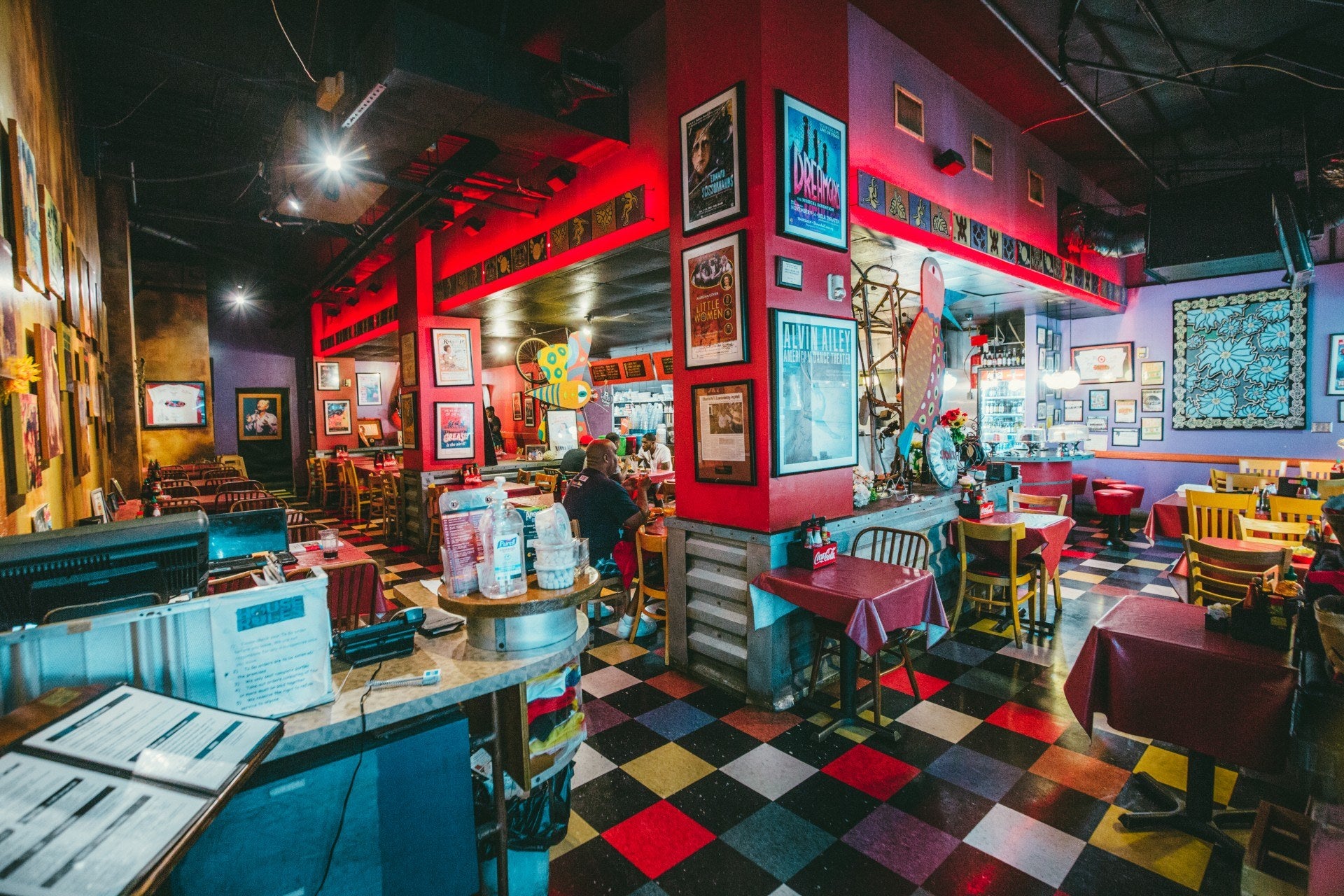 All of this plus an array of savory side dishes and, of course, decadent desserts.
His food has become legendary both within Charlotte and beyond. Blumenthal's CEO Tom Gabbard recalls actress Sandy Duncan telling him years ago how much she loved Mert's, especially the okra, made just like her mom's recipe. "If I thought it would stay fresh, I would take it up on a flight," she told him.
And when 2014 Blumey Awards Best Actor winner Mekhai Lee, now a professional actor, came to town with THE COLOR PURPLE national tour in 2018, Mert's topped his list of restaurants to bring his cast mates to for dinner; it was a place he'd often gone to after watching shows at Blumenthal. "So weird, now I'm going to get to go to Mert's after MY show," he said at the time.
THE BROADWAY CONNECTION
Indeed, eating at Mert's has become a veritable rite of passage for visiting performers. The place is filled with signed posters from the casts of Broadway touring shows. That tradition started back in 2003 when company members from the first national tour of THE LION KING offered Bazelle an autographed poster. These days, there are at least 30 signed showcards on display and more in the back—since Mert's has run out of available wall space.
"A lot of those guys do different shows," says Bazelle. "They tell other casts 'when you come to Charlotte you got to go to Mert's.'"
(Mert's Heart and Soul owner James Bazelle)
For actor James Earl Jones II, the restaurant feels like the ultimate comfort food spot. He first discovered Mert's in 2014, while on tour with THE GERSHWINS' PORGY AND BESS. It was the last stop on a 20-city tour and Jones says it was the perfect place to celebrate the end of that run.
"[O]ver 90% of our cast and crew were people of color so when we got to Mert's it was like an oasis… It had all of the cuisine that many of us grew up eating and the people there make you feel at ease. It's a community of wonderful people: the owners, the servers, the hostess. Everyone works there to make it a great experience. I think it was an awesome place to have our opening night party for our closing week show."
Jones was back in town recently with the musical COME FROM AWAY and visited the restaurant four times in seven days. "It is a feeling where, it's kind of like 'Cheers,' where everybody knows your name," he says. "...[T]hey treat you like family. I think that's also part of the essence of soul food and soul food restaurants."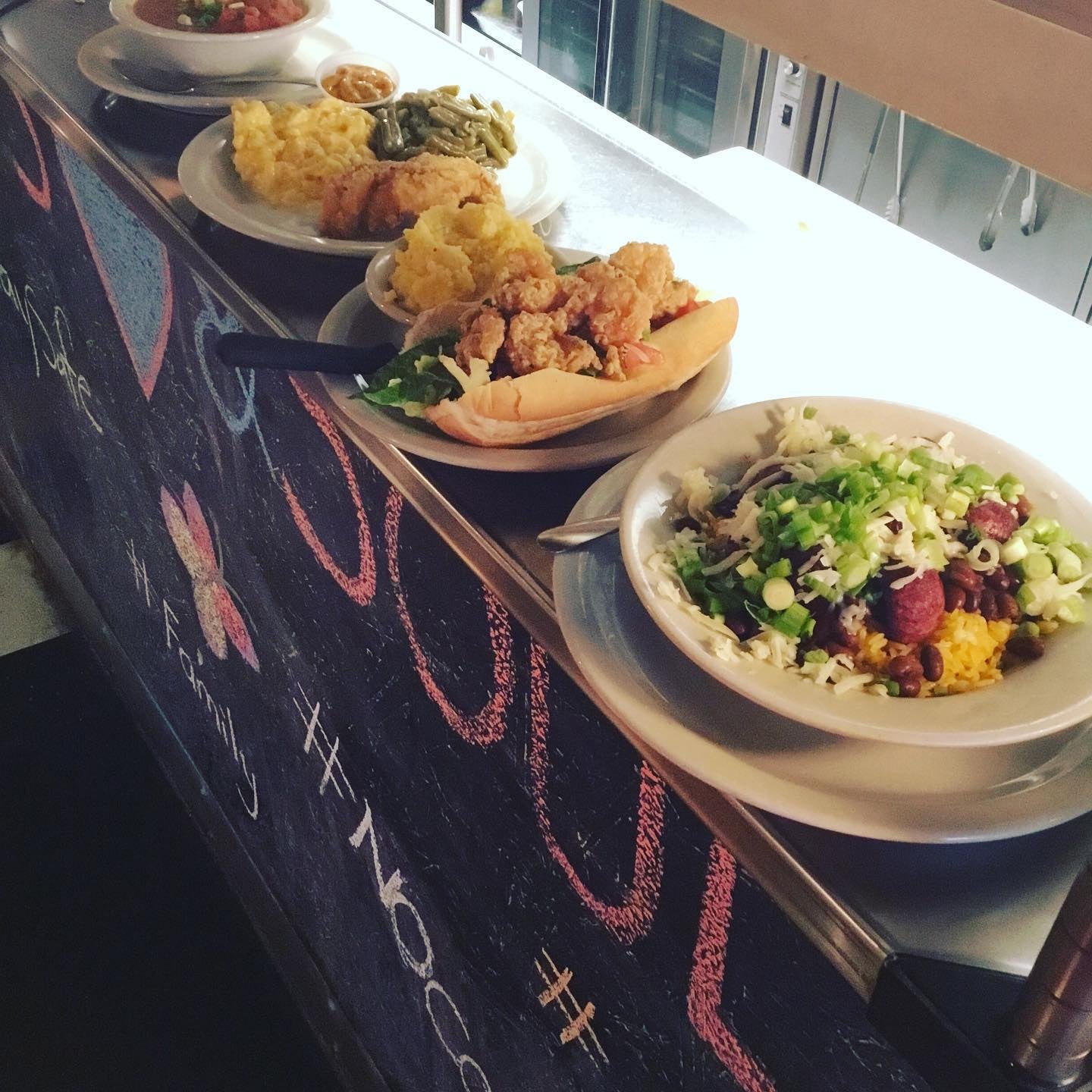 While Bazelle classifies his cuisine as Southern regional—Jones doesn't let that difference in nomenclature get in the way. "He can call it whatever he wants," says Jones. "Whatever it is, it's great. And it's good for my soul, therefore it's soul food for me."
A POPULAR SPOT FOR OPENING NIGHT PARTIES
For Company Manager Erik Birkeland, the Queen City has been a favorite tour stop for many shows he's worked on over the years, including CHICAGO, THE SOUND OF MUSIC, and most recently COME FROM AWAY. "I've been coming to Charlotte with shows for over 20 years. And I just love how the city is getting better and better with every visit," says Birkeland, who oversees the day-to-day, onsite business needs for an entire cast and crew as they travel around the country.
But as far as he's concerned, Mert's is the only place that will do when it comes to opening night parties for his shows. Six months before COME FROM AWAY arrived in Charlotte, Birkeland reached out to Blumenthal to confirm the restaurant's availability for the opening night party.
While he knows there are other wonderful restaurants in Charlotte, he says he has found the perfect fit with Mert's. When another restaurant was initially proposed to host the opening party for Matthew Bourne's THE RED SHOES in 2017, Birkeland pushed hard to change it.
"No, no, no," he recalls telling the team at Blumenthal. "These dancers are here from London and need to experience a night at Mert's."
So what makes it special?
Number one, it's the food, says Birkeland, who calls Seattle home when he is not touring. This is a unique opportunity for everyone—no matter where they come from—to enjoy really good Southern cooking. "The icing on the cake is at the end of the night they put out To Go containers so the actors and crew can fill up and take that home."
Beyond the food, the restaurant's proximity to the theater and welcoming vibe makes it a friendly place to go between shows. "James—the owner—and his family have just been wonderful taking care of us every time we come to town," says Birkeland.
That's simply the way you do things in the South, says Bazelle: "In your house, you're going to take care of your family. In Charlotte, they're our family."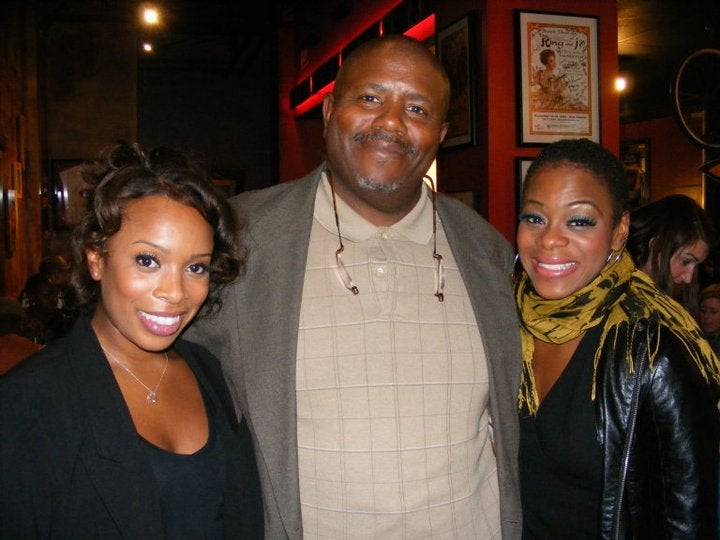 (Bazelle with cast members from the Dream Girls tour)
HOW THIS LEGENDARY RESTAURANT CAME TO BE
Mert's location in the heart of uptown Charlotte seems ideal, but when Bazelle initially moved into an almost empty College Street back in 1998, it felt like a big risk. His first restaurant, Ga. on Tryon (located at 9th and N. Tryon Street and named for his home state), was one of the first street level restaurants uptown. It opened in the mid-1990s and based its menu on healthy southern cooking. As requests came in for dishes like fried chicken and macaroni and cheese, Bazelle started adapting his menu to meet the demand.
When a feature story on the restaurant appeared in The Charlotte Observer, Bazelle was quoted regarding his hope that Hugh McColl, then Chairman of NationsBank (the predecessor of Bank of America), would not push the little guys out of business, as the bank expanded uptown. McColl came into the restaurant the very next day to reassure Bazelle and his wife, Renee, that that was not the way he nor the bank did business. After that, McColl became a regular customer at the restaurant, frequently scheduling business meetings there.
Later, as the newly merged Bank of America was looking for mom and pop businesses to help populate College Street, Bazelle was approached by bank executives with a proposal to move his restaurant and an offer to help finance it.
"At the time, on College, there was nothing over there," says Bazelle. "And I told my wife, 'Man, I don't know about this'… She said, 'James, these bankers know more than you know' and I said OK."
Bank of America helped connect them with an interior design firm and loaned them the money to make the move possible. The restaurant name honors one of Ga. on Tryon's most loyal customers, Myrtle Lockhart, who unfortunately passed away before Mert's Heart & Soul opened.
These days the restaurant is perfectly positioned to serve a wide mix of clientele, from uptown workers and museum goers to tourists on foody tours, big name stars and crew members alike.
"When I started that restaurant there [on Tryon] I didn't have the idea that I was going to be a multi-millionaire chef... none of that," says Bazelle. "I just wanted to provide good food." The business has helped him put his four kids through college and he says he is content with that.
But for Jones and others who visit, Mert's is a one-of-a-kind destination that means a whole lot: "I only hope that they are open for years and years to come," says Jones, "and they continue to bring good food and great smiles and full stomachs—not only to the people of Charlotte but to anyone who happens to come through."
We LOOK FORWARD to being able to head over to Mert's SOON for another Cast Party - but until then - they're OPEN for dine-in and takeout! And honestly... couldn't we ALL benefit from some quality comfort food right now?!
For their menus, contact info and to order online, visit: https://mertscharlotte.com/