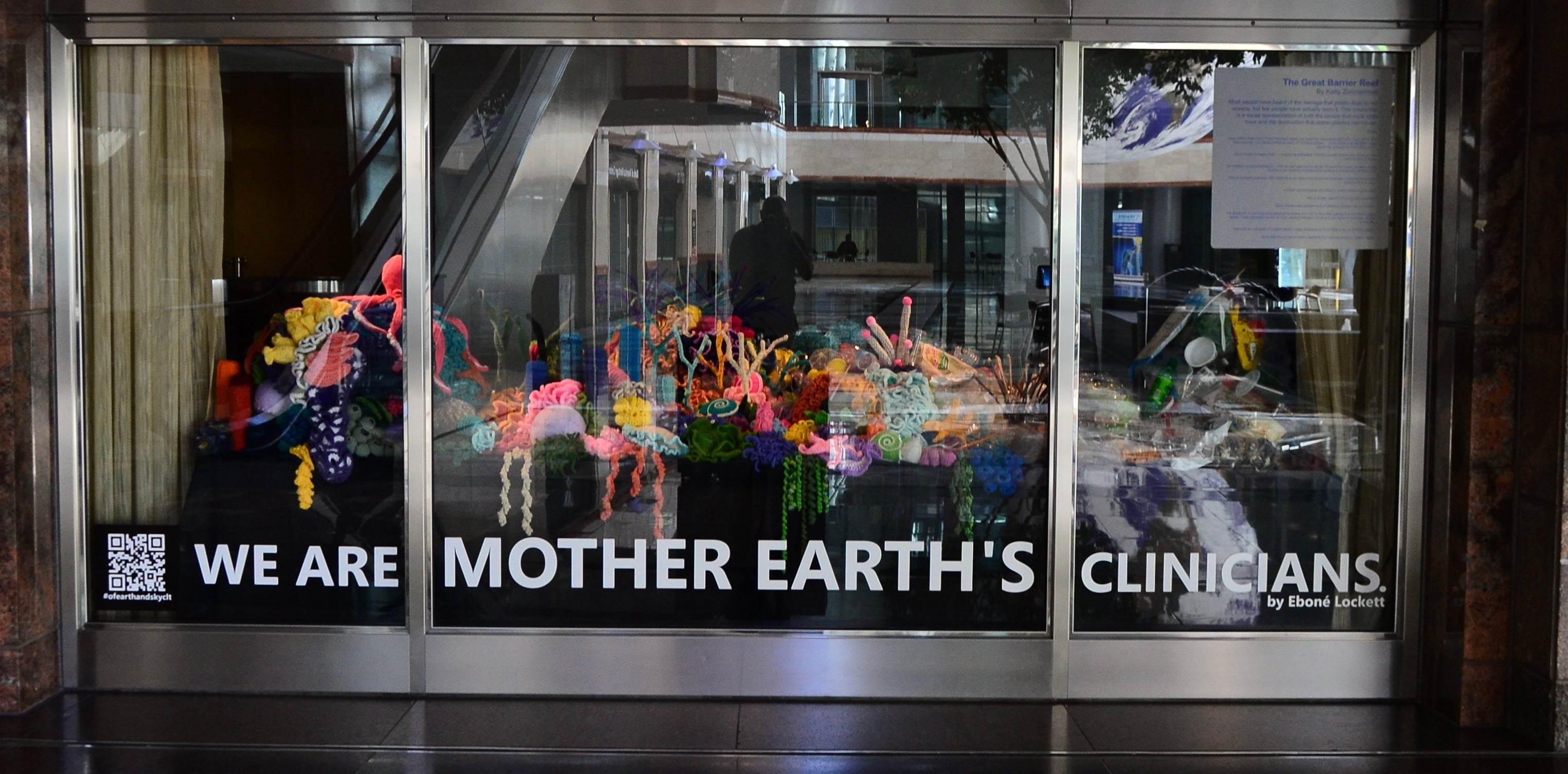 New Public Art Piece Created by Local Artist Captures "The Great Barrier Reef" in Crochet and Reminds Us How To Take Better Care of the Planet
Over recent weeks, many captivating works of public art have popped up all over uptown Charlotte, including giant rabbits, a 23-foot-revolving sculpture of earth, and poetry installations.
Among them is a mesmerizing new creation by local artist Kelly Rose Zimmerman called "The Great Barrier Reef." Crocheted with more than 35,000 yards of yarn, it not only expands our vision of what is possible with this traditional fiber artform, it comes with important messages about the earth's fragility and taking better care of our planet.
Now on view at Founders Hall, the project was originally conceived as part of Charlotte Shout. When the city-wide arts, food and culture celebration was canceled for 2021 due to the pandemic, Blumenthal still moved forward to bring as many public art components, as could safely be done, to life.
The piece was strategically placed alongside one of the poems featured in Of Earth and Sky, another public art project on display through October 31st. "We are Mother Earth's clinicians" is a portion of poet Eboné Lockett's Sample Mother Earth's Soil.

Watch Lockett perform the full poem at the video link below!
Zimmerman's work incorporates 1,000 unique crocheted pieces, recreating an underwater scene of sea life amidst a colorful coral garden. It took Zimmerman, her mom and two aunts more than 600 hours of work over the course of six weeks, to crochet all of the components.
"I had kind of visualized what I wanted it to look like but a lot of it really happened on installation day when we got there and started to put the pieces together," says Zimmerman, whose parents drove down from Wisconsin with box loads of crocheted components to assist her.
"[Y]ou're working on all these individual things and you look at it on a micro scale," she adds. "'This is one thing, this is another thing,' but then when we got to put the things together and see how they interacted with each other, it was really cool to see everything come together."
The work also delivers a powerful environmental message by incorporating items like plastic bags, bottles, straws into the otherwise tranquil scene, and providing statistics about the lasting harm they cause to animal life.
She hopes the project will remind people there are simple, everyday steps we can take to counteract the damage caused by pollution, including cutting down on single use plastics.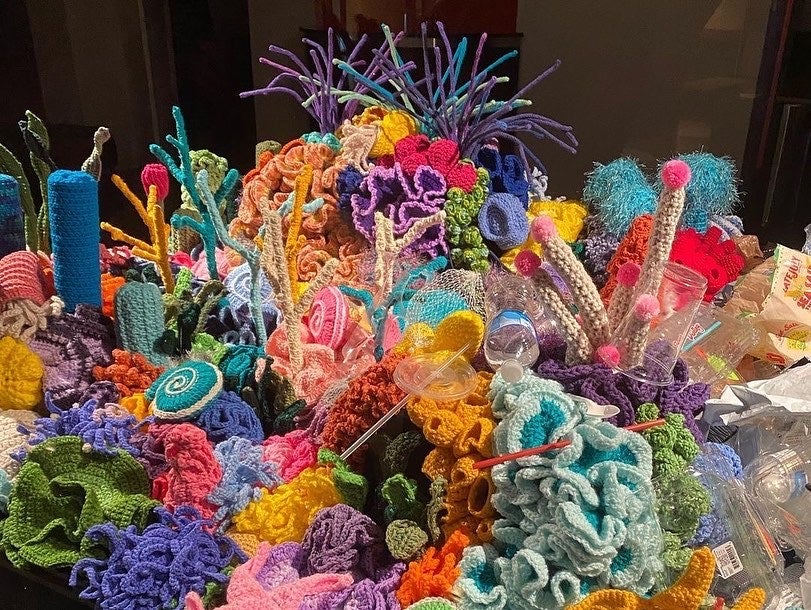 "It's one of those things, if you look at it on too big of a scale it can get really overwhelming," Zimmerman says. "But really doing small changes, like even remembering to take your reusable bags to the grocery store, really can make a difference...We only have one world, one environment -- so take care of it."
Zimmerman, who has long enjoyed crafts like crochet, embroidery and macrame, spent the past year getting more involved with more communal art projects and taking her craft to the streets through "yarn bombing." She loves the practice, which involves surprising the community with beautiful, yet temporary, crafted works of art. Keep an eye out for projects she is currently planning for Halloween and the winter season.
She hopes her artwork will also inspire people to go out to experience all the Charlotte arts community has to offer and maybe even make their own art.
"There is so much all over the place," she says. "There's something for everybody."