On Bunnies, Love and Public Art
When Elizabeth Palmisano and Krystle Baller tied the knot, it wasn't exactly a traditional ceremony. An open invitation to the creative community had been posted online, friends played "Here Comes the Bride" on kazoos, and the flash wedding took place in front of a bunch of gigantic inflatable rabbits.
But for this artistic couple, it was the perfect combination of whimsy, creativity and community.
Palmisano is an award-winning multi-media and fiber artist; Baller is a musician and founder of Pachyderm Music Lab as well as the Music Director of Girls Rock Charlotte. Both women are social practice artists and teaching artists, who work with kids as well as adults.
The two chose the ceremony's location (with permission from Amanda Parer, the Australian artist behind Intrude, to use her bunnies as a backdrop) because the artwork had played a key role in their relationship early on.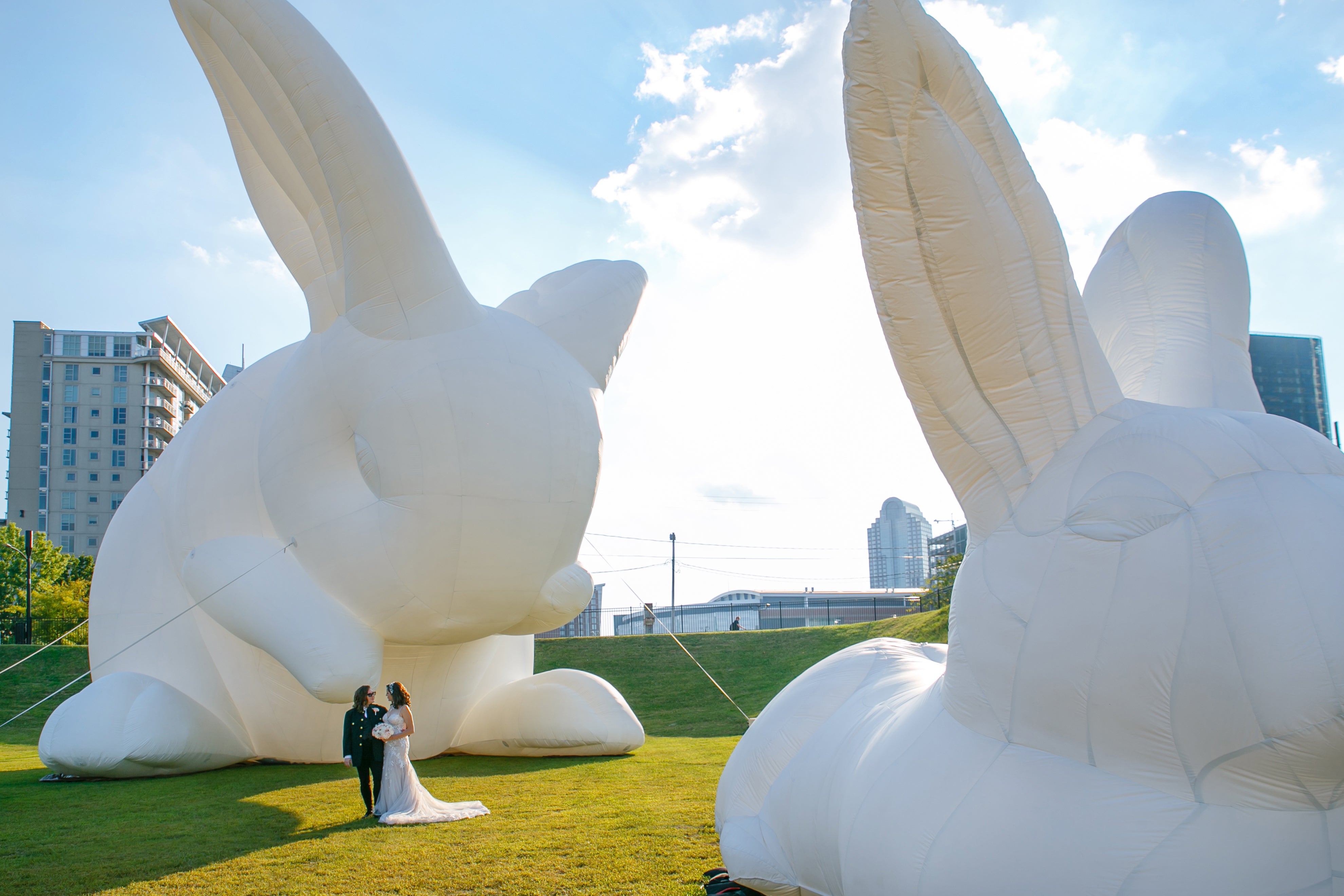 (Photo by Fort Mill Photography)
Shortly after being introduced by a mutual friend, Palmisano and Baller spent one of their first dates at Charlotte SHOUT 2019; the bunnies were a highlight of that experience.
"We went by ourselves and then we loved it so much, we went back with our kids," Palmisano says. (Both women were previously married; their new combined family includes Palmisano's son and Baller's daughter.)
For visual artist Palmisano, seeing how Baller interacted with the art installations of SHOUT was revelatory. "I'm a very playful person and I would consider that one of my primary mediums—as a creative—is play. And Krystle played with me. We interacted with the different activations and it was very playful and fun."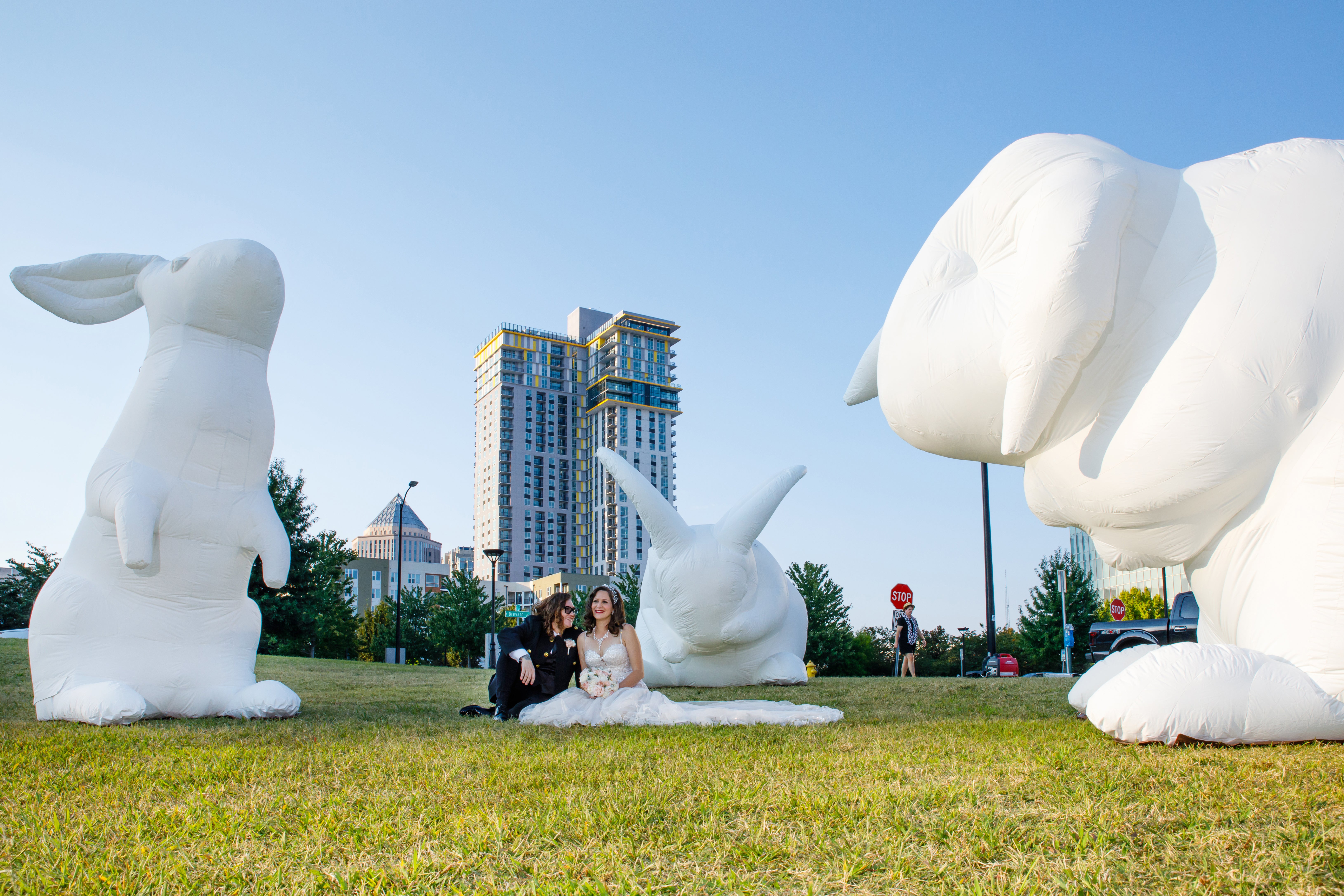 (Photo by Fort Mill Photography)
It was also different from the way most adults react: whereas play comes easily to young kids, adults usually need some coaxing to engage in that way.
"She was so silly and goofy," Palmisano says, "… I had written this long list of what I wanted in a partner and after SHOUT, I went through my list and I was like, 'it's her: this is my person.'"
It turned out the two shared similar life philosophies too, including the importance of collaboration, bringing communities together and creating safe, welcoming spaces for individuals to explore and be vulnerable.
"At the core of everything that I do is equality for women," Baller says. "I'm a LGBTQ+ activist. Everything starts with creating a safe, equitable space for people to enter into… a lot of my students are queer youth. A lot of times you don't know, but I know 'cause they feel safe enough in my space to tell me. They feel safe… to be proud of who they are."
For Palmisano, who began her career as an early childhood educator but now works with people of all ages, a collaborative approach is an essential component of her artwork.
She often creates workshops and classes on topics she wants to explore herself. She says that turns her into a fellow participant, rather than an all-knowing-instructor, in the process. She makes sure there is always a spirit of hospitality in the room—with plenty of tea and biscotti to go around—and she intentionally sets up the workshop space in a way that encourages participants to interact.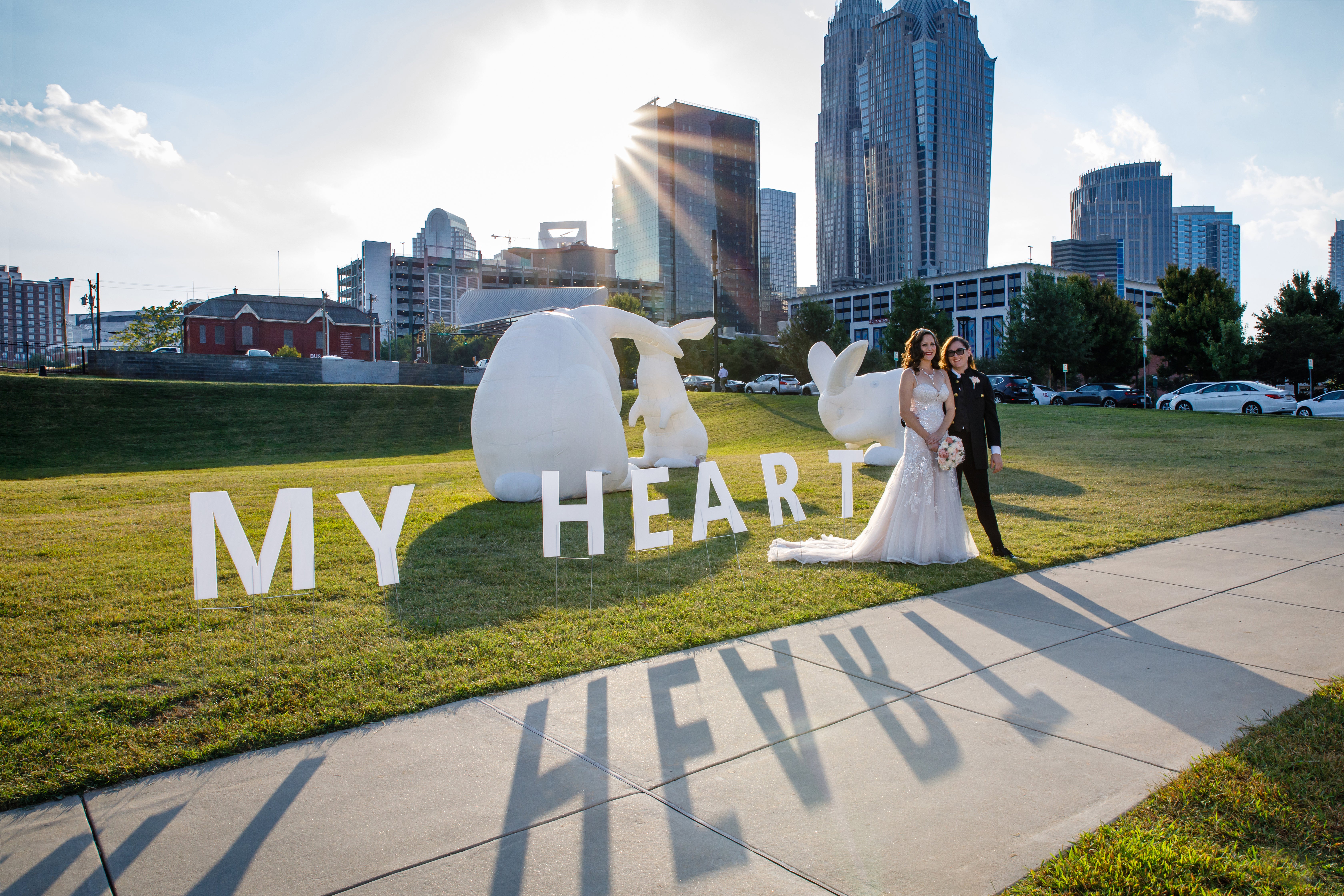 (Photo by Fort Mill Photography)
"When we're using materials together, whether we're doing a community mural, or we're doing an altered books class or we're doing a spray painting workshop, I make a point to not put out enough for everybody individually to have their own, so that people have to share or they have to ask for things from each other," says Palminsano, whose work has been featured at The Mint Museum.
That helps nurture an instant family or community feeling, she says, even if it's only for the day.
STRONG CONNECTIONS TO BLUMENTHAL
Both artists have strong connections to Blumenthal as well, another reason the bunnies of Intrude were a meaningful location for their ceremony. Palmisano was heavily involved with Immersive Van Gogh. She designed two of the Van Gogh-inspired outdoor picnic tables for visitors to enjoy, created merchandise to be sold in the show's boutique, and served as one of the Artists In Residence . Her work will also be featured in an upcoming Made in CLT exhibition, Blumenthal's new initiative to highlight the outstanding work of local artists through free pop up arts experiences.
"I love the Blumenthal. I have so many memories of Spirit Square," Baller says. "That's where we did our Girls Rock camps."
For six straight years, Blumenthal partnered with the non-profit organization, which empowers girls and gender diverse youth and adults through music and film education, to provide space at virtually no cost to her organization. "The generosity—oh my gosh, and their sound people. Rodney (Rollins, Blumenthal's lead technical production manager) has put up with so much from me…"
Doing sound for a band of eight year olds isn't easy, she says, and everyone on Blumenthal's staff was enthusiastic to help.
(Photos from a Girls Rock CLT performance at McGlohon Theater in 2019)
THE POWER OF PUBLIC ART
After the wedding ceremony, Baller and Palmisano rode in a pedicab to a private reception to celebrate with friends. Along the way, they had the chance to enjoy and discover the poetry snippets placed all across uptown as part of the community-driven public art project, "Of Earth and Sky."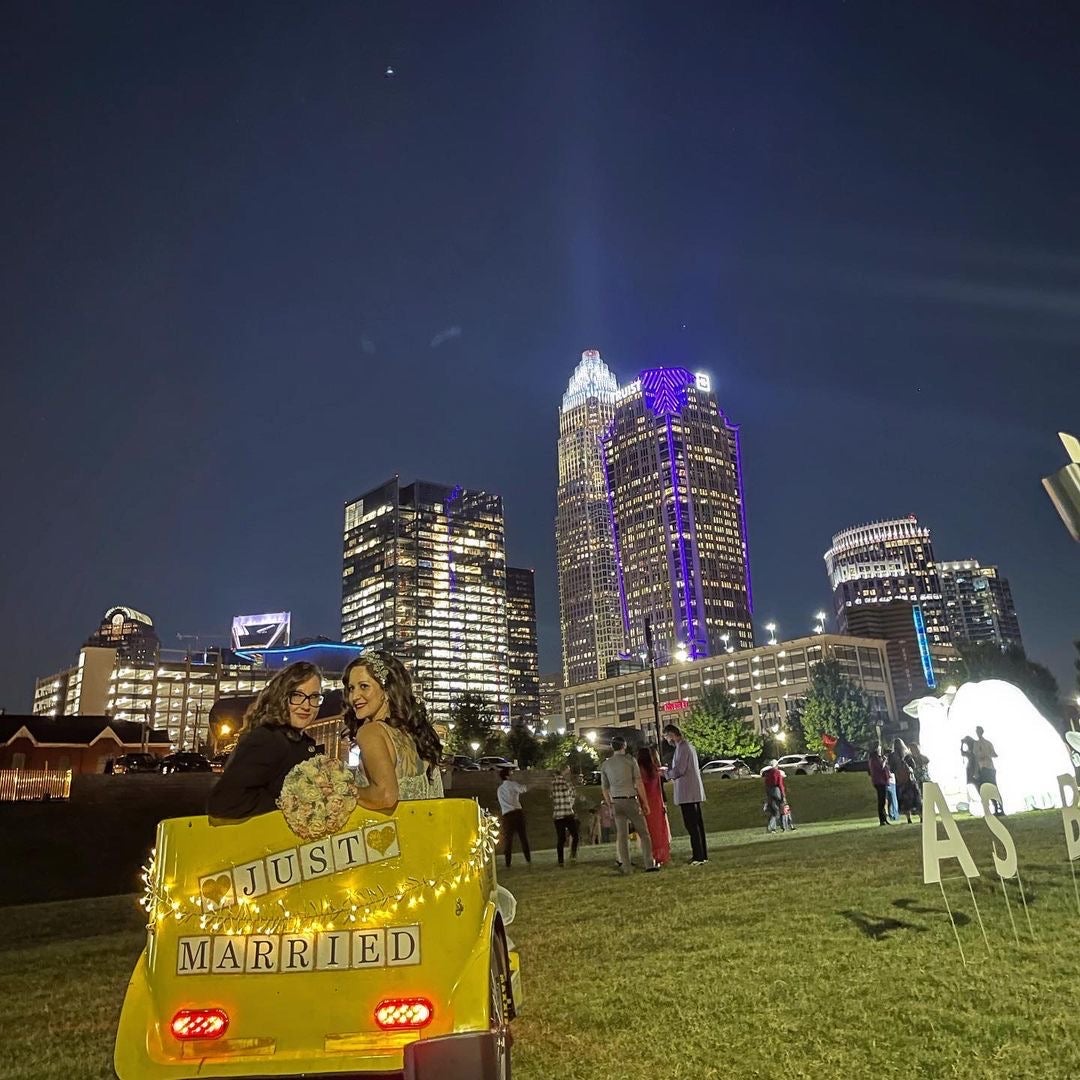 (Photo by Bree Stallings)
Public art provides a space for the unexpected, an opportunity for our brain to rest and reflect, and be present, Palmisano says. It gives us space to pause.
Throughout history, artists have been "the tellers of the untold tales," she says. "We are the historians. We record and honor the voice of the minority, the underserved, the cast aside, often. I think it's a very sacred and important role."
Blumenthal's supporting role in all of this is essential too—collaborating with artists to create new works and opportunities and helping to make the arts accessible for everyone to experience.
"Amazing work has come from the local community because the Blumenthal trusts artists to show up and do..." Palmisano says. "It sounds like not a novel concept but it really is the exception, not the rule. I hope it continues."