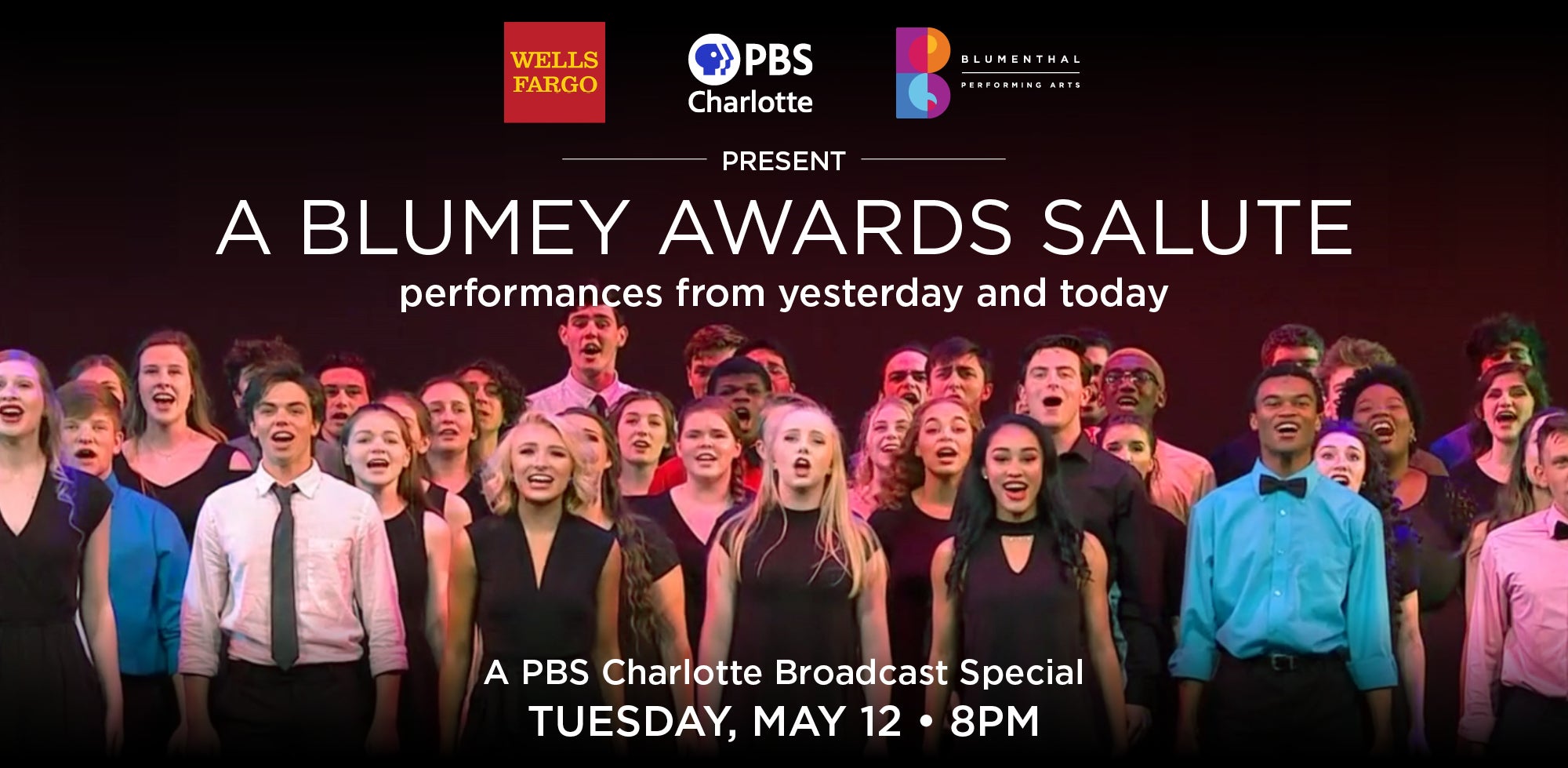 PBS Charlotte To Debut Broadcast Special Celebrating The Blumey Awards, Sponsored by Wells Fargo, May 12 at 8pm
Charlotte, NC (April 28, 2020) – PBS Charlotte will air a special honoring the Charlotte-area students and high schools who have been part of Blumenthal Performing Arts' annual celebration of high school musical theater - The Blumey Awards - on Tuesday, May 12 at 8pm.
"A Blumey Awards Salute: Performances From Yesterday & Today" is sponsored by Well Fargo and will feature performances from past Blumenthal High School Musical Theater Awards ceremonies and videos from students who would have been part of this year's awards, had the COVID-19 pandemic not occurred.
"We want to thank PBS Charlotte for stepping forward with a great idea to recognize the students and schools who had planned to be part of this year's Blumeys," said Blumenthal Performing Arts President Tom Gabbard. "We also are very grateful to Wells Fargo for their annual support of the awards and this special broadcast."

Due to the COVID-19 pandemic, Blumenthal made the difficult decision to cancel this year's high school musical theater awards ceremony, originally scheduled for May 17th at Belk Theater. The ceremony's annual broadcast partner, PBS Charlotte, soon conceived a plan to recognize and celebrate the 48 schools slated to participate.
"We could not let this go without figuring out how we could recognize these students. My heart ached for them, especially for the seniors who were losing their final opportunity to compete in The Blumeys," said PBS Charlotte General Manager Amy Burkett, who serves annually as an emcee for the Blumey Awards. "I've been backstage and seen how this program impacts the students firsthand and I knew what missing out on this night would mean to them."
The hour-long broadcast will include footage of some of the best moments from the last four years of the Blumey Awards. The broadcast will also include a special tribute to this year's seniors and snippets from many of this year's school productions, some performed on stage and others virtually on Zoom.
Broadway orchestrator and arranger David Dabbon, Music Director for the annual Blumey Awards ceremony, will also lead a virtual choir featuring two students from each participating school singing his original composition, "Don't Be Surprised." The spirited song traditionally serves as the closing number at the Blumey Awards.
Linda Booth, a Charlottean, and the region's most sought-after choreographer is teaching the participating students an adapted closing number routine.
"Wells Fargo is proud to support Blumenthal Performing Arts and PBS Charlotte. As the presenting sponsor of The Blumey Awards for past 9 years, Wells Fargo continues to be committed to this signature educational performing arts program, and we are thrilled to be able to celebrate The Blumeys with this special broadcast," said Jay Everette, Senior Community Relations Manager of Wells Fargo Social Responsibility Group. "Our thoughts are with the kids, families and teachers that are unable to participate in this year's ceremony due these challenges times. We recognize all of their hard work and achievements throughout this past year and wish them the very best."
For interview, photo and b-roll requests, please contact:
Becky Bereiter
(336)508-2146
###
ABOUT BLUMENTHAL PERFORMING ARTS
Blumenthal Performing Arts serves the Carolinas as a leading cultural, entertainment and education provider. For more information, call (704) 372-1000 or visit BlumenthalArts.org. Blumenthal Performing Arts receives operating support from the Arts & Science Council and North Carolina Arts Council. Blumenthal Performing Arts is also supported by PNC Bank, sponsor of the PNC Broadway Lights.