Professional Costume Designer Paula Garofalo Dishes on the Inspiration Behind Her "Mean Girls" Mask and Shares Tips on Getting Started in the Biz
When Paula Garofalo looks back at high school, she realizes she was thinking like a costume designer even before she knew that job existed. Cast in a production of "You Can't Take It With You" her sophomore year, she became fascinated by the time and history research for the play. Finding shoes that matched the time period and getting her hair just right became her major concerns.
That early fashion obsession is one thing she has in common with the larger than life characters from "Mean Girls," who have inspired her latest design project. Garofalo is one of the professional costume designers judging Blumenthal's "Sew for the Show: Mask Design Challenge" and today we are sharing her expert level sample mask to kick off this week's competition theme.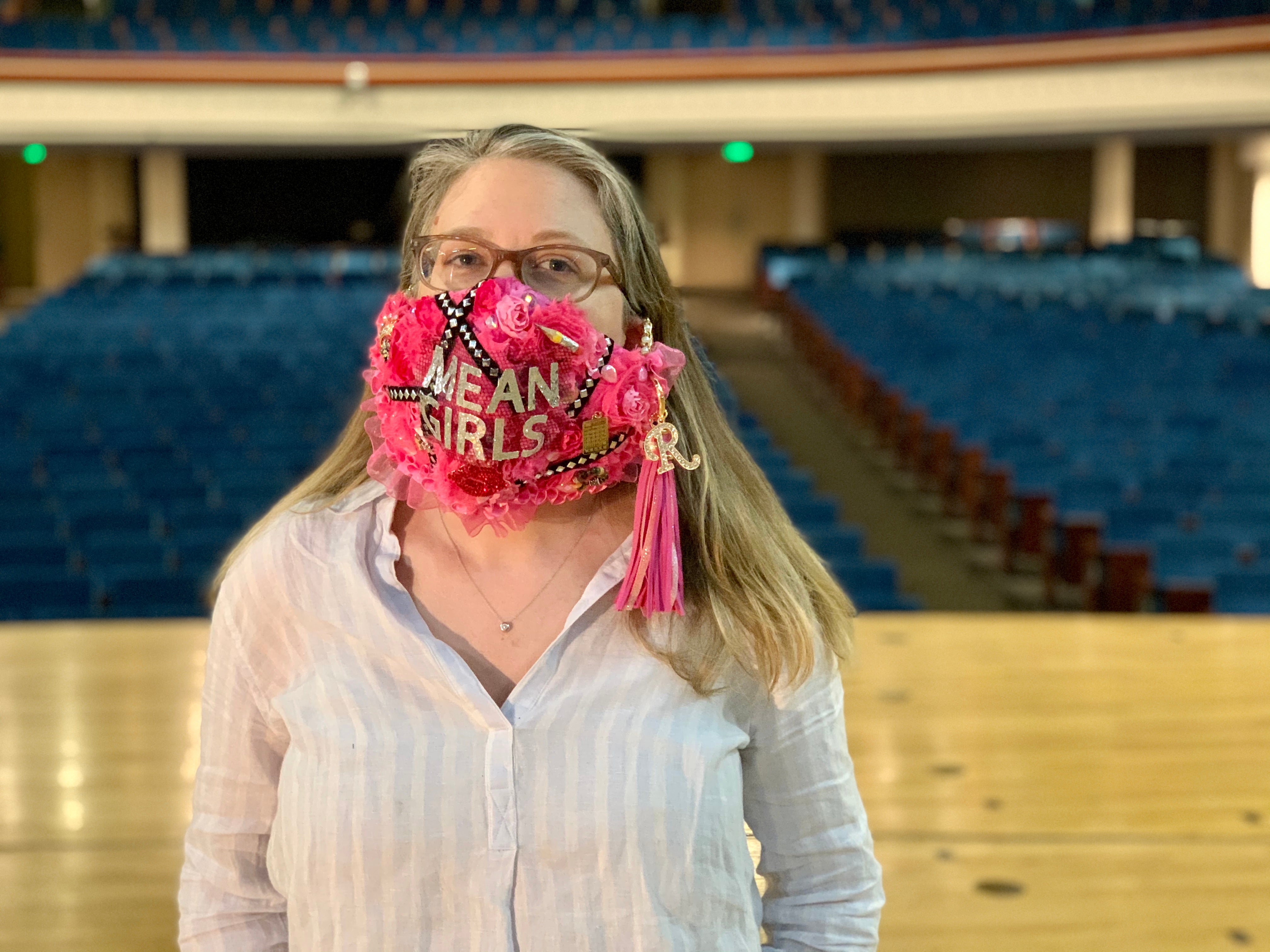 (Paula Garofalo sporting her Mean Girls-inspired mask at Belk Theater)
"Mean Girls," the ferociously funny musical written by Tina Fey and based on the cult movie favorite of the same name, comes to Charlotte in July 2021 as part of the PNC Broadway Lights season.
About Her Design
"I love 'Mean Girls.' That was of my time," says Garofalo, who recalls frequently watching the film during her grad school years studying Costume Design at Ohio University.
Because "Mean Girls" is such a part of the vernacular now, Garofalo knew she wanted to incorporate certain features. "It's like 'Annie' and the red dress," she says. "So I felt like it has to be pink, it has to represent The Plastics. Nobody wants to see a mask all about Cady. She's not the most compelling character."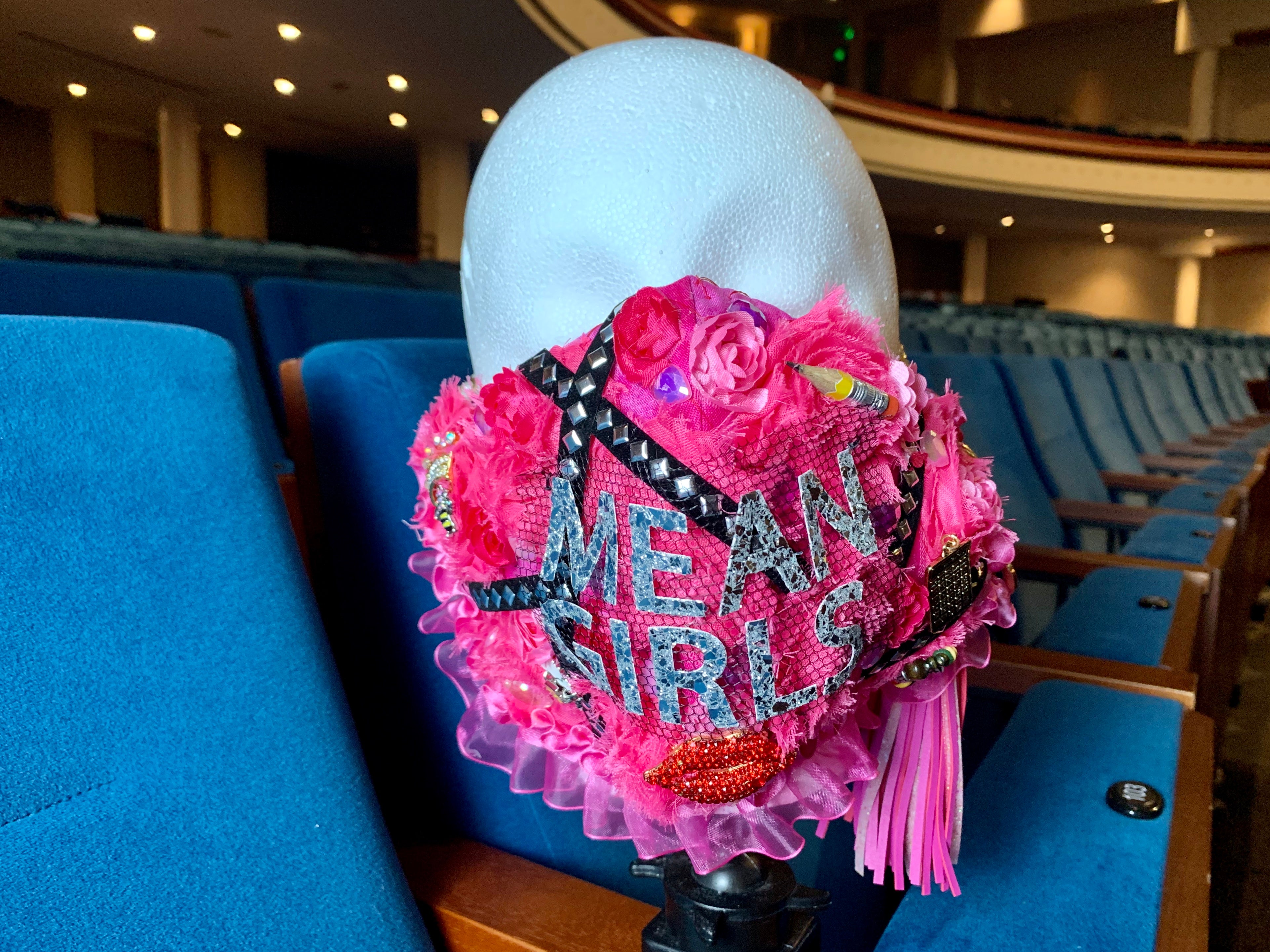 (In case you need a refresher, new girl Cady Heron has just moved with her parents from the African savanna to the wild unknown of high school in suburban Illinois. The Plastics are North Shore High School's "it girls," led by the gorgeous and ruthless Regina George.)
Garofalo also wanted to use her design to emphasize the outrageousness of the characters and story. "It's a ridiculous movie and it's very driven by these stereotypes and these archetypes … I feel like design, when it's appropriate, should always be playful. And if there's a Marie Antoinette in this story, it's Regina George. And Marie Antoinette, which is always like an inspiration of 'you can never go too far'... I feel like there always needs to be a boat on your head moment in design."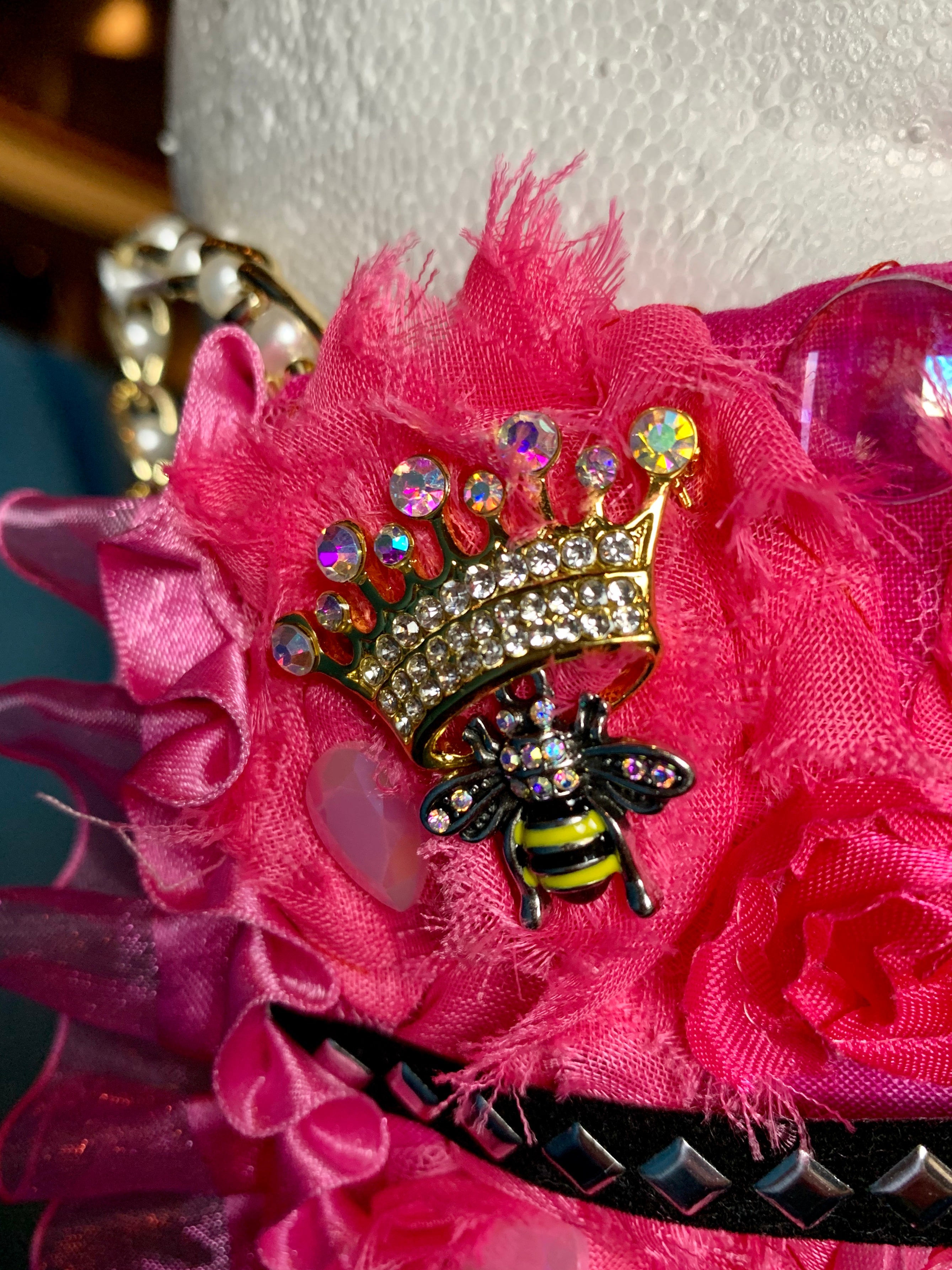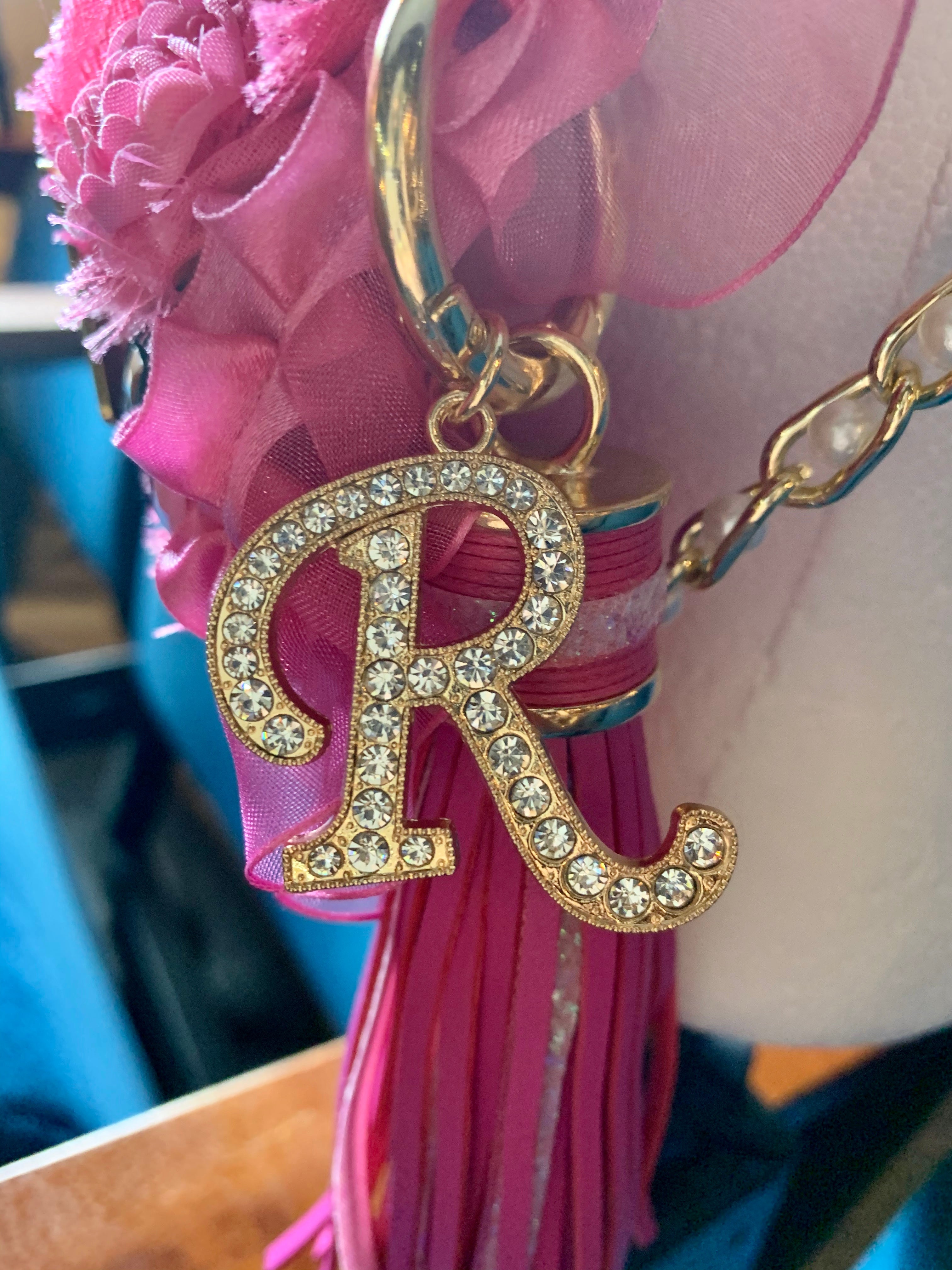 For this project she focused on the decorative nature of the mask—as though it were a prop for a show—rather than on its functionality. Supported by plastic and foam on the inside, Garofalo's mask incorporates layers of texture in pink fabrics and pre-made trims. Note the ear ties of chain link and pearls, made to look like jewelry. There's also a Queen Bee pendant on one side and a giant pink tassle keyring with a flashy rhinestone "R" on it, just like an accessory Regina might choose for herself. (For a more functional mask, check out Garofalo's tutorial on a simple hand-stitched base design you can make with items easily found at home.)
Sew For The Show Mask Design Challenge: Base Masks Using a Simple Hand-Stitch from Blumenthal Performing Arts on Vimeo.
What the Judges Will Be Looking For
While technical skill will be one component they look at, Garofalo and the other judges expect (and hope!) to receive entries from people with a wide range of abilities. The emphasis will be on design linked to story. "[It] can't just be 'oh, I learned this fabulous technique' or 'I have this crazy idea,'" says Garofalo. "The design is going to need to support each musical story." She says in making their selections, the judges will focus on the overall design concept for each mask and how well that idea was executed.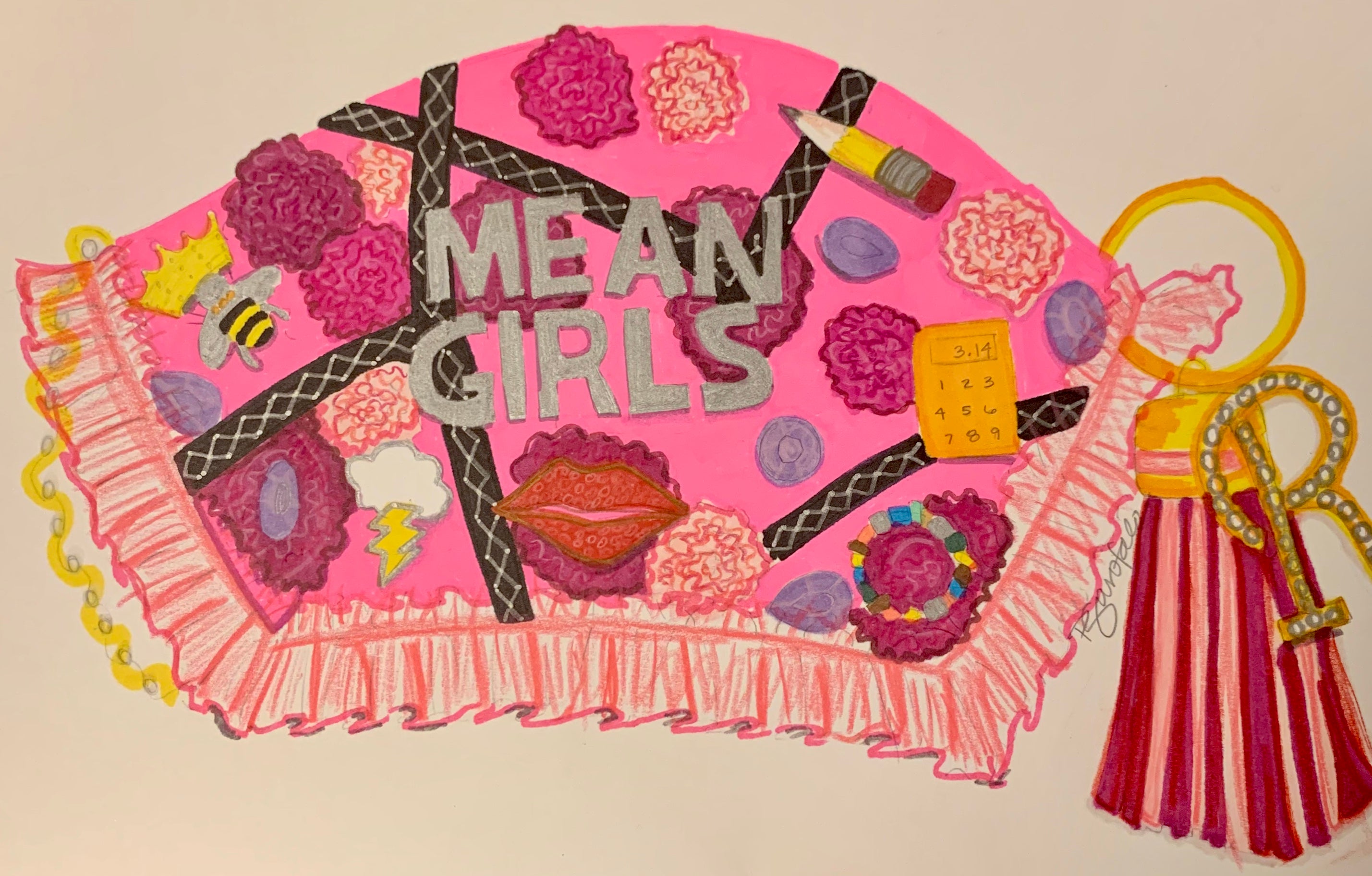 Tips for People Just Getting Started with Sewing and Design
Garofalo, who currently serves as the Arts Recruitment Coordinator for Winthrop University, has designed for productions all over the country, including stints at the Cincinnati Playhouse, Monomoy Theatre on Cape Cod, and the New York International Fringe Festival. Locally, she has designed for and/or managed costume shops for CPCC theater and opera productions, Children's Theatre of Charlotte, assisted with productions at Blumenthal Performing Arts (including co-designing Charlotte Squawks one year) and has also worked as a Visiting Lecturer in Costume Design at UNCC (her undergraduate alma mater).
But she remembers how hard it was when she was just starting out. She spent two years in college learning to sew.
"Sewing is a very difficult skill to master and in the beginning you have to have so much patience," says Garofalo. "You have to want to do it because I think the hardest part is the beginning. It's about learning how to use your hands, those tactile skills. People don't have them. We type on computers so I think for young people, there's a hurdle of just using their hands.
"And then secondly, it's learning how to maintenance machines. Learning just the basics of how does a sewing machine operate—the basic trouble-shooting—is the first six months of sewing. And it's really hard. You have to really stick it out because to be honest, it's totally discouraging … but you have these tremendous breakthroughs once you get through some of that, you can progress so much more rapidly."
One factor that can make a big difference is having a good teacher to guide you. One-on-one mentorship, like Garofalo had in school, is usually hard to find unless you are enrolled in a theater or fashion design program. However, these days you can also find lots of helpful tutorials on YouTube.
Keep in mind that sewing for theater productions is different from home or hobby sewing, says Garofalo. It's a serious pursuit, and it also incorporates very different techniques than those used in mass production: a lot of couture finishes are used in theater. Pieces are designed to fit one person and need to be really durable to endure the entire run of a production.
Sewing is also just one aspect of the costuming field. The bigger the company you work for, the more specialized roles become, says Garofalo, from hat makers and shoe makers to wig designers and even period hosiery and underwear designers. Running a costume shop also requires skills in hiring, time and budget management, shopping and more.
Look for community theaters, community colleges and state universities—which generally have theater programs large enough where they will be building their own costumes—to get hands on experience in the industry.
Garofalo still loves the research and design aspects of costuming but her favorite part is doing the fittings. That's the moment, she says, when you can build the characters right in front of your own eyes.