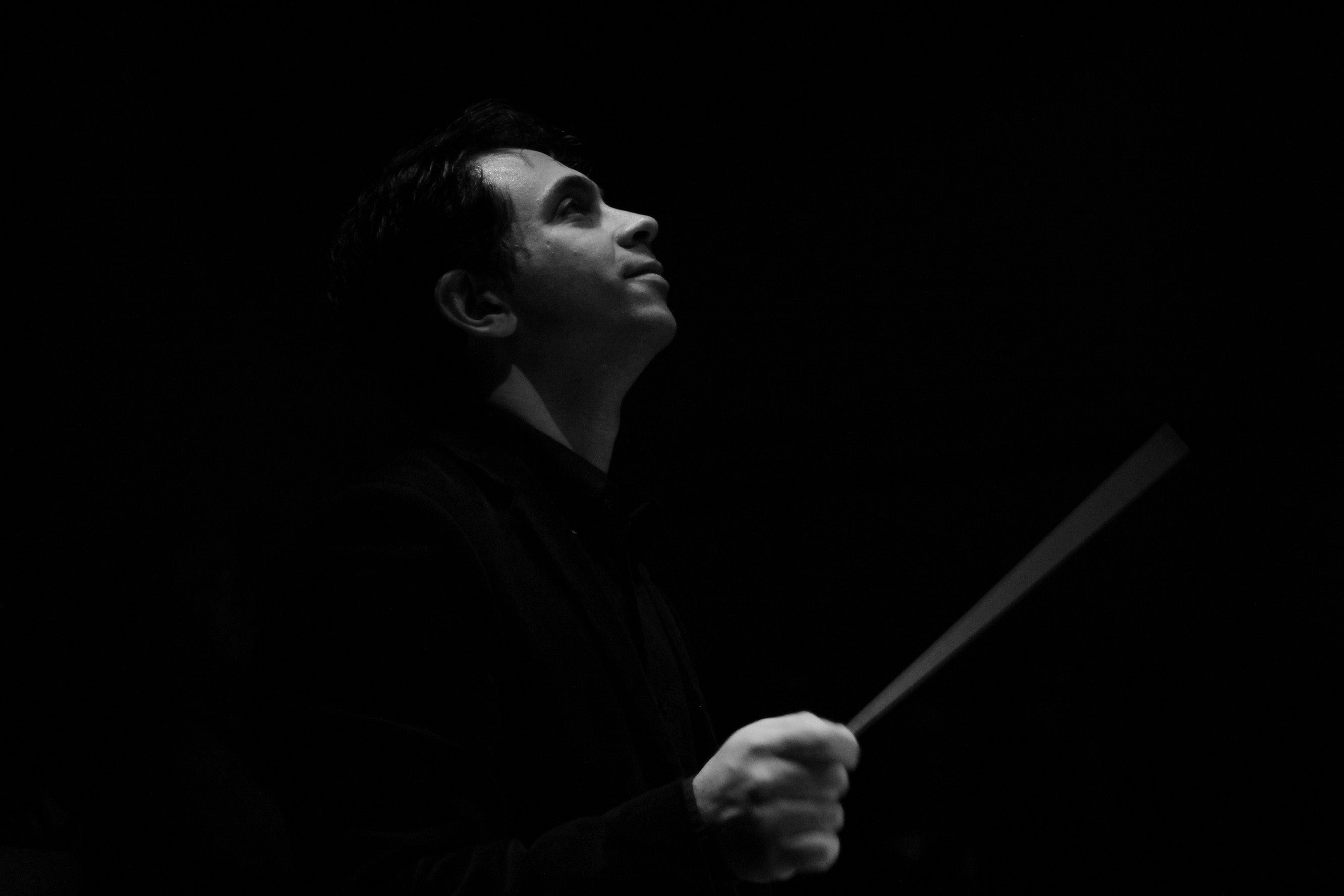 Q & A with Broadway's David Dabbon, Music Director and Orchestrator of the Blumey Awards
David Dabbon is in demand: he composes, arranges and orchestrates music for Broadway, film and other professional theatrical productions around the country. He works with top artists (think Stephen Sondheim, Audra McDonald, and Marvin Hamlisch) and his work has been played on the world's finest stages: from Carnegie Hall to the Sydney Opera House. In addition, he's a highly sought after vocal coach for both students and professionals.
But every spring since 2012, Dabbon has also made time to serve as music director for the Blumey Awards, Charlotte's annual competition and celebration of achievement in high school musical theater.
We caught up with him onstage at Booth Playhouse during a recent visit to the Queen City. Dabbon was here, along with Broadway performer Kirsten Scott, to lead two days of audition workshops with local students, who are competing for Best Actor and Best Actress Blumey Awards this year.
Here, in his own words, is why he loves the Blumey Awards, what quality he thinks is most important in a performer, and his advice on deciding whether a performance career is right for you or your child. (Note: Minor edits for length and clarity.)
Q. Tell me a little bit about why you keep coming back year after year—I know you have a million other projects you're working on.
DD: I'm blown away by Charlotte. I had never come to Charlotte prior to doing the awards and every year the level of talent, awareness, sweetness, intelligence, joy, community I find in the arts through this program is outstanding.
And I love young talent. I think it's very exciting being a professional, remembering being a young kid who loved the arts and getting to work with somebody. It's nice to be able to have that experience, be able to pass on that joy. Also, on an artistic level, I get to teach—I love teaching. I also love writing. So, you know, I wrote the Blumey finale. I also get to do all these arrangements and work with an incredible orchestra, a 17-piece band, that's here every year.
And strangely the awards combine everything I love: it's listening to my favorite playlist of musicals, getting to work with these incredible musicians, these students, the writing, the arranging, the orchestrations, getting to collaborate with the whole team at Blumenthal. It's what I love to do.
Q. How different is what you're doing with the students today from what you do when you're in a professional setting?
DD: When I'm doing things in a professional setting, there are a couple jobs that I do. One is vocal coaching and this is similar to what I'm doing with the kids today, which is helping people tell stories through song and [finding] the best way to act and convey. And one of the things I keep stressing is it's really important to be yourself while singing… we all hear recordings of people singing things and watch videos on YouTube and we always feel things need to be a certain way, and I think either in this class or when I'm teaching professionals, it's always a reminder of 'be yourself.'
And even when you're working on a show, you're figuring out that puzzle of what's going to help you sustain being the most genuine. I think that's the big part of teaching and being a professional is accessing that part of you so I don't think it's that different.... they're the same principles: you find your arc, you tell a story, who are you singing to, breathing—and even as a professional, you're still constantly taking class. A huge part of being an artist is figuring out how to grow.
Q. Do you have a memory of a moment when you knew this is what you wanted to do for the rest of your life?
DD: Strangely, I don't. I think I've always wanted to do it. My parents joke that they don't know where it even came from. I also have this random knowledge of musicals. I don't know where it came from either… my parents were, of course, very nervous about me going into it but very supportive at the same time.
Q. What would be your advice to kids or to parents who are thinking about pursuing this in some way—either now or as a professional?
DD: If you're an individual that pretty much loves the arts, you will know it. If you're hesitant about it you will also know it. And if you're hesitant, it's probably not the right thing. If you deeply know it's the right place and thing for you, then there's nothing else that you want to do…
Quick, little story: When I was in high school, I actually wasn't doing my homework and my dad said to me, "David, if you don't do your homework, you're not allowed to play piano." And I turned to him and I said, "YOU'RE RUINING MY CAREER!" and he says it was a big moment for him to realize how important this was to me. It was a way I could express myself, I had a community of people…
I grew up in a household of parents that are not from the States. They're Egyptian Jews. So, I've always been a little different and connected with kids that are a little different and unique. I think as people are also trying to support friends, family, kids, it's a long road. It's a tough road. It doesn't get any easier. But if it's the right thing, it usually works out.
Having that support and curiosity—even looking at Lin Manuel [Miranda] who was an actor but wasn't creating the projects he wanted and ended up creating something for him[self]. Not everyone's gonna be a Lin Manuel but that concept of you are in control of what you can do and there's so many different aspects of the industry that I didn't even know about and I'm still learning about.
[N]ot everyone also needs to go into a profession in the arts. There are so many ways to support and love it—there are choirs and going to shows and going to museums. There's the art of even dining. I think art is constantly around. It brings us joy. It's about connecting with people. And I think, as parents, they're trying to figure out, 'hey, is this right for our kid?' I think the important thing is either it's right for them or it's not. I don't think there is a middle ground. The middle ground is either being a fan or being a creator.