Serving Up Goodness: Blumenthal has a recipe for making community connections during its run of WAITRESS
WAITRESS, in Charlotte through May 22, is a musical love story. But not a traditional one. It's about the love among friends and co-workers; the love between mother and child, unexpected, romantic love. The love of a community.
Making pie is Jenna Hunterson's love language. It's also a form of escape from her abusive husband. Her late mother taught her to make pie, and creating sweet and savory pies – with wildly unusual names – is a way to remain connected to her. She sometimes imagines her mother with her as she mixes flour, butter and sugar, rolls out dough and crimps the edges of her pies.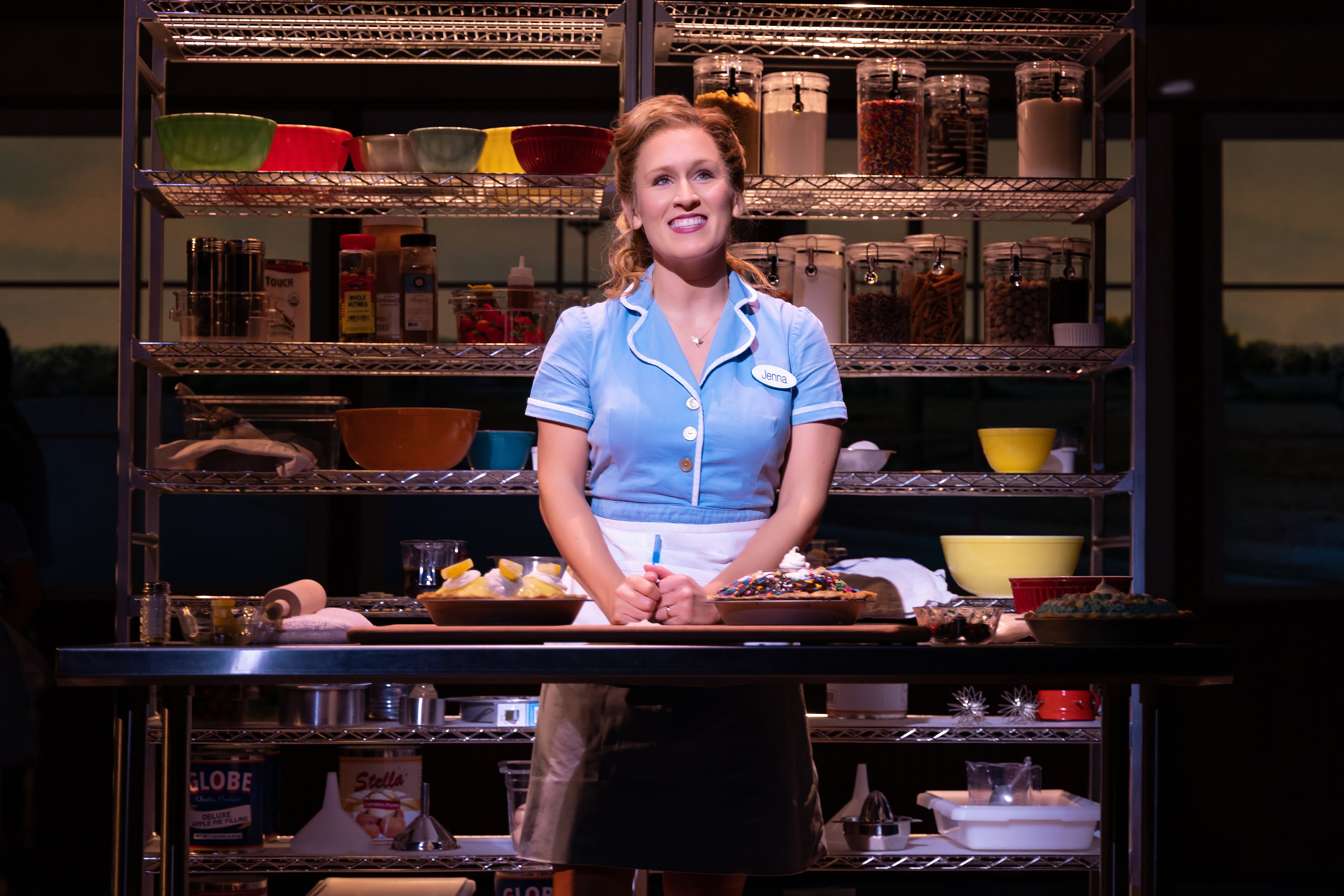 (Stephanie Torns as "Jenna" in Waitress)
Blumenthal Performing Arts leaders thought Jenna's moving story would resonate with a lot of people and community groups.
"We're engaging with community partners during our special 5-week run of WAITRESS through May 22," said Danny Knaub, Blumenthal's VP of Marketing. "These businesses and organizations were selected due to their real-life connections to a number of themes in the show."
Blumenthal is promoting this special, intimate engagement of WAITRESS in ways you might expect – at pie shops and bakeries, for instance – and in ways you might not.
Blumenthal is teaming up with, for instance, Safe Alliance, a local nonprofit whose mission is to provide hope and healing to those impacted by domestic violence and sexual assault. Blumenthal is promoting Safe Alliance's 24/7 "Hope" hotline (980.771.4673), offering free confidential support for parenting, domestic violence and sexual assault. Signs, printed in English and Spanish, with the hotline number will be in the restrooms at the Booth Playhouse for the run of the show.
Musical with a message
WAITRESS is more than a heart-warming, feel-good musical – although it is both those things. There's a serious undercurrent to it in the form of Earl, Jenna's bully of a husband. You'll likely laugh at the scene where fellow waitresses Becky and Dawn encourage Jenna to take a pregnancy test as they sing about focusing on "The Negative," hoping for an outcome that is not to be.
Jenna is pregnant and reluctantly decides to keep her baby. She fears for their future, but she has reasons to be hopeful, too. She's got supportive co-workers and customers (including a lovable, curmudgeonly old fellow who comes in every day), the possibility of a big payoff at a pie contest … and an unexpected mutual attraction to the new guy in town … who just happens to be her OB/GYN.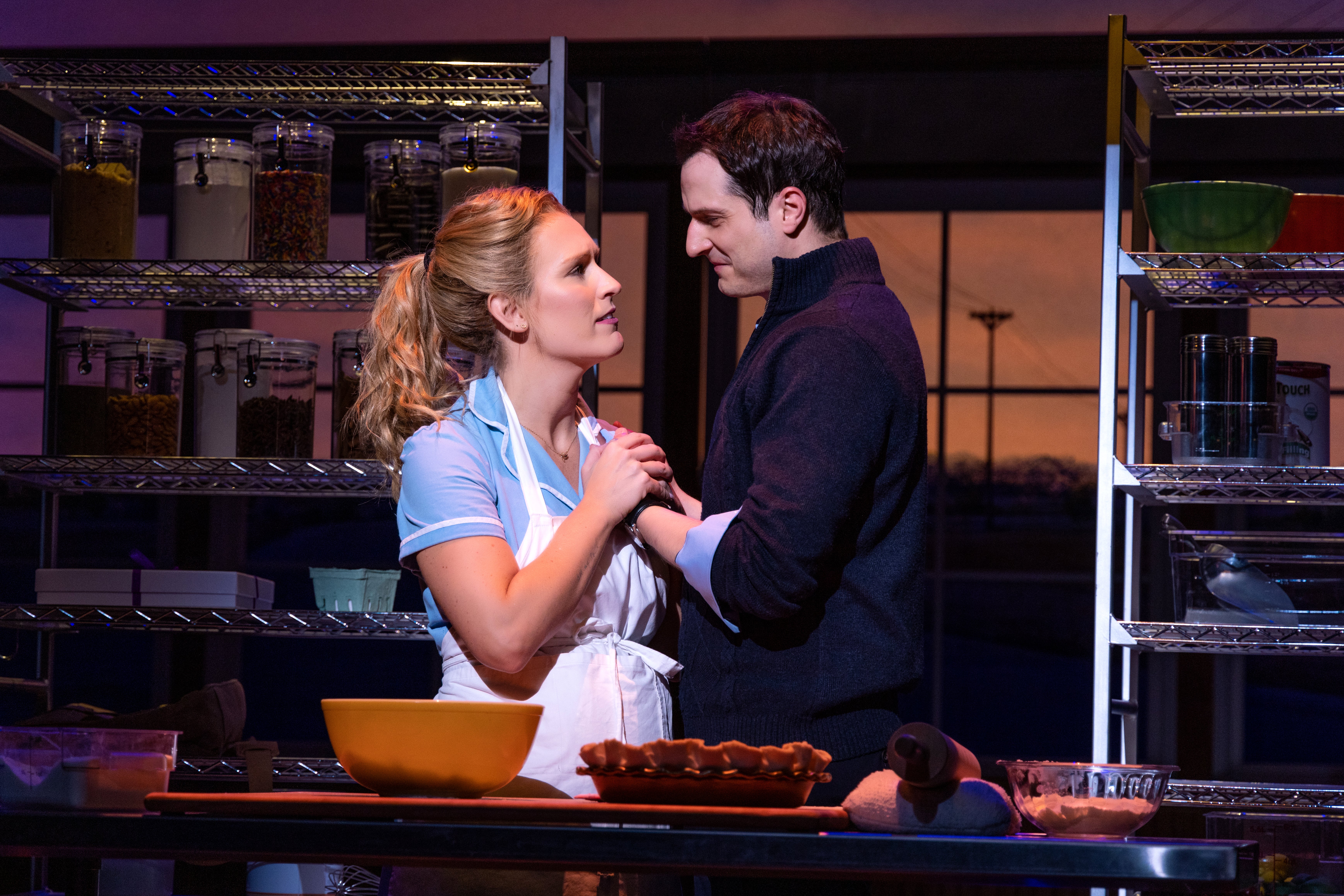 (Stephanie Torns as "Jenna" and Bryan Fenkart as "Dr. Pomatter")
Jenna's colleagues form a loving community for her. Blumenthal found the bonds similar to those formed by the staff at The King's Kitchen, Chef Jim Noble's uptown, Southern-inspired restaurant that employs a special group of people.
"Far too many of our fellow Charlotte residents suffer from extreme life challenges such as poverty, homelessness and the slow, uphill battle of recovering from substance abuse or incarceration," according to The King's Kitchen. "Our vision and goal each day is to raise funds to feed the spiritual and physical needs of those who have the least in our community and to train and equip those previously unemployable in the restaurant trade."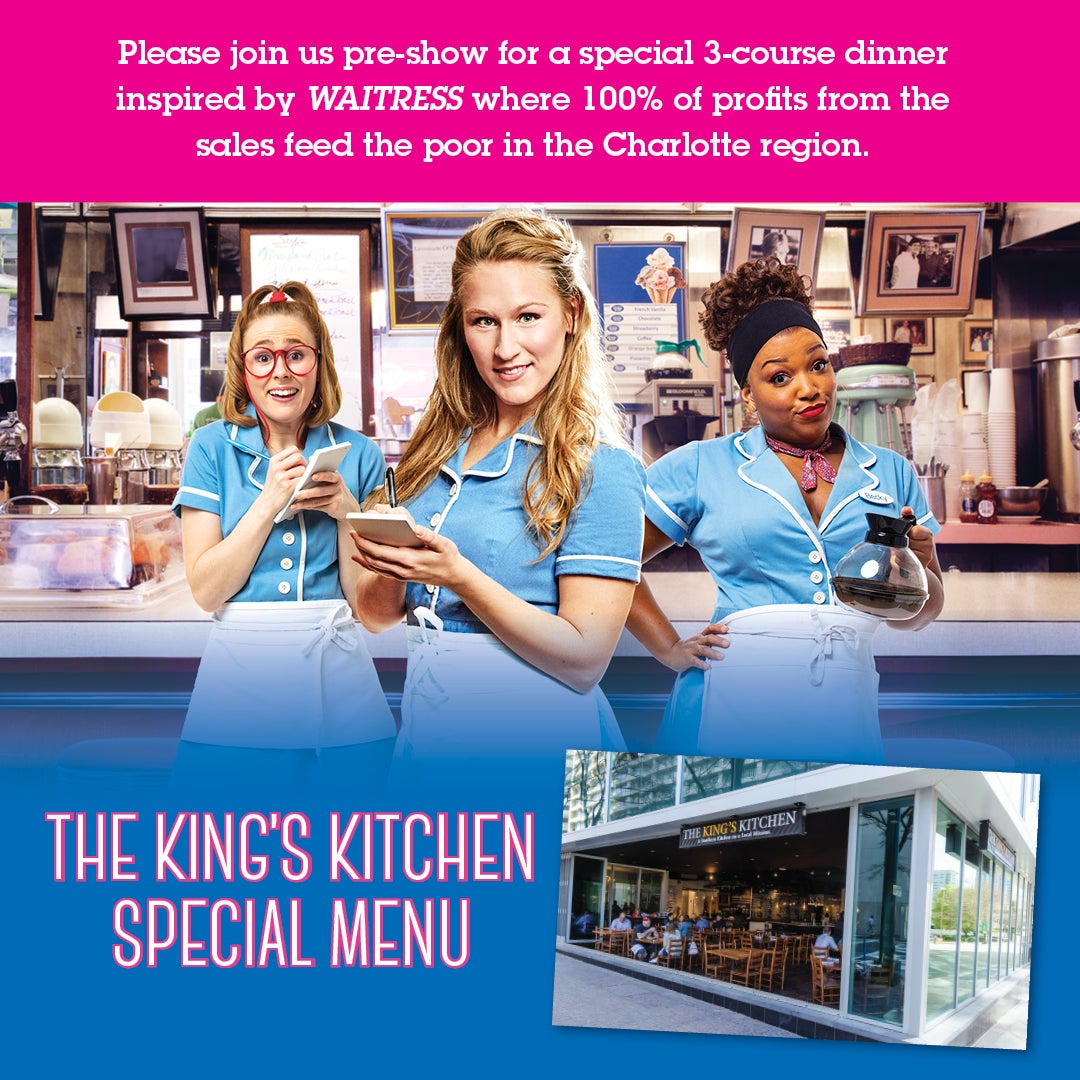 Established in 2010, The King's Kitchen is managed by Jim Noble Restaurants and donates 100% of profits from sales to feed the poor in the Charlotte region. Additionally, The King's Kitchen partners with the Charlotte Mecklenburg Dream Center and other local area ministries to provide job-training, life-skills training, etiquette workshops, financial management guidance and employment intern opportunities to Charlotteans in search of a new beginning.
Noble said, "The King's Kitchen is honored to partner with Blumenthal Performing Arts Center for the run of WAITRESS. We believe in service beyond the table and in food as a form of restoration, both things that the musical embodies. We look forward to connecting with everyone who comes through our doors on the way to see WAITRESS over the next five weeks."
The King's Kitchen is offering a special three-course WAITRESS pre-show menu for $40 per person. Make reservations at kingskitchen.org.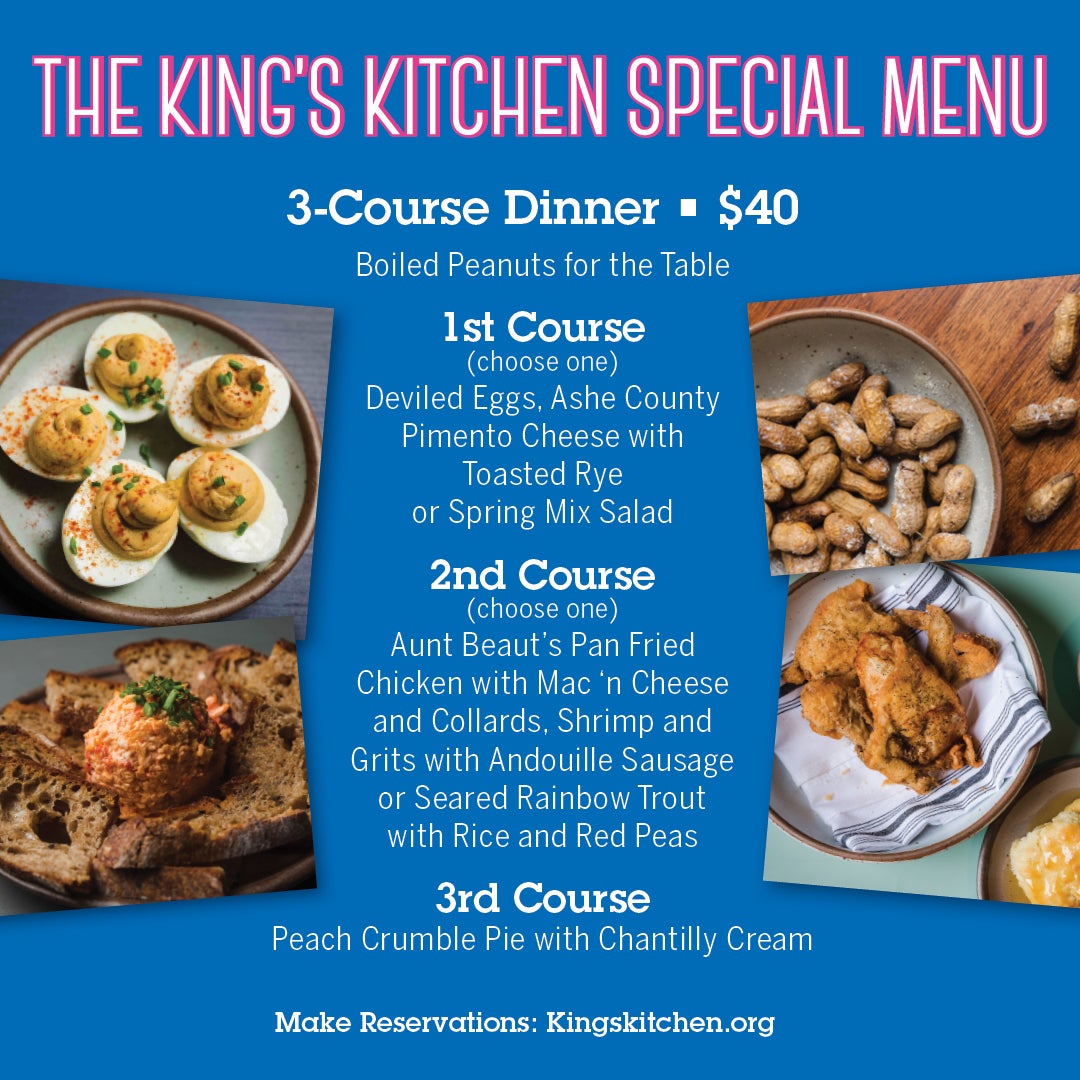 Several local bakeries are putting WAITRESS signs up in their shops and promoting the show on their social media channels. You'll find WAITRESS signs (and delicious baked goods) at Buttermilk Sky Pie Shop, and The Batchmaker – both owned by women!
Dress the part
Along with Safe Alliance, Blumenthal is joining forces with Dress For Success as a community partner of the show. The organization's mission is to empower women to achieve economic independence by providing a network of support, professional attire and development tools to help them thrive in work and in life. DFS typically accepts gently worn professional attire – suits, dresses, skirts, blouses – but is currently at capacity for clothing. Instead, they're asking for donations of gently used purses. Volunteers will be accepting donations of purses in the theater lobby for the run of the show.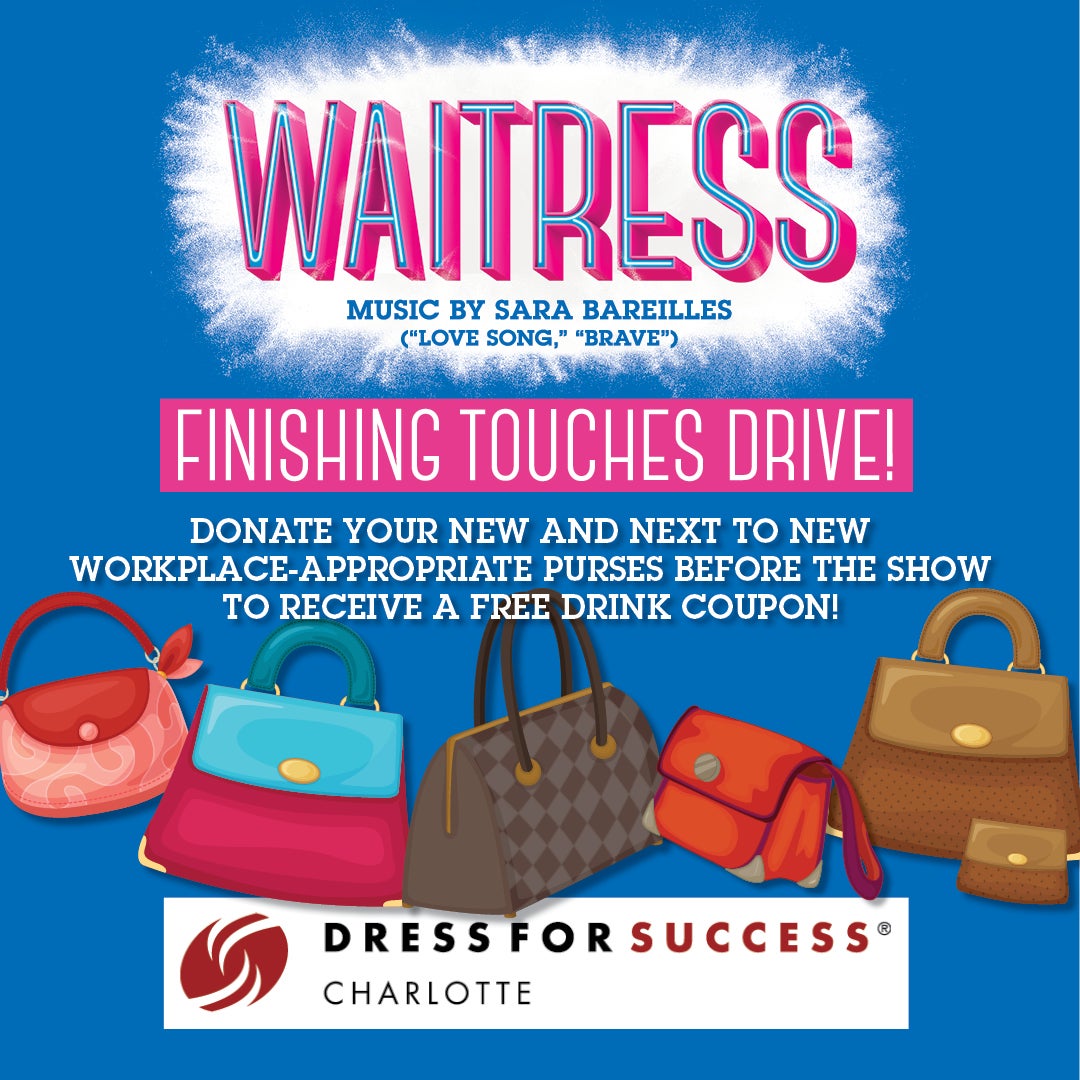 In addition, Blumenthal purchased 50 tickets to the Sunday, April 24 evening performance as a "Volunteer Appreciation" event for DFS volunteers.
"We are honored to be working in partnership with the Blumenthal Performing Arts Center and WAITRESS over the next several weeks," said Kerry Barr O'Connor, Dress for Success executive director. "In addition to collecting purses in support of workforce development, specifically job preparedness, the Blumenthal is recognizing many of our volunteers as guests of the production. These volunteers have been working hard all through the pandemic to make sure women seeking employment were well suited for their interviews."
"With women, and especially women of color disproportionately impacted by COVID-19, helping to move forward the mission of the organization and expand our sphere of influence is more critical than ever," O'Connor added.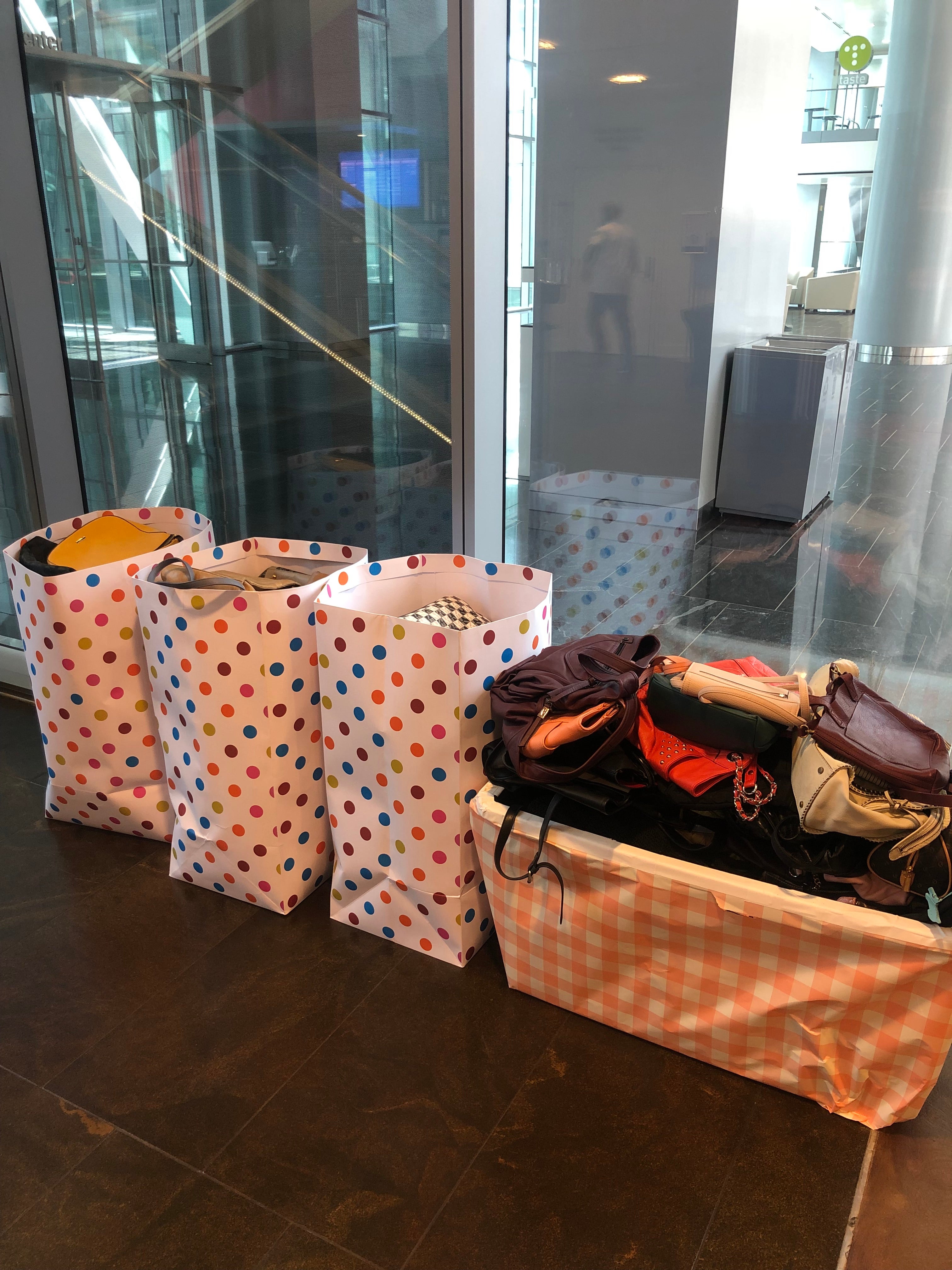 (During the first two weeks of performances, Waitress audiences donated 200+ purses to Dress For Success Charlotte)
Safe harbor
"As a nonprofit, we have limited funds," said Sarah-Kate Pease, director of corporate and community engagement for Safe Alliance. So, when other people reach out to us and want to spread the work that we do and raise awareness and connect people to our services, we jump on that opportunity. Domestic violence and sexual assaults are often seen as taboo and aren't spoken about. The more we can raise awareness and provide support for everybody in the community facing those issues, the better and stronger we are as a community."
"The Charlotte area follows national patterns," Pease continued. "For Charlotte and the U.S. as a whole, domestic violence went up 15% to 20% during the worst of the pandemic. Many victims were trapped in their homes with their abusers."
In fiscal year 2022, Safe Alliance answered 8,637 calls to the hotline. "Calling the hope line really opens the door to our services," Pease said. "It gets them connected, whether it's to counseling or an emergency shelter or our victim assistance program. The hot line is really the entry point into all of Safe Alliance's services."
"Domestic violence infiltrates all layers of society," Pease added. "It really comes down to the person who has power in the relationship. "Safe Alliance will accompany women – or men, when they are the victims of domestic violence – wherever they are in their healing journey. "Some of our services are catered to right now, as in we will accompany you to the hospital while they're doing a rape kit and get you into counseling. But there are things that retrigger trauma and bring issues back up, and we're here to offer services and connections wherever you are. We're an advocate for you."
Lastly, Blumenthal is partnering with Dahlia Grove, a nonprofit social enterprise seeking to empower and employ women survivors of human trafficking, domestic violence and sexual exploitation. The organization provides a two-year, rent-free restorative care home providing resources for healing and recovery. Dahlia Grove provides catering services, handmade giftware and event planning to provide job training and employment for survivors. Blumenthal is purchasing 10 tickets to the Sunday, April 24 evening performance for their volunteers.
While there is a serious message in WAITRESS, it's, at the same time, a delightful confection. You could say it's as sweet as pie.