Something to SHOUT! About: FREE EVENTS!
What's the best way to celebrate a 250th birthday? With a massive citywide party, of course! Expect two weeks of jaw-dropping events spanning art, music, food and ideas as Blumenthal Performing Arts joins forces with Charlotte City Partners to bring you CHARLOTTE SHOUT!, April 29 - May 11.
This culmination of the year-long #CLT250 celebration will be unlike anything the Queen City has ever seen before: more than 75 concerts, art installations, pop-up performances, culinary stations and showcases highlighting artists from around the world and down the street, it literally will have something for everyone to enjoy.
And that's not all... Many events are totally free! Here's a look at some festival highlights that won't cost you a dime (plus a few of the low-cost options you may want to check out too.) For a complete schedule of events, visit charlotteshout.com
FOR MUSIC FANS
The Charlotte Jazz Festival kicks things off with plenty of opportunities to enjoy free live music almost any time of day.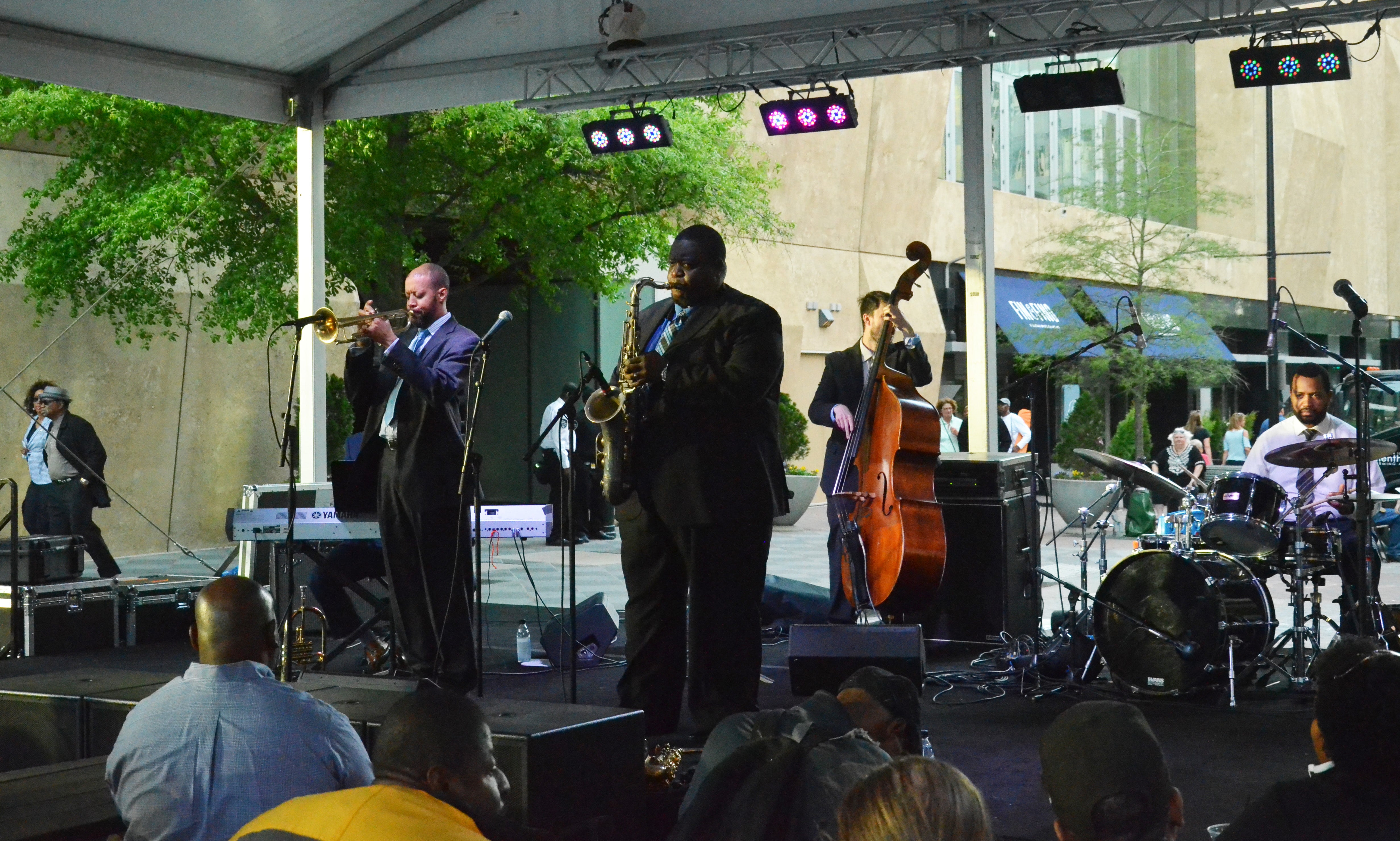 Lunch Hour Jazz, April 29 - May 3 @ 11:45am
The Pavillion @ Levine Center for the Arts
Food Trucks on site.
Click here for full artist line-up.
Jazz at the Pavillion, May 2 & 3 @ 5:30pm & May 4 @ 1pm
The Pavillion @ Levine Center for the Arts
Almost continuous free jazz concerts Thurs night, Fri night & all day Sat. No tickets or reservations needed.
Click here for full artist line-up.
Late Night Jams, May 3 & 4 @ 11pm
Knight Underground | Knight Theater
High energy, totally improvised shows in a cool, speakeasy-themed hideaway.
Not into jazz? Check out these shows below.
Lunch Hour Concerts, May 6 - 10 @ 11:45am
The Pavillion @ Levine Center for the Arts
These concerts span reggae, latin ska, gypsy guitar, swing, rock, interactive drum circles and more:
Click here for full artist line-up.
~ Looking for more music at a low price? Don't miss: ~
HAVANA NIGHTS with Gino Castillo & The Cuban Cowboys, May 2 @ 7:30pm
The Jazz Garden Tent @ Romare Bearden Park | $10 General Admission
The ultimate Latin Jazz dance party under the stars.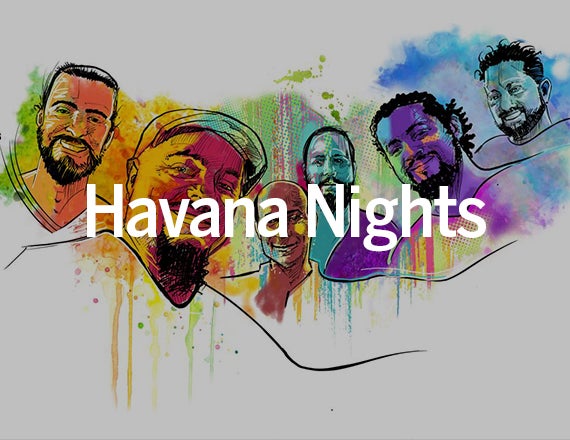 SEE IT TO BELIEVE IT
These innovative events will surprise and delight, while pushing the limits of possibility.
Intrude, April 29 - May 11
The Green in Uptown
Giant, illuminated, inflatable bunnies take over the heart of uptown, bringing with them both whimsy and a serious message about human impact on the environment.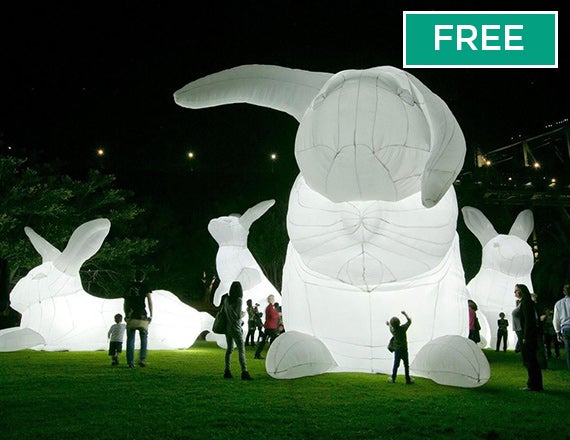 Blue Lapis Light, May 10 & 11 @ 9pm
Charlotte Government Center
This Austin, TX based group explores a different kind of "lofty ideals," as they transform the side of this municipal building into a stage. Their 30-minute aerial piece, REFLECTION, was created especially for Charlotte Shout! You'll be amazed by their grace and courage as they dance 15 stories above solid ground.

~ Looking for another cool event at a low price? How about: ~
Manual Cinema: No Blue Memories, May 8 @ 7:30pm
Knight Theater | Tickets start @ $25
With striking visuals and original music, this unforgettable multimedia experience combines film, poetry, music, intricate paper puppetry and live actors working in shadows. It celebrates the life of icon, poet laureate, and Pulitzer Prize winner Gwendolyn Brooks.
GET IN ON THE ACT
Be part of the experience as you create, explore and connect with others.
Choir! Choir! Choir!, May 8 @ 7:30pm
McGlohon Theatre | Spirit Square
Immersive, interactive and an awesome communal experience, the audience becomes the choir at this unique event. Singers and non-singers alike are invited to the historic McGlohon Theater to learn the lyrics, a vocal arrangement and perform in an evening that is equal parts singing, comedy and community-building.
Click here for details on how to register.
​​​​​​
Hip Hop Masterclass, May 9 @ 7pm
Rehearsal Studio | Knight Theater
Geared toward high school and college aged dancers with hip hop experience, this 90-minute masterclass is led by NBC's World of Dance trio, Femme Fatale featuring Marie Poppins.
Click here for details on how to register.
~ Looking for some more dance floor action? Check out this low cost option: ~
Headphone Disco, May 9 - 11 @ 8pm
The Tent @ Romare Bearden Park | $10 in advance and at the door;
$5 at the door after 9:30pm
Three DJs battle for the hearts of the crowd as the sound system is replaced by wireless headsets, broadcasting three different playlists. YOU choose the music you like best, and dance the night away as part of this totally surreal and electrifying experience.
Click here for tickets & more info.

HOMEGROWN TALENT
Spoken word, sketch comedy, music and dance created by Charlotteans.
Made in CLT, May 10 & 11 @ 7pm
Middleton McMillan Gallery | Spirit Square
Champion poet Carlos Robson will debut "Long Live the Queen," the first public performance of his Charlotte-focused one-man show, offering a funny, passionate and unfiltered perspective of our rapidly changing city. Then get a sneak peek of Charlotte's freshest sketch comedy collaborative, Charlotte Sketch Project, as they take a humorous look at life in the Queen City.
Loonis McGlohon Young Jazz Artist Competition, May 4 @ 2pm
The Jazz Garden Tent @ Romare Bearden Park
You'll be blown away by the talent of the finalists (ages 14 - 20!) as they compete for top prizes in this annual event, named for world-renowned jazz musician Loonis McGlohon. You'll also get the chance to hear the live critiques offered by an exceptional panel of judges from Jazz at Lincoln Center Orchestra.
~ If you loved Breakin' Convention, you won't want to miss this special event featuring tons of local (and international) talent for a low price. ~
Shout! Out: Charlotte Hip Hop, May 10 @ 7:30pm
Knight Theater | $25 General Admission
Bursting with energy, this evening showcases the amazing athleticism of hip hop dance, taking it from the streets to center stage. Emceed by spoken word poet and "slam master" Bluz with pre-show and intermission music provided by DJ Steel Wheel, this event is a celebration of hip hop culture and contemporary dance performed by local and visiting artists.
Click here for full artist line-up.

ESPECIALLY FOR KIDS
After you've checked out the giant bunnies and free concerts, taken in light shows all over town, and grabbed a meal at your favorite food truck, you'll want to bring the kids to 1st Ward Park for some circus action (pssst. You'll be right across from Imaginon too!)
Tall Tales, May 9 @ 6pm, May 10 - 11 @ 2:30 & 6pm
Circus Tent @ First Ward Park
Combining theater, dance and circus while perched atop their iconic 16ft high sway poles, Strange Fruit from Melbourne, Australia performs spectacular feats while telling an epic tale with Chaplin-esque antics.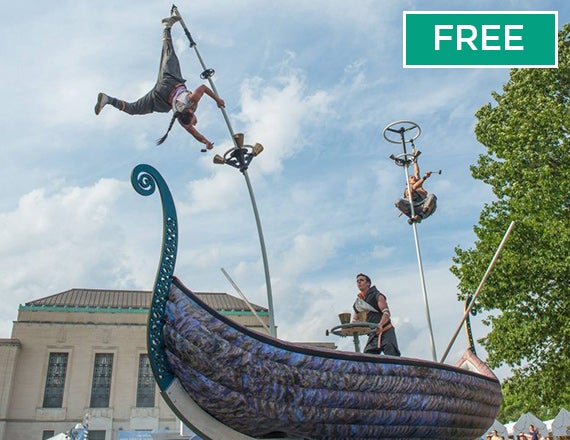 ~Looking for more circus fun at a low cost? Check out:~
L'homme Cirque: David Dimitri's One Man Circus, May 9 @ 7pm,
May 10 @ 5pm & 7pm, May 11 @ 1pm & 7pm
Circus Tent @ First Ward Park | $20 General Admission
Dimitri is known for his incredible feats, whether he's doing flips on a high wire or launching from a human cannon. With humor and charm, this veteran of Cirque du Soleil and Big Apple Circus does it all (by himself!) in a show that's perfect for the whole family.