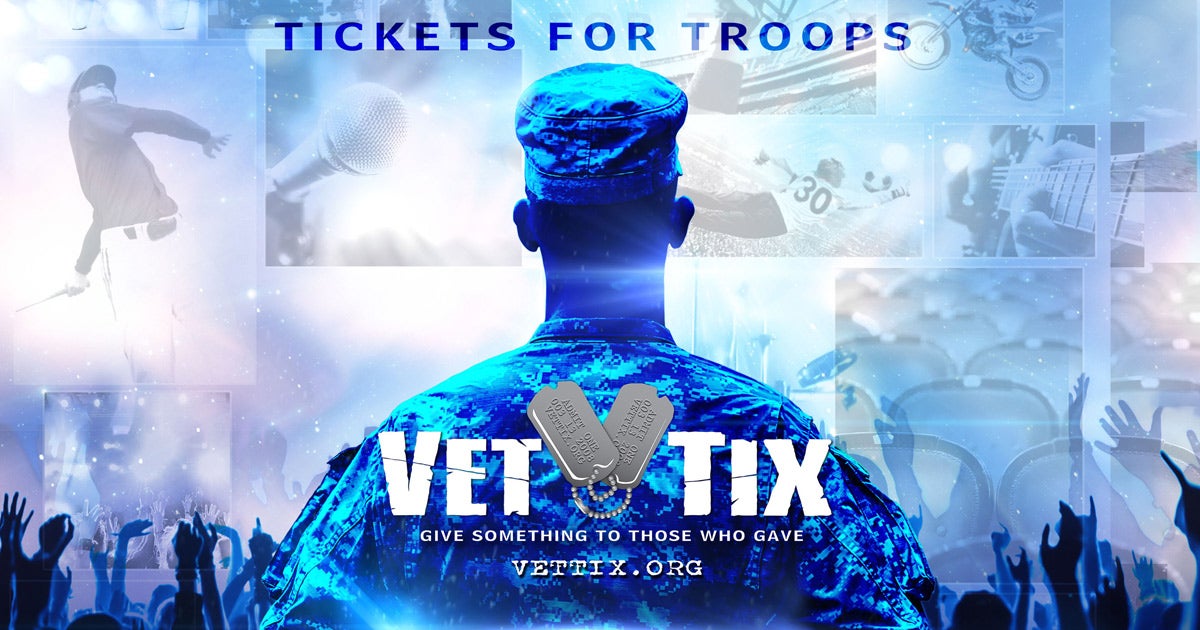 Supporting Veterans All Year Long
Happy Veterans Day! As we salute the women and men who serve our country and have sacrificed in many ways to protect the freedoms we cherish, it's also a great opportunity to put the spotlight on a special organization that enables us to support military personnel throughout the year.
Since 2017, Blumenthal has partnered with the non-profit Veterans Ticket Foundation (a.k.a., Vet Tix) to provide active duty service members and veterans from all branches of service, as well as their families and caretakers, the opportunity to enjoy live performances for free in our theaters. (A sister program, 1st Tix is also open to first responders.)
Vet Tix makes it easy for organizations and individuals to donate tickets for all sorts of events—including sports, concerts, theater and more—that go directly to military families. This year alone, Blumenthal is proud to have donated more than 1,200 tickets to the program, enabling veterans and their families to enjoy everything from kid-friendly shows and dance performances to theater and comedy events.
"We love to partner with Vet Tix as often as we can," says Blumenthal's Marketing and Publicity Manager Joy West. "We know how vitally important the arts are to every member of our community and are honored to provide positive experiences to our service members who have sacrificed so much for us."
ORIGIN STORY
Vet Tix was started in 2008 by founder and CEO Michael Focareto, a Navy veteran, who was stunned when he attended the Super Bowl that year in his home state of Arizona and realized there were no seats reserved for the members of the Color Guard after they finished presenting the colors. They had to stand on the sidelines to watch the game. This didn't feel right to him. As he looked around the stadium, he noticed there were still some empty seats—even at a game as big as the Super Bowl. It got him thinking about this untapped opportunity: wouldn't it be great if there were a way to give back to those who have served our country, filling those extra seats with service members, vets and their families?
Focareto began reaching out to pro and college sports teams in Arizona, garnering support for his idea, and successfully distributed approximately 1,500 tickets that first year. Flash forward eleven years and Vet Tix is now available nationwide with 1.4 million members and on track to distribute more than 2 million tickets in 2019 alone.
"There's no way you could accomplish any of this without the technology to get tickets and share the tickets with a million people…" says Al Maag, a communications consultant who serves as Vet Tix's Chief Marketing Officer.
Building relationships with organizations like Blumenthal has also been key. "We can't accomplish a thing without donors like them," says Maag.
As data collection and analytics have become more sophisticated, organizations are able to better predict the number of tickets they will sell and how many unused seats could be made available in this way. "Just to give back to that community, it's so easy," says West. "We're able to log on and say exactly how many tickets we want to give away."
HOW IT WORKS
VetTixers can sign up for the program for free, once their military credentials are independently verified by the website ID.me. Then participants can choose the types of events of interest to them in the cities that are the most convenient, and start receiving email notices when corresponding tickets become available. Participants pay a flat delivery fee of $14.97 (regardless of the number of tickets ordered) whenever they take advantage of an offer. The money goes to cover the administrative costs of the program; Maag says the small fee also helps ensure the people who request tickets will show up and use them. Tickets are distributed electronically or via Will Call, streamlining the process for donors too.
WHY WE LOVE THIS PROGRAM
Tickets are a tangible way to give back to veterans and others who have served by providing important opportunities for families to bond. Military life often separates family members from one another for long stretches of time so this together time is especially meaningful and necessary. Reinforcing social connections can also help improve the quality of life for veterans who may feel more isolated after coming home or could be recovering from physical or psychological wounds. According to Vet Tix's research, 75% of their members say without the program they would be unable to afford the cost of events.
The program also helps vets and their spouses connect with others in new cities. Vet Tix's research shows that people in the military change location on average seven times during their careers.
"What do they do in a new city?" says Maag. "They don't know anybody… We help them transition there and we help them transition out of there." Event tickets are often made available to Vet Tix in blocks and that also helps facilitate a sense of community among members. "A lot of our people wear their Vet Tix t-shirts and they begin conversations and they know they're sitting around veterans and they feel more comfortable."
After attending an event, many VetTixers snap a pic and send a thank you note to the organization providing tickets. (Vet Tix encourages this practice, using an incentive system of "coins" which participants can use to increase their chances of snagging particularly competitive ticket offers down the road.) These messages offer a deeper insight into how valuable these experiences can be. Here are a few samples: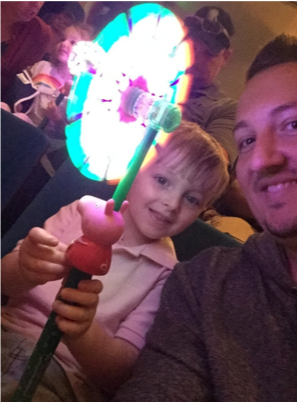 "My Son absolutely loved getting to go. It was a blessing being 100% service disabled veteran living on a budget, yet getting to enjoy an outing. Thank you for caring! We appreciate it more than you might realize!"
-Posted by James (United States ArmyVeteran 2009 - 2013) after seeing Peppa Pig Live!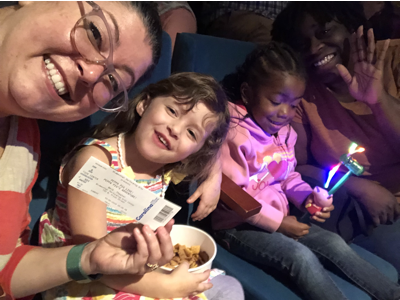 "Thank you for donating these tickets! I took my four year old, Lauren, and her friend Violet and her mother. We are fairly new to the area and it was nice to have some time with a new friend for both my daughter and for me. Their giggles were priceless." Posted by Leah (United States Army Veteran 1999 - 2006) after seeing Peppa Pig Live!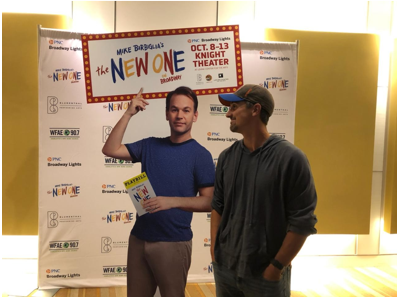 "A sincere thank you to the Blumenthal Performing Arts. I had the opportunity to hang out with my big sister, who is my personal hero, and enjoy a very funny and thoughtful evening filled with laughter. Thank you." Posted by Joel (United States Air Force, Currently Serving) after seeing Mike Birbiglia's The New One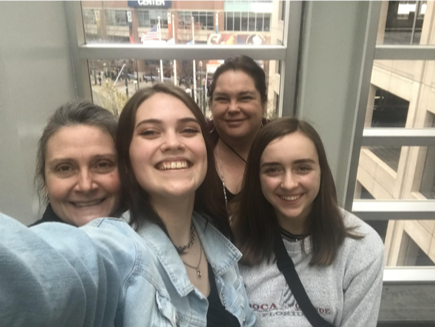 "Thank you so much! I have been so discouraged lately. I thought it was going to be a nice traditional ballet. However, I was floored by how talented and it not being a traditional ballet. I'm in the middle of packing for a move and it was just what I needed to escape for a little while. Thank you! You as donors don't know how much you impact us!" Posted by Renee, United States Marine Corps Veteran, 1991 - 1995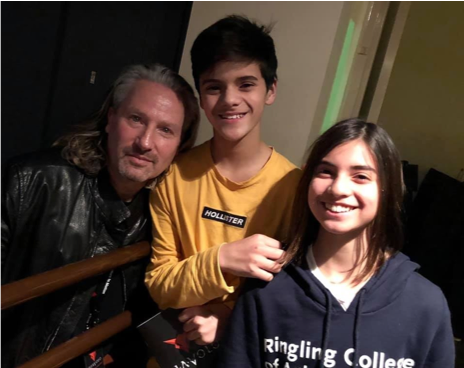 "Thank you so much donors for the amazing tickets to Diavolo in Charlotte! My kids (13 and 11) were on the edge of their seat the whole time! Our awesome seats were right in front of the sound mixer and during intermission Diavolo's director chatted with my kids and took a picture. Incredible experience! Thank you for showing my children why the performing arts are so critical to saving the spirit of humankind. Breathtaking!" Posted by Laura (United States Navy Veteran, 1987 - 1992) after seeing Diavolo: Architecture in Motion
"It just kind of reinforces what we're doing and why we're doing it," says West. "… It's so great to see photos and comments from the families after the shows."
"Once somebody sees what we're doing, they say 'why wouldn't I do this?'" adds Maag. "...For us every day is Veterans Day."
Want to donate or know somebody who could benefit from the program? Visit vettix.org for more details.