There's a lot to Celebrate with Blumenthal's New Arts Educator Network
On a recent Thursday evening, Blumenthal Performing Arts hosted a special pre-show event. It was an elegant setting, as light streamed in through the floor to ceiling windows on the fourth floor of the Foundation for the Carolinas building. Guests were offered a glass of sparkling wine as they entered. They circulated and greeted others warmly before heading over to sample an array of catered dishes.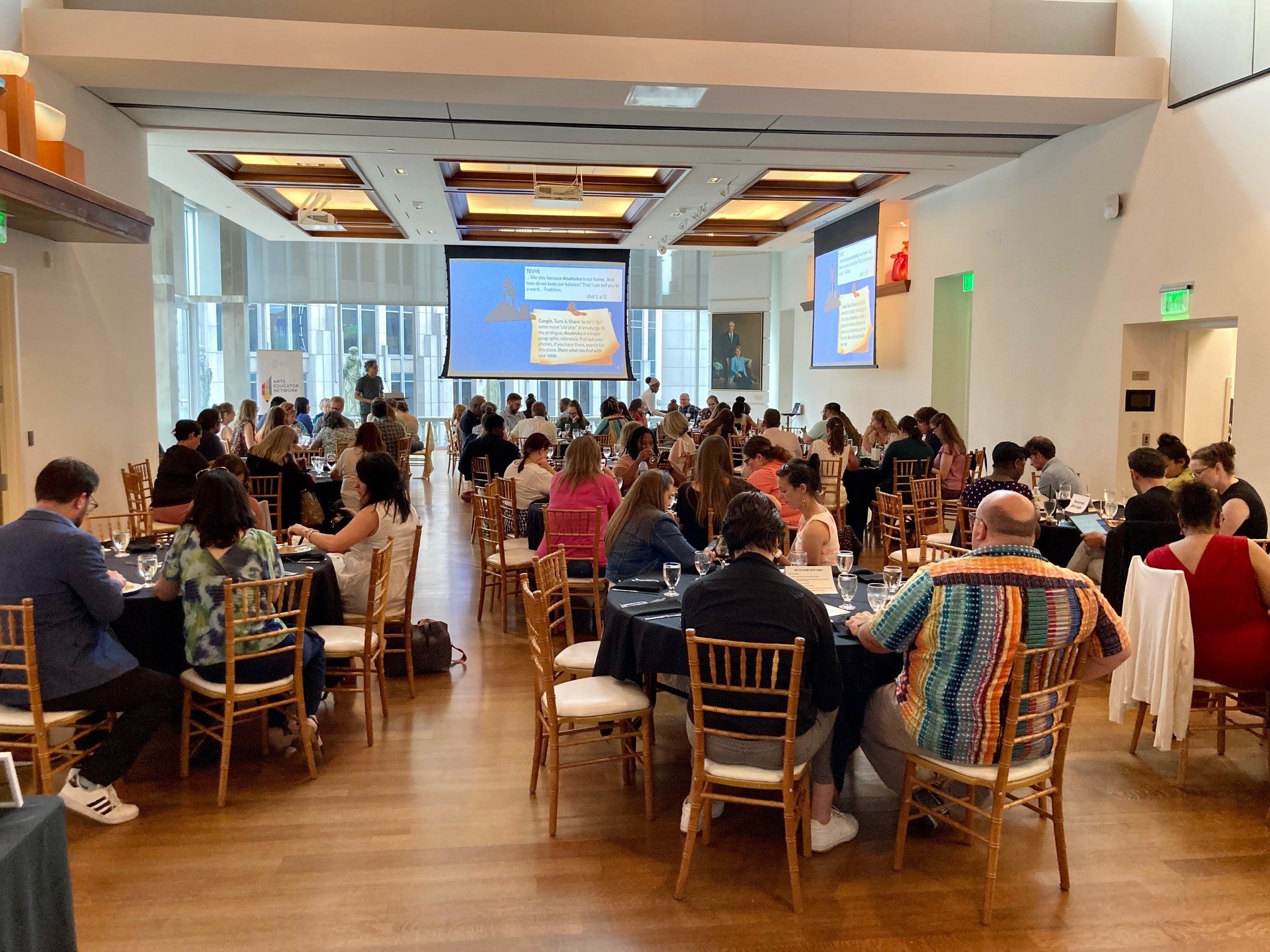 (Dr. Marvin McAllister, an associate professor of theatre at Winthrop University, leads Blumenthal's Arts Educator Network event before the group attended Fiddler on the Roof)
It had all the makings of an event for high end donors but this evening was designed expressly for another crowd: local arts educators.
Blumenthal's new Arts Educator Network combines the luxurious feel of a night out at a Broadway show with the opportunity to connect with other local arts teachers and participate in a robust and relevant professional development session.
Creating Opportunities for Connection
It can be lonely working as an arts teacher, says Blumenthal's Education Initiatives Manager Micah Hein: arts educators are often the only one teaching their subject at their school or part of a very small team.
"[T]he work they do is tricky, it's tough," he says, "and sometimes arts teachers just get the short end of the stick, to be completely honest."
It's no fault of the school districts, he adds, whose resources are already stretched thin. But the Arts Educator Network aims to fill this gap by building a network of teachers from across the region who can share their experiences and serve as resources to one another.
The program is open to teachers of all arts disciplines, including areas like theater, music, dance, visual arts, tech theater and digital arts media.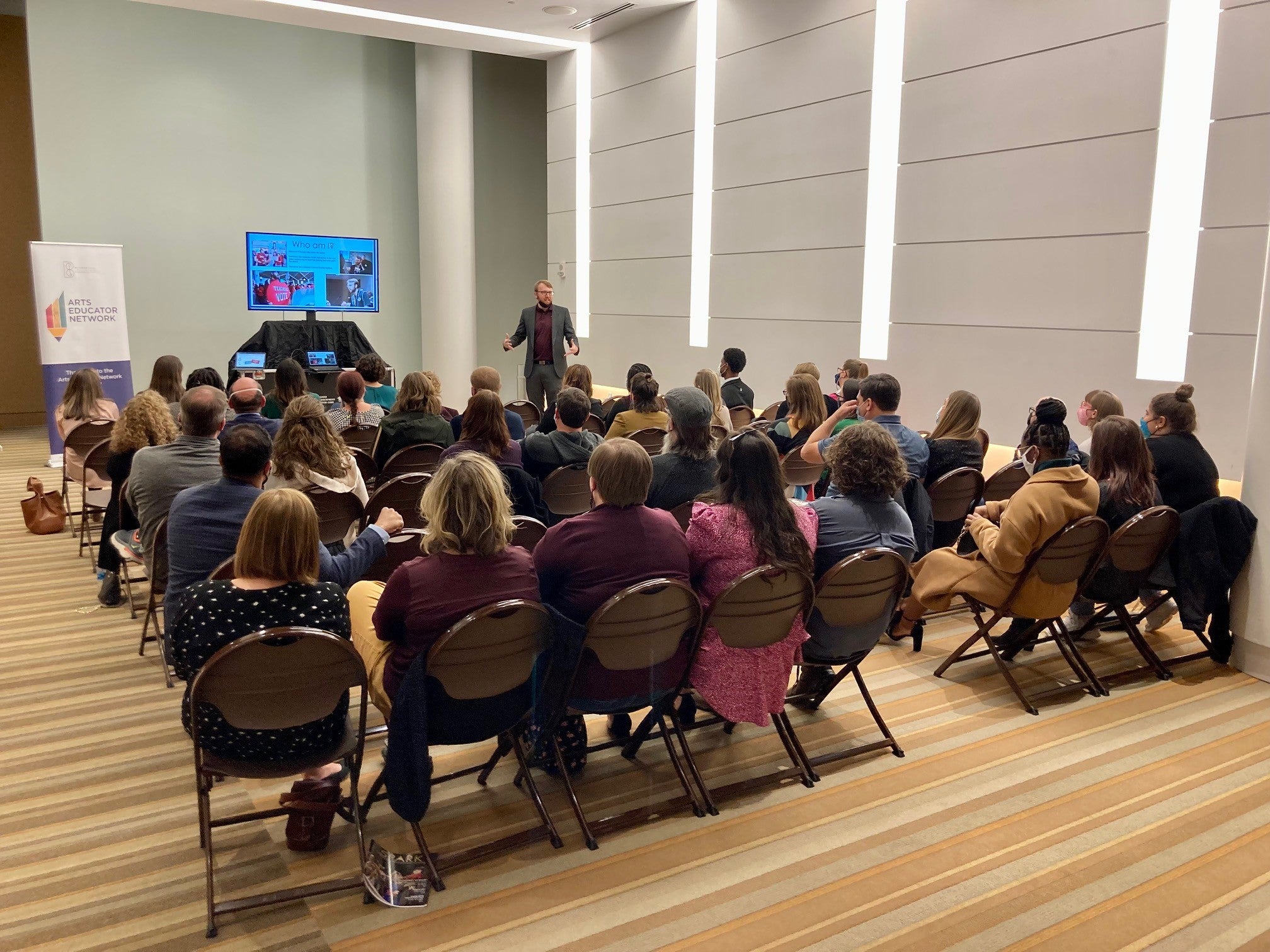 (Kevin Poirier, a CMS teacher turned Assistant Pricipal, leads Blumenthal's Arts Educator Network event before a performance of What the Constitution Means To Me)
For Jon Colburn, a visual arts teacher at North Mecklenburg High School, the new program has provided an opportunity to refuel his passion for the arts.
"When you're in the classroom and you're around high school kids, it can be a little draining sometimes," says Colburn, who has been teaching for 20 years. "And so, to get back into the arts and be around other people that are professionals in the arts and fired up and excited about it, it's a big boost."
While the social component is key, a group of arts educators from Concord Academy says networking also provides a way for them to share resources, like costumes, with other schools. Thanks to their location and relationship with a local church, the school has ample storage facilities.
"We do like to pay it forward," says Cindy Corl, Events/Media Fine Arts Director at the school.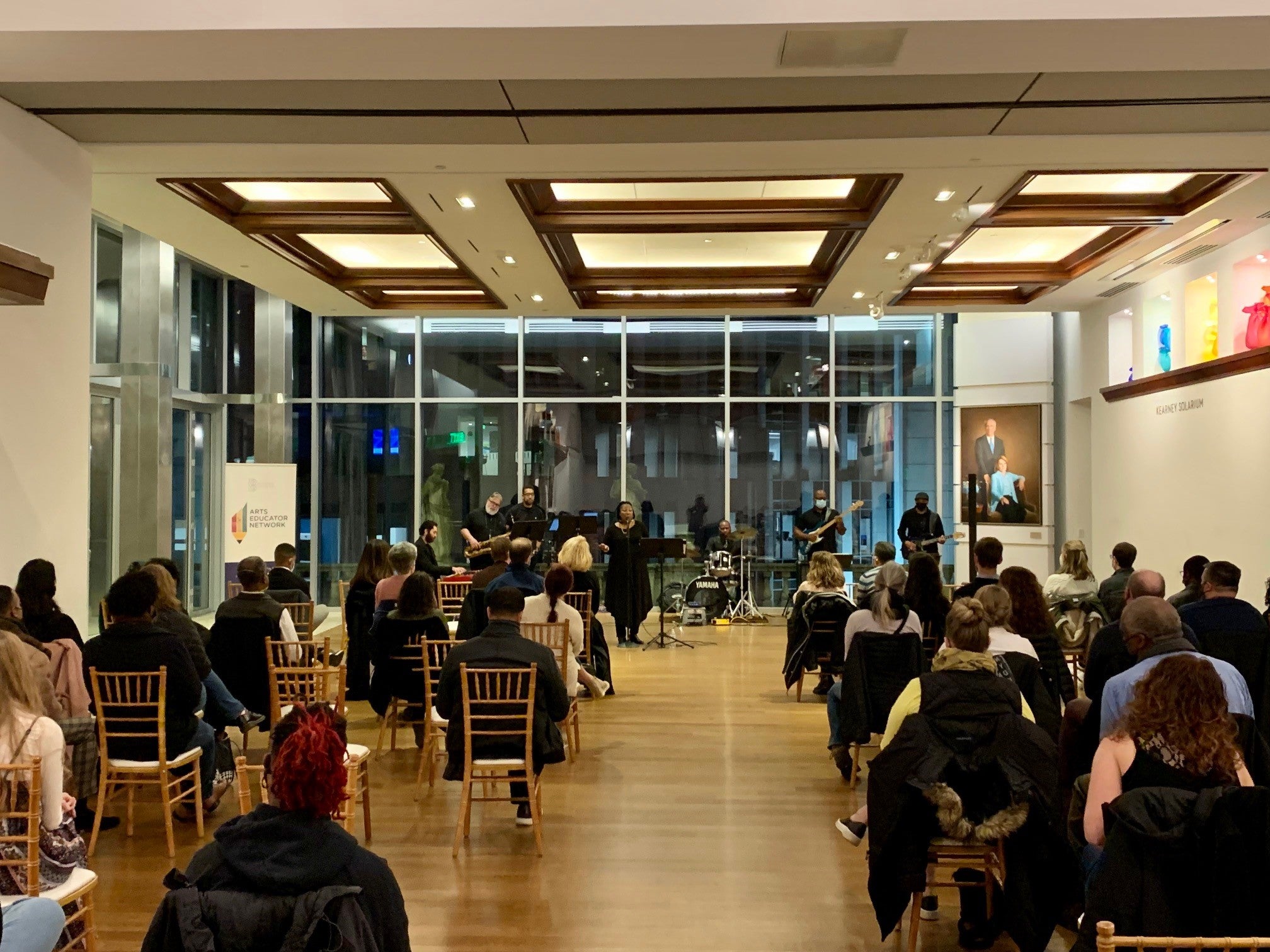 (Dawn Anthony leads "Motown and More" at Blumenthal's Arts Educator Network event ahead of a performance of Ain't Too Proud, featuring a 6-piece band to illuminate what made this era of music so unique and noteworthy.)
Helping one another out is especially important with cuts to arts funding affecting so many schools, adds Concord Academy's music and theater teacher Joshua Little. "We're all trying to give our best to our kids."
Providing Relevant Professional Development
Each Arts Educator Network event also features a keynote speaker. The presentation is always inspired in some way by the evening's performance, but it is also designed to provide unique insights and hands-on strategies that teachers can apply in their classrooms or professional practice.
In June, for example, educators heard from Leah Marone, a clinical psychotherapist, speaker and trainer, who shared ways for them to use summer break as a moment to focus on self-care and mental health before heading into the next school year. The event's inspiration was a light-hearted nod toward Olaf the snowman's wishful song, "In Summer," from that evening's musical, Frozen.
Marone's presentation managed to maintain an upbeat and engaging tone while providing concrete tips to help educators better manage stress, anxiety and burnout. The event was also interactive, providing educators with the space to share their own experiences with one another.
Over the last year, other experts have led sessions on a variety of topics. Some highlights have included how to incorporate current events into classroom discussions (inspired by What the Constitution Means to Me), using the music of motown to teach about Civil Rights history (inspired by Ain't Too Proud), making arts pedagogy and arts classrooms more inclusive for students of color (inspired by Hamilton), and best practices for researching dramaturgy that can be used to spur conversation with students (inspired by Fiddler on the Roof).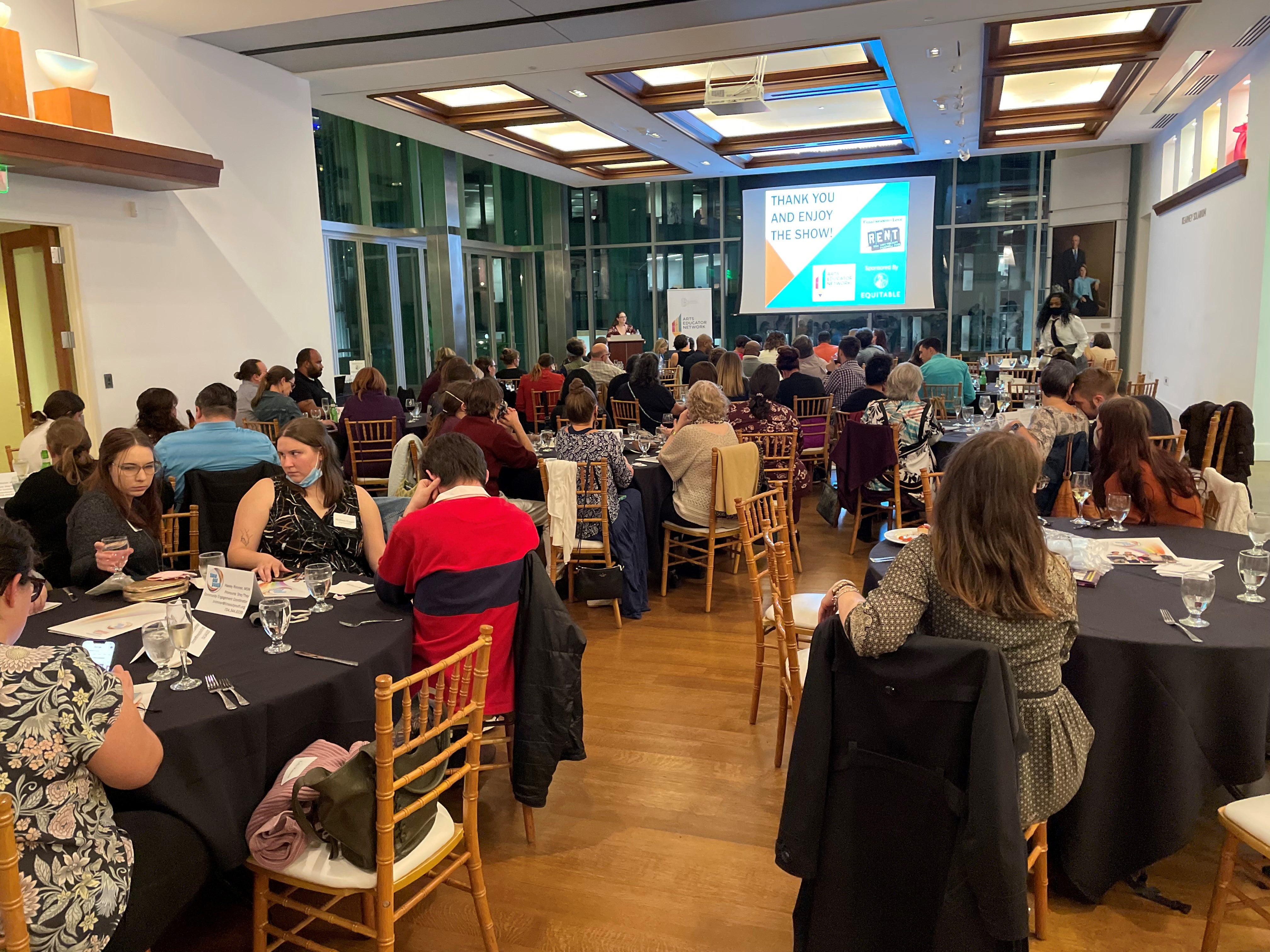 (Time Out Youth leads a presentation for Blumenthal's Arts Educator Network on supporting LGBTQ+ students through best classroom practices and inclusive strategies, ahead of a performance of RENT.)
These lessons can make a lasting impression. For example, Forest Creek Middle School theater teacher Titus Quinn says a statistic he heard at the Rent pre-show presentation, on supporting LGBTQ youth in the classroom, has transformed his practice. That keynote came from Haeley Robinson, the Community Engagement Coordinator for Time Out Youth, a local non-profit that supports LGBTQ teens and young adults through advocacy and programming.
"Just using people's preferred pronouns cuts down suicide rates by 65%," Quinn says. "...That has stuck with me and I tell everyone that I know in my school that, when we have a student who identifies as something else besides what they were born with."
Celebrating Teachers
Beyond networking and professional development, the evenings are intended as a special way to celebrate the essential work arts educators do in our community. The Arts Educator Network is sponsored by Equitable Advisors, whose funding covers the cost for the pre-show event and subsidizes the price of Broadway tour tickets for the teacher participant and a guest.
"They are such believers in the teachers and the work that they do," Hein says. "A lot of the work they do as a company supports teachers, as well… It's just an amazing sponsorship…"
Equitable's funding enables Blumenthal to host about 10 events annually.
Scholar's Academy Teacher Christy Hinkelman, who directs her school's annual musical, says she has been attending the events since January. And for each one, she has felt compelled to write Hein a thank you note.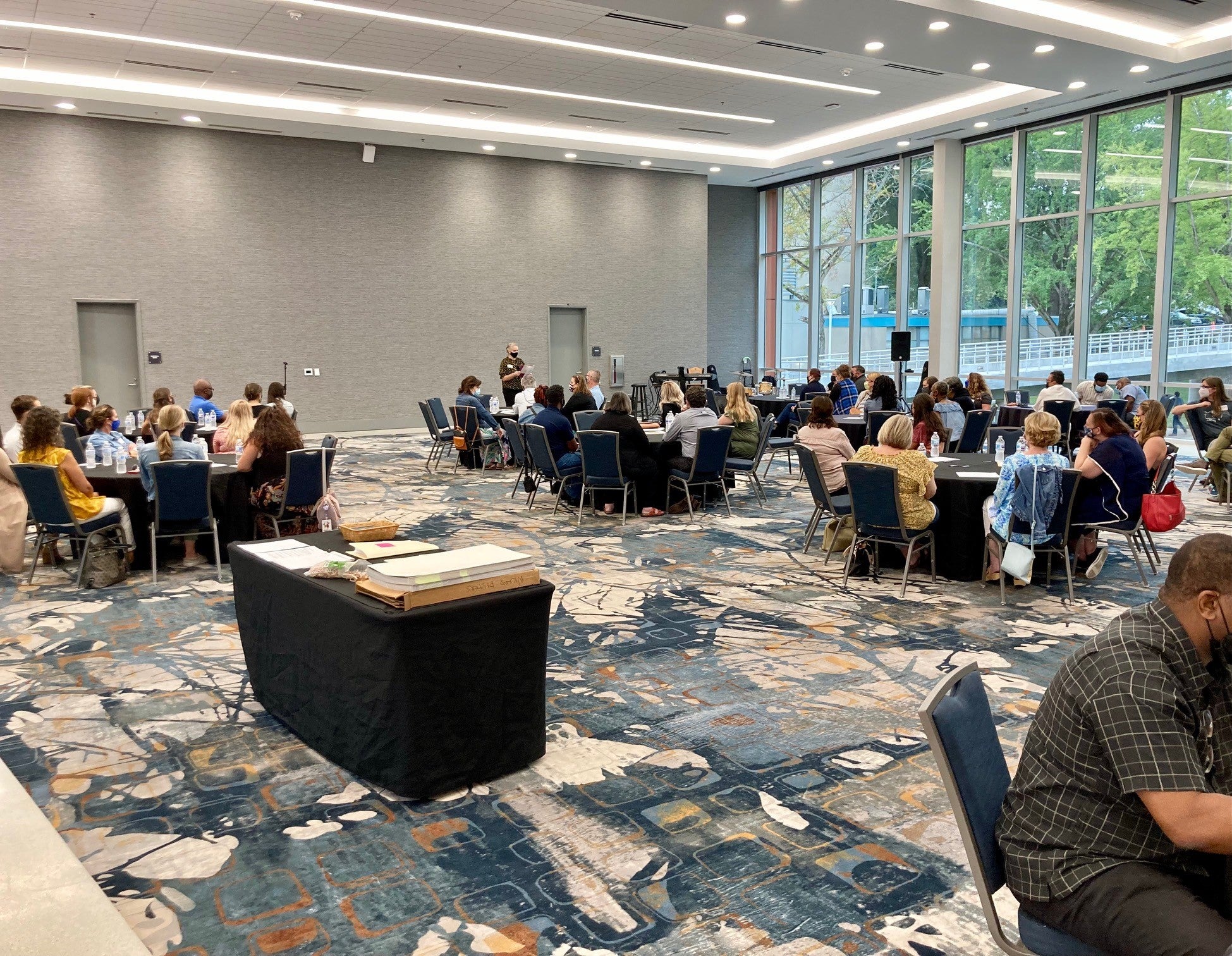 (Blumenthal's first Arts Educator Network event before a performance of Wicked)
"They've all been completely different and it's such a lovely thing for the Blumenthal to be doing for the teachers," she says. "It's such a nice way to be appreciated…"
Want to be first to know about upcoming events for shows including To Kill a Mockingbird (7/27), Mean Girls (9/7), Hadestown (11/9), and more? Click here to sign up for email updates from the Arts Educator Network and get all the latest details.
Note: Events are usually capped at 100 total attendees and tickets are first come, first serve for reservations.