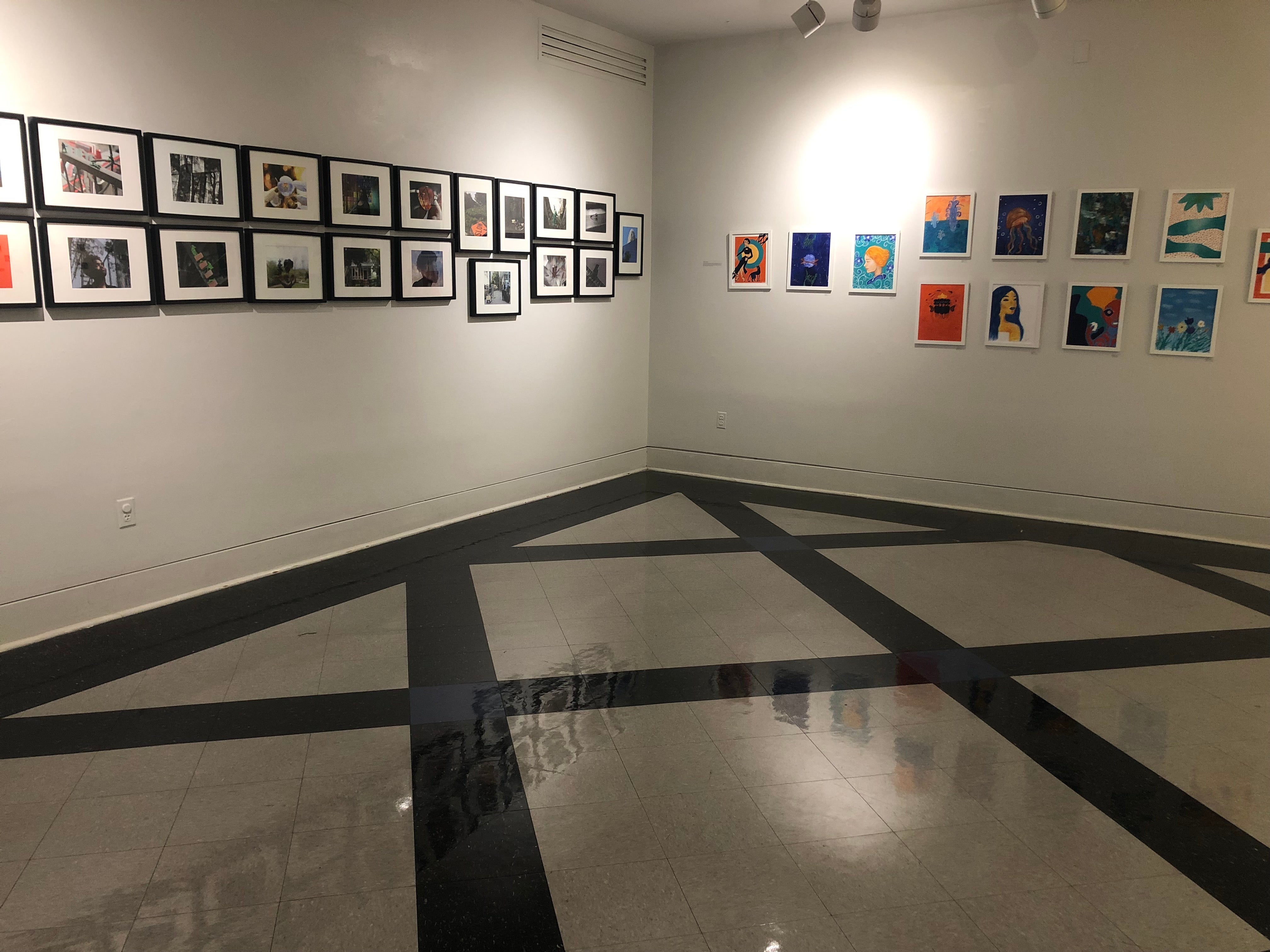 TRADITION: Decades of Local Student Artists Have Found a Home at Spirit Square
For many Charlotteans, walking through the halls of Spirit Square brings back memories—and not only of performances they have attended or classes they have taken. Every year hundreds of local students have the chance to see their own artwork grace the gallery walls of this historic uptown building. It's become a rite of passage for many young artists.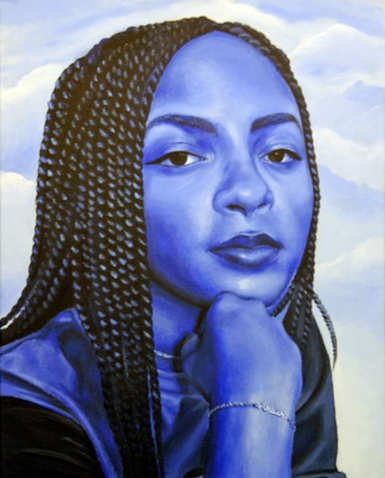 (Amber Colon - Concord High School)
Several different curated exhibitions of student and teacher artwork take place each spring in the Knight Gallery and other galleries throughout the building:
A Kindergarten through Fifth Grade visual arts show: with one entry per grade level representing every CMS elementary school.

The Gold Key winners of the Scholastic Art & Writing Awards for the Mid-Carolina Region Affiliate: this prestigious annual competition recognizes outstanding creations by middle and high school students in an 18-county radius and culminates in a national competition.

The Legacy Show: featuring artwork by teachers and their former students, some of whom have gone on to become art teachers themselves.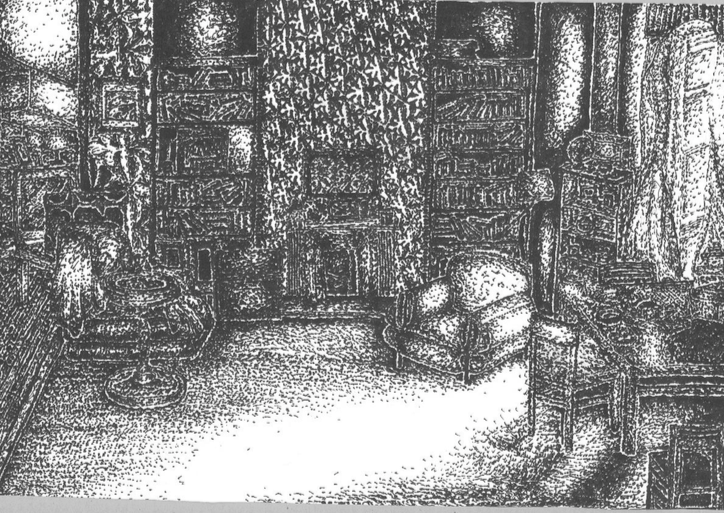 (Zara Gentner - Covenant Day School)
IMPACT ON STUDENTS AND FAMILIES
Having their artwork displayed in a public gallery leaves a lasting impression on honorees and their families. "It really validates their creativity and their expression," says Cheryl Maney, who has served as the Visual Arts and Dance Curriculum Specialist for CMS schools for more than fifteen years. "When you're in school and you get grades for math and English, that's a type of validation… when [students] have their art exhibited in a gallery and their friends and family come and they know there are meetings and weddings and events happening in these galleries, it validates [them.] It means a lot to parents too."
Twenty-six year old Taylor Richardson recalls her excitement, as a seventh grade student at Mint Hill Middle School, seeing her artwork exhibited at Spirit Square. She also got to attend a special reception there with her family.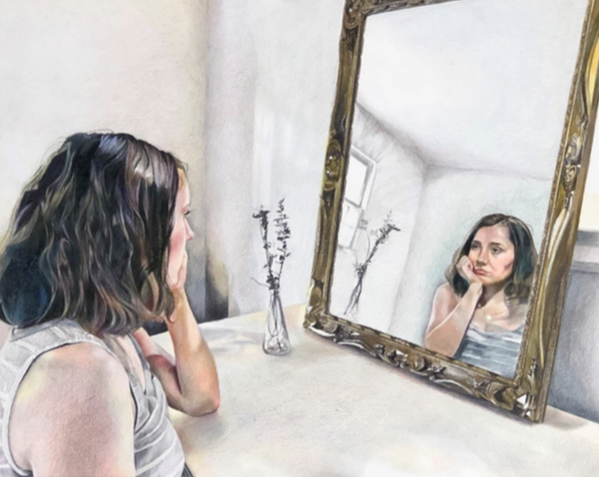 (Rebehak Gill - Northwest School of the Arts)
"I just thought it was a really cool experience and I still remember it to this day," says Richardson. "Back then, I was crazy about art. Any chance I got, I would take an art class… It really showed me, 'Wow, I could really do anything.'"
After attending Mallard Creek High School, she went on to study fashion design in college at UNC-Greensboro. Richardson now works as a Recruiting Assistant for DecisionPath HR but says that early recognition for her artwork—a creation composed of woven colored paper—played an important role in her personal development.
"People really do remember that stuff," says Richardson, who returned to Spirit Square recently for a private reception celebrating her mom's 50th birthday. "That memory of my artwork being in that exhibition has given me a lot of confidence." She believes that all young people benefit from having the opportunity to express themselves through the arts—whether they sing, dance or draw. "It really is a confidence builder," she says.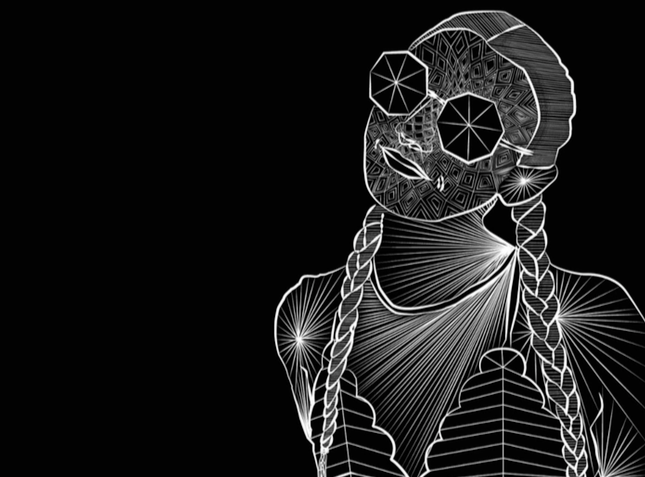 (Addie Layne - Myers Park High School)
WHAT MAKES SPIRIT SQUARE SPECIAL?
The use of Spirit Square has also been an integral part of the equation, according to Maney. Measuring more than 3,200 square feet, the Knight Gallery is unique because it is climate-controlled, reasonably priced and can accommodate large art shows. "We're very lucky to have that space," says Maney. "There are a lot of cities that can't do this kind of exhibit…"
Student shows in other regions often take place at state fairs or at other outdoor events, but the sunlight and external weather conditions can damage delicate artwork. Having the McGlohon Theater in the same building also makes it possible to host ceremonies honoring the young artists and their special guests. "There's not a lot of places that can hold a lot of people that's affordable," says Maney. "Blumenthal works with us on the cost and makes it very affordable."
Marty Viser, now 50, also remembers having her artwork displayed at Spirit Square as part of the Scholastic Art & Writing Awards. The fifth generation native Charlottean had that opportunity during her senior year at Charlotte Latin School.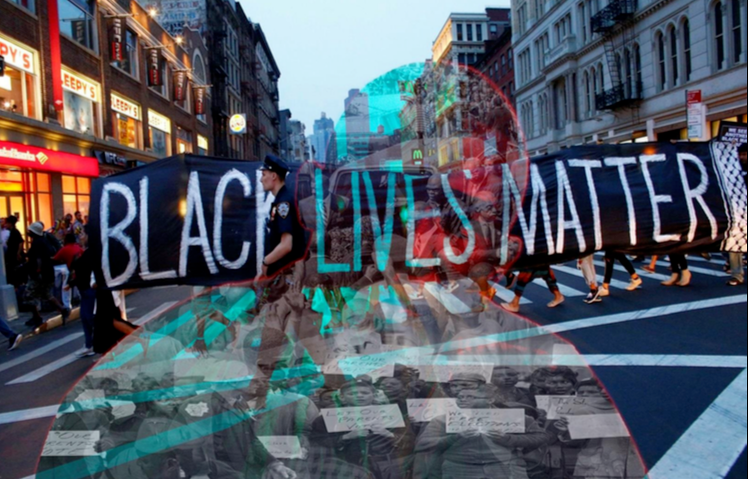 (Jordan Sayles - Mallard Creek High School)
"We had an excellent art program," says Viser, recalling her teacher's assignment to create a piece of artwork tied to Charlotte. Viser chose Spirit Square as her subject. She used pointillism to capture the Tryon Street facade and its stained glass windows. Using blues, pinks and white, she says the image was not supposed to be realistic but rather an abstract interpretation of a building that had importance to her.
"It's a beautiful building and iconic [part of] uptown," says Viser. "I'm grateful that it has been preserved…"
When she headed to College of Charleston as a freshman, she planned on becoming an art major. "I've always been very artistic and into crafts," says Viser, who contemplated a career in Graphic Design before switching her focus to business with a minor in advertising and marketing. "I'm still kind of doing what I thought I would do but not being the hands-on artist in that way." Beyond her day job as a Project Manager for Snyder's-Lance, Viser has also served on multiple boards of the Mint Museum and continues to be an active needle pointer.
"[The arts are] still a big part of my life 34 years later," says Viser.
OUTSTANDING ARTWORK
The quality of the student art and writing displayed at Spirit Square is consistently very high, according to CMS's Maney. Every year, some regional Gold Key winners for the Scholastic Awards go on to receive Gold or Silver Medals at the national competition. In early June, Maney accompanied a group of seventeen regional winners, including five CMS students, to a special ceremony at Carnegie Hall in New York City to recognize their outstanding achievement. Their work was also displayed for a limited time at Parsons School of Design at The New School and the Pratt Institute in New York City.
If you didn't catch this year's exhibition at Spirit Square, you may have spotted some of the winning student artwork on billboards around town during May and June. Fifteen works of art were selected for recognition in Adams Outdoor Advertising's annual "Drive Through Gallery."
A TRADITION OF SUPPORTING THE ARTS
"The Charlotte community has always supported the arts in our schools in many different ways," says Viser. She is grateful that support within CMS continues to be strong for the arts, whereas other school districts around the country are making cuts.
This year CMS Superintendent Dr. Clayton Wilcox brought back cultural field trips for all fifth grade classes, says Viser. Students had the chance to discover some of the arts organizations that make Charlotte unique, such as the Charlotte Symphony, Mint Museum, Children's Theatre of Charlotte, Charlotte Ballet and Bechtler Museum of Modern Art. She believes it is essential for children to see art in museums and performance halls.
"Then they become citizens that support the arts," says Viser.