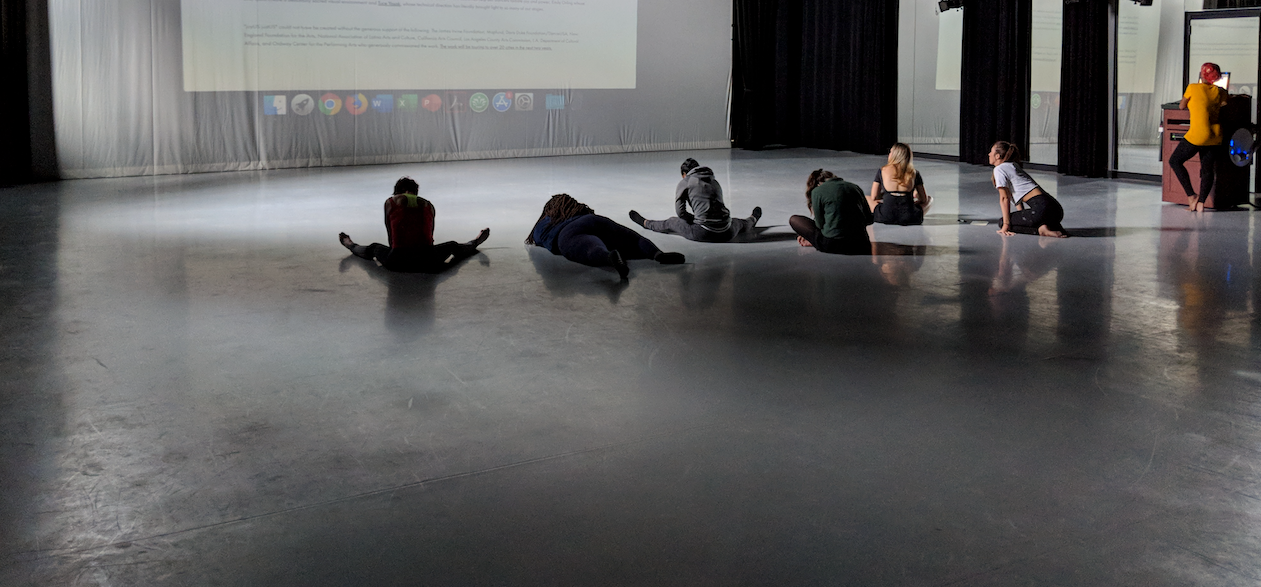 UNCC Students Inspired By Opportunity to Dance with LA-Based CONTRA-TIEMPO in "joyUS justUS"
When Contra-Tiempo comes to Booth Playhouse, Nov. 7 - 9, with its dancework "joyUS justUS," students from UNC-Charlotte's (UNCC) dance program will have the unique opportunity to perform alongside the professional dancers. For many of these students, this will be the first time they have a chance like this one.
Contra-Tiempo is known for its innovative and bold performances, melding a variety of styles—from Salsa and Afro-Cuban to Hip-Hop, urban and contemporary dance theater—but also for its authentic approach to engaging audiences. Many of the professional company's performers are immigrants or first generation Americans and use their own experiences as creative inspiration and as a means to connect with a wider audience.
In Los Angeles, where the company is based, it hosts weekly free community dance classes. The group is deeply committed to social justice and partners with diverse community organizations to explore themes of anti-racism, equity, and anti-violence through movement and action and has developed community choreographic laboratories to perform works-in-progress and explore movement collaboratively with its audiences.
Charlotte's program will be right in step with these efforts.
Nearly all nine of the student performers participating in the production come from UNCC Assistant Professor of Dance Tamara William's Afro-Brazilian class. "Engaging with Contra-Tiempo's movement aesthetics offers the dancers an opportunity to expand their dance vocabulary while deepening their knowledge of Afro-Latinx dance forms and culture," says Williams, whose specialty is dance from the African Diaspora.
"This will be the first performance experience for some of the dancers in this cast and it is a special opportunity for the students to have this performance at the Blumenthal."
A LOOK AT THE REHEARSAL PROCESS
As students embark on their second rehearsal for the project in mid-October, there is something noticeably different in their approach to the work. Their warm up isn't just physical, it is intellectual and emotional.
"During our rehearsal process, I require the dancers to listen to Contra-Tiempo's statements regarding social justice, race and equality," says Williams. "The dancers respond through writing and the information that materializes from self-reflection is used as inspiration for movement."
Since the students won't get a chance to rehearse with the company members of Contra-Tiempo until they arrive in Charlotte, they also watch videos of Contra-Tiempo in "joyUS justUS" to get a feel for the group's performance style and how their own movements will be incorporated into the overall production.
In one segment, known as "the justice run," students are to perform a slow motion run across the stage, moving as though they are being held back by water. Before rehearsing, they reflect on words that resonate with them based on what they have just seen and heard—like beauty and power, water and resistance—and how they hope to evoke them in their performance.
As they rehearse, they initially struggle. Williams encourages them to try to slow it down to the point that their motions will be barely visible. This is hard to do. Williams asks them to consider why it is challenging and what that might represent.
Several students suggest their movements are a physical embodiment of the socio-economic themes being explored in the piece: it's hard to keep your balance when systems around you say you can't do what you want to do.
This introspection is having its desired effect, helping students find their rhythm, as they continue to rehearse. "That was much better, much slower than last week," Willams says.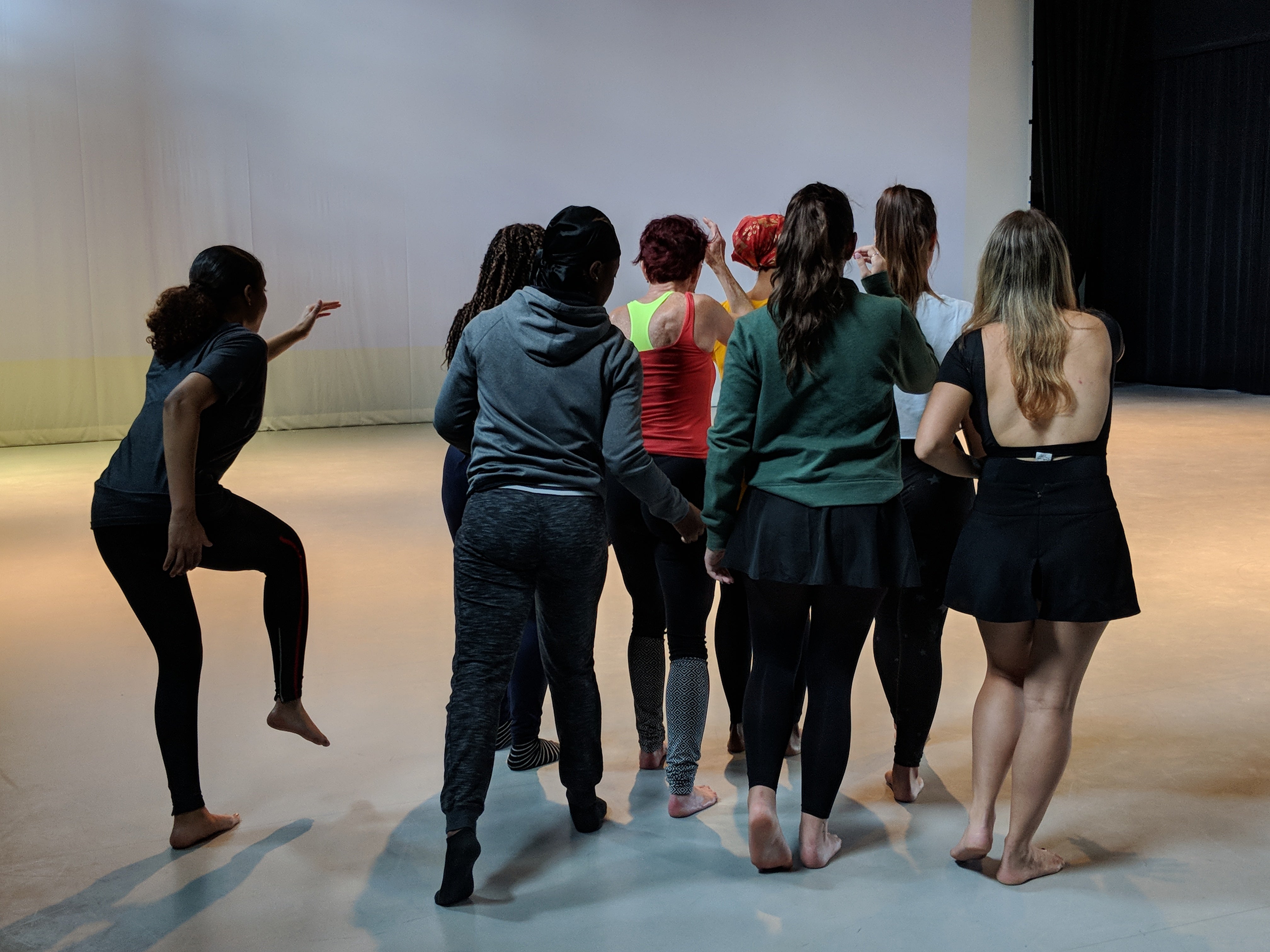 "This is a significant opportunity for UNCC's Department of Dance since working with Contra- Tiempo aligns with our curricular goals," says Williams later via email. "I am especially excited to work as Rehearsal Director with the students as it presents an opportunity to teach professional company etiquette. In addition this project offers a safe space for the discussion of social justice issues that the students may be facing. My research focuses on community engaged scholarship and is deepened through this collaboration with Contra-Tiempo and the Blumenthal this semester."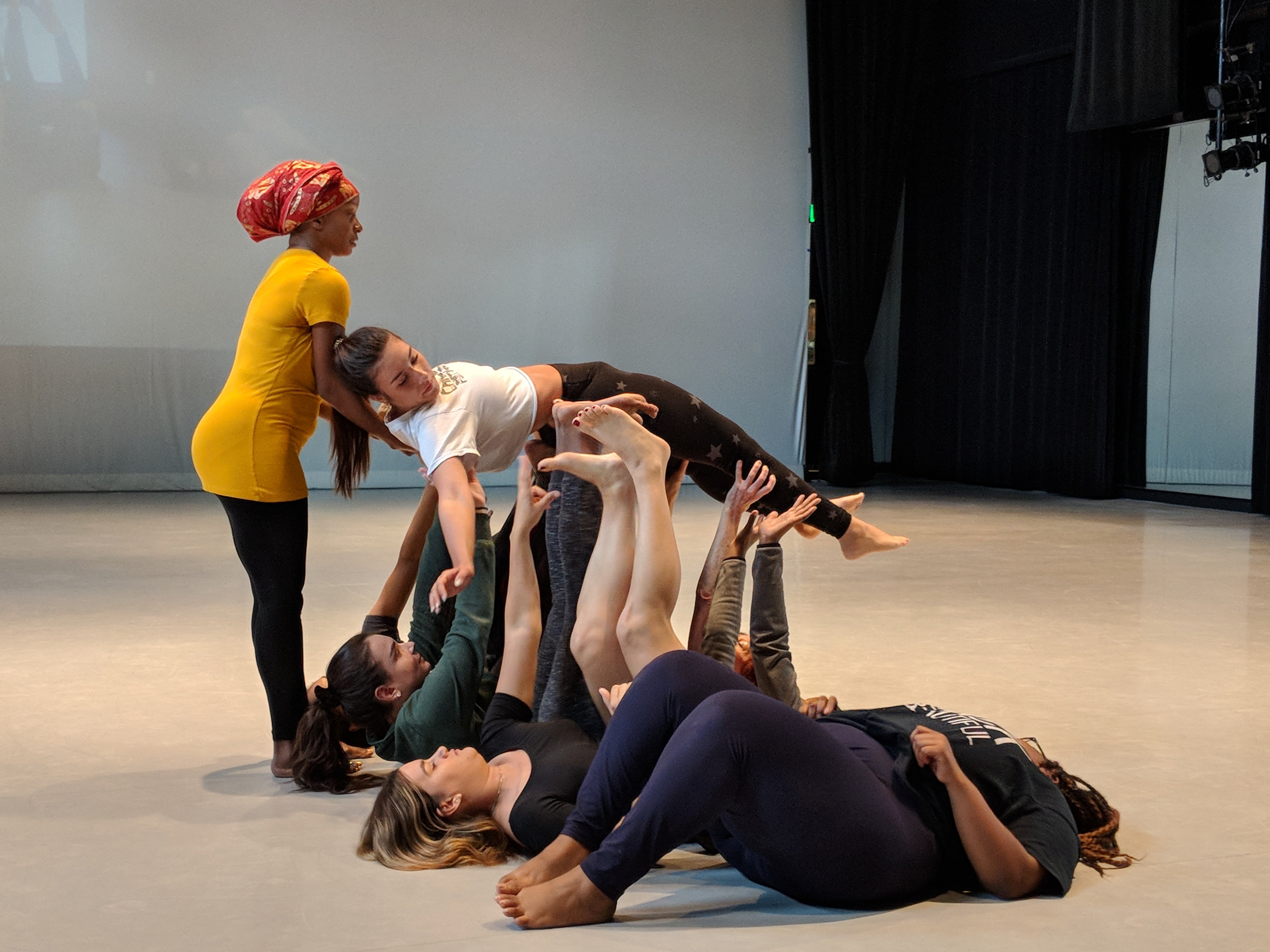 Here's a closer look at what dancing and this unique collaboration with Contra-Tiempo means to these student performers:
CONNECTING ON A PERSONAL LEVEL
"I have always been very passionate about dancing," says Kenya Soto, a senior, majoring in Psychology with a minor in Dance. The 23-year-old came to Charlotte two years ago from Puerto Rico, fleeing the hurricane that ravaged the island. For her, dance offers a means for personal expression and cultural exploration.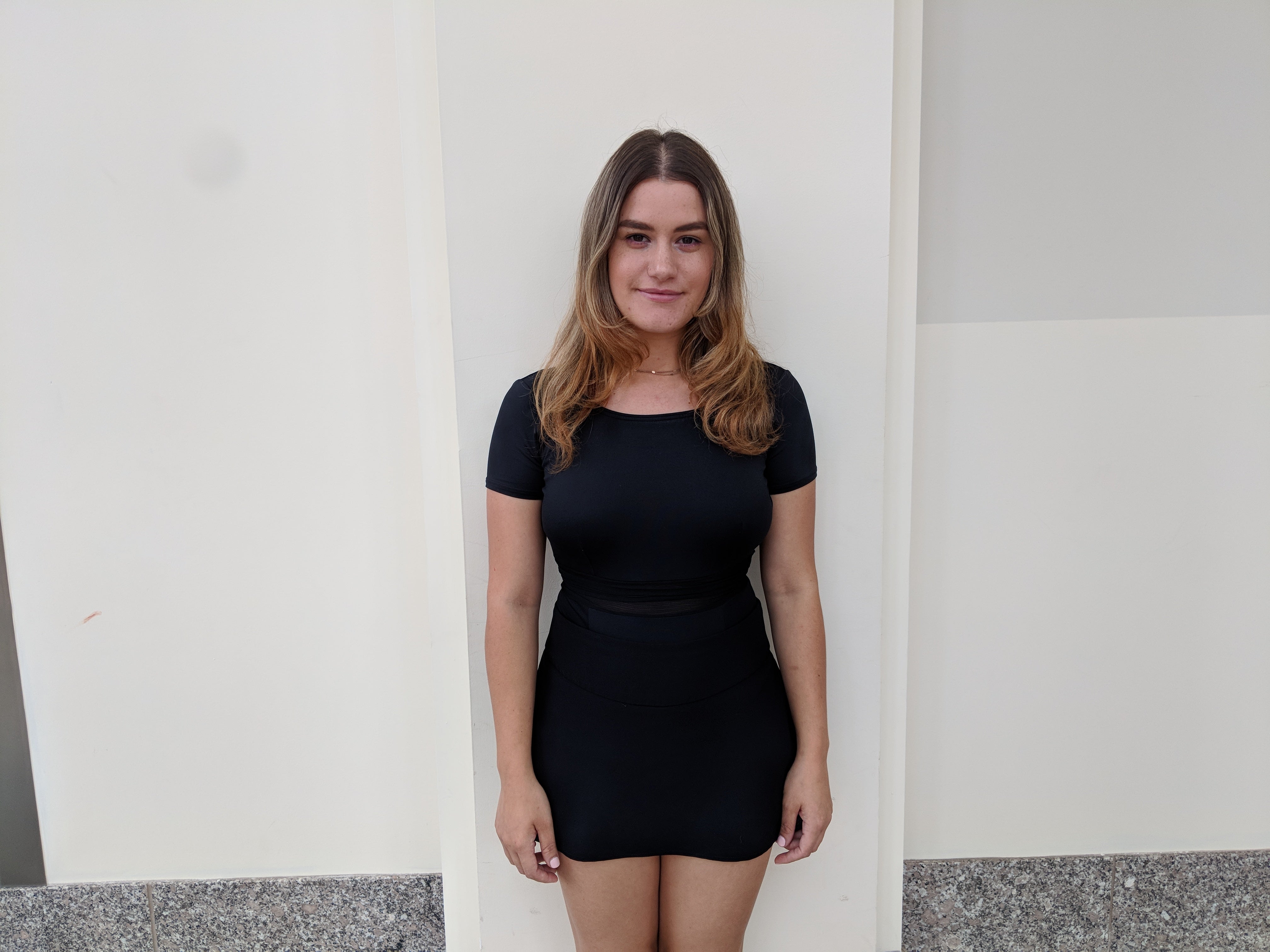 "...Sometimes words cannot explain how you feel and that's why I do movement... When I came here I saw so many awesome opportunities and I took advantage of those opportunities to make myself grow into a better person and professional. And I feel like dancing has been such a great key element for me to escape from a lot of wounds that I have had in the past. And coming here from a different country [sic.] and starting from nothing was a very difficult thing but dance was that relief and that escape [that] I give myself… [Williams] has made us connect with the dance in a personal level and I think that's so special because in that way we can transmit our feelings and relate to the story, which is something pretty powerful."
SOCIAL JUSTICE AT THE CENTER
Laurie Garo is a faculty member in the Department of Geography & Earth Sciences but has always loved dancing. It wasn't until she was an adult, however, that she started taking classes. She enjoyed Williams's Afro-Brazilian class so much the first time she took it, she decided to re-enroll this semester.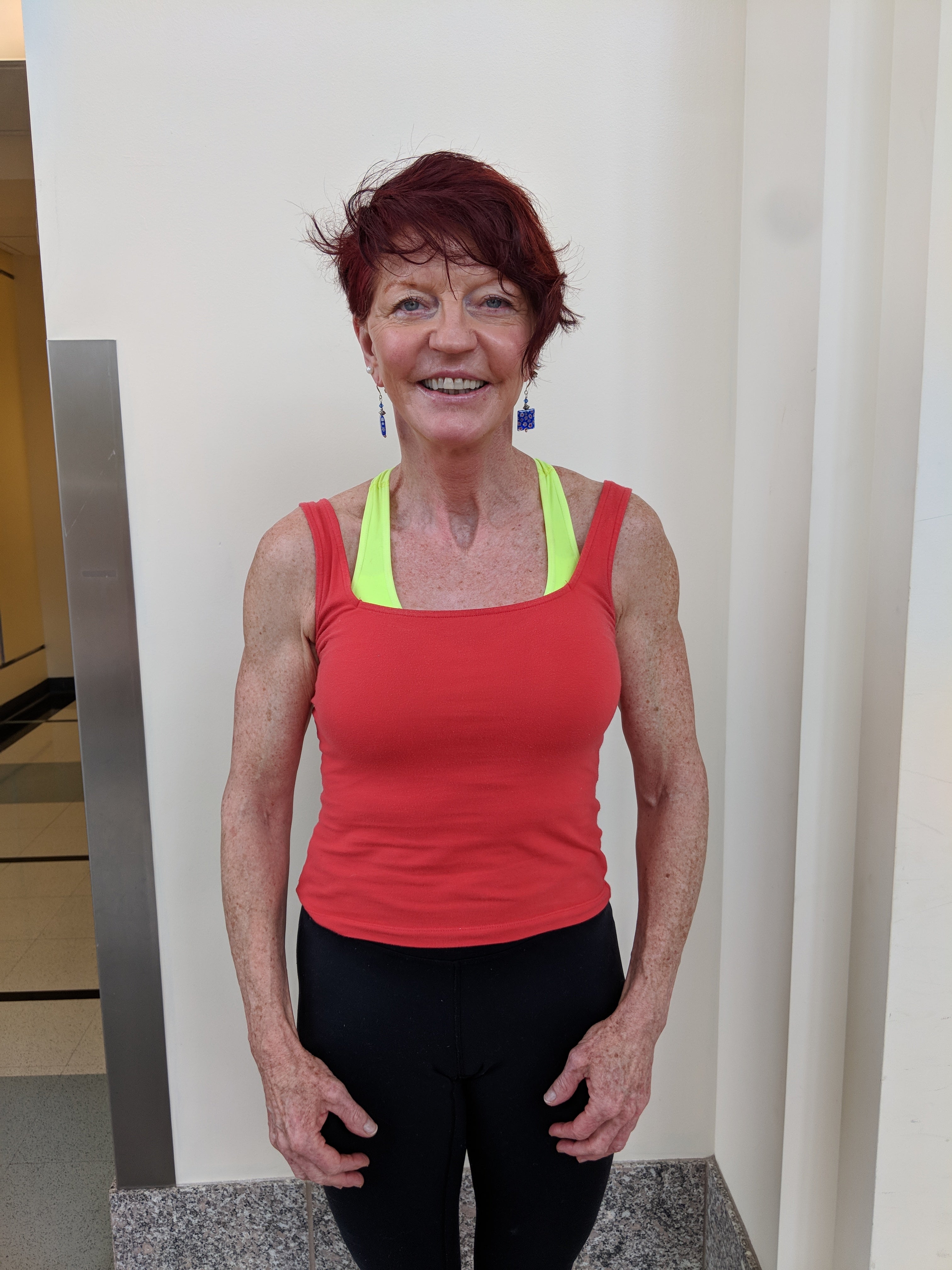 "...[Dance] sets me free from any stress. It's different from the work life… here, I get to be a free spirit."
But it was Contra-Tiempo's focus on social justice that attracted her to this project. "I am a social justice advocate—social justice for people of color—I've been doing that probably my whole life, even as a kid but I didn't know I was doing it then."
She appreciates the way this project encourages community engagement "in resistance to injustice, fighting oppression, [and] feeling wonderful about themselves in spite of negativity that's… put upon them."
It's pushing her limits as a performer too. One segment of the production, called "the root roll" requires the students to lie next to each other on their backs, in opposite directions, as they use their legs to support a dancer who crowd surfs along their feet.
"I've never done something like that before," says Garo. "It's new and I'm strong but this was different… it looks hard in the video but it's even harder when you actually do it—to hold this person, not let them fall and they're not out of balance… [Williams] put it into perspective when she talked about keeping balance in our own lives when we have all these forces knocking us off balance. "
"Personally I believe in dance as therapy… my interest is in children exposed to violence, affected by violence. And I think… it's kind of similar to what they're doing: using it to bring joy and freedom in spite of what you've experienced."
DANCE AS AN OUTLET FOR JOY
Dinora Ramirez, a senior, is majoring in Health Systems Management and minoring in Public Health. She's always loved dancing but never had the chance to take classes until she got to UNCC, where she was thrilled to find out she could enroll in dance classes even though it's not her academic focus.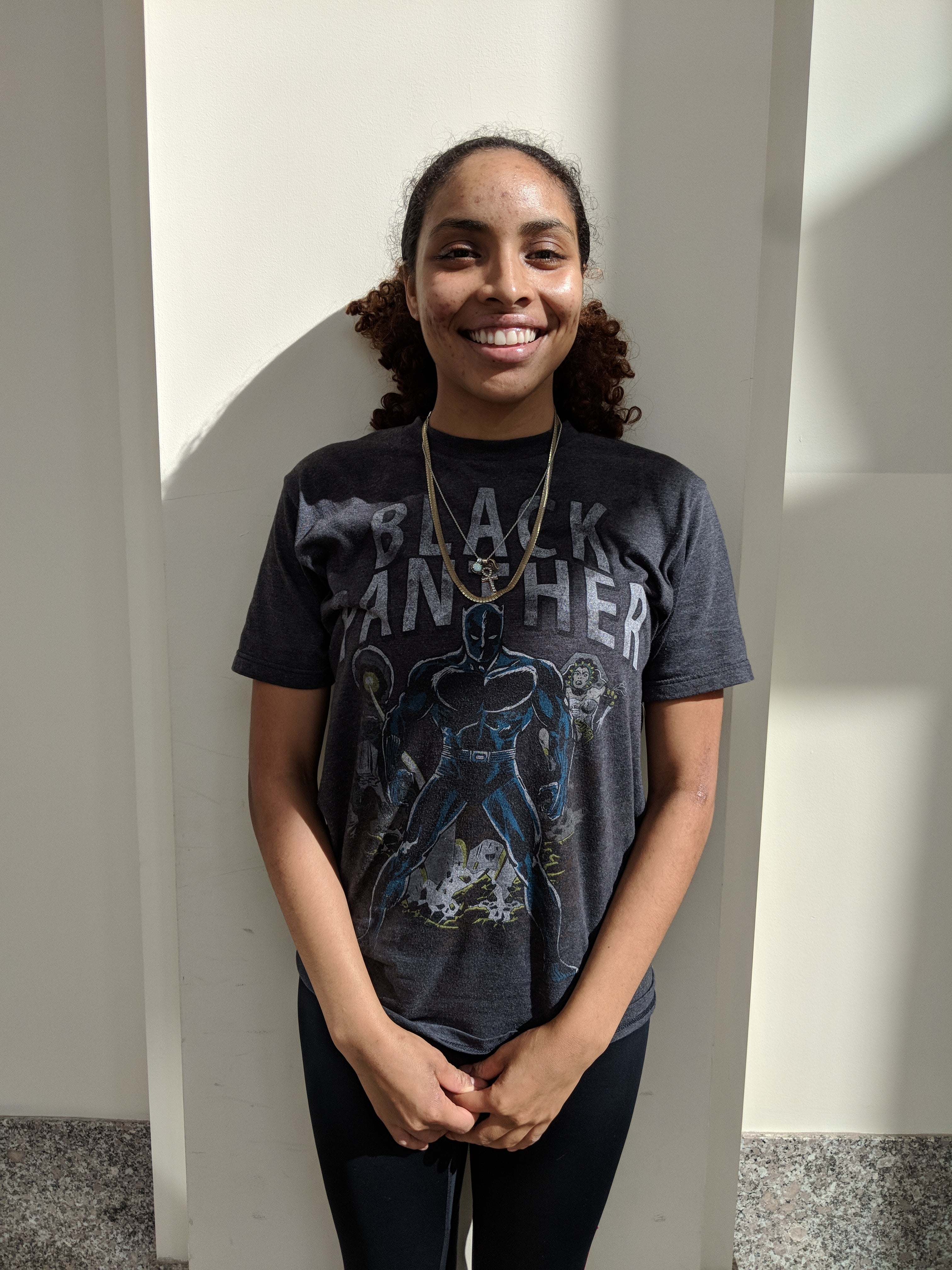 "[F]inally, a chance for me to express and let it out and have fun with it," says Ramirez, who will graduate this December. "[D]ancing's always been a passion of mine. It's always made me happy. If I'm not dancing, then I'm upset and when I'm upset, I still want to dance... I'm always that weird one that's like 'Man, you don't know what you're doing.' I don't but I'm enjoying myself while I do it…
"[B]eing half-hispanic I've always really been drawn to more of an Afro-Latina type of sound. I like my island, Caribbean type of drums, and that's what drew me so much to African-Brazilian dance...
"I've never done anything outside of school professionally… so it's definitely a different experience watching how they set everything up for an actual performance: the practices, the different steps and the choreography—taking our time a little bit more is definitely something that I haven't experienced…"
Grounded in her academic work in Public Health, she also sees the importance of dance and other forms of artistic expression not just on a physical level but on a holistic or spiritual level of well-being.
"Everybody's creative but doesn't necessarily have the tools [to express it]," says Ramirez. "...In our society in this day and age, everything is so sculpted and it's difficult to find a way to be free. So dance is definitely one of my favorite ways in doing that."
--
Following the performance, the audience will also have a chance to express themselves through a post-show sabor or community dance jam. Charlotte's own DJ Minuche will spin tunes rooted in the Latino African tradition to keep the celebration going.
The Presentation of ContraTiempo's "joyUs just US" was made possible by the New England Foundation for the Arts' National Dance Project, with lead funding from the Doris Duke Foundation and the Andrew W. Mellon Foundation.