Waitress Associate Producer Brett England's Journey from Charlotte to Broadway
Associate Producer and Charlotte native Brett England remembers the moment he knew he wanted to move to New York City. He was nine years old, tagging along on his parents' anniversary trip to the Big Apple. They dined out for every meal, saw two Broadway shows—The Phantom of the Opera and Grand Hotel—both with packed houses, and reveled in the city's non-stop energy.
"I fell in love with New York and fell in love with theater on that trip," says England, who relocated there in 2003, shortly after graduating from UNC-Chapel Hill with a double major in Drama and Communications.
Since then, he has spent much of his career working for theater-producing powerhouse National Artists Management Company, Inc. (NAMCO). He's part of a team supporting Barry and Fran Weissler, two of Broadway's most prolific producers.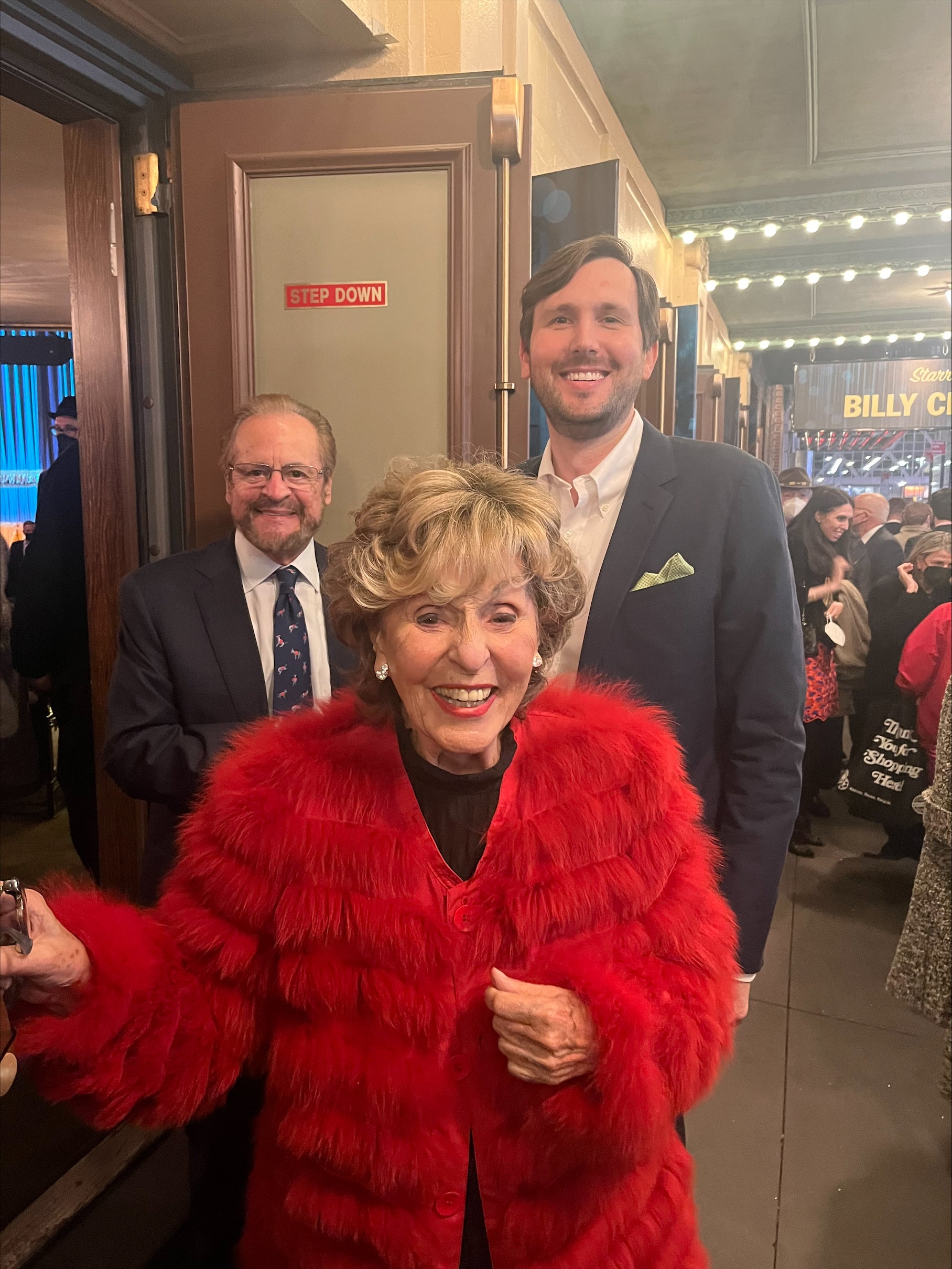 (Charlotte native Brett England pictured with the founders of National Artists Management Company, seven-time Tony Award-winning producers Barry and Fran Weissler at the opening of Mr. Saturday Night.)
With nearly 50 years in the biz, their shows have included hits like Chicago, Pippin with Patina Miller, Annie Get Your Gun with Bernadette Peters and Reba McEntire, Othello with James Earl Jones and Christopher Plummer, Fiddler on the Roof with Topol and many more. The Weisslers have won seven Tony Awards, four Drama Desk Awards and one Olivier Award.
NAMCO is also a producer of Waitress, which ran on Broadway for more than 1,500 performances and continues to play U.S. and international tours. Now they have brought it to Charlotte's Booth Playhouse as part of a special five-week engagement through May 22. This equity production will only go to one other city, Cleveland, after its Queen City run.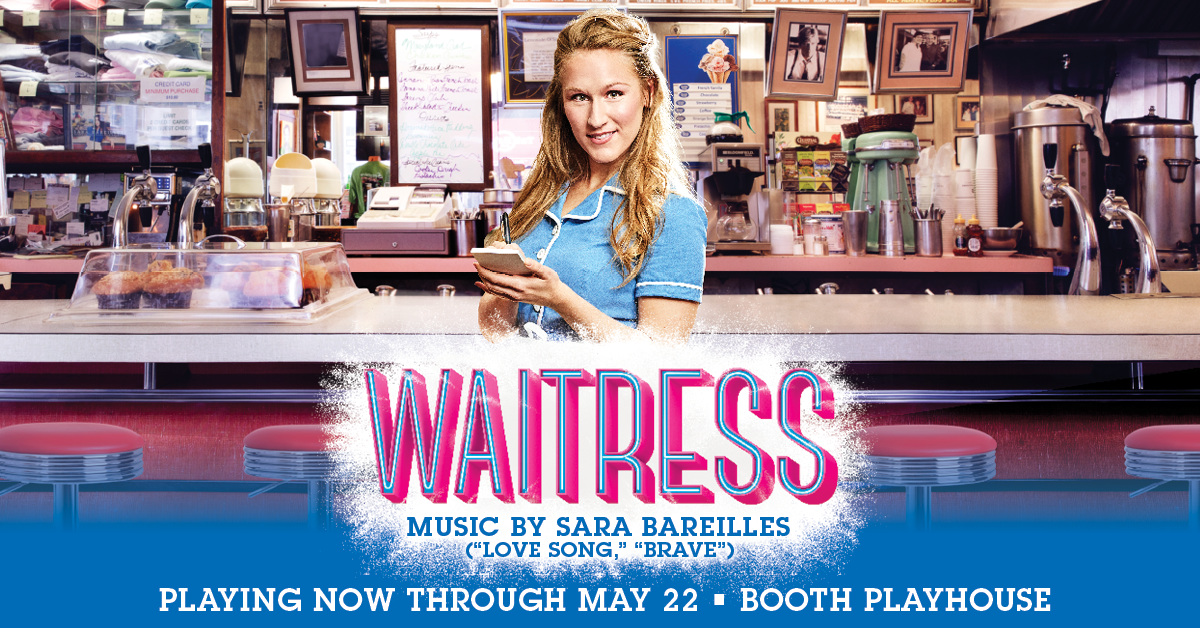 Being in "the room where it happens"
"Barry and Fran [have] a reputation for being a one-stop shop for theater," England says.
NAMCO handles all aspects of production: from financing and show management to in-house executive producing, marketing and more. The company works closely with casting, helps assemble creative teams and oversees touring shows.
For England and the rest of the NAMCO team, that means no two days are ever the same.
The afternoon he spoke to Blumenthal for this story, for example, England's workday also included: reviewing plans for press and media coverage as Pamela Anderson got ready to star in Chicago on Broadway for eight weeks; checking in on the final New York studio rehearsal for Waitress before it headed to Charlotte; and working on a new show NAMCO is in the midst of executive producing with some young producers.
His work isn't limited to New York or U.S. tours either. England was also busy helping to plan upcoming international tours of Chicago and Pippin in Japan and responding to emails regarding casting for the star roles in an Argentine production of Chicago.
"I get to be in 'the room where it happens,' to borrow a Hamilton quote…" he says. "That's what's exciting about a life in the theater."
He pauses, clarifying the Lin-Manuel Miranda hit is not one of NAMCO's shows.
But Waitress, nominated for four 2016 Tony Awards, is, and he's gotten to see and participate in it all: in person, as the original cast came together for the Broadway opening, then virtually over the pandemic in "Zoom rooms" to plan a relaunched Broadway production, and now in a hybrid office (in person/remote), to bring this special extended engagement to his former hometown.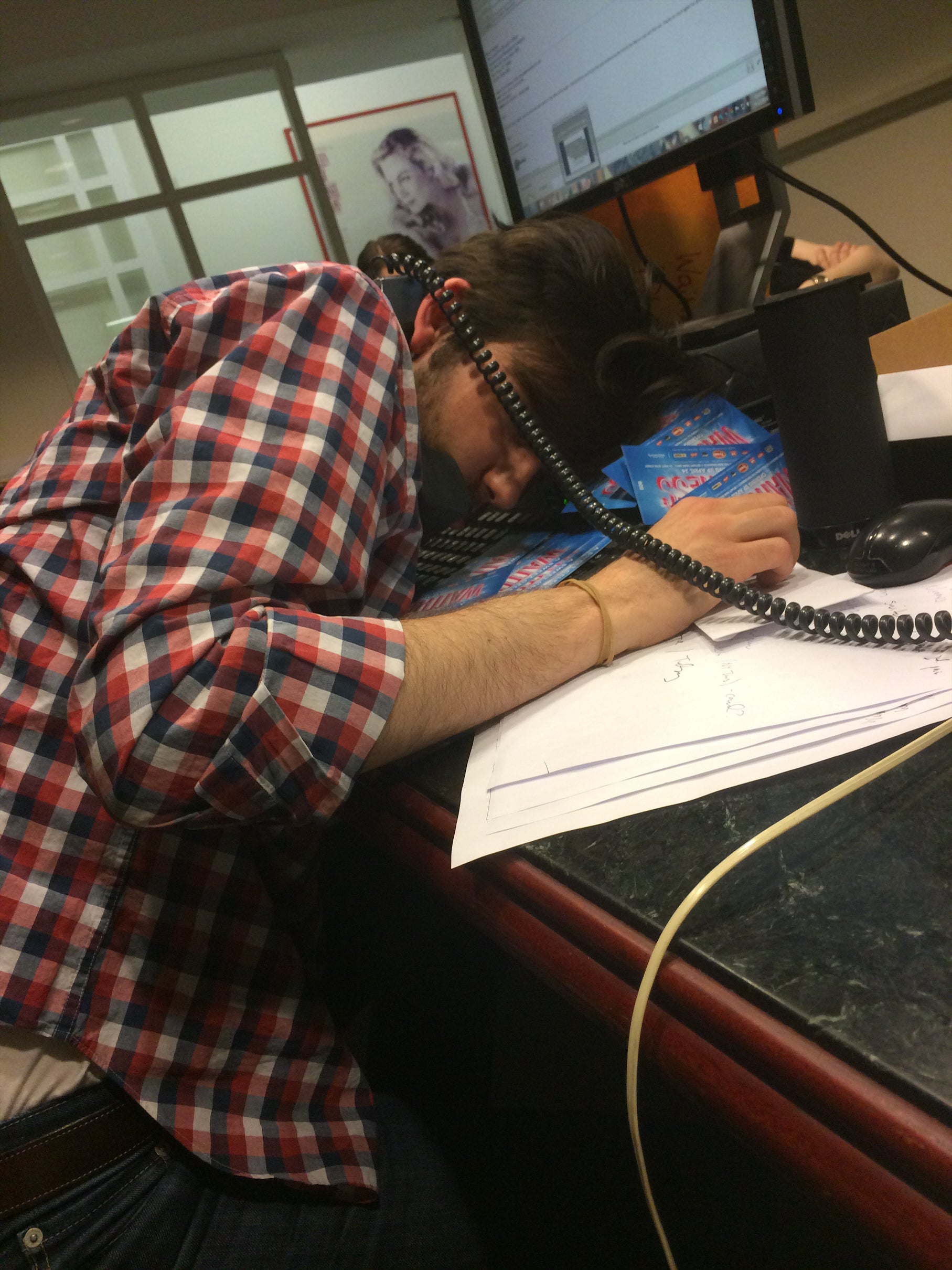 (Associate producer Brett England working late into the night on WAITRESS leading up to the original Broadway opening in 2016)
"Theater, on stage and off, is all about collaboration," England says. "...It's thrilling to be a part of that process…."
That collaborative spirit has been especially evident with Waitress.
"We have a team led by an amazing group of women: Diane Paulus (director), Jessie Nelson (book), Sara Bareilles (music and lyrics), Lorin Latarro (choreography), Nadia DiGiallonardo, who's our musical director, and Abbey O'Brien, who's helping to get the show up in Charlotte," he says. "Everyone's voice is heard and welcomed and they all realize that this show succeeds when it's a collaborative effort."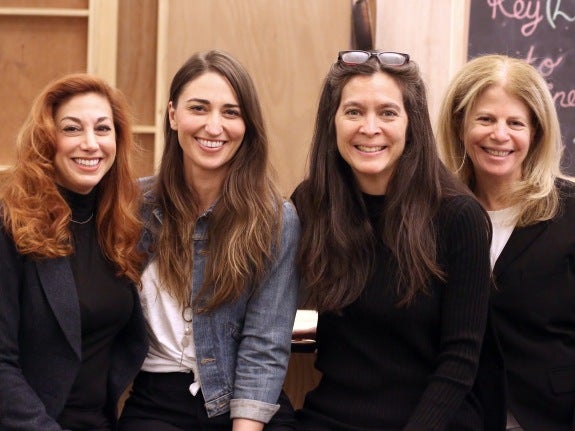 (The creative team for the Broadway musical "Waitress." Lorin Latarro, Sara Bareilles, Diane Paulus and Jessie Nelson are a rare all-women team in charge of a Broadway show. Courtesy of: WALTER MCBRIDE / WIREIMAGE)
Getting his start
England attended Children's Theatre of Charlotte summer camps when he was young, but it took him until his sophomore year of high school to get up the courage to audition for a school show. He tried out for Country Day School's production of Red, Hot and Cole and landed an ensemble role in the musical revue. After that, England pursued theater year-round, including a star turn as Sky Masterson in Guys and Dolls his junior year.
By then certain he wanted to focus on the performing arts, England headed to UNC-Chapel Hill. He broadened his experience there, as required by his major, working backstage and in the costume shop, as well as on stage.
Getting that well-rounded perspective of the theater world helped shape his future.
"Being a performer is one thing, right? And people have guts to do it," he says. "And it's a crapshoot. You can work your whole life and then only be scraping by and having to work odd jobs—which is completely noble and beautiful. But I also realized that I wanted some stability and security, and working off stage in the production side of things offered me that opportunity."
As he transitioned away from performing, he also discovered that what happens behind the scenes of a production could be just as exciting.
"[D]ramatic, tragic, comedic," he says, "...All those things are happening backstage too."
You never know who you're going to meet
But first he had to get to New York. That opportunity came thanks to a chance encounter at a holiday party, while visiting family in Virginia. That's where he met the head of Human Resources of the Ann Taylor Corporation, who happened to be looking for a new Executive Assistant.
England, who had graduated a semester early, had been hoping to spend a few months traveling before settling down. Instead, he raced to get a resume pulled together at the public library. He managed to land an interview a couple weeks later, while in New York on a family trip to celebrate his graduation. Soon after, he signed a lease on a new apartment and began his New York adventure.
He worked at Ann Taylor for a year and a half. During that time, he got to know an executive recruiter who was working to place upper-level candidates at the company. After England helped him out a few times with scheduling interviews, the recruiter asked England about his own career interests.
Learning of his passion for the theater, the recruiter arranged for England to have an exploratory interview with NAMCO's Chief of Staff. There were no open jobs, but England hit it off with the woman, who was also a North Carolina native. She said she'd give him a call if anything changed.
It didn't take long.
A week later she contacted him to let him know Fran Weissler's assistant had left. England interviewed, got the job and has stayed, gradually taking on more responsibilities over his tenure with the organization.
Tragedy and new hope during the pandemic
During the pandemic, England's personal life was also filled with drama. As theaters shut down in New York, he learned that his brother Chandler's wife, Allison—who had been battling terminal cancer for years—was, unfortunately, near the end of her life.
England and his husband Nick decided to move back temporarily to Charlotte to help with her hospice care. At the time, due to the pandemic, hospice personnel were unable to stay in homes round the clock. The couple quarantined and prepared for Chandler and Allison's return from the hospital. For Allison's final eight weeks, they were all together in the same house.
"That was one of the most beautiful experiences of my life, frankly," says England, who was still working on Broadway's eventual reopening from Charlotte, but able to have "the blessing to be with them and be there for those last weeks of life and help with my niece and cook for them and clean and help my brother take care of Allison."
Meanwhile, he and Nick were starting to plan their own family. They had been working with an agency since before the pandemic to find an egg donor and matched with a surrogate in Wisconsin during the quarantine.
"It was a bright spot in the background of all of this," he says.
England and his husband stayed in Charlotte through Labor Day 2020. A little more than a year later, in December 2021, their son Huck Bradham-England was born.
(Waitress Associate Producer Brett England with his newborn son, Huck.)
The new baby arrived just as Broadway started reopening: Chicago was back with a new cast coming in, Waitress was wrapping up its New York run, and he and Nick were also moving out of their fourth floor walkup apartment into a more baby-friendly set up with a room for Huck.
He remembers being on the phone with Diane Paulus, discussing a few last-minute casting decisions for the Broadway return of Waitress, when the movers came through the door. "It was really producing in a new world," he says with a laugh.
As England looks back on his journey, he says it has felt "full circle" to help bring tours like Waitress, La Cage aux Folles, and Pippin to Charlotte.
Growing up, he saw many productions at Blumenthal. "All those shows that came through just reinforced my love of theater," he says.
"...I get tickled because, I'm like, my hometown is seeing the show that I've had a small part in to work on on Broadway but then we get to carry it forward and share it with Charlotte."