We Are Hip Hop: A weekend of electrifying Hip Hop will kick off the Charlotte International Arts Festival
(September 1, 2022) Charlotte, NC – Blumenthal Performing Arts will soon launch the ambitious CIAF—Charlotte International Arts Festival—which will bring acclaimed international artists from across the globe to Charlotte's Uptown and beyond. In addition to highlighting international arts and culture, CIAF will also showcase the incredible talent that infuses the Queen City. For more information about CIAF, visit charlotteartsfest.com.
Blumenthal is committed to creating opportunities for local talent to shine—from artists engaged with Immersive Van Gogh's Artists-in-Residence to the Artists in Theaters program, CIAF's 100 Tiny Things project, and more. Conceived and organized by a group of Charlotte-area artists, We Are Hip Hop is a festival-within-a-festival that celebrates hip hop culture through performances and installations by visual artists, dancers, DJs, spoken word poets, graffiti artists, and more. Slammaster Boris "Bluz" Rogers, visual artist Bree Stallings, dancer and CrayzeeBeat Dance founder AJ Glasco, and Heal Charlotte Executive Director Greg Jackson have come together in collaboration with Blumenthal to present the multi-day celebration. Events will occur at the Knight Theater at Levine Center for the Arts.
"The We Are Hip Hop weekend is a celebration of Charlotte's Hip Hop community. Bringing the elements of Breaking, DJing, Graffiti art, and MCing to the Levine Avenue of the Arts stage for a two-day block party that highlights the culture, creativity, passion, innovation, and beauty of Hip Hop," says Rogers, who is also Blumenthal's Director of Creative Engagement.
"Charlotte is in for a treat with this weekend we have planned," says Glasco. "We're coming off the success of 'The Reveal' back in 2021 with an explosion of Hip Hop Culture. We have all the elements of Hip Hop under one roof for two days! It's great to partner with Blumenthal Performing Arts to push the culture of Hip Hop forward to the community. It's also great to pour back into and support our local communities by providing both the necessary and hard-earned platform to get their craft out to the world."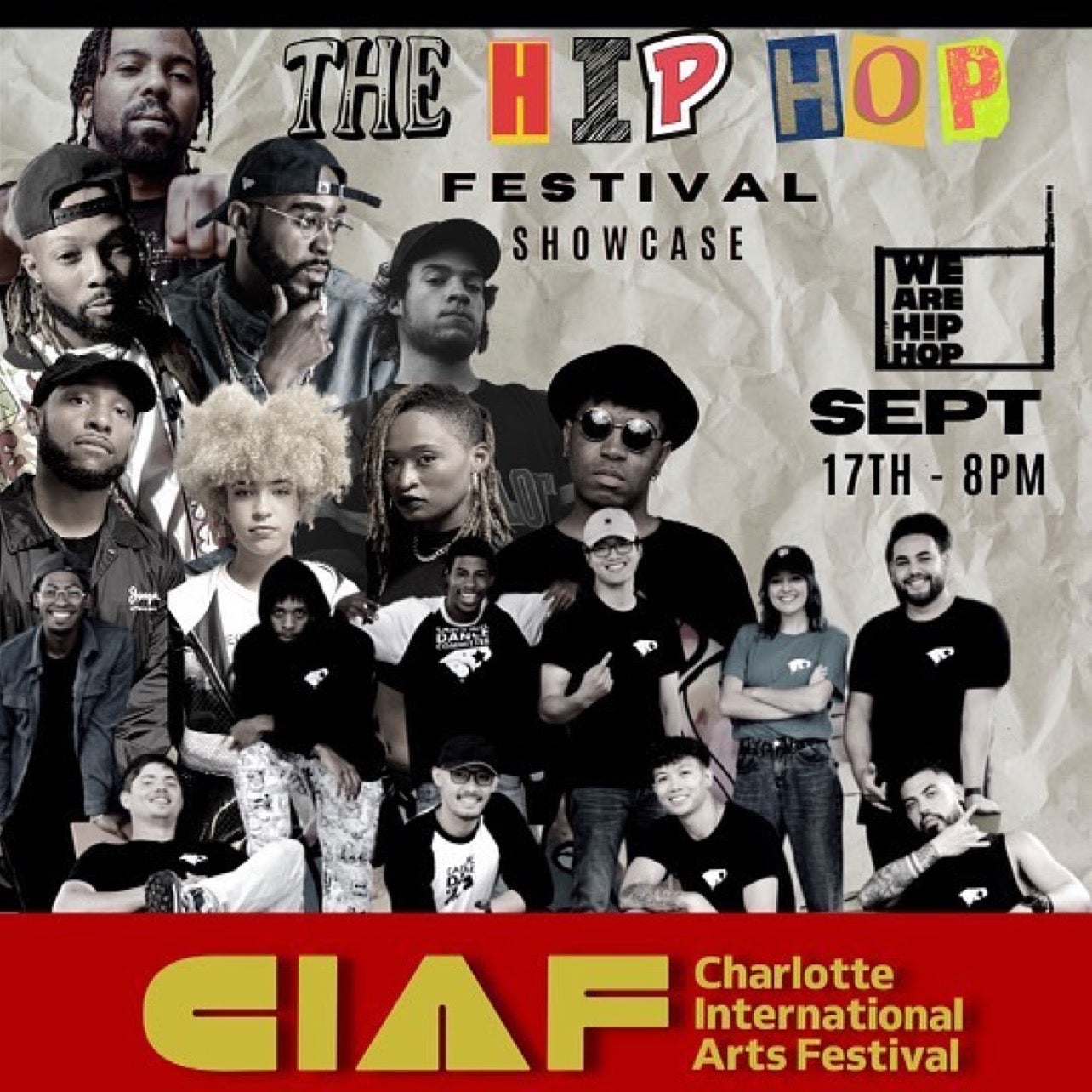 The two-day We Are Hip Hop weekend kicks off the festival with DJ battles, a "7 to smoke" competitive last-man-standing all-style dance tournament, live dance performances from Charlotte professional dancers and international dance artists, and more. Concluding the weekend will be a faith-friendly after-church "WE OUTSIDE" Block Party. Many of the We Are Hip Hop events are FREE with tickets for the Dance Showcase starting at $19.50. For tickets and more information, visit charlotteartsfest.com.
SCHEUDLE AND LINEUP
SATURDAY, SEPTEMBER 17
4 pm–6 pm "7 to smoke" All Style Battle judged by dancer and hip hop community leaders "Skitz," "Puzzall," and "Mock V"
6 pm–8 pm DJ battles
8 pm Dance Showcase performances, featuring: Carolinas Dance Committee (Charlotte), QC Krump (Charlotte), The LionXDen (Columbia), Alex White Productions (Charlotte), LeDarius "Gipsi" Parker (Charlotte), Jonathan Davis (Atlanta) and The Cloudy Collective by Stormi D. (Charlotte)
SUNDAY, SEPTEMBER 18
12 pm–5 pm We Outside Block Party
Throughout the year, We Are Hip Hop hosts events and programs aimed at recognizing, celebrating, and amplifying Charlotte's unique hip hop culture and talent. For more information on the community, initiative visit wearehiphopclt.org.
For photos and video, please click here.