What are those words all over uptown? Local Poets Put Their Mark on the Queen City Through Of Earth and Sky - Last Week to Explore these Incredible Installations
Looking for a fun and meaningful way to explore the heart of Charlotte? Through October 31, you can immerse yourself in poetry all over uptown. Composed by local poets, musicians, and other writers, in all, there are 45 original installations placed with care and whimsy around the city.
These words of inspiration, hope, fears and revelations about the past year were drawn from among the hundreds of local submissions to "Of Earth and Sky."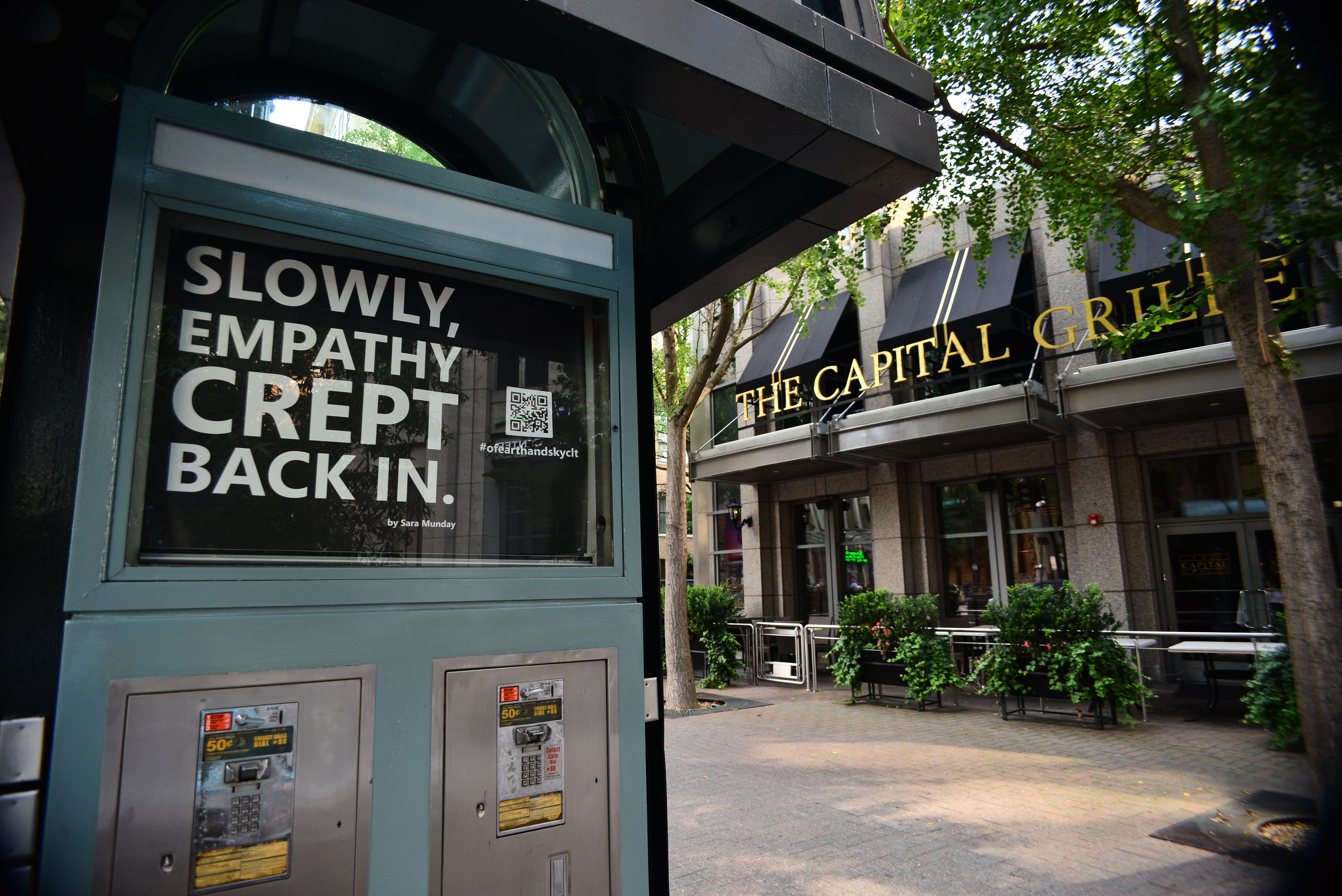 Originally created by UK artist Luke Jerram in Gloucester, England in 2020, the Charlotte edition is produced and presented by Blumenthal Performing Arts. It's the first time the project has come to an American city.
From great big, bold letters gracing parks and building facades to tiny messages, popping out in unexpected places, these poetic excerpts form a temporary sculpture trail around uptown.
You can find out more about the poets, watch them read their poems in their entirety, and access a map for all of the installations at https://ofearthandskyclt.com/ A new poetry anthology, commemorating this community-wide event, featuring one poem from each of the 200 poets who submitted for the project, can also be ordered through the website.
PLACED WITH INTENTION
Just as each poem is as unique as its creator, the snippets of poetry displayed and their locations were also carefully selected by a team of Project Leaders & Poetry Curators, including Bluz Rogers (Blumenthal's Director of Creative Engagement, an internationally ranked poet and a 4-time Emmy Award winner), Jay Ward and Jordan Bailey (both members of the 2018 National Poetry Slam-winning team, SlamCharlotte).
Bree Stallings, Blumenthal's Director of Artistic Experiences, was also part of that team and responsible for the actual physical installations. She tried to be both thoughtful and playful with her curations, to match the larger artwork's theme, "Of Earth and Sky."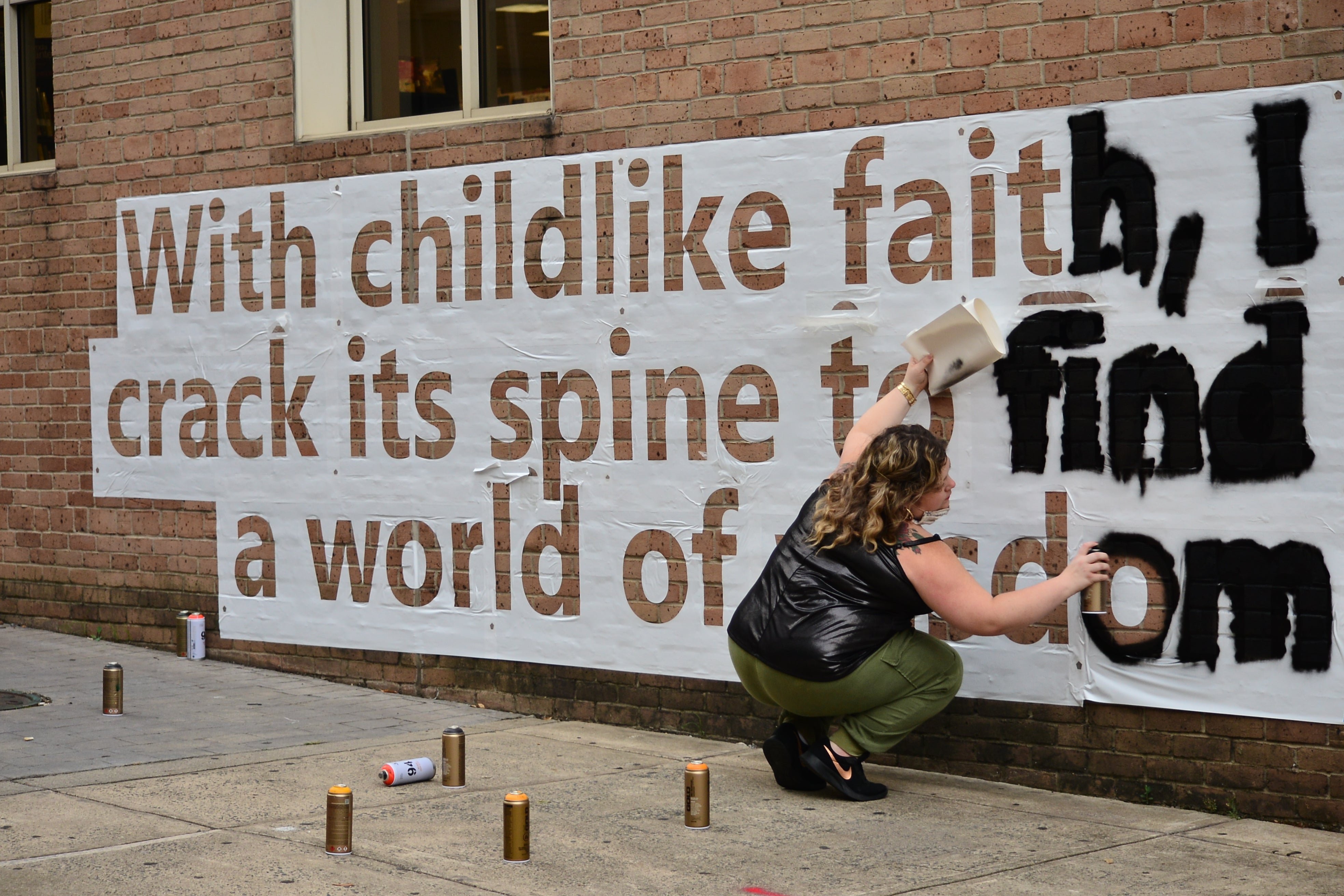 (Bree Stallings settting up an installation at the Main Library Uptown)
"Things can be on the ground, they can be up in the air," says Stallings, who noted it took a full month of logistics work just to acquire approvals for all of the locations. "We're really kind of changing this vertical and horizontal landscape people see and hopefully a poem surprises them in their walking route."
Some poems are in direct conversation with other artwork and their environment. For example, in a window above McCormick and Schmick's, overlooking the remnants of the Black Lives Matter street mural, painted by local artists in June 2020, is this text by Jessica M. Bravo:
"Frustration masked the real wound."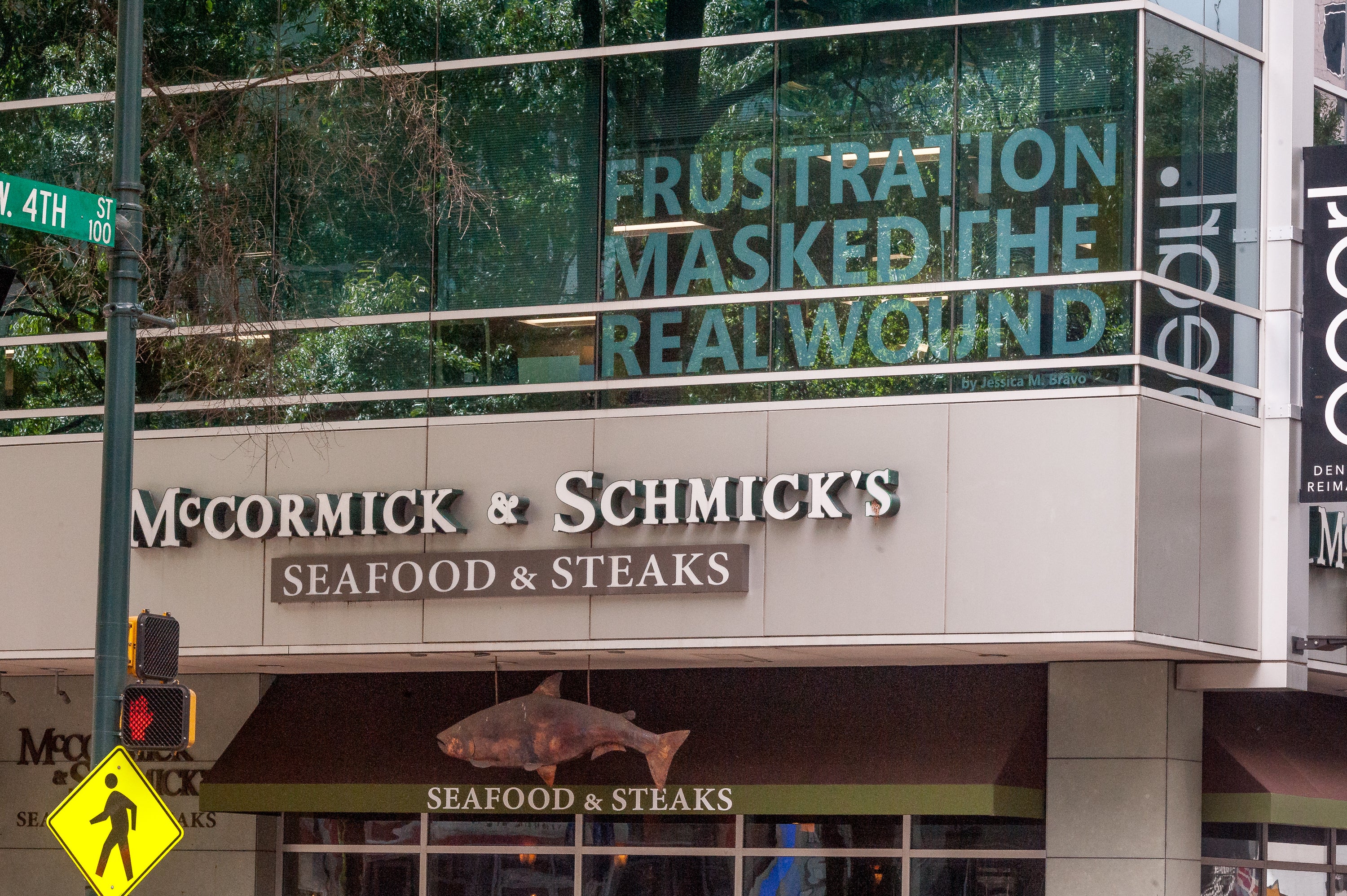 Meanwhile, in front of Belk Theater, you'll find Claudia Perry's Haiku poem in stenciled letters that are only visible when the ground is wet:
Enjoy this moment
Like rain on summer sidewalk
It will be gone soon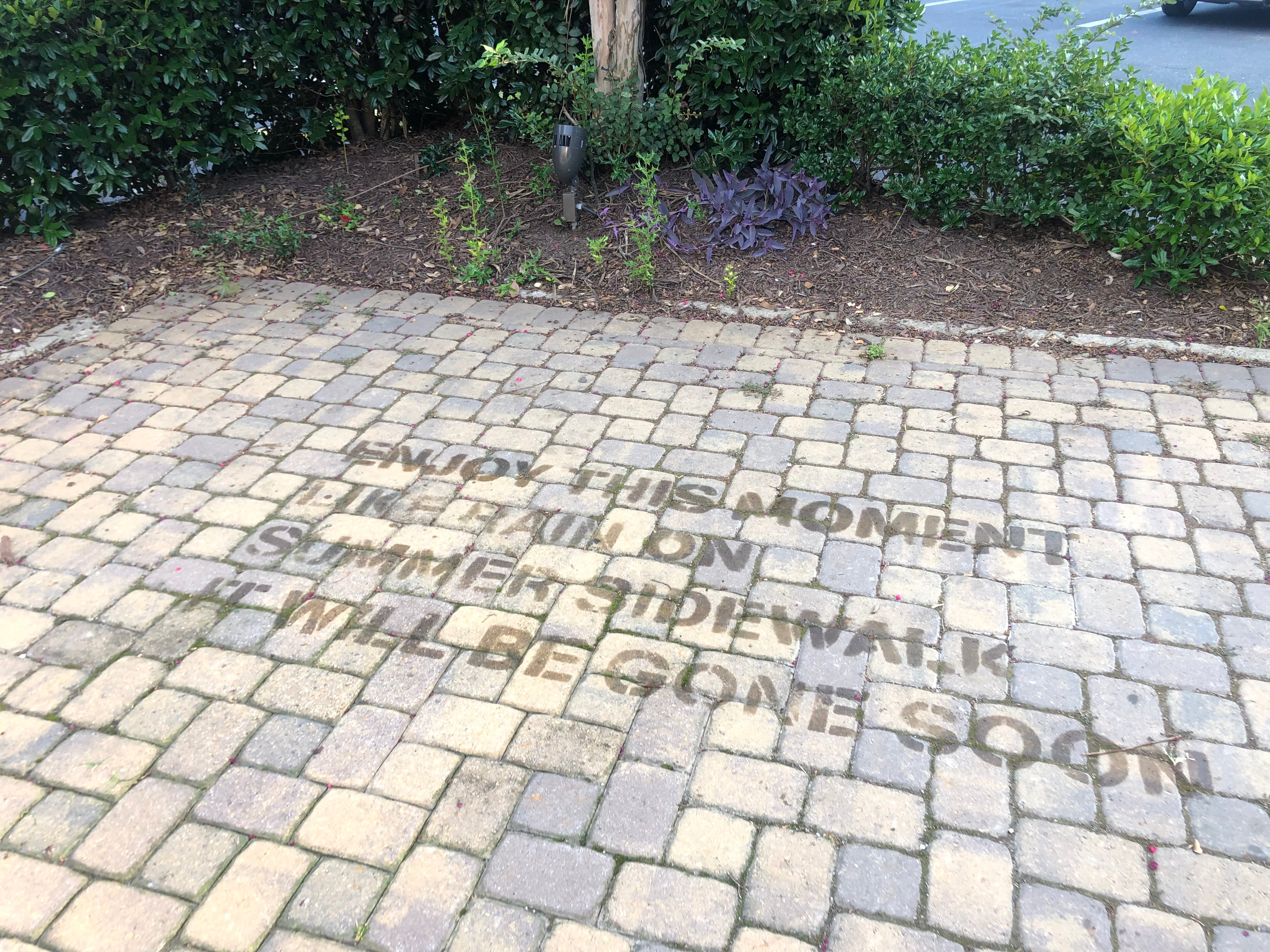 It's painted on the sidewalk using Rainguard to create this playful effect.
Some poems' locations make them look rogue, Stallings says, like the tiny letters of Marqus Hardy-Owens' text gracing a newstand door frame. It reads, "love is the vessel that will sail across the world until the world is no more."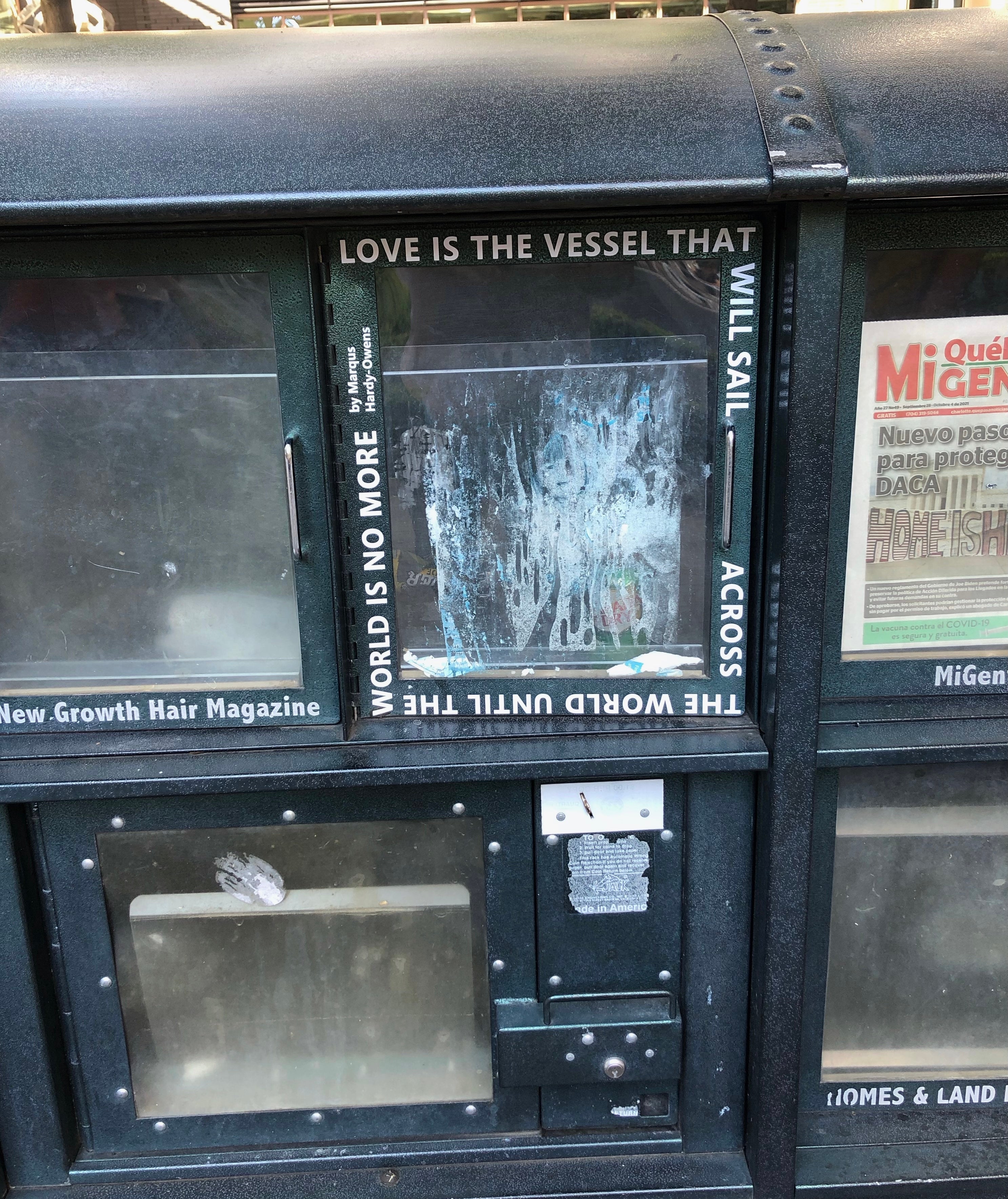 Other works are likely to remain in their new homes even after the project ends, Stallings says, like the two poems at the Brooklyn Collective—a creative and entrepreneurial space dedicated to honoring the historic Brooklyn neighborhood, a once-thriving bedrock of the Charlotte Black community, razed in the 1970s by so-called "urban renewal" projects:
"What Happened There, We'll Always Remember" by R. Matthew J. and "When you asked for a bedtime story I told you of home," by Bhargavi Bhaskar are featured in the Collective's windows.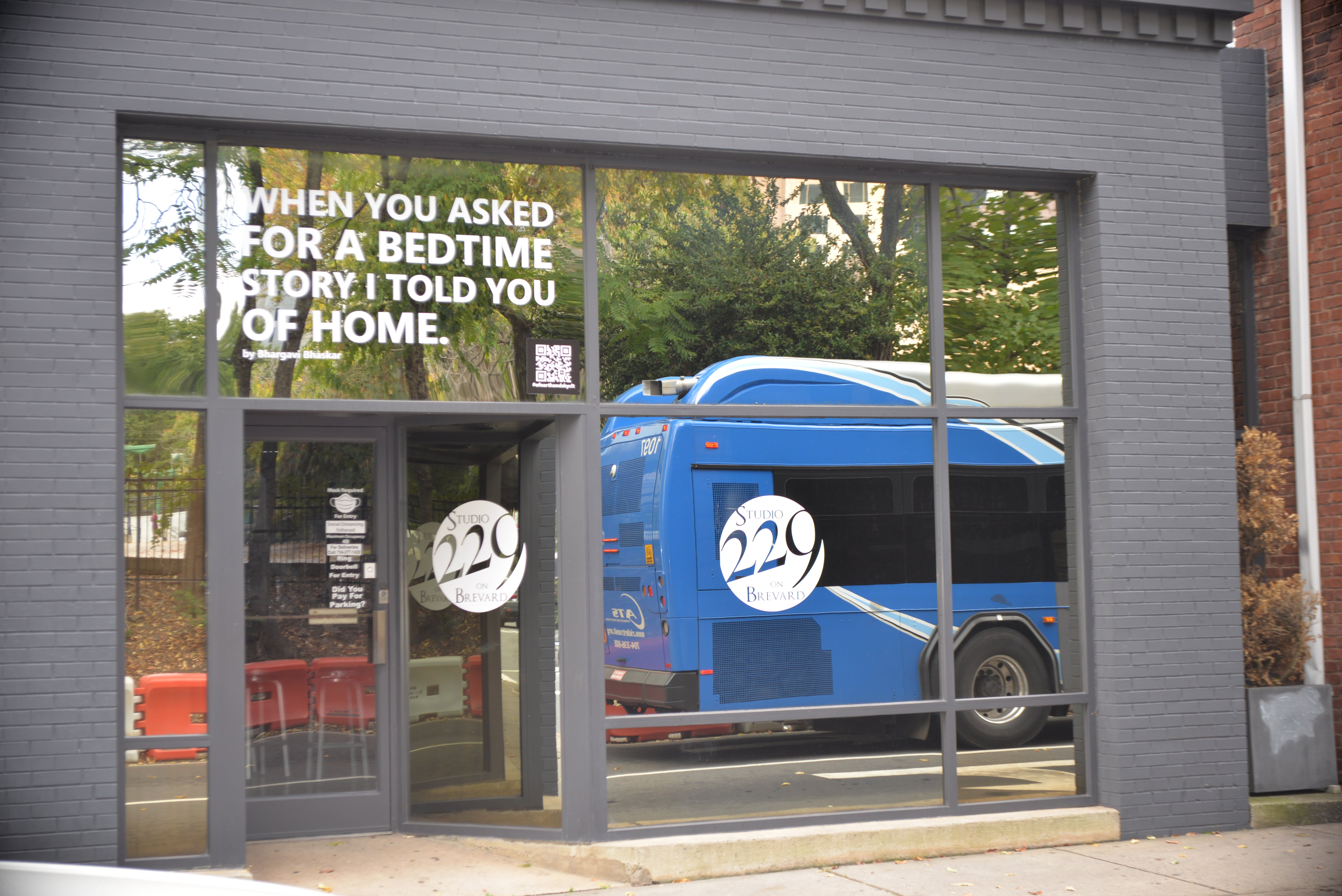 "They just become a part of this landscape," Stallings says, "which is really sweet to see."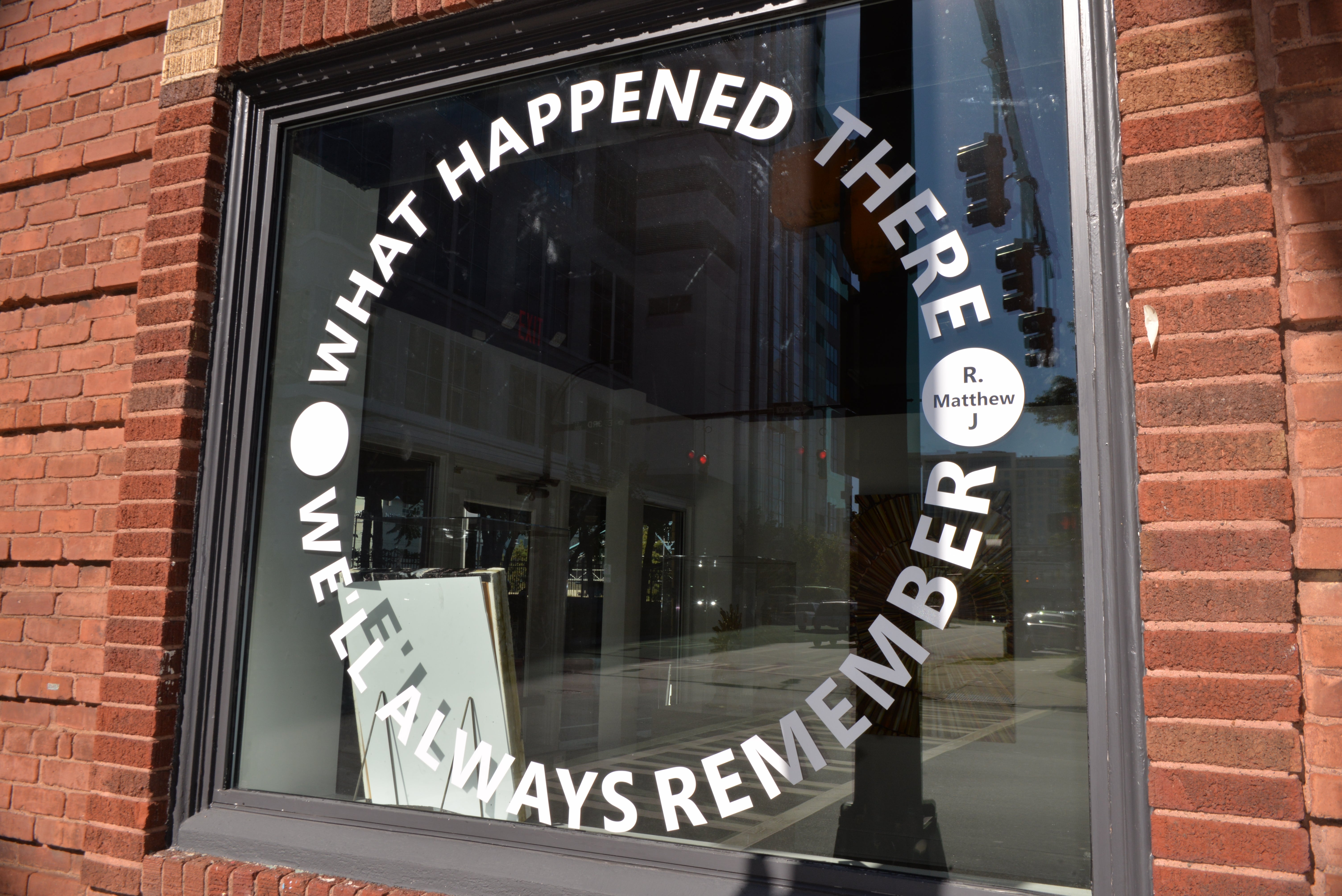 For more details on these and other poems, visit https://ofearthandskyclt.com.