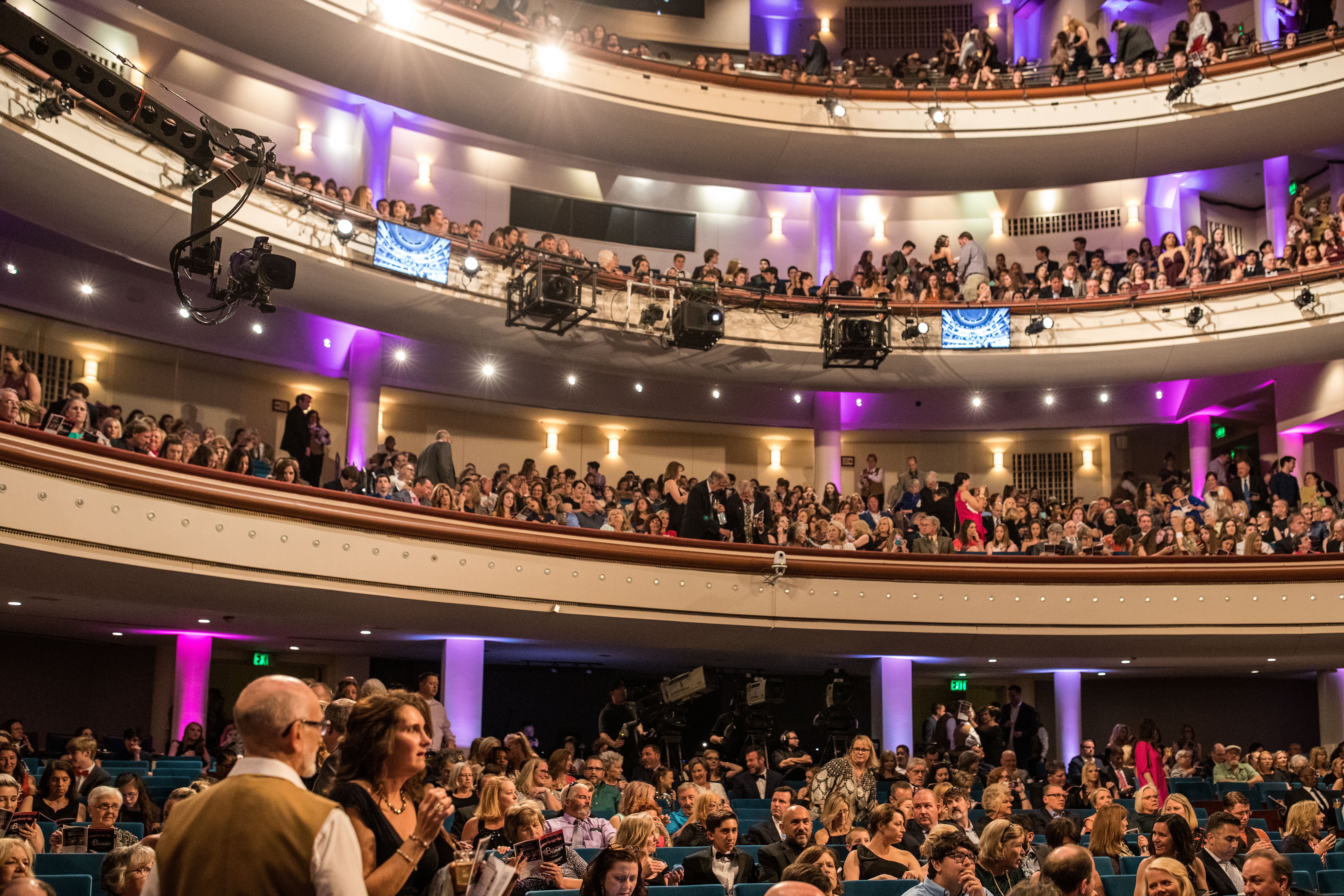 When Things Go Wrong: Real Life Tales of Backstage & Onstage Drama
Picture this: it's September 2008 and you're at the press night in Los Angeles for the pre-Broadway run of the new musical 9 to 5. There's a full house, including celebrities, industry VIPs and 350 members of the media. Suddenly, in the midst of a big scene change, everything on stage stops.
The house lights come up halfway while the crew jumps into action to solve the problem. Tom Gabbard—Blumenthal's CEO and one of the producers of the show—is there with his wife, Vickie. They are seated a couple rows directly behind the original film's stars and can see Dolly Parton, taking advantage of the delay, scooting over to chat with actor Dabney Coleman, who played the film's famously misogynistic boss. Just then a voice rings out over the crowd. It's Vickie Gabbard with a spontaneous idea: "Dolly, sing something!"
So she does.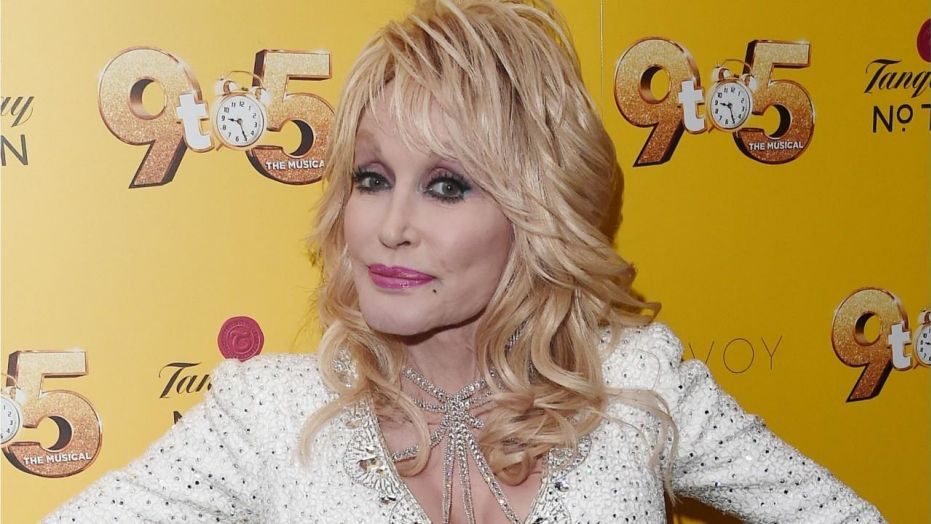 Parton, who wrote the music and lyrics for the show, steps out into the aisle and a nearby soundman brings her a handheld mic. She riffs for a few minutes on how much she's enjoyed working on her first Broadway musical and her respect for her co-creatives. Then she leads the audience in singing the 9 to 5 title song. About 20 minutes go by and Parton is still entertaining. She's about to sing "I Will Always Love You," when she gets the signal that the show is back up and ready to go.
Just another night at the theater, where anything and everything can happen!
"Unexpected things are the norm," says Tom Gabbard. "It's a question of what the scale of that is and whether or not the audience is even aware. Frequently the performers are adjusting and the audience is oblivious to that."
Fortunately, that evening turned into a memorable one. "I wish I could say that Dolly Parton was always ready to come out from the audience to step in when something goes wrong," says Gabbard.
While actors and stage crews work hard every performance to create a perfect product, sometimes there are glitches. It's the nature of the biz, and Gabbard believes unpredictability is actually part of the allure of a live performance: "I think that really adds to the energy, as opposed to watching it on television or in the movie theater where everything is going to happen as planned."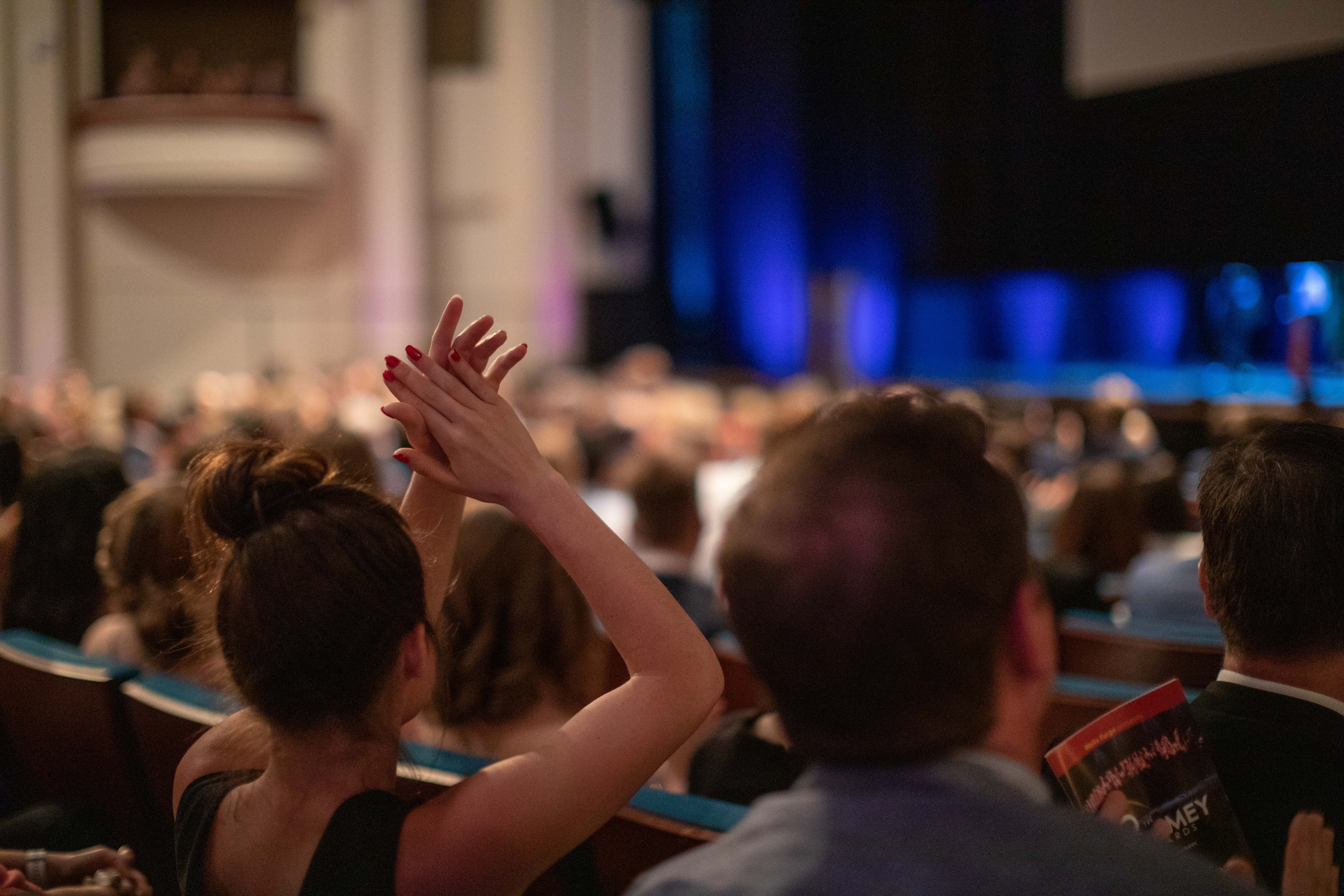 "Things happen often but shows don't stop often," says Robert Schoneman, who spent 13 years as part of Blumenthal's backstage production team before becoming the theater's Director of IT.
While the mantra is usually "the show must go on," major technical problems, safety issues or extreme transportation delays can temporarily halt a production. That's when show people spring into action—trying to find solutions the best and quickest way they can.
"It's constant problem solving," says Schoneman. "You're on your toes all the time. You just think as you go."
And sometimes the audience even gets in on the act… Here are a few more memorable stories from Charlotte and beyond, giving us a deeper appreciation for the work involved in successfully bringing a production to life night after night.
TECHNICAL DIFFICULTIES
Most touring shows these days rely heavily on technology. There may be a thousand lights used in a production and hundreds of mic cues, not to mention huge and heavy set pieces that operate with automation. These systems are complex and only operate with specialized software. Performers and stagehands depend on these elements working properly for a smooth running show. When a sound console goes dead or a set piece gets stuck, the performance can be delayed while the touring show's off-site engineers and technical staff try to fix the problem remotely from their New York workshops.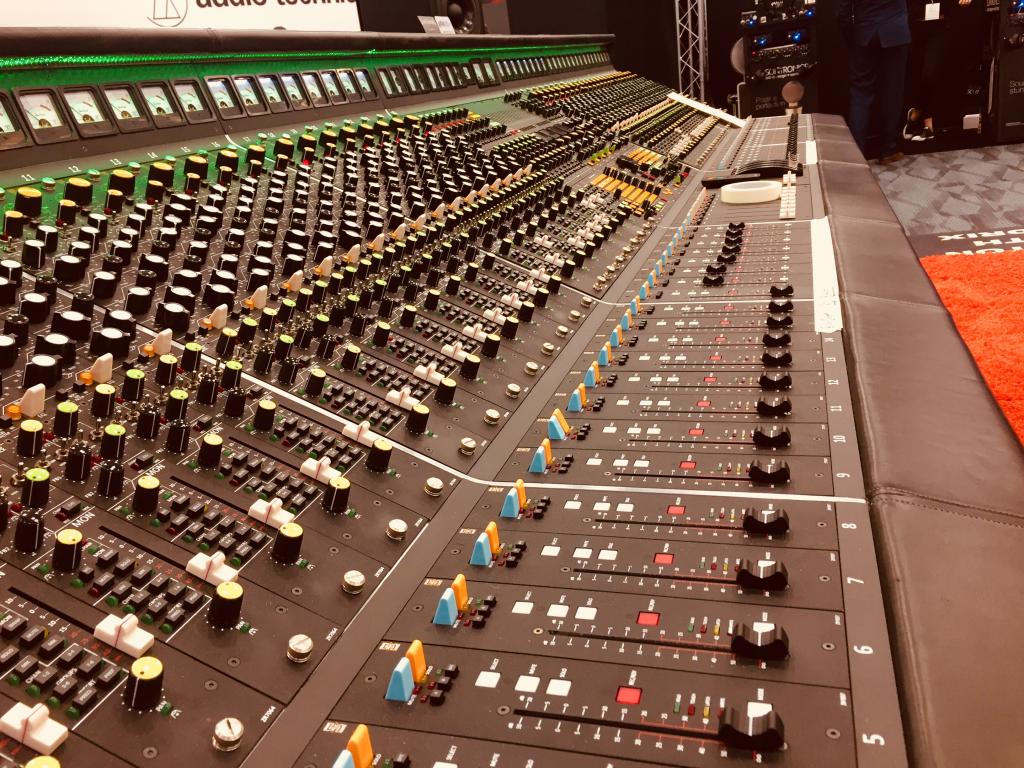 Can you imagine MISS SAIGON without its helicopter or ALADDIN without a flying carpet? When a missing set piece or technical component would seriously diminish the show, these things simply have to be repaired.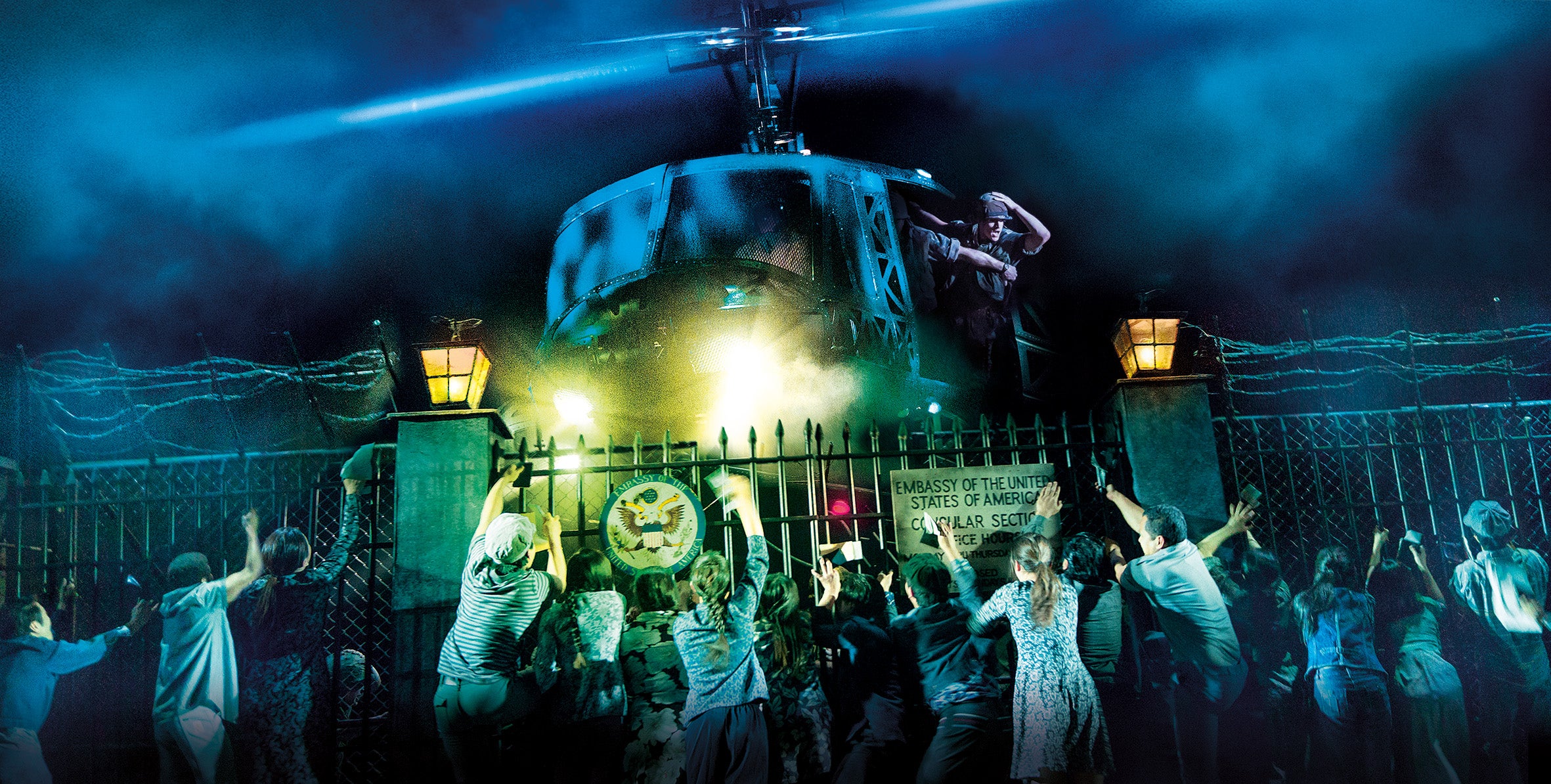 "Most people understood," says Blumenthal's Director of Front of House Operations Tommy Cantrell, recalling the Sunday evening ALADDIN performance for which intermission was significantly extended when the set's automation stopped functioning. "We did have a few [people] who left because they had young kids or babysitters at home [but] I think most people were OK because they came to see the carpet and the carpet is in the second act."
While waiting, audience members lightened the tension by attempting to do the wave inside the theater. At another point, they joined in singing a boisterous happy birthday to a woman who was sitting down front.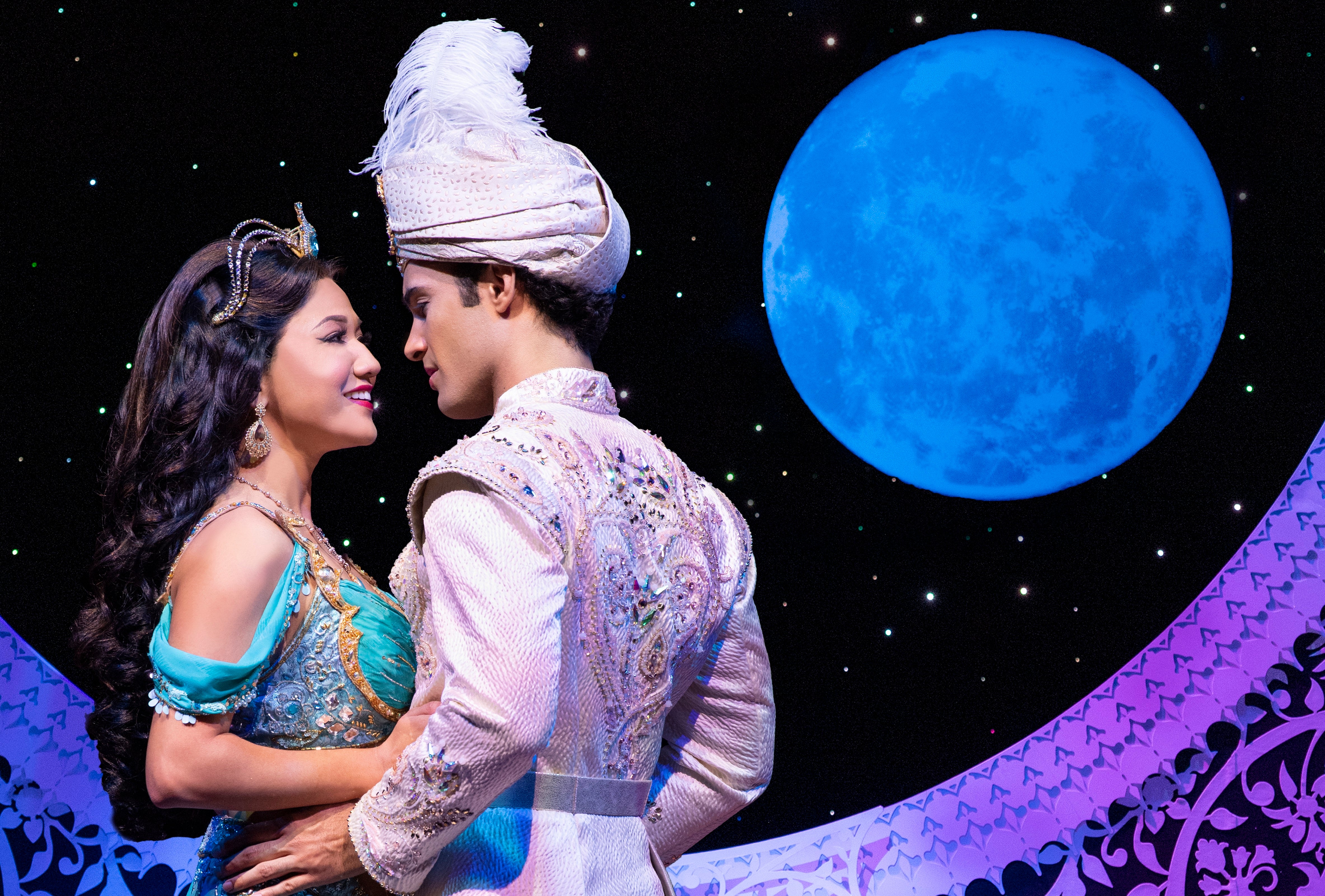 "We really do try hard to communicate with audiences and let them know what's going on," says Gabbard, but there are times when theater personnel honestly don't know immediately the cause or scope of the problem. Sometimes management makes the decision not to bombard the tech team backstage with too many questions until they have a handle on the problem.
SAFETY ISSUES
"The safety issues are real," says Gabbard, recalling the first national tour of MISS SAIGON, when he served as Executive Director of Weidner Center for the Performing Arts in Wisconsin. One night, the actress playing the lead role of Kim placed her hand on the stage floor and accidentally grabbed the automation track used for sets; it sliced through her palm. When she stepped off stage, she had to be rushed to the hospital, where she received 20 stitches. There were 10 minutes before that role came back on; the show never stopped but the understudy had to jump in mid-performance. The audience only learned of the cast change at intermission.
Broadway actor Tyler McKenzie (a 2009 graduate of Central Academy of Technology & Arts in Union County), who recently wrapped up two years touring as an ensemble member of HAMILTON, shared his own tale of theater gone wrong with a group of local high school students during a Master Class at Blumenthal this fall. One night during a particularly dramatic moment of HAMILTON, he accidentally dropped the gun he was supposed to be spinning, right into the orchestra pit, barely missing the musicians below. He and his cast mates were startled, but they kept going. After that, McKenzie says safety nets were added to all remaining HAMILTON tour stops with open orchestra pits, as a precaution.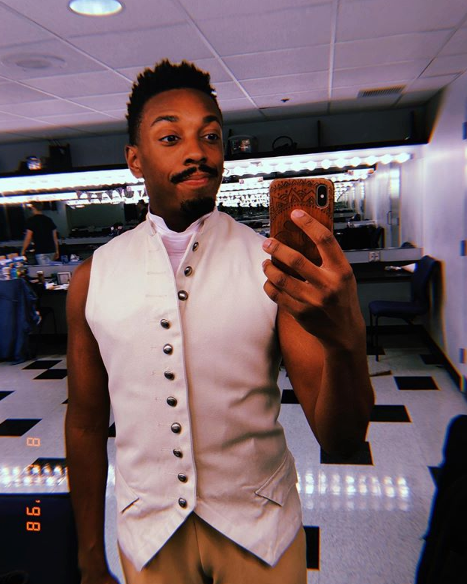 (Charlotte's own Tyler McKenzie backstage at HAMILTON)
While accidents can happen on stage, unexpected things can also happen in the audience. Gabbard remembers a touring performance of CHICAGO, when a bat somehow got into the Weidner Center and was flying around the theater. "Some bold theater goer, sitting in the box, managed to reach out and whack it," says Gabbard. The bat, unconscious, fell straight down into the orchestra section and a volunteer quickly swept it out the door.
Cantrell says his staff has to be prepared for medical emergencies too, like the time a man in the third row suffered a heart attack in the midst of a performance. Paramedics came into Belk Theater to administer emergency treatment. Once he was safely on his way to the hospital (where, thankfully, he recovered), the performance of FROST/NIXON resumed.
All of these situations were unexpected and each one had a different remedy. While there's always the potential for something out of the ordinary to happen, it's still extremely rare that it stops a show from continuing. Cantrell says in his 19 years at Blumenthal, he can count on one hand the times a performance has been significantly delayed due to technical or medical issues.
MAJOR DELAYS
The most common time for potential problems to occur is actually well before the audience arrives. "A lot of the issues happen when shows are loading in or loading out," says Schoneman. "That's when there's the most opportunity for things to go wrong: a lot of people working, a lot of moving parts, a lot of logistics and a lot of ways that something could go wrong."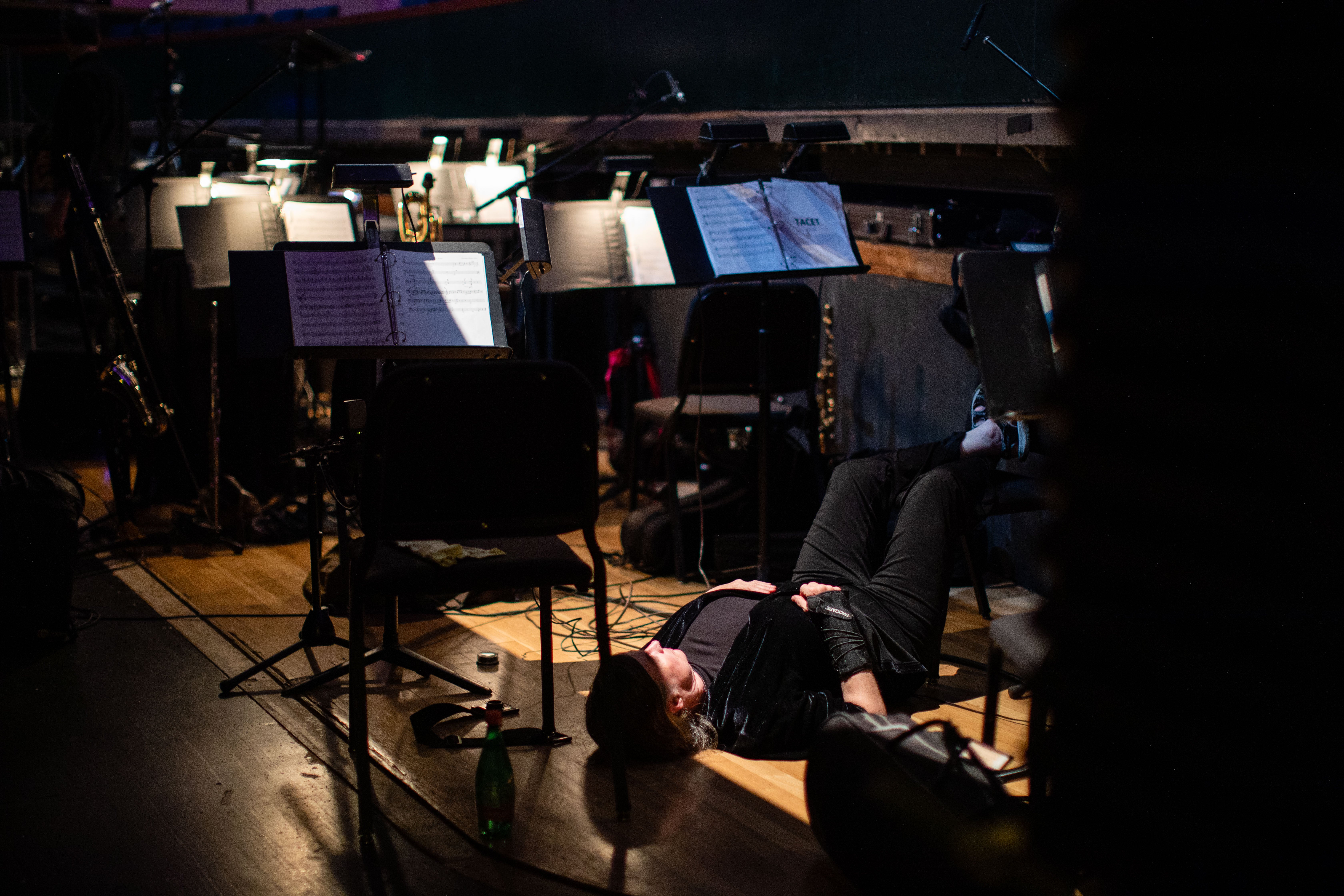 It often takes creativity, extra work and resources to resolve these problems. "You work around it," says Schoneman. "You stay longer. Work more hours. Hire more crew and do whatever you need to do to get to opening night."
Back in 1998, following a wildly successful Broadway run of FOREVER TANGO, the show was set to kick off a national tour in September beginning with Wisconsin, recalls Gabbard. A warm up run prior to the national tour was also planned for San Juan, Puerto Rico, so the company sent all of its costumes there well in advance. Unfortunately, a late summer hurricane blew through and canceled the Puerto Rico engagement. While the cast and crew were able to change their flights in time, the costumes were stuck there.
Upon arriving in Wisconsin, the performers and costume designer spent three days scouring thrift shops and fabric stores, in order to reconstruct their wardrobes for the show. Many of these Argentinian performers traveled with some extravagant clothing of their own, says Gabbard, which they also used until their costumes arrived.
Opening night, before the show began, Gabbard went out on stage and invited FOREVER TANGO's company manager to join him for an impromptu interview. Gabbard asked him to share the story of what they'd done and called attention to the various costumes they had found or built since arriving in Green Bay. From then on, every week for the rest of his tenure at the Weidner Center, people came up to Gabbard to tell him, "I was so glad I was there the night the costumes didn't arrive."
When there are major problems, Gabbard says they always try to have a make good offer. In the case of FOREVER TANGO, for people who were really disappointed by the costume snafu, they were offered the opportunity to come back and see the show. But even among the people who came back, they told him what they remembered best was the night when the costumes weren't there.
As it turns out, sometimes the most magical evenings of theater are those at which things don't go exactly according to plan.