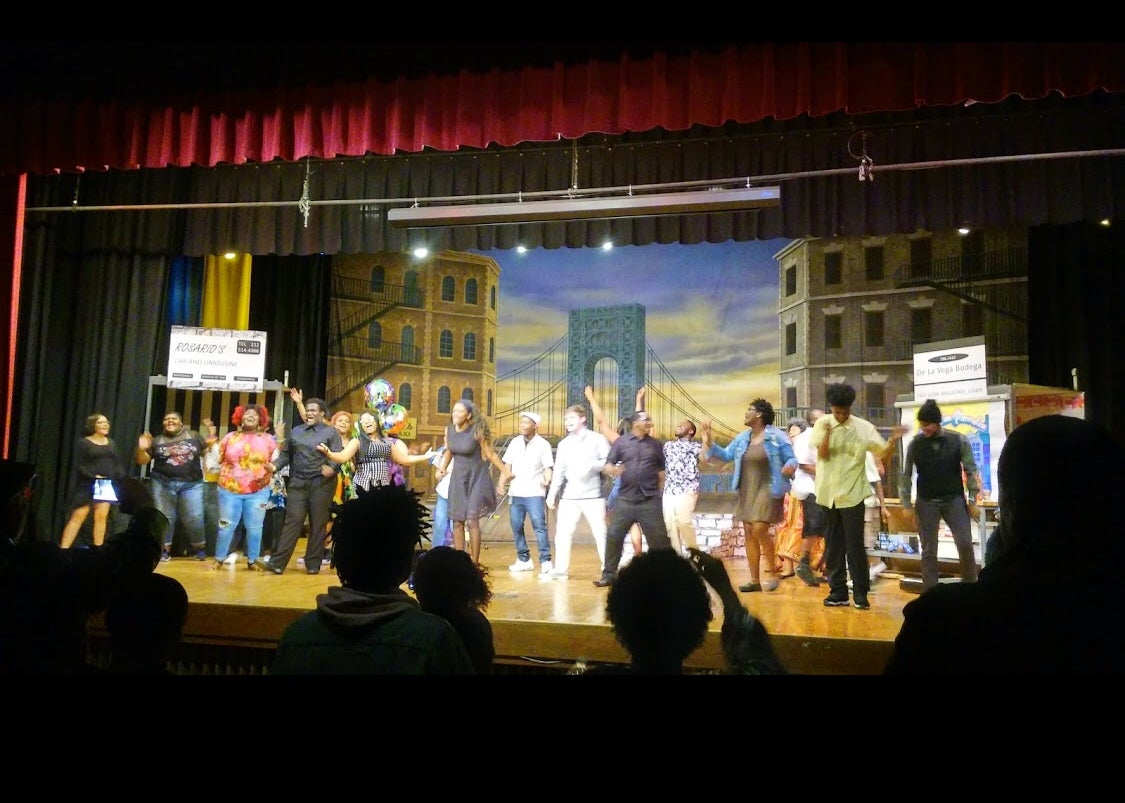 The Quest To Bring Theater Arts Back to West Charlotte High School
When West Charlotte High School students stepped on stage this spring, it was no ordinary performance. This was the first time in thirteen years the school mounted a full musical production.
With talent and passion, the students presented IN THE HEIGHTS (an early hit by HAMILTON composer/lyricist Lin Manuel Miranda). The performers gave it everything they had—dancing, singing, and interpreting the story.
"You learn a lot about yourself in the production," says junior Miyoni Heard, one of the performers. "When you can work together, it's magical."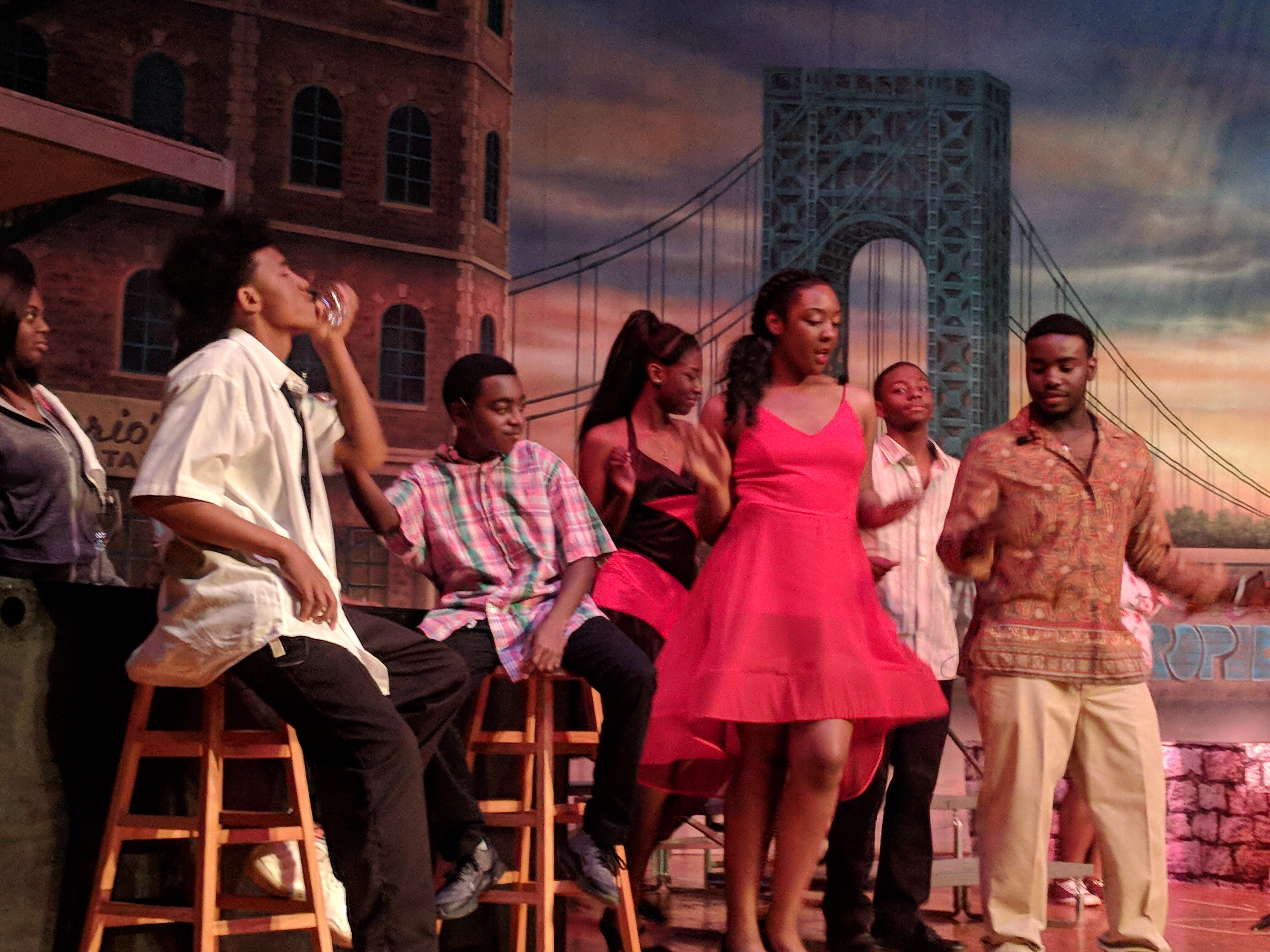 (Miyoni Heard (center) and company in WCHS's production of IN THE HEIGHTS)
That magic didn't happen overnight. Led by English teacher Franchone Bey's vision to restore a theater arts program to the school, Heard and about 18 other students, most of whom didn't know each other previously, met daily after school from September on, as part of the Drama Club. Together, they rehearsed and tackled the challenges that come when a program lies dormant for years. Bey, who previously launched a theater company in Connecticut, knew it would be hard work but was undaunted. She enlisted the support of first year choral teacher Ronda Muhammad as the production's Vocal Musical Director and the two charged ahead.
"The club has really provided a family for students who may feel like they have no real place at WCHS," says Bey.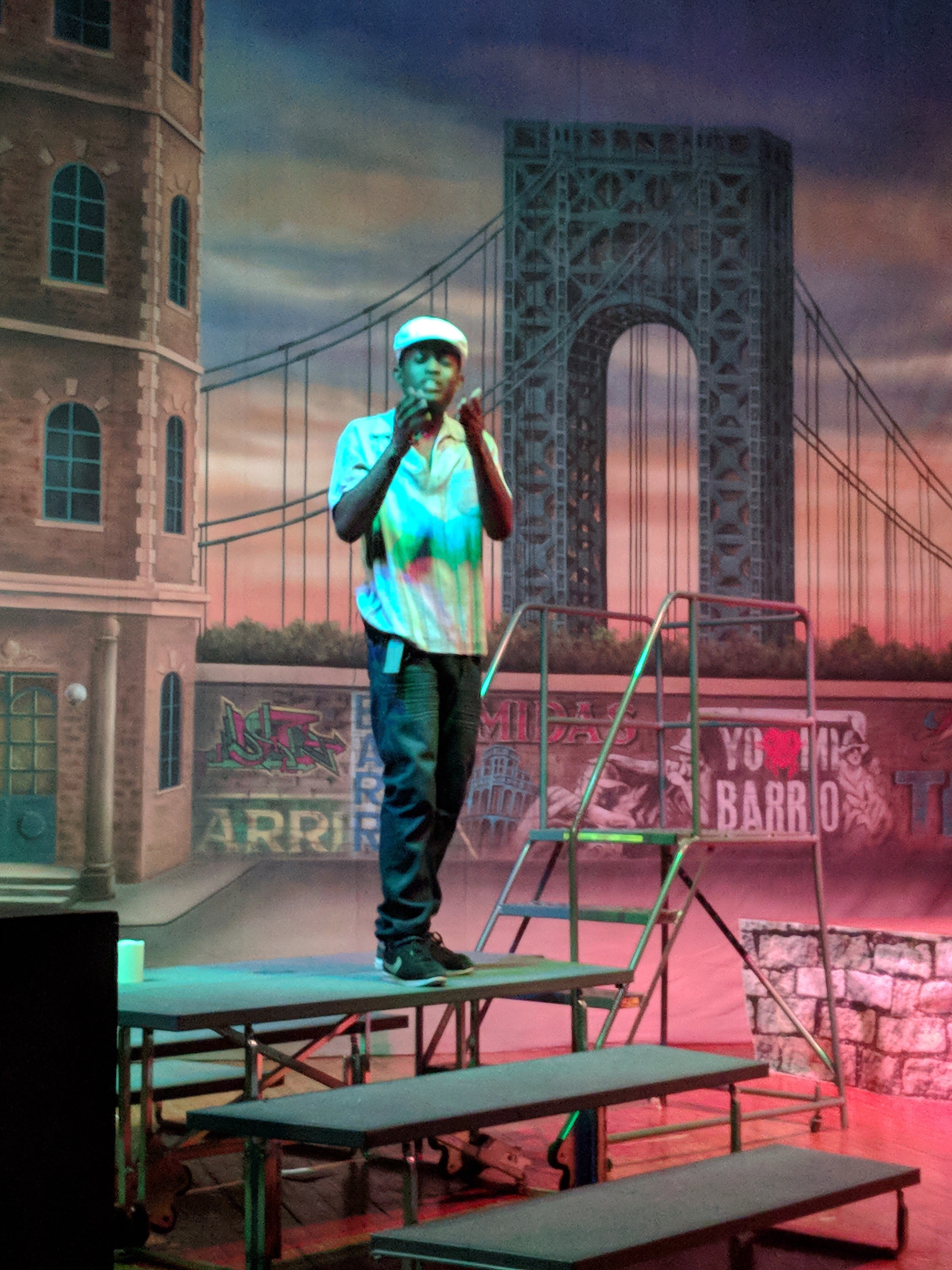 (Jamyric McIllwaine as Usnavi in WCHS's production of IN THE HEIGHTS)
With outdated equipment and limited funds, the production team had unique challenges to overcome. Through a grant received last year when they presented an evening of musical vignettes, they had already started the process of updating the beautiful but aged auditorium. The school's alumni association also raised more than $3,600 to help with show expenses including licensing rights, costumes, and other technical needs. But shows are expensive to produce and updating the theater with 21st century technology added both costs and complications that many other schools might not typically encounter when preparing their annual show.
WCHS's Alumni Association reached out to CMS to request help with technical needs. The school district loaned the school speakers and six wireless microphones with transmitters for the production.
"For us to do this next year, we're looking at the same challenges," says Bey.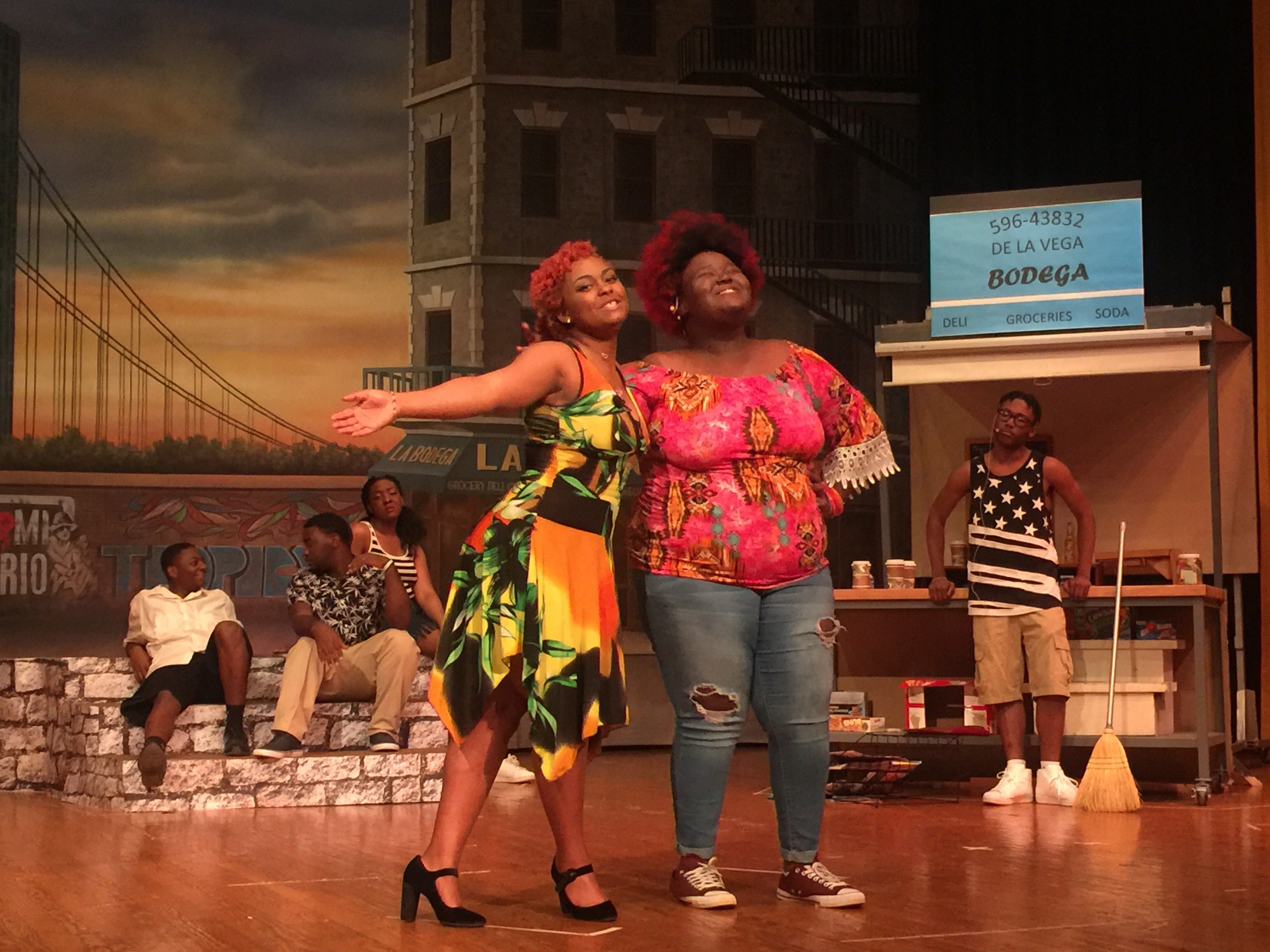 (Angel Agnew and Aaliyah Doctor (l-r) in WCHS's production of IN THE HEIGHTS)
A STRONG TRADITION OF SUPPORTING THE ARTS
WCHS alumnus Cedric Steele recalls the vibrancy of the arts program during his high school years, in the mid-'90s, when there were several different choruses at the school, multiple classes offered in Acting and Technical Theater, two annual mainstage theater productions, debate competitions, and more.
"The performing arts program was just full," says Steele. "So when I came back to Charlotte and saw this—it was not the way I remembered it."
Since its earliest days, clubs, sports, and the arts have been at the heart of WCHS's culture. So, what changed?
OVERCOMING CHALLENGES
The school has long played an important role in the history of Charlotte: a bellwether of both the city's greatest hopes and struggles. Started in 1938 as a segregated school serving African American students, it became a source of tremendous pride for the local community. Later, during the era of mandatory busing from the '70s - '90s, the school rose to national prominence as an integration success story drawing students of different races and socio-economic levels from across the city.
The end of cross-town busing in '99, however, led to dramatic changes at the school, including a sudden rise in the percentage of students living in poverty and dealing with related challenges. Literacy levels dropped. The school became resegregated. Teacher turnover increased and by 2009-10, WCHS's graduation rate had fallen to 51%—the lowest percentage in CMS.
Since then, various initiatives have been implemented, including the public-private partnership ProjectLIFT, aimed at boosting academic achievement and closing the opportunity gap at West Charlotte and its feeder schools. Results have been positive: the school exceeded expected growth last year on standardized tests and reached an 88% graduation rate, but much work still remains to ensure students have the same opportunities as kids at other area schools.
"When we talk about equity in this community, it goes beyond proficiency and discipline and some of the data indicators that we would usually go to," says WCHS Technology Facilitator Kevin Poirier, who joined the school's faculty in 2012. "Equity is also about access to theatrical productions… Equity is making sure there's a supported arts or theater class at every school... When you haven't had a theater production in a really long time, you don't have a booster club or the institutional [memory about how things work]."
MOVING TOWARD THE FUTURE
Dr. Timisha Barnes-Jones, principal of WCHS, who has been one of the architects of the school's improvement, is also passionate about expanding arts opportunities at the school. Next year, she plans to hire a full time theater teacher and eventually hopes to add dance to the school's curriculum, alongside the current band, chorus, and visual arts programs.
"I believe the arts play an integral role in preparing students for the 21st century. It provides a creative platform, but also builds skills in communication and collaboration," says Barnes-Jones, who majored in music at Davidson College and studied voice at the University of Cincinnati Conservatory of Music, before turning her focus to education.
Students, faculty and alumnus Steele say the Drama Club has provided a community, bringing students with a common interest together and giving them an incentive to work harder in their classes. It's also enabled them to see what other opportunities exist through careers in the performing arts by introducing them to alumni, who got their start in WCHS's theater program.
"The arts are very important for young people because they benefit from the balance that the arts can provide in their lives," says Bey. "A lot of emphasis is placed on testing but I've seen students use theater as a release from stress and also as an alternate route to their passion."
Blumenthal shares these educators' vision of the arts as an essential component of learning and is committed to ensuring all students have access to high quality arts experiences. Programs like the Broadway Junior Theater Celebration for elementary and middle school aged kids, free and reduced ticket programs for schools, the Blumey Awards recognizing high school achievement in theater arts, internship and scholarship opportunities, and master classes are some of the ways Blumenthal makes a difference in the Charlotte community.
As WCHS continues to write its future, Blumenthal looks forward to finding ways to support them in this endeavor. And we hope to see them at next year's Blumey Awards!