An Orphan's Life: What It's Like Being a Kid Actor in the National Tour of Annie - Child Manager Casey Parker Gives Us a Peek Backstage
One thing's clear after chatting with Casey Parker, child manager for the national tour of Annie: she's no Miss Hannigan.
And thank goodness for that, since the young actors she works with already get plenty of onstage time with that legendary villain eight shows a week, as they travel around the country performing as orphans in the iconic musical.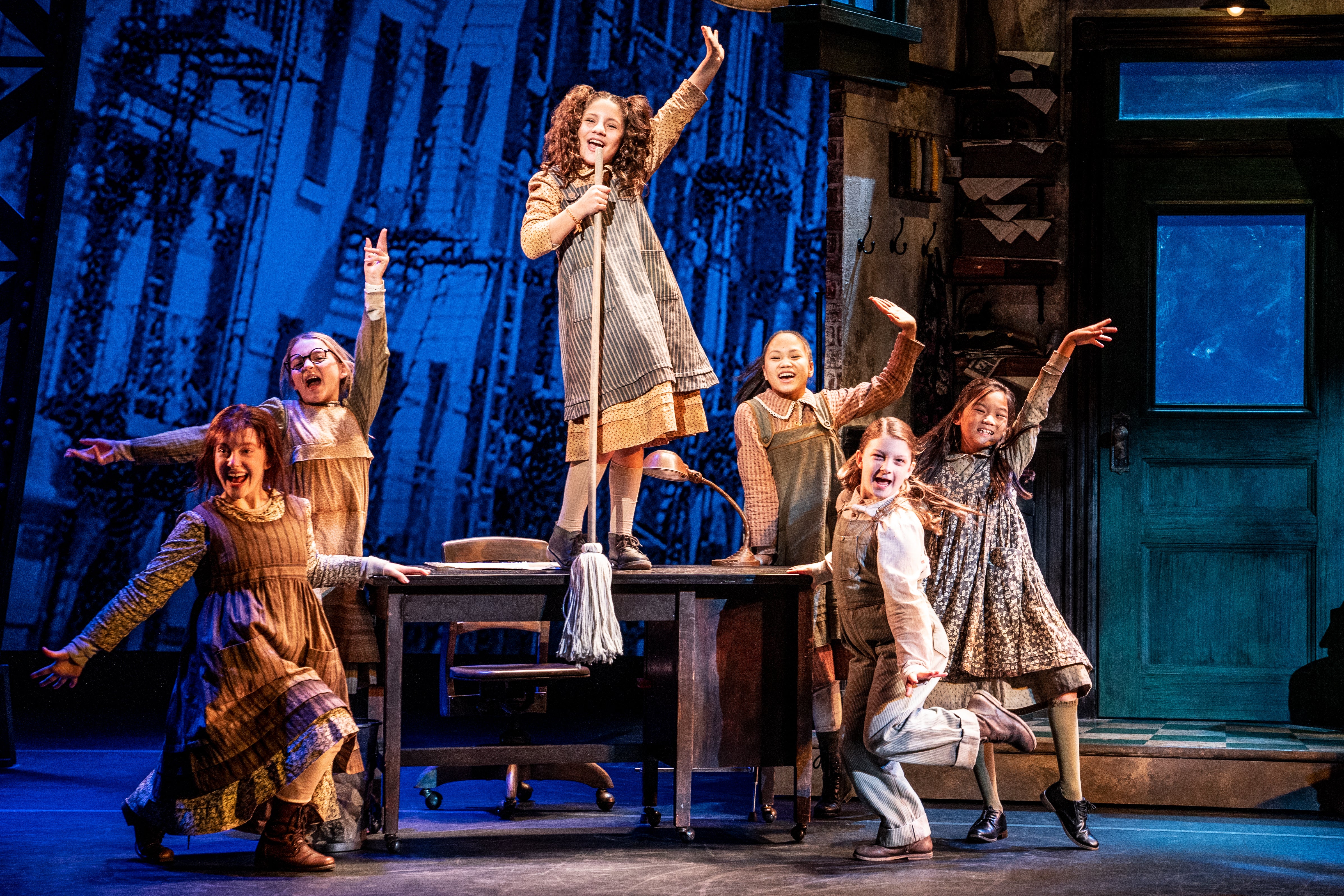 (Sophie Stromberg, Vivianne Neely, Valeria Velasco, Kenzie Rees, Riglee Ruth Bryson and Bronte Harrison in the National Tour of ANNIE. Photo Credit_ Matthew Murphy and Evan Zimmerman for MurphyMade )
Parker and her seven charges—known offstage affectionately as "The Orphan Squad"—are in Charlotte currently for the production, which runs through Sunday, June 4 at Belk Theater.
As Child Manager, Parker spends her days and evenings ensuring the girls are ready for their onstage scenes, supervising them when they're off-stage during performances, and assisting the show's traveling tutor with their academic needs
An experienced professional stage manager who also has a background in teaching, Parker says her number one priority with the Annie company is safety. That includes keeping the girls physically safe—preventing injuries and taking care of any scrapes or bruises that pop up—as well as looking out for their emotional well-being, as they learn how to be professional artists.
"That's a tough thing to navigate as a 10, 11, 12, 15 year old," Parker says. "So just being a listening ear, also, is a big part of that and mitigating conflicts, when it arises."
Parker joined the company in January '23 but the girls have been touring with the show since last October. Charlotte is the 48th city they have visited.
The girls work well together on stage and get along offstage, too, Parker says, despite a fairly large age range between them.
"It's been really beautiful to see some of the older ones helping the younger ones and then the younger ones keeping the fun and light-hearted energy in the dressing room," she says.
They're a talented bunch, she says, and it's a privilege getting to see them perform each day. It can be surprising, too, to see them transition from their daily lives as "really normal, happy, fun kids"—to their onstage personas.
"They're very independent," Parker says. "They know their tracks. They know exactly what is expected of them. Obviously, we have fun and we laugh and we goof around but when it comes time to do work, they are incredibly professional."
So what's a typical day look like for these kid actors?
Things start on the late side so the girls can catch up on sleep in the morning. (When a show starts at 7:30pm, they don't finish until after 10pm and sometimes performances begin and conclude even later.) But even though they are working professionals, they still have school assignments to do.
Instead of an early morning bell, their academic schedule usually runs noon - 4pm daily.
About half the girls are home-schooled and complete their work under their parent's or guardian's supervision in their hotel rooms. The others work with the show's traveling tutor. They typically meet in a conference room at the hotel, where they set up their computers and complete assignments from their respective school districts. Parker is there to help support the tutor's work and assist the kids as needed.
Because it can sometimes be challenging for the girls and their parents to find time for sight-seeing between the rigorous performance schedule and school requirements, the company's tutor also organizes optional field trips in many cities. Parker helps chaperone those visits, too.
It's a priority for the company, she says. "The culture that we've built is that it is important for the kids to see the cities that we go to," she says.
For these excursions, no parents/guardians are allowed. It's an opportunity for these young actors to see something new and learn together. Here are a few highlights they've gotten to see on their national tour:
A WWI museum in Kansas City.
An aquarium in Detroit.
The Arizona-Senora Desert Museum in Tucson—"the best museum I've ever been to," says Parker.
The Rhode Island State House in Providence.
An art museum and the campus of the University of Louisiana at Lafayette, which also is home to a swamp full of alligators. (Leapin' Lizards!)
While in Charlotte, the girls will have the chance to visit Historic Rosedale.
After school hours, these young company members usually have a break until their evening call at the theater. Thirty minutes before the show, it's time to get ready, with costumes, makeup and microphone adjustments.
Ellie Pulsifer, who plays Annie, arrives a little earlier to the theater since she rehearses with the dogs before each performance. That's a part of the routine in each city to ensure her bond with the animals stays strong, Parker says. Pulsifer also needs extra time to get into her wig for the show.
About five minutes before the show starts, Parker leads the other orphans downstairs for a quick "fight call" to review their stage combat moves for the opening scene and ensure nothing needs to be fixed. One of the orphans also practices a gymnastics trick she'll perform during the show.
Once the performance begins, they spend their time either on stage or in their shared dressing room, where they change costumes and hang out during their down time.
"They've also taught me a lot of really cool card games and I'm grateful for that," Parker says.
But at the end of the night, despite the adrenaline rush of their big finale number and curtain call, there's no dallying or joking around. The girls know the crew can't leave the theater until the actors are out of their costumes and their dressing rooms. Pulsifer usually finishes last because she has hair pins and a wig to remove from her Annie costume.
Weekends are busy on the road, too. There's no school but the girls have matinee and evening performances both days.
"It's a really, really strange and weird thing that they're doing for nine months," Parker says.
This is a formative time of life for them and the expectations are high, she adds. They have weekly music rehearsals, and like all actors, receive notes about dances and movements regularly. They're subject to a lot of introspection and sometimes have to be very critical of themselves. There's also very little private time on the road, Parker says, since they are either with a parent or her.
"Given all of that, it's really incredible how they have persevered because it's not always easy and it's not always happy sunshine and rainbows. But we get through it and we talk through it and we figure it out. I've just really been impressed with their resilience and… I'm really proud of the growth that they've shown, too."
Maybe on those rough days, the show's message of hope resonates most: the sun will come out tomorrow.
Tickets are still available for Annie, playing at Belk Theater through Sunday, June 4! Click here for more details on the show and purchasing info.