Behind-The-Scenes at CIAF with 4 Homegrown Charlotte Productions
The inaugural Charlotte International Arts Festival (CIAF) is officially underway and it's an opportunity to experience some of Charlotte's own outstanding creative talent, side-by-side with works from around the globe. We spoke to four of the artists behind four homegrown productions to get the inside scoop. Here's what they told us:
WE ARE HIP HOP
Knight Theater & Levine Avenue Stage
→ Graffiti, 7 to smoke and DJ Battles - Sept 17, 4 - 8pm (FREE)
→ Dance Showcase, Sept. 17, 8pm (Tickets: $19.50)
→ WE OUTSIDE Block Party, Sept. 18, 12 - 5pm (FREE)
"It's really an immersive experience," says Choreographer/Educator A.J. Glasco, one of the local artists who conceived and developed We Are Hip Hop.
Glasco got his start street dancing as a teen in his hometown of Asheboro, NC. Today he's known as the innovator of the Urban Abstract dance style, founder of CrayzeeBeat Dance, and an adjunct dance instructor at UNC Charlotte.
Glasco says audiences will find some of the region's best hip hop artists in action at this mini festival within a festival, kicking off the opening weekend of CIAF. With electrifying Breakin', MCing, DJing, Graffiti, and more it's a weekend of events for all ages to enjoy.
Other collaborators behind the We Are Hip Hop brand (which hosts other events throughout the year) include Slammaster Boris "Bluz" Rogers, visual artist Bree Stallings, and Heal Charlotte Executive Director Greg Jackson.
Starting at 4pm on Saturday, you can catch local artists live-graffiti painting inside Knight Theater's lobby. Across the room, watch top area dancers take each other on for a $1,000 cash prize in "7 to smoke battles"—a last-man-standing type of dance competition.
Then stick around for the DJ battles—where you can see some of the area's finest artists in their element, performing in real time, and vote for your favorite!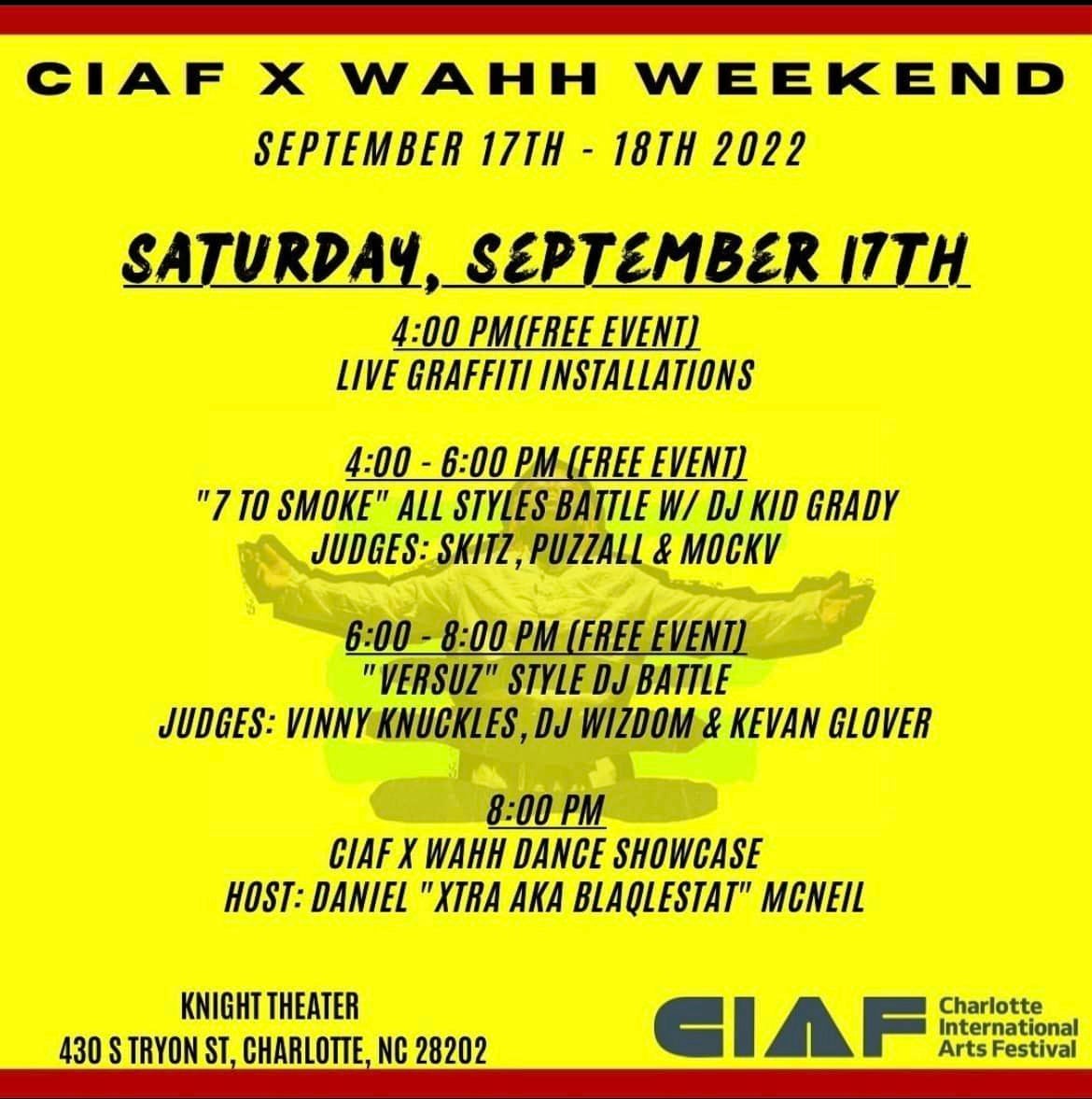 "In order to immerse yourself in the culture you have to participate," Glasco says.
These Saturday daytime events are free. So is Sunday's WE OUTSIDE Block Party, with MCing and faith-friendly acts, specially timed to welcome an after-Church crowd.
Saturday evening's big event is a Dance Showcase with seven incredible dance groups from across the region taking the stage in Knight Theater (purchase tickets online or at the door.)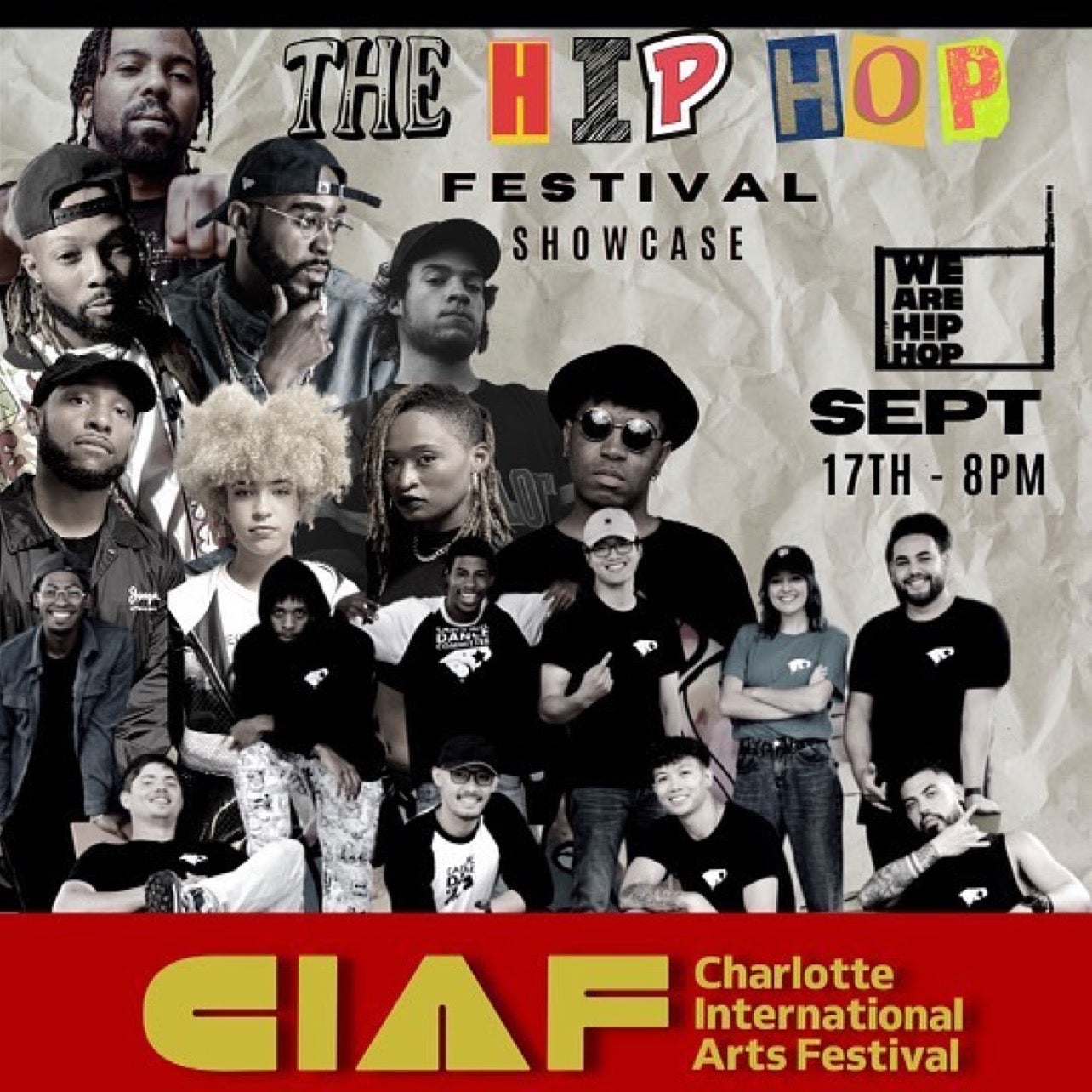 "You're going to see just how much dance talent that we have all across the city, all across the state," Glasco says.
TABLAO FLAMENCO
Romare Bearden Park & Stage Door Theater
→ Pop ups @ Romare Bearden Park - Sept. 17 & 18 (FREE)
→ Performances with full company @ Stage Door Theater, Sept. 19 - 21, 7:30pm (Tickets: $35)
This co-production between Blumenthal and New York-based Rhythm of the Arts returns to Charlotte for a series of mini pop ups, as well as ticketed performances featuring the full company. Unlike typical touring flamenco shows that are presentational in style and carefully choreographed, this show brings the vibrant music and dance form to audiences just the way you'd experience it in a Spanish flamenco club, or "tablao": where performers improvise and audience members sit right in the middle of the action.
A concept envisioned by Blumenthal's CEO and President Tom Gabbard, Tablao Flamenco first debuted in 2018,
"Tom reached out because he wanted that authenticity for Charlotte and for the Blumenthal and that intimate experience where the audience really feels close to the artists," says Tablao Flamenco's Artistic Director Leah Keith.
Featuring a cast composed of the most sought after, award-winning flamenco artists in Europe and the US, Keith says Tablao Flamenco often draws repeat visitors since no two performances are ever the same.
"One of the beautiful things about flamenco is that It really does show the array of human emotions," she adds.
PROJECT FULL OUT
Booth Playhouse
→ Sept. 18, 1:30 & 7pm (Tickets: $15 - $25)
"It's a full on party," says Producer, Director and Choreographer Ana Ogbueze about the stage show and concept that she first brought to Charlotte in 2013. Ogbueze is the founder of NC Dance District, one of Charlotte's premier dance studios specialized in hip hop.
Her vision for PFO: give local dancers, who always wanted to perform, the second chance they deserve.
"For whatever reason, [if] life happened or they missed their window of opportunity, we invite them to join our cast," Ogbueze says. "…We welcome everyone. Our job is to transform them into performing dancers."
They've had tons of success stories, Ogueze adds.
People who initially wanted to dip their toes into performance or cross off a bucket list goal have ended up continuing to hone their craft through classes, by joining dance companies, or even launching their own professional dance careers.
One recent stand out is Charity Holloway, a choreographer for the upcoming performance and hip hop instructor at NC Dance District, who got her start dancing in PFO. She was featured on Lizzo's Prime Video show, "Watch Out for the Big Grrrls," and performed on "Saturday Night Live" with the singer this summer. (By the way, "Watch Out" took home three Emmy Awards earlier this week, including one for Outstanding Competition Program!)
At CIAF, a cast of 87 will perform. Ogbueze says the show takes everyday situations and emotions that people can relate to and tells these stories through dance.
It's more than dance too. Expect comedy, music and even game show-style audience participation bits sprinkled throughout.
"The platform of Project Full Out is really redefining what it means to be a performer, and especially a performer in the local space," Ogbueze says.
"A lot of times local dancers aren't really respected or taken seriously. So we like to present them in a light that shows not only their skillset but the professionalism of a local performance company."
Ogbueze hopes their performances will inspire audience members too.
"I hope people walk away with a new sense of joy and encouragement to pursue their dreams no matter where they are in life, no matter what [has] happened to them," she says. "To never give up and always continue to share your gift and don't let anyone else define who you are, how good you are…. I hope the audience leaves with a newfound example of what it means to just go for it, and go full out!"
I AM QUEEN CHARLOTTE
Knight Theater
→ Oct. 1 @ 8pm (Tickets: $19.50)
This production, which premiered last spring during a week of festivities celebrating the life stories of local Black women, returns to the Knight Theater.
I am Queen Charlotte comes from the storytelling duo Epoch Tribe—two Black women (and sister-in-laws!) Hannah and Shardae Hasan, who have been sharing the stories of marginalized communities for nearly 15 years.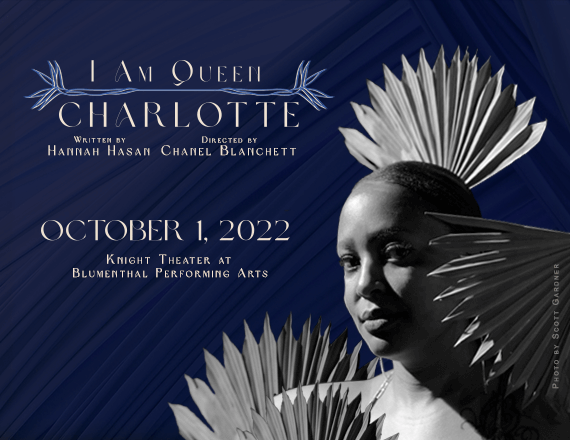 Based on a book, written by master storyteller and spoken word poet Hannah Hasan with photos by Scott Gardner, the stage show weaves storytelling, music and dance together to share these inspiring stories.
For Hannah Hasan, it's been a dream getting a second chance to work on the production, which drew throngs to the theater last time, including many who were visiting Blumenthal for the first time.
That's a rare opportunity when you are a community-based artist, she says, since funding is typically tight.
With the help of Blumenthal, which also served as a co-presenting sponsor of the original production, the show is returning with exciting updates and a vision toward touring to other markets.
"We're curating an experience based on what our audience showed us that they want," Hasan says. "...As we are fine-tuning the show and getting it to where we want it to be, we are looking at how do we take something that was born here, that has this very Charlotte spirit, and make sure that we can infuse that same spirit if it is in Charleston, if it is in Brooklyn, if it's in Oakland."
But you can see it first, right here in the Queen City!