Believe in fairy tales: Direct from Broadway, Sondheim's Into The Woods heads into the Belk as part of an exclusive, limited engagement
In recent years, Cinderella - indeed, every princess in the fairytale canon - has been criticized as anti-feminist.
But that's not the case in Stephen Sondheim's mashup of favorite Brothers Grimm fairy tales. In Into The Woods, the hit Broadway revival headed to Charlotte, she's a feminist icon – one Diane Phelan (West Side Story, The King and I) is proud to play.
"I love the enormous evolution Cinderella experiences in this show," Phelan said. "I would argue it's the largest arc of any character, and I know that's a big statement." (See the evolution for yourself when the Broadway cast plays Blumenthal's Belk Theater from April 11 through April 16.)
"She goes from being a victim of her circumstances to taking charge and speaking up for herself to create the life and family she's longed for," she added. "She starts off as a little girl and ends up the adoptive mother of three young ones. It's incredibly powerful for me to experience this huge transformation every night."
That's not the only reason she loves playing this character.
"I'm proud to be Irish-Filipina," said the founder of the Broadway Diversity Project. "I think we can never underplay the significance of seeing someone from a marginalized community in the role of a princess."
As for Gavin Creel, the Tony and Olivier Award-winning star (Hello, Dolly! with Bette Midler, Thoroughly Modern Millie, The Book of Mormon), he loves playing two "blissfully nonsensical" characters – Cinderella's Prince and the Wolf.
"I love the physicality of playing the wolf," he said. "At some points, he carries himself upright to give the appearance he's a friendly, upstanding citizen. In other scenes, he's bloodthirsty, drooling and starving. I also enjoy the regality of the Prince. I find him fun to play because my prince believes he isn't kingly, but he's trying his hardest to be."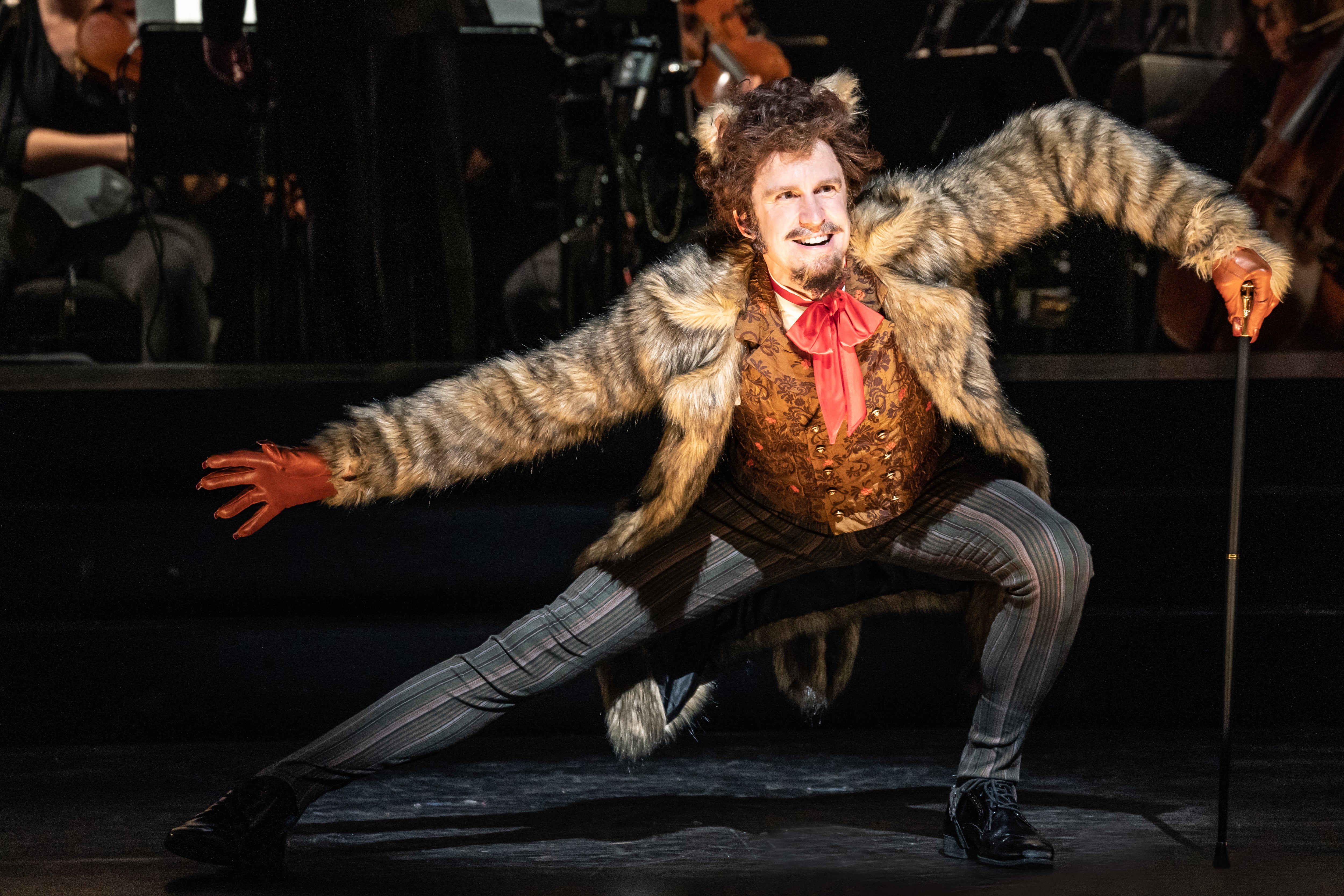 (Gavin Creel as The Wolf in Into the Woods)

'Wonderful and brilliant'
Nearly every theater actor wants to perform Sondheim. There's just so much to dig into.
Creel said, "There are puzzles and hidden treasures in his work – but also a lot of heart. In this production, the orchestra sits on stage, and there's barely any set, so it draws your eye and ear to focus on the brilliance of Sondheim and [book writer James] Lapine. The show reminds us that, regardless of how lonely we may feel, we're never, in fact, alone."

Creel met Sondheim about 20 years ago when the former was in the latter's show (then called Bounce, but now known as Road Show) in D.C. "They say not to meet your idols," Creel said. "But I found Stephen wonderful and brilliant, yet still just a person sitting at his piano with his pencil. I loved watching his process. He was intellectual but had an incredible heart and was stimulated by teaching and by discussion."
Phelan sees evidence of Sondheim's heart in his work. "Sondheim is emotionally and melodically complex, but what I love most about him is how he dives deeply into the questions about life that most perplex us," she said. "And he finds hope and connectivity. Sondheim explores what it means to be human."
Creel is using the show's extended run to explore his craft. He relishes bringing something different to his roles at each performance. "When you do something over and over and over again, you've got to mix it up," he said. "Some of the wicked fun of being an actor is trying to get your castmates to laugh or to surprise them without the audience knowing. Those moments when something's different and people have to react are the moments the audience loves most. It's the most human – and a little dangerous."
"This limited-engagement production has allowed me to explore my ability and depth as an actor, so why would I want to do it exactly the same every night?"
On the road
During the recent D.C. run, Creel was out of the show for eight days with his fourth bout with COVID.
But it's the pandemic that's made him especially grateful for the rare opportunity to be on the road. "Given how devastating COVID has been for our industry, going on this 10-city tour has been a beautiful recalibration," he said. "Getting to go out and do the show we enjoyed doing on Broadway for six months – which was originally supposed to be a two-week run – has been the gift that keeps on giving."
Phelan's last tour was with South Pacific 10 years ago.
"Touring is a lot of fun," she said. "You're not just working with your castmates. You live with them, and they're often the only people you know in a city. We're always exploring together, going to museums, trying new restaurants."
Creel loves experiencing different theaters – some of them bigger than he's used to back home in New York. "In Buffalo, the theater was 3,200 seats, which may be the biggest audience I've ever performed for," he said. "It was packed and cavernous with a huge sound. I've never played the Blumenthal and am excited to see it."
He's excited to see family, too. His sister and her wife live in Charlotte, and his parents live outside Asheville. They'll all come – with a bunch of friends in tow – to see Creel perform at the Belk.
He relishes the spell he and the company get to cast each night. They may be playing fairytale characters (Little Red Ridinghood, Rapunzel, Jack – of beanstalk fame), but as with all fairytales – there are lessons we mortals can learn.
Said Creel: "We're engaging the audience in stories they've heard a million times, but in a new way. This production asks you to look at something you know from a different perspective."
Article by Page Leggett