CAMP BLUMENTHAL BRINGS KIDS FUN ACTIVITIES, UNIQUE INSIGHTS ON THEATER AND MORE
Looking for a way to engage your kids and tweens in theater? Camp Blumenthal may be just the ticket. The program, a joint project of Blumenthal's Education and Group Sales departments, aims to offer a unique experience for kids ages 8 - 14 years old through hands on craft and performance activities. The event is available as a $12 add on to purchased tickets.
"It's a way to deepen the experience for the students while tying in the thematic elements of the Broadway shows," said Tommy Prudenti, Education Special Programs Manager.
While the program has been up and running for a couple of years, it recently added new components to give young audiences a real insider's scoop on productions. "This year we're trying to find ways to engage the students with members of the cast, whether that's a backstage tour or a Q & A or a talk back of some sort," said Prudenti.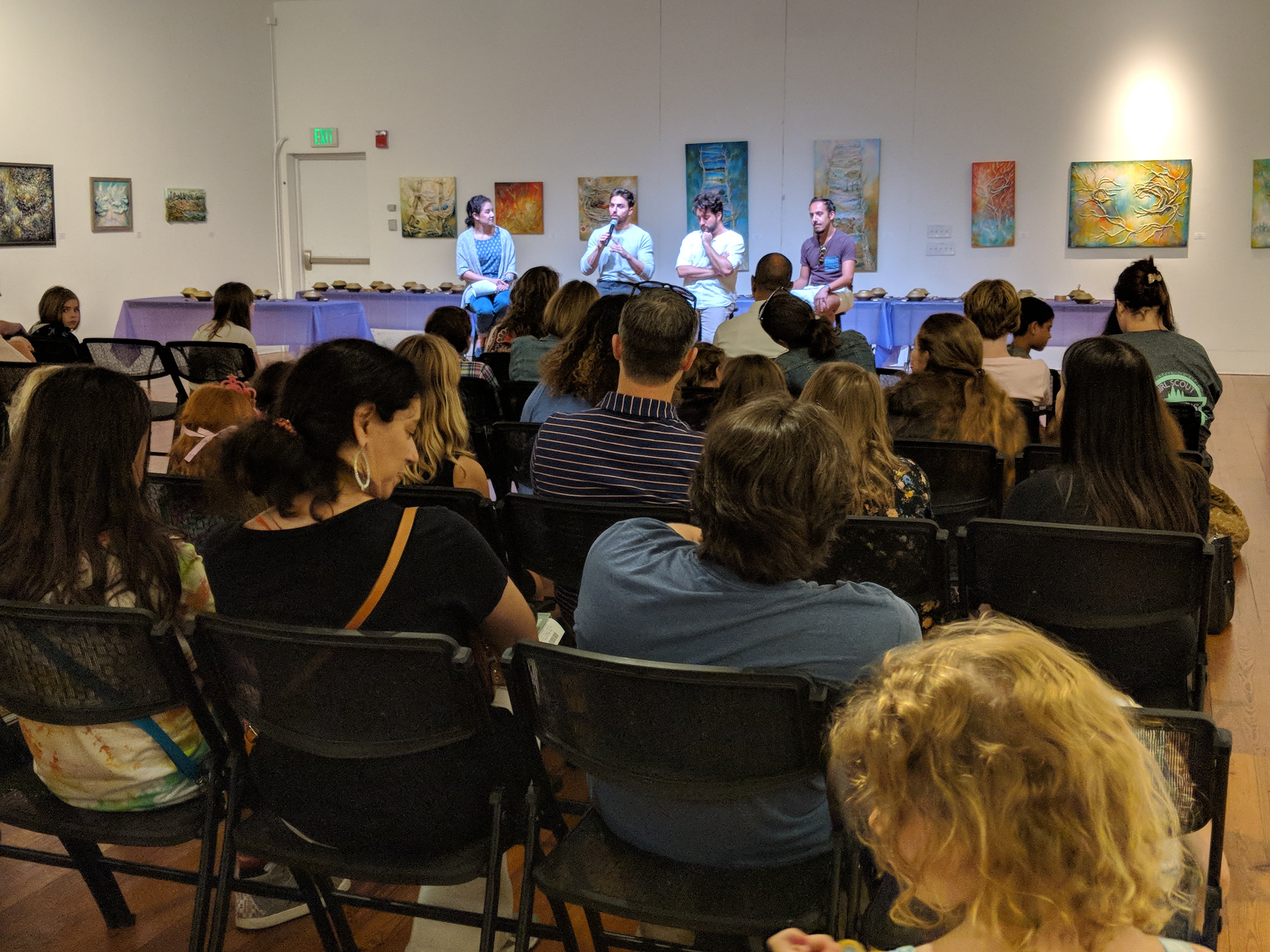 On a recent Saturday evening, about 30 kids and their parents gathered for a special Camp Blumenthal event dedicated to Disney's ALADDIN. The event's timing, sandwiched between a matinee and evening performance, made it easy to combine it with a trip to the theater all in the same day. But the event was also available as an add on for families who had seen the show earlier in its Charlotte run or would see it another day soon. The activities were intended to be enriching in both a pre-show and post-viewing context.
Q & A WITH CAST MEMBERS
Three actors from the company of ALADDIN participated in a moderated Q & A with the group. They spoke candidly on a variety of topics: from the challenges of living on the road and how they warm up for a performance to the lessons learned when they didn't get a part (keep trying if this is what you love; you never know when it will be your time to shine) and the most important qualities for a performer to develop ("It's good to be a kind, respectful person..."). Through the experience, kids and their adult companions got to hear what it's really like being a professional actor.
HANDS ON ACTIVITIES
Next, kids went to work constructing their own magic lanterns, decorating them with colorful stick on "jewels," and painting gold wishing rocks. The evening culminated in a performance activity, with students learning a bit of the song "Friend Like Me" from ALADDIN, as well as some accompanying choreography..
For teaching artists Ashlyn Keller (choreography) and Michele Lakey (music), the main goal was to demonstrate what it takes to put on a musical number and simulate the experience of having to learn new material very quickly, something that professional performers must often do. Dividing the students into two groups, Keller and Lakey adapted their teaching techniques, according to the age and experience of the performers with whom they were working.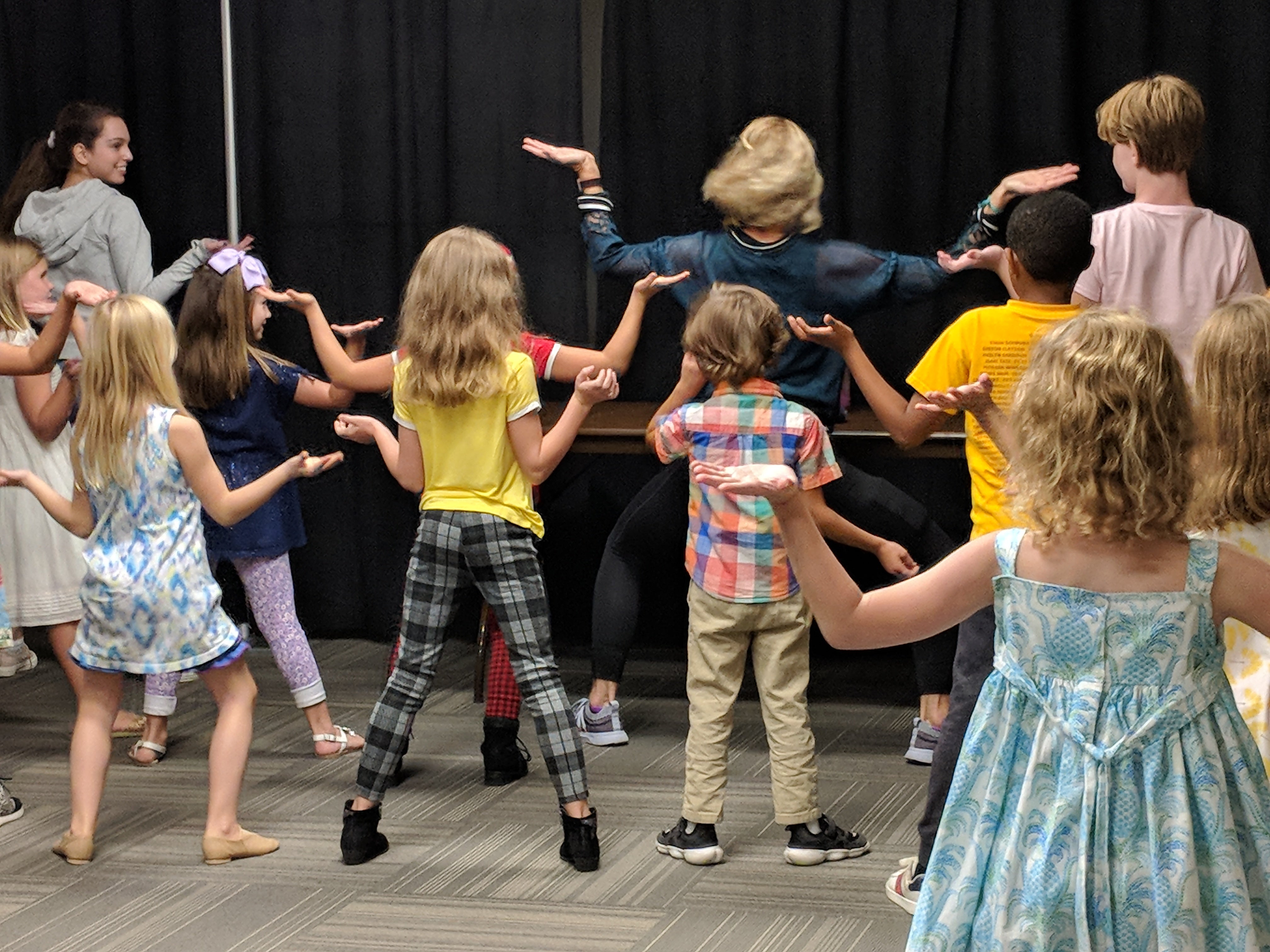 Wendy Thigpen came with her granddaughter, Elise, age 7, who loves dancing, singing and crafts. "She seems to be enjoying it," said Thigpen. "She's running back and forth with a smile on her face."
Subscriber Rita Livengood made it a family night out with her grandsons and daughter. This was their second time at a Camp Blumenthal event. She explained what made them come back. "We thought the camp was such a neat experience," said Livengood. "I thought it was a really good value. It was a fun way for them to engage in the show."
"I was pretty excited to be able to tag along," added Amanda Davee Lomax, mom to Livengood's 6 and 9 year old grandsons.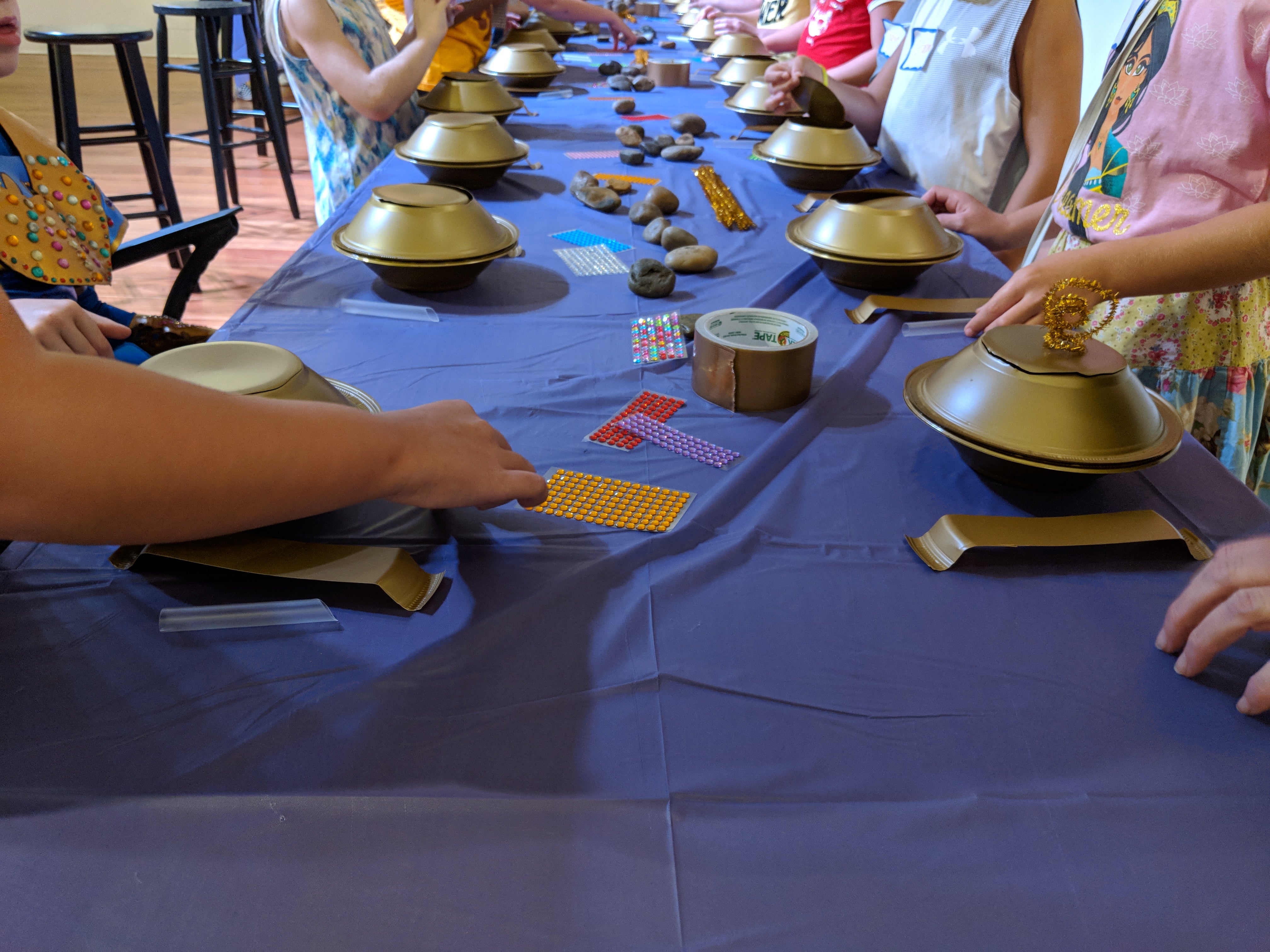 Some guests came as part of groups, like the eight girls celebrating their friend's birthday with an ALADDIN themed day. (At one point, the birthday girl was even serenaded by the crowd and the three ALADDIN cast members.)
SHOWING KIDS WHAT'S POSSIBLE
Another participant was 9-year old Jorgy, wearing a genie costume hand-made by his mom, Heather Penn. Jorgy, who has cerebral palsy, uses a wheelchair to get around. He's a huge fan of musicals and especially Disney shows. (Penn said he has watched every single Broadway clip from ALADDIN on YouTube.) Earlier in the week, he got his first chance to attend a Broadway touring production, watching the show from Belk Theater's balcony.
What did Jorgy think? Penn said he loved it and "danced" throughout the performance. In fact, he was so hyped up, he needed extra meds to calm down his muscle spasms later that night. More than anything, he dreamed of meeting ALADDIN's genie in person...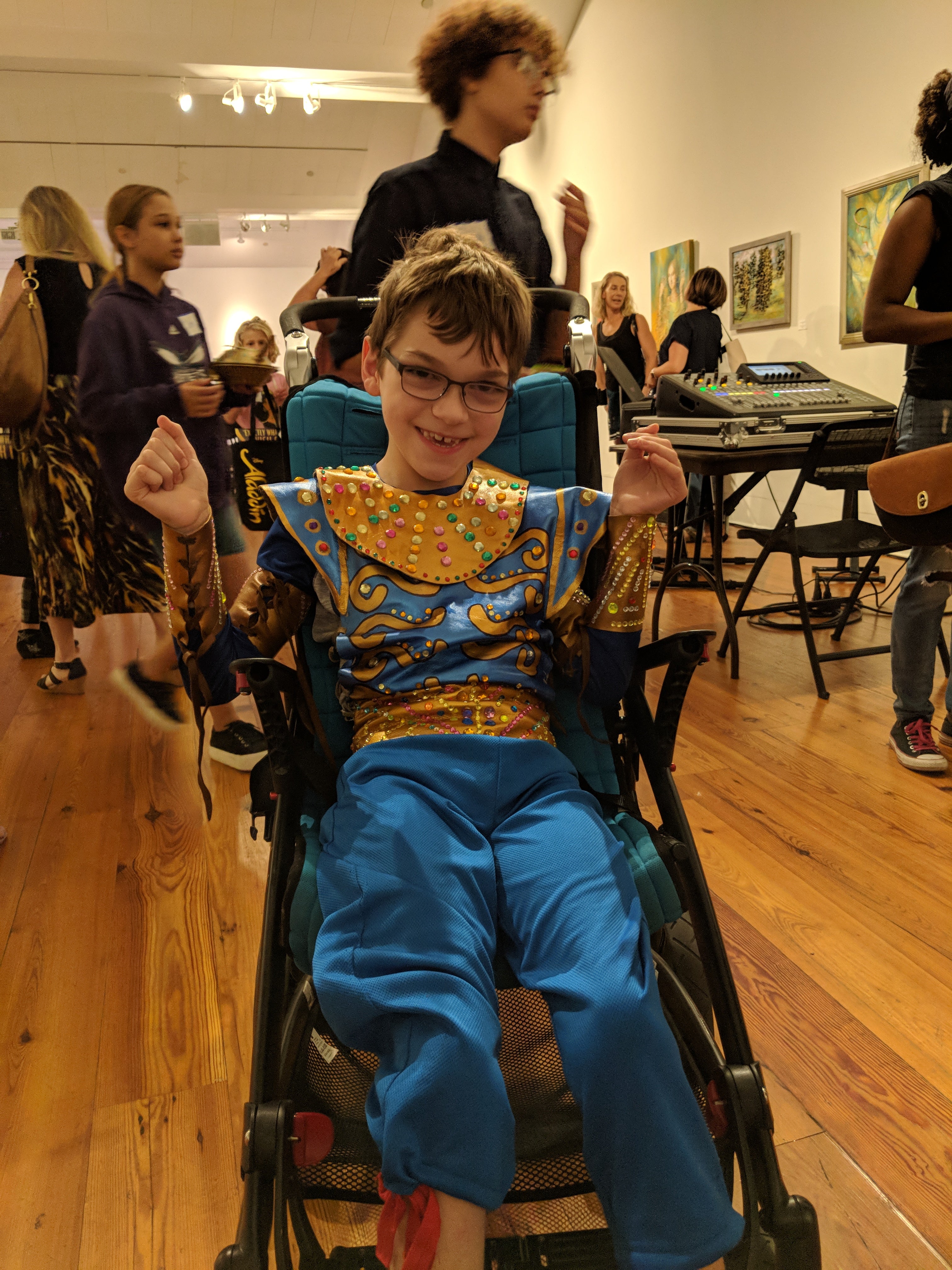 While Jorgy has had many physical and personal challenges to deal with in his young life, there's been one constant. "He's always been a music kid," said Penn. As his interest in musical theater has grown, they have looked for opportunities to engage him further in it.
Penn and her mom, Doreen Emerson—Jorgy's "Noni"—both expressed their gratitude for the various ways staff at Camp Blumenthal made an extra effort to include him in all of the activities, despite his physical challenges. During the craft activity, for example, a Blumenthal staff member gave him a hand, and as students learned the choreography, teaching artist Keller, made sure he was involved.
"What I really liked about it was she was turning him, moving his arms and making him part of it," said Emerson, who is also a nurse, and provides much of Jorgy's care.
Feeling isolated and left out can be one of the hardest things for Jorgy, explained Emerson.
The three actors from ALADDIN also took a few minutes to speak with Jorgy and encourage him to continue pursuing opportunities in theater. They told the family about other actors who have followed their dreams in spite of physical challenges, including actress Ali Stroker who uses a wheelchair, and recently took home the Tony Award for Best Featured Actress in a Musical.
For Jorgy and the other attendees, Camp Blumenthal was a special night, bringing new insights, fun activities, and a little Disney Magic their way.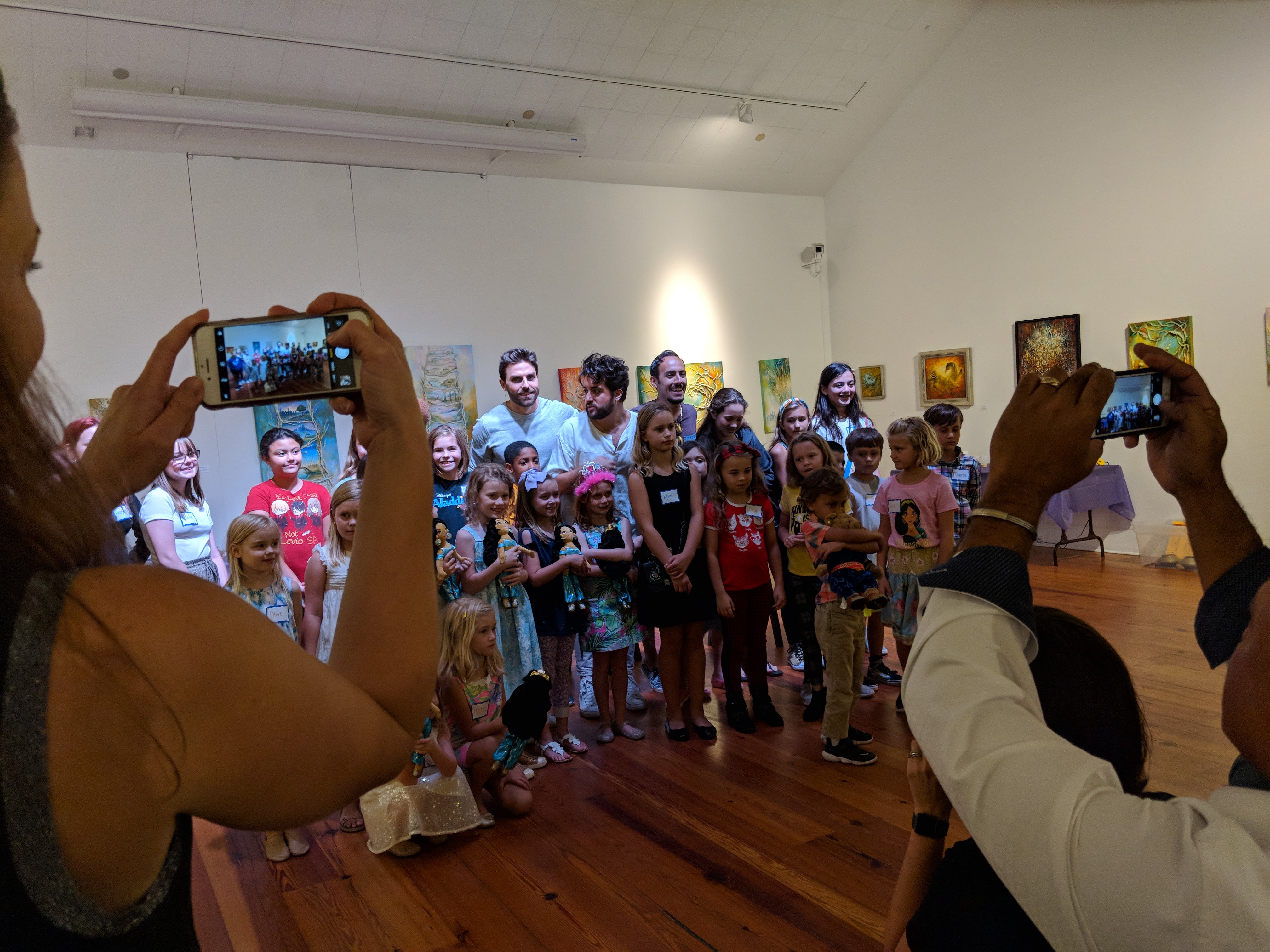 For information on registering for the next Camp Blumenthal, go to BlumenthalArts.org/CampBlumenthal