'Like an act of protest' - In 1776, non-traditional casting gives female, trans and nonbinary actors the seats at the table they didn't get at the Continental Congress
1776 is revolutionary in more ways than one.
The revival of the Peter Stone/Sherman Edwards musical tells the story of the historic gathering in Philadelphia that led to the signing of the Declaration of Independence and the birth of America.
But the cast of the revival is making history themselves. Comprised entirely of female, transgender and nonbinary actors, they represent diverse races, genders, and ethnicities.
They're the antithesis of Jefferson, Adams, Hancock, et al—those wealthy, educated white men who "mutually pledge[d] to each other [their] Lives, [their] Fortunes and [their] sacred Honor."
Now, the people who couldn't get a seat at the table in 1776 are having a spotlight shone on them in 1776.
Brooke Simpson (she/her), a full-blooded Native American and a member of the Haliwa-Saponi tribe, plays the Courier. The Rocky Mount native was raised in Hollister, a "super-small town" in eastern North Carolina.
This small-town girl has definitely "made good." Before Broadway, she was a finalist on NBC's The Voice (where, as a member of Miley Cyrus' team in 2018, she came in third) and America's Got Talent (She finished fourth in 2021).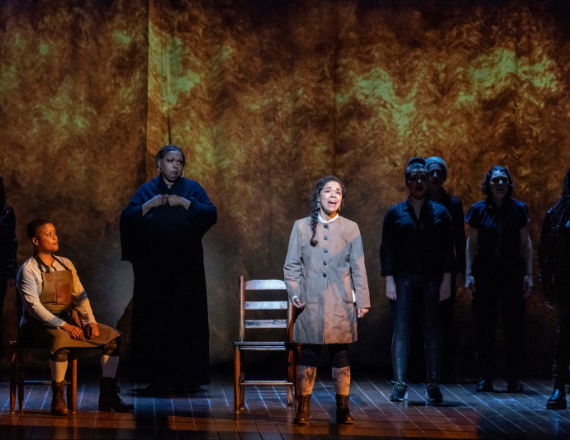 ("Momma, Look Sharp" - (Left) Tiffani Barbour as 'Andrew McNair' and (center) Brooke Simpson as 'The Courier' and the National Tour Cast of 1776. Credit: Joan Marcus.)
Simpson has been with the company since the workshops and previews in Boston. She joined in 2019—before it hit Broadway. During workshops at the American Repertory Theater at Harvard University/Roundabout Theatre Company, Harvard scholars helped the cast with dramaturgical and historical research. "I spent that summer being a sponge," Simpson said.
In Boston and again on Broadway, Simpson played Founding Father Roger Sherman of Connecticut. But, on tour, she portrays a character who, she said, "represents the people who are out there fighting, risking everything."
In that role, she gets to belt out the moving Momma Look Sharp. "I'm humbled to sing it every night," she said.
Simpson's current favorite moment in the show (she's had several) comes when she sings that solo—a song that speaks to the bloodshed involved in birthing a nation: "My eyes are wide open, my face to the sky/Is that you I'm hearin' in the tall grass nearby?/Momma come find me before I do die."
"It's our nation's story," she said. And this production "feels almost like an act of protest, knowing that the voices telling the story now are those voices left out of that conversation all those years ago."
She feels the responsibility of representing her tribe - as well as all Indigenous people—on stage. "I wear my dad's Native American regalia each night," she said. "There's a medallion I wear throughout the show—a hand-beaded reminder that we're still here, and we're not going anywhere."
Created equal?
At the 1969 Tony Awards, 1776 beat the formidable Hair for Best Musical. The current revival—there was another in 1997—is co-directed by Paulus (Pippin, Jagged Little Pill, Waitress) and Jeffrey L. Page (the Emmy Award–nominated director and choreographer who won an MTV Video Music Award for his work with Beyoncé), who also choreographed.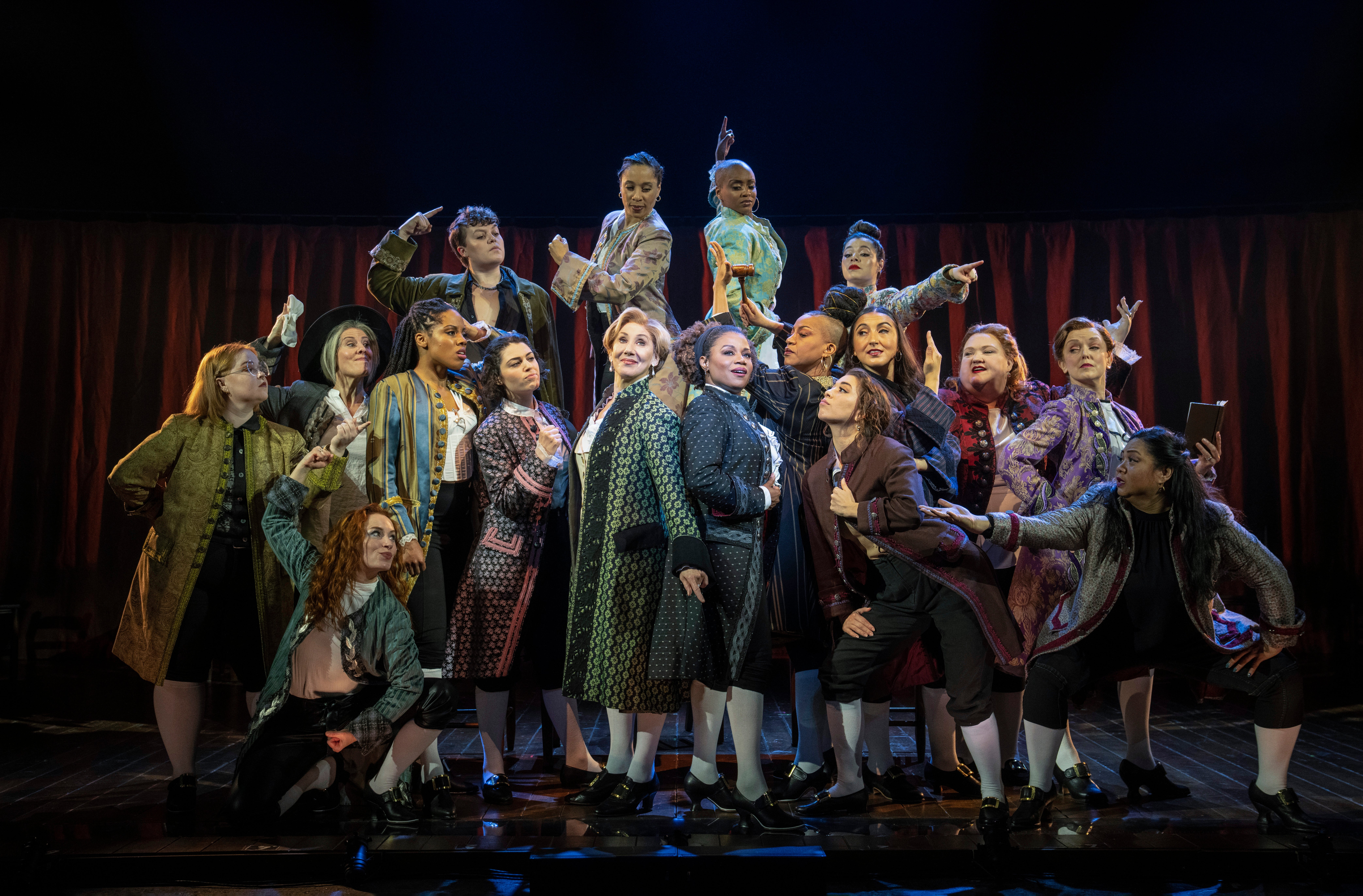 ("Sit Down, John" - The National Tour Cast of 1776. Credit: Joan Marcus.)
For Simpson, one of the most powerful moments in the show is when the young "enslaved bodyservant" (per Monticello.com) Robert Hemings (Sally's brother) is brushing off Thomas Jefferson's shoulders.
"As you hear the words Jefferson wrote in The Declaration of Independence—that all men are created equal—what you're seeing on stage doesn't match," she said. "Clearly, the men in that scene aren't equal. It's really unsettling. Some of that discomfort is what we hope audiences wrestle with."
A star is born
Simpson's Broadway debut probably came as little surprise to her family.
"My parents knew from the time I was a little girl who begged them to let me put on concerts in the living room that I was going to be in entertainment," she said. "They've always been my biggest supporters."
"Growing up, I was surrounded by creativity," she continued. Her parents were traveling ministers who'd preach and sing at various churches every weekend. Simpson's world revolved around traveling and singing with them and going to her tribal school during the week, where she took culture classes and learned traditional dancing.
Simpson's been told the entire tribe will be coming from Hollister to Durham when the 1776 tour stops there. She has family in Charlotte, too, and they'll be at the Blumenthal to see her perform.
The singer/actor said they—and the whole audience—should "get ready for a lot of laughs. But also get ready to see the story of our history in a way you never have before."
"Audience reactions have been insane," she said. "With all their energy, it makes us get on stage and perform it as if it's our first time, every single time."
While Simpson is an experienced live performer, "theater is a whole new side of creativity and performing." She comes from the world of pop, where she plans to return.
"I've been inspired during this tour," she said. "I've written more songs than I have in my life over the past year alone. I'm so excited to get back in the studio. I have a lot of singles out, but I've yet to record a full-length album, and I've got a lot of good stuff I want to share with the world." Keep up with her on social media at @brookesimpsonofficial.