More than 335,000 Guests Have Visited Blumenthal Performing Arts Since Reopening
October 20, 2021 (Charlotte, NC) – Coming off the heels of a record-breaking engagement with WICKED (September 8–October 3, 2021), Blumenthal Performing Arts is proud to announce that more than 335,000 people have come through its doors to enjoy indoor events since its long-awaited reopening last summer, following nearly 18 months of closure due to the COVID-19 pandemic.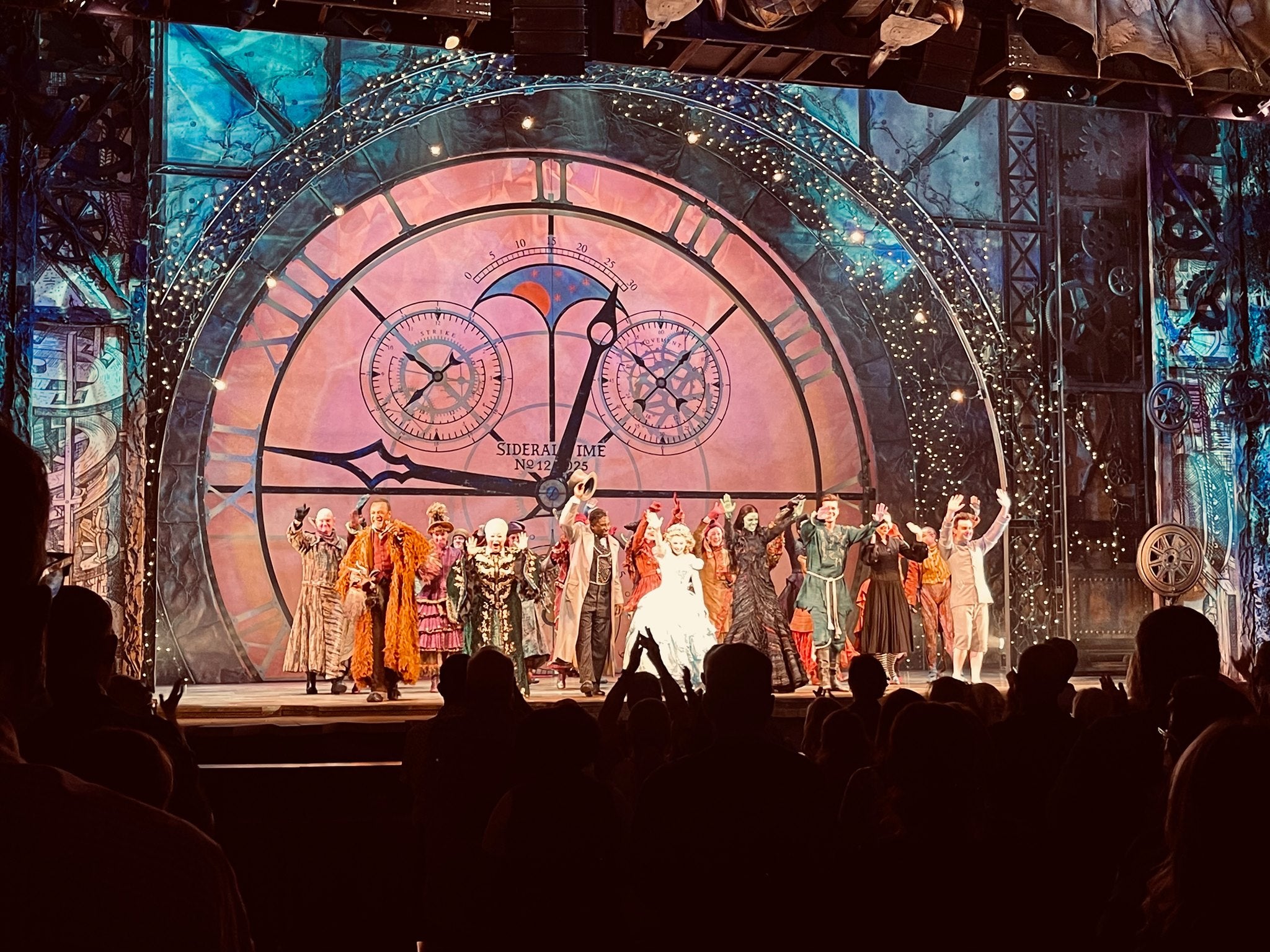 (One of many standing ovations at Wicked at Ovens Auditorium)
"Safely resuming performances indoors on a large scale was possible after more than a year of careful preparation," said Blumenthal CEO Tom Gabbard. "Working with hundreds of experts and colleagues around the world, we immersed ourselves in learning about air filtration and circulation, testing, masking, vaccination and other protocols. We learned that, by implementing a combination of measures, we could successfully restart our programs and services to the public."
Audiences, staff and artists have gone above and beyond in adapting to changing regulations, proving that the community is ready and eager to get back to the theater—and to do so safely.
The necessity to find solutions was driven, in part, by the need to get people back to work. The pandemic put hundreds of Blumenthal staff out of work, as well as others in the hospitality industry who rely on the activities at Blumenthal to generate customers for themselves.
The launch of IMMERSIVE VAN GOGH on June 17, 2021, served an important goal by getting more than 200 people back to work and audiences reacclimated to enjoying a show indoors. The exhibit was recently extended for a second time through November 21, 2021. WICKED broke a record for the highest grossing week for a show ever presented by Blumenthal at Ovens Auditorium and welcomed over 70,000 guests.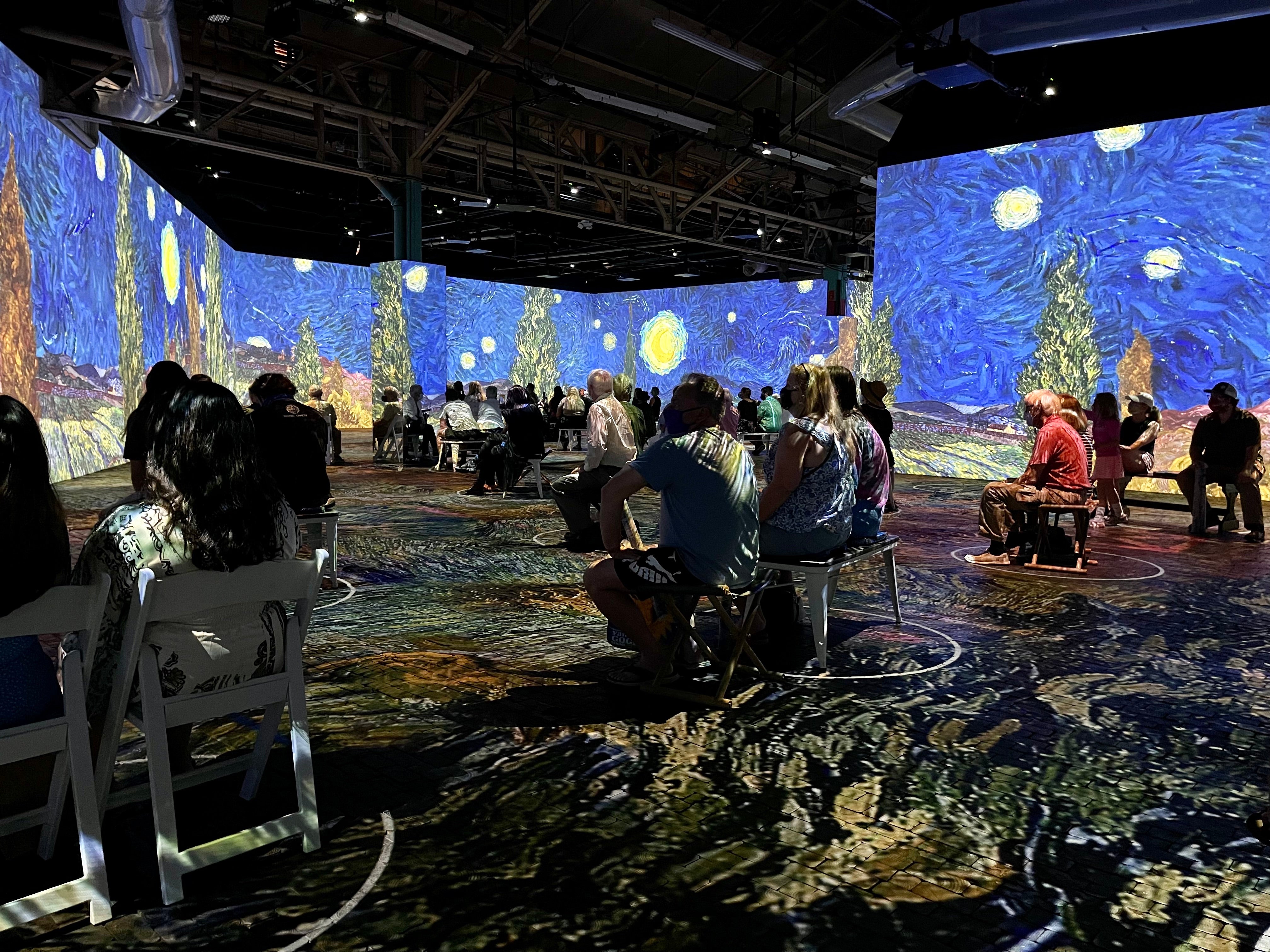 (Immersive Van Gogh at Camp North End)
To prepare for reopening, on February 25, 2021, Blumenthal was one of the first Charlotte employers to require employees and volunteers to be fully vaccinated. It continues to support staff by providing free rapid tests so they are able to regularly test two to three times per week.
Additionally, with funding from the City of Charlotte, all of Blumenthal's HVAC equipment was upgraded with state-of-the-art air filtration. Air in the Belk Theater now turns over 9 times per hour and is filtered using bipolar ionization. Backstage, every dressing room and other support rooms have portable HEPA filter units.
Blumenthal has also been busy reactivating the city through major free, public art projects like GAIA, the INTRUDE bunnies and the walking art tour OF EARTH AND SKY (now through October 31, 2021).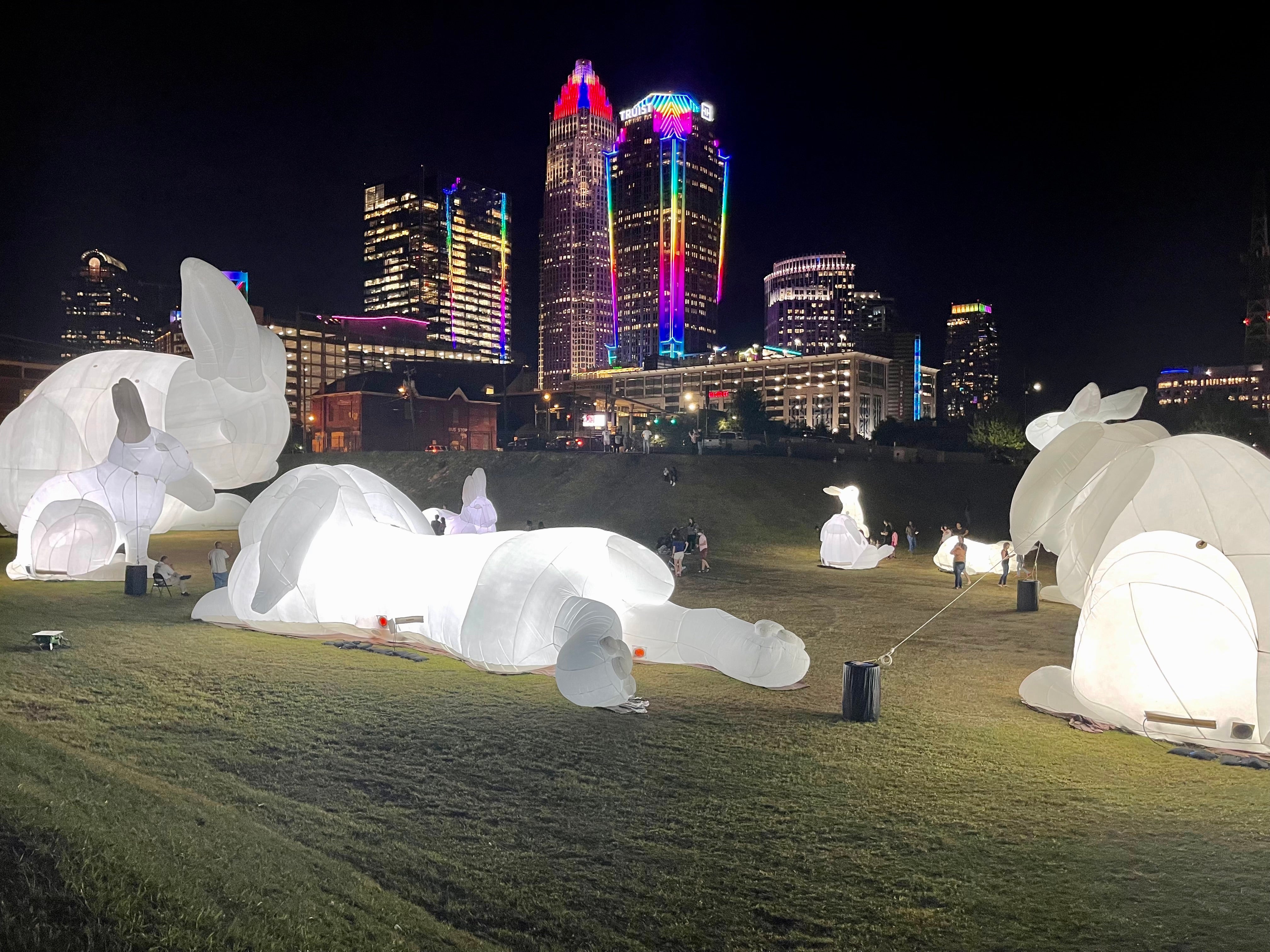 (The Bunnies of Parer Studio's "Intrude" at First Ward Field, thanks to our friends at Levine Properties)
"Much of what we've learned will make our venues healthier and safer for years to come," said Gabbard. "Guests have been exceptionally respectful and cooperative in accepting new protocols such as masking. They've shown they are willing to take the steps necessary to create a safe space for other audience members, performers and staff."
Click here to read about the new measures Blumenthal has implemented to cultivate a safe environment for all.
###
ABOUT BLUMENTHAL PERFORMING ARTS
Blumenthal Performing Arts serves the Carolinas as a leading cultural, entertainment and education provider. For more information, call (704) 372-1000 or visit BlumenthalArts.org. Blumenthal Performing Arts receives operating support from the North Carolina Arts Council. Blumenthal Performing Arts is also supported by PNC Bank, sponsor of the PNC Broadway Lights.