Open Mic Nights Have Gotten a Makeover - 5 Fun Things to Know Before You Go
If it's been a while since your last Open Mic Night at Blumenthal Performing Arts, you may be in for some surprises. The series is back with an updated format, a new home, and even more opportunities to catch local talent—all for free.
Due to COVID and the temporary closing of McGlohon Theater, Open Mic Nights were on hiatus for a couple of years.
Going forward, you can expect to see upcoming Open Mic events scheduled about once every other month. Blumenthal's Community Impact Manager Arlethia Hailstock, who oversees the series, gave us this inside look at the changes just in time for the next Open Mic Night, happening this Friday, April 21st.
Here are 5 Fun Things to Know Before You go:
1. Now There are Two Different Formats: Family Friendly and After Dark
Last fall as Open Mic got rolling again, Blumenthal's Hailstock realized the series had a problem: demand for performance slots was so high that many acts were being turned away. She and Vice President of Education Andie Maloney decided to try something different in the new year, and the results have been a hit.
The series now has two formats: there's the long-standing and popular Family Friendly version that runs 7 - 8:30pm. And now there's an adults-only After Dark segment from 9 - 10:30pm.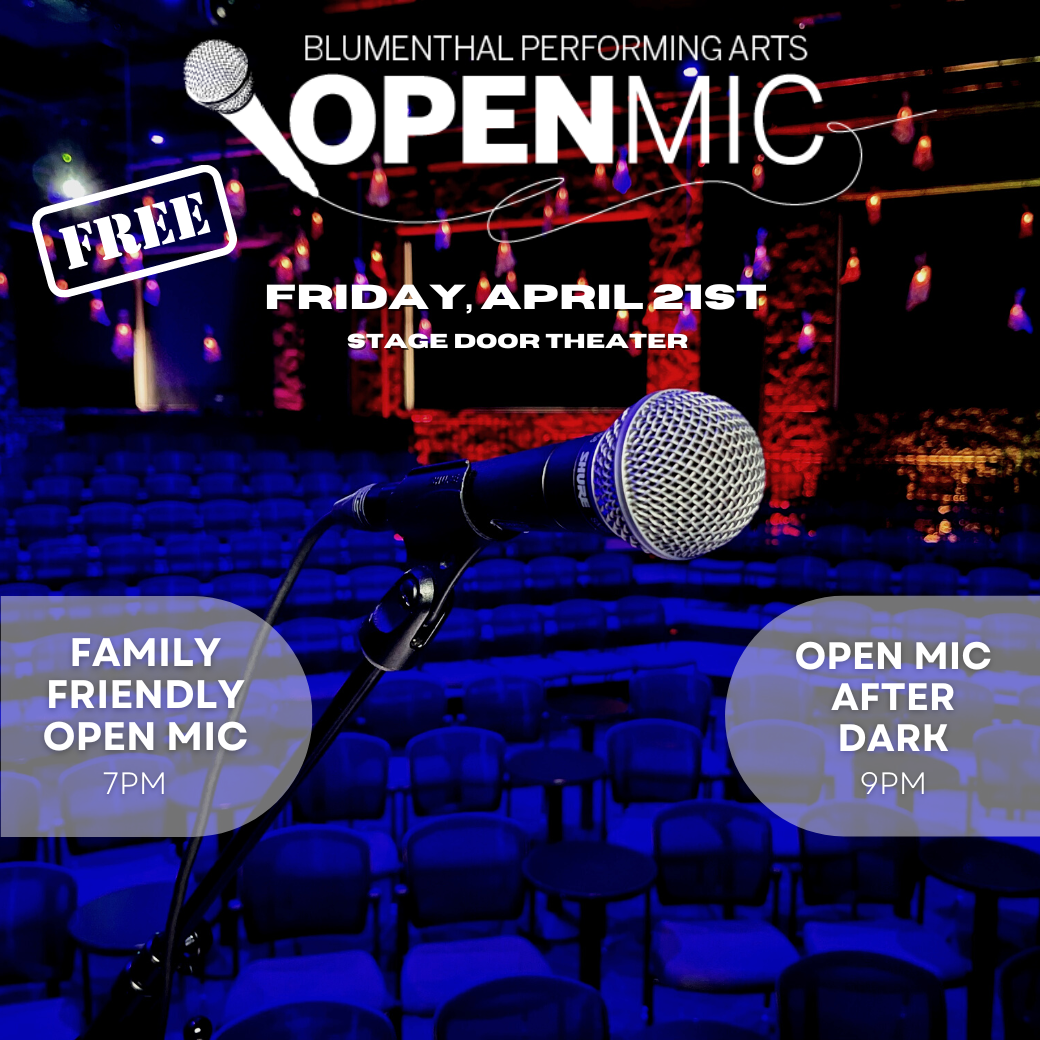 With each show featuring about 12 - 15 acts, there are more opportunities than ever for local talent to get on stage, and the new format gives artists more flexibility to tailor their work to different crowds. For comedians, in particular, Hailstock said it opens up possibilities for more adult-directed humor.
With After Dark, "it's totally ok for you to use some salty language or to tell jokes that may go over the heads of an eight year old because there may be eight year olds in the audience, or performing, along with the Family Friendly line up."
2. Open Mic has a new home
After trying out a couple spaces, the series found its eureka moment with Blumenthal's Stage Door Theater. The venue seats about 250 people and provides an intimate stage-setting, just right for open mics, Hailstock says.
With window shades pulled up and sound pouring out at the corner of 5th and College streets, Stage Door Theater is also an ideal spot for attracting foot traffic.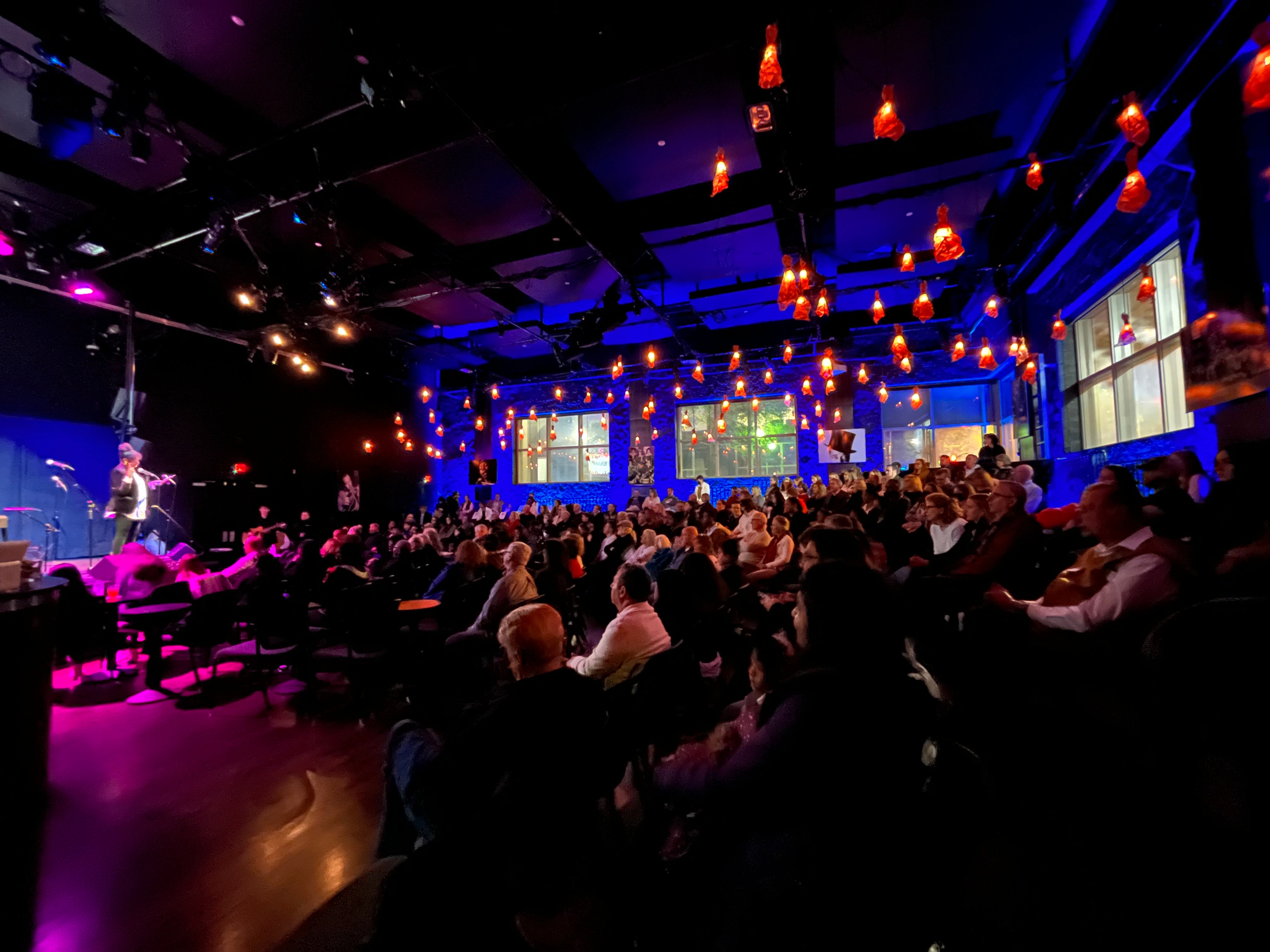 "People will pass by and will stop in just out of curiosity," she says. "So, we realized we were onto something with that location."
3. It's Still Free for All
It doesn't cost a dime for performers to participate or for audience members to attend.
Beer, wine, liquor and soda are all available for purchase, for those who would like it. But beyond that and possible parking costs, Open Mic Night is an opportunity for a free night of quality entertainment.
4. It's Got Tons of Variety
Open Mic Nights regularly feature singer-songwriters, cover bands, dancers, stand up comics, and spoken word artists. Hailstock is always on the look out for other types of entertainment, too, like magicians, jugglers, and contortionists.
"Anything that you would not expect to see," she says. "I really, really like somebody like that to come and kinda turn this open mic on its ear."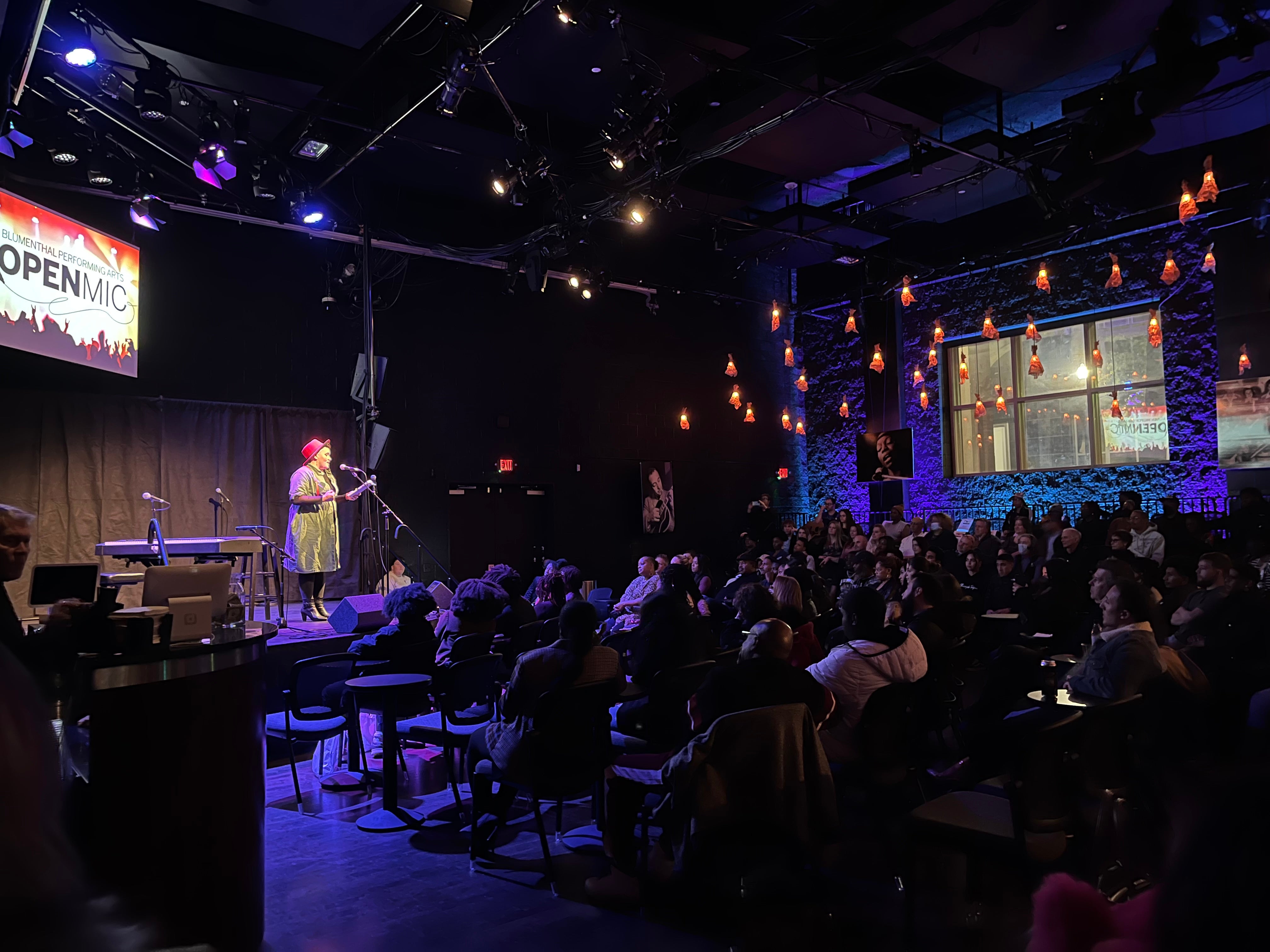 5. A Professionally Produced Event That Can Lead to More Opportunities
Yes, it's an Open Mic night but Hailstock says performers and audiences should know these events are also professionally-produced.
"It goes back to curating a show that we believe not only will be entertaining, but will be appropriate, and is something BPA would put its stamp on," she says. "This is still an event that is presented by Blumenthal Performing Arts."
It may also lead to other opportunities down the road.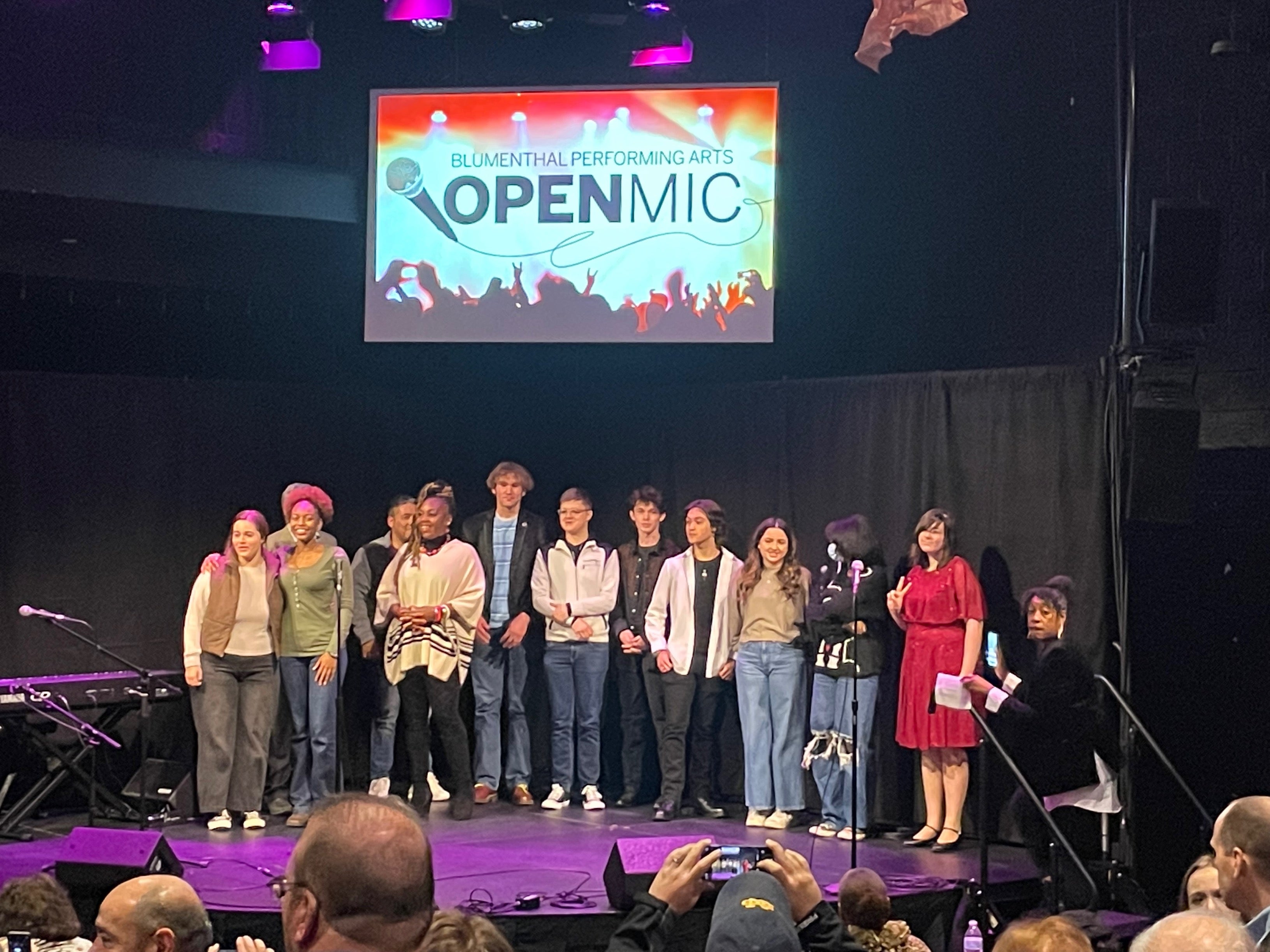 At each Open Mic, audiences vote to choose their favorite acts and each year a special "Best Of" event is organized. Last fall, these select performers were featured on the festival stage during Charlotte's International Arts Festival. Plans are underway for a repeat of that during this year's CIAF, too.
And you never know where else performance experience will take you. Some past performers who got their start at Open Mic Nights, like local comedian Tara Brown, have gone on to professional careers.
"It's a great way to continue to hone your act," Hailstock says, "and give yourself some exposure."
Check out the next Open Mic Night
Friday, April 21
Stage Door Theater (155 N. College Street)
7 - 8:30 pm - Family Friendly
9 - 10:30pm - After Dark
Get there early to guarantee your seats!
Interested in performing at the Friday, June 23 event? Submissions will open Monday, May 8. Click here for details on how to submit your act to the lottery.