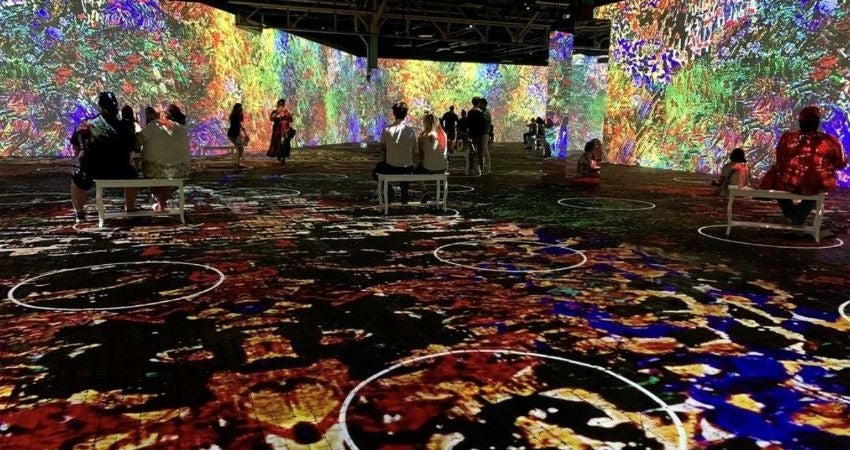 From (Local) Art to Yoga: How Immersive Van Gogh Has Inspired Charlotte and Why People Keep Gogh-ing Back for More
It's no secret that Immersive Van Gogh's Charlotte run has been a big hit—drawing over 290,000 attendees—and twice extended by popular demand. But did you know thousands of Charlotteans have also come back to see the show multiple times?
Part of the show's ability to draw repeat audiences comes from the phenomenal interactive experience itself, but Immersive Van Gogh Charlotte has also successfully connected with the community in unique ways, using its platform as an opportunity to showcase local talent and reach new audiences. Here are some of the exciting things that have been happening over at Camp North End these past months.
REMEMBER: If you've been putting off a (return) visit, you only have until Jan. 2 before it's gogh-ing, gogh-ing, gone! ---
Local Artists Have Been an Essential Part of IVG
For Kelsey Sewell, the Charlotte run of Immersive Van Gogh has been something special. As Project Coordinator for Lighthouse Immersive, a producing partner of the show throughout the U.S. and Canada, she brings a unique perspective on what success looks like and how this project can grow and improve. By early 2022, Lighthouse Immersive will be overseeing IVG exhibitions in 18 different markets.
"My trip to Charlotte was really integral in my development of those ideas," Sewell says.
One of the things that has impressed Sewell most in Charlotte has been the high level of community engagement, which she particularly attributes to the work of Blumenthal's Director of Artistic Experiences Bree Stallings, who brings her own background as a working artist and deep-rooted community connections to the project.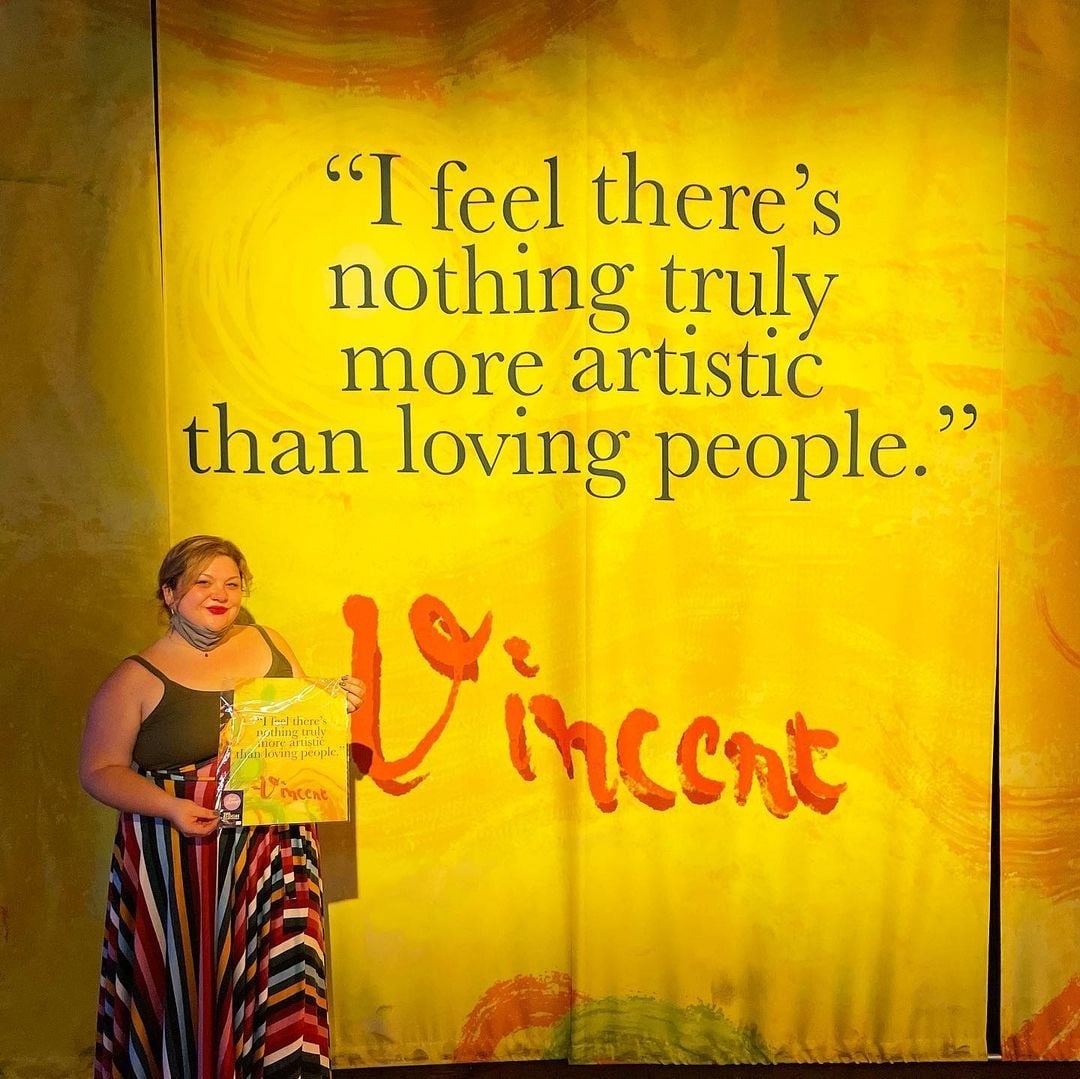 (Blumenthal Performing Arts' Director of Artistic Experiences Bree Stallings)
By the way, Stallings was recently named Critic's Pick for Best Hire by QC Nerve's "Best in the Nest 2021" and Immersive Van Gogh, under her direction was named Best Residency.
About that Artist in Residence program, which also has had iterations in cities across the country, like San Francisco, New York, and Denver: Charlotte's version has been exceptional.
"I was blown out of the water by the sheer number of people who applied for this program in Charlotte," Sewell says, "and it's been the most successful of all of our markets." Since June, there have been 15 different artists selected—more than any other city—for these month-long paid residencies, which also include dedicated studio space and the opportunity to exhibit and sell their original works to Immersive Van Gogh attendees.
IVG Charlotte has engaged local artists in other ways too. More than 50 visual artists in all have been put to work in some capacity, including transforming the old Ford Factory at Camp North End into something spectacular by painting murals, outdoor picnic tables and even Van Gogh-inspired dumpsters. "You go into this [industrial] space and you're not expecting it," Sewell says, "and there's these beautiful art panels that Bree designed and all these sunflowers and the windows, and the vaulted, open ceilings and it's just a beautiful space."
There have been cool arts events too, like Rap Van Gogh and SlamCharlotte's Poetry Slam, which have added new, innovative ways to use the space, as well as workshops for school groups. (More than 3,400 subsidized tickets were part of this effort to bring in students, teachers and community members to the exhibition and the "Give It A Gogh Studio.")
Sewell caught the recent "7 to Gogh - 1v1 B-Boy Battle" while she was visiting Charlotte. "It was incredible," she says. "It was so unique because it introduced a whole new market of people to Immersive Van Gogh, which was very cool, very inspired… I thought that that was ingenious and something that I would like to copy and paste everywhere!" (7 to Gogh - 1v1 B-Boy Battle)
Opening New Doors for Local Artists to Sell Their Work
IVG Charlotte also has provided local visual artists like Marie Hasty and her family the opportunity to turn their original artwork into merchandise, available for purchase in the gift boutique. Marie has always made art with her mom and sister, informally, but this was the first time they have worked together professionally. They call their family arts collective, Hasty Ladies.
During the day, they all have other occupations: Marie is a former nurse turned medical copywriter; her mom Cathy, an ordained minister, is on the teaching faculty at Novant Health, supporting Faith Community Nursing; and her sister Jeanine is a student at North Carolina State University, majoring in Graphic Design.
"All three of us just feel like we've learned a lot," Marie says. That includes learning to transform their creations into popular merchandise formats like stickers, magnets, and prints as well as developing new business skills to devise packaging, collaborate with distributors and gain an understanding of supply chains.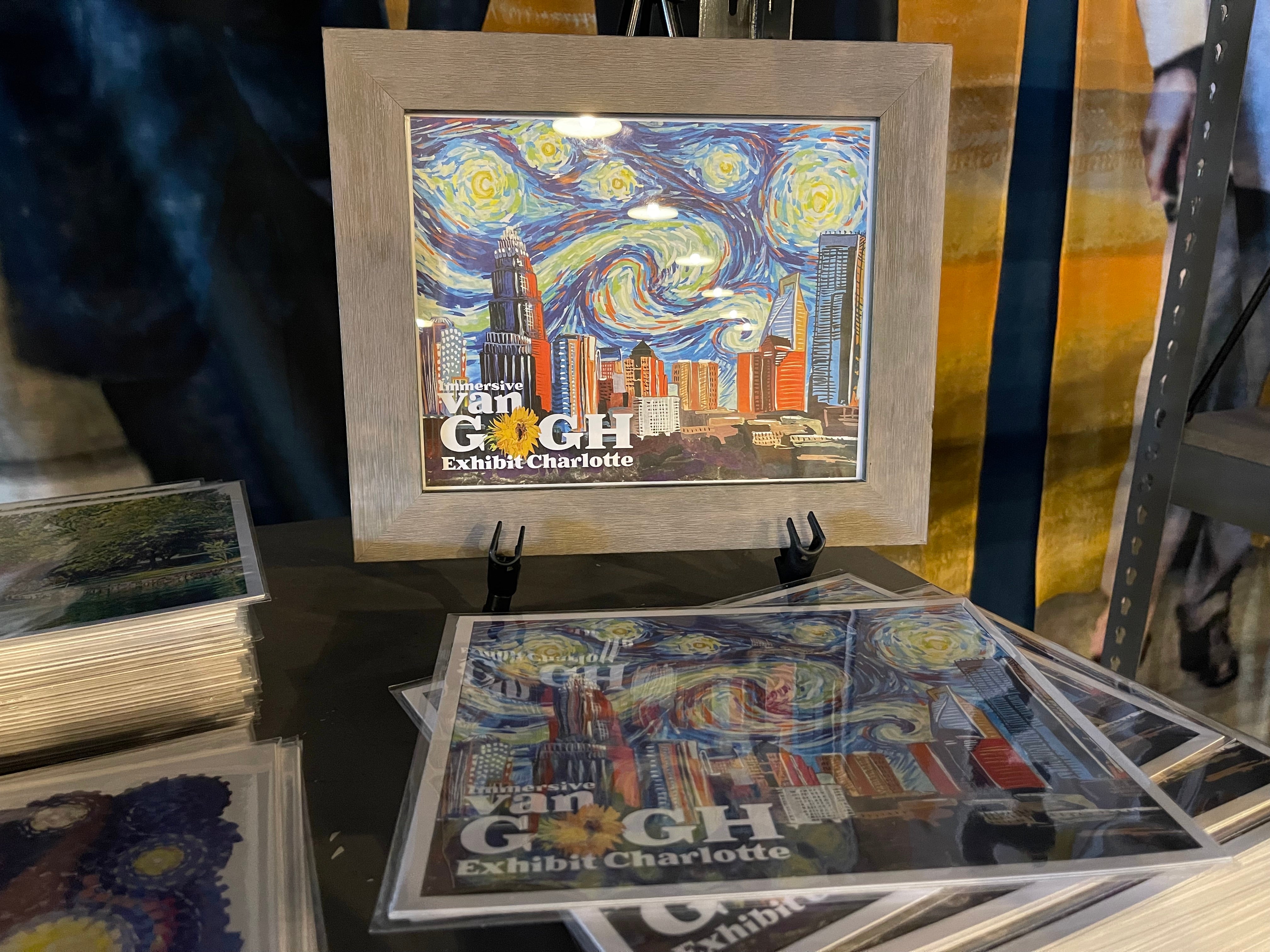 (A van Gogh inspired Charlotte skyline print, created by Jeanine Hasty, available for purchase at Immersive Van Gogh gift shop)
And they have been amazed by how much they have been able to sell at the boutique, Marie says. Every month the sales reports have included pages and pages of sales. As of this writing Hasty Ladies has sold more than 4,000 pieces of their merchandise in the IVG gift shop.
"We invested a lot on the front side… but I don't think we expected to actually make any money back so that has been a really nice surprise," she says.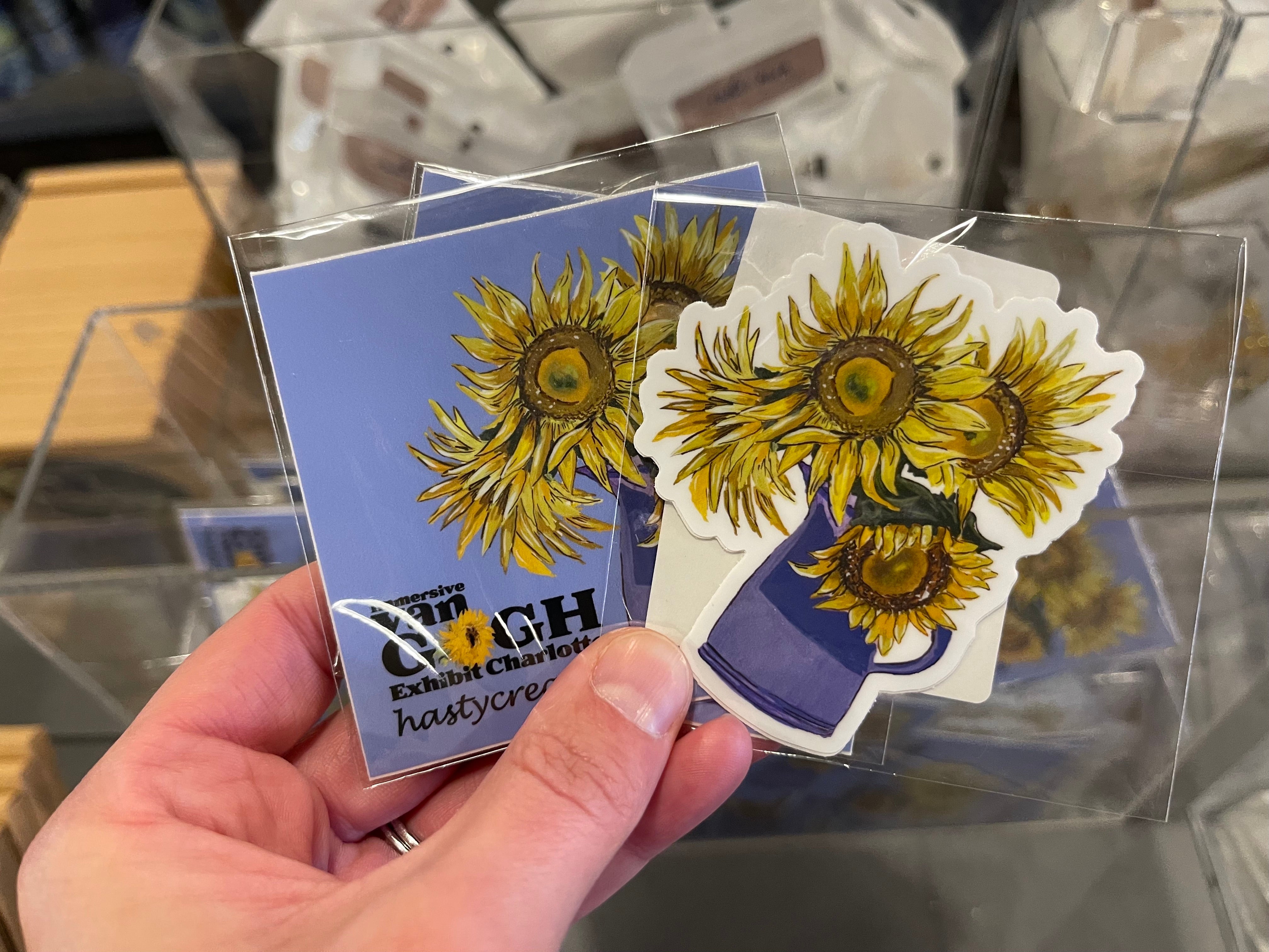 (Hasty Ladies merchandise available for purchase at the IVG gift shop)
IVG has also given Marie the confidence to create more original works and explore pursuing gallery opportunities in town. "I think the show has kind of opened my mind to where I could go next," she adds.
PRO TIP: If you're looking for unique gift ideas, be sure to stop by the boutique—no ticket needed—where you'll find hundreds of Van Gogh themed items as well as original artwork by many different artists. FYI: Hasty Ladies merchandise and prints range in price from about $10 - $200. "I was just there… and they've got so much new, fun stuff up for the holidays," Marie says. "So it's a good time to check it out." Yoga at IVG—Innovates and Enriches Community Experience in Multiple Ways
For Charlottean Kristin Mavromatis, the IVG boutique has been a fun source of gifts to give to friends now and later, each time she has visited the show. (3X in all!) But the big draw for her came in another package: experiencing yoga in this unique setting. (Note: the yoga program is sponsored by Lifeway Kefir.)
"The yoga instructor was amazing." Mavromatis says, recalling her first experience at Immersive Van Gogh, during which the instructor emphasized standing poses for the entire session, enabling the small group to completely focus on the show from beginning to end.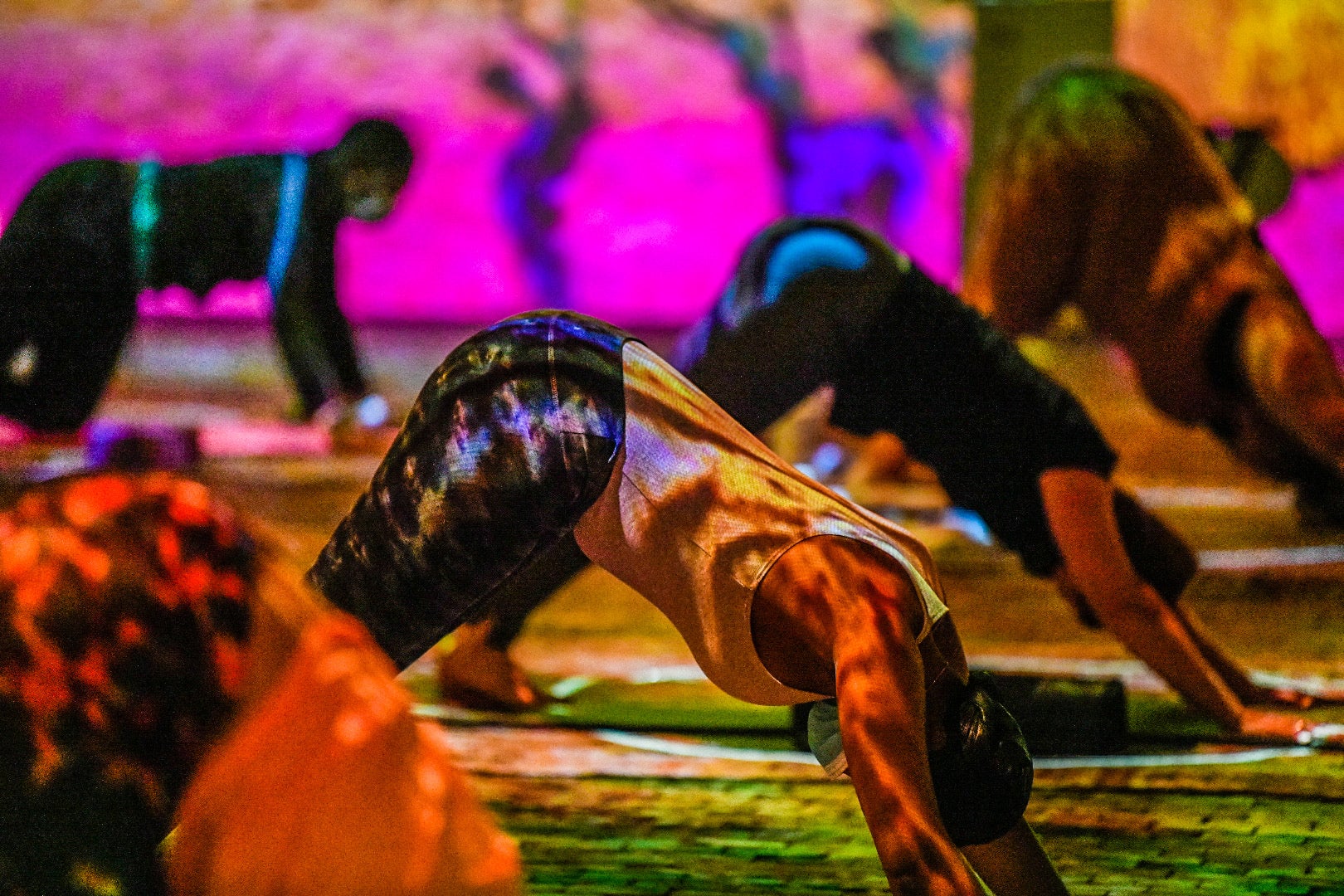 "I had so much fun with that," she says. "A whole bunch of friends wanted to go." So, she came back multiple times, including for another yoga class and a regular evening viewing.
"It was great to see it two different ways," Mavromatis says.
Each instructor has brought their own special take to the experience, says Jasmine Hines, a cultural change organizer, connector and educator, who has been teaching yoga at IVG. She found inspiration for her classes in the images swirling around her, as a way to awaken the senses and bring the art alive.
For example, she incorporated a chair pose into her practice when chairs appeared in the exhibition, as in "Bedroom at Arles;" an airplane pose when the room was filled with blades of glass; and a tree pose when Van Gogh's distinctive olive and cypress trees appeared.
"To do the poses that complement the artwork has been a really fun and creative source for me," says Hines, who is the founder of Amplify and Activate, a nonprofit organization that has built a learning community dedicated to the philosophies and practices of yoga as a means to promote self-care and social justice.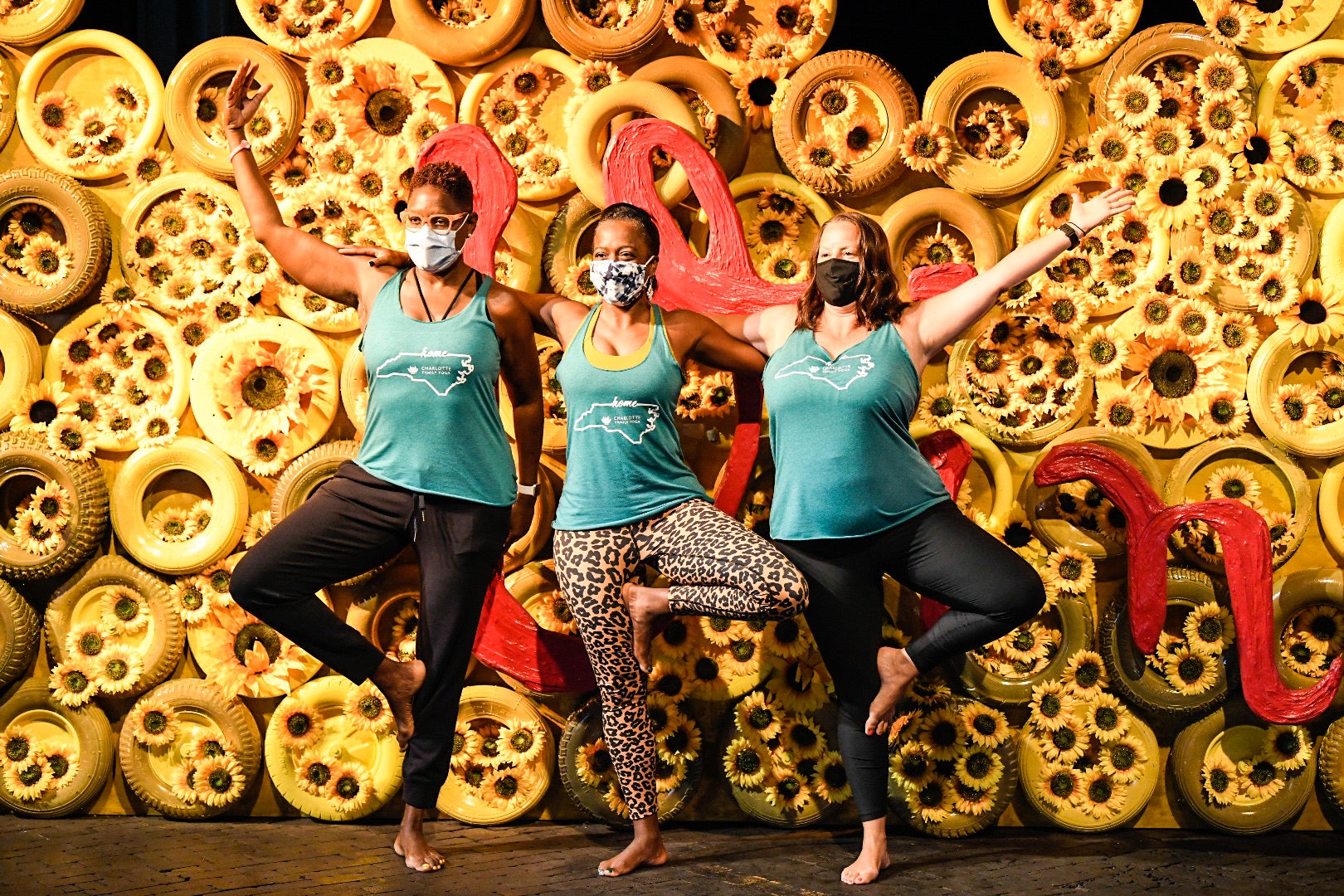 She started her nonprofit five years ago because, at the time, she noticed there weren't a lot of Black yoga teachers visible in the studio and other mainstream spaces. There was a predominant stereotype among studios that a yogi had to be a certain way: young, white, thin, hyper-athletic, hyper-flexible, wealthy and cisgendered, for example. That seriously limited who was even attracted to the practice.
"I wanted the opportunity for more spaces to open up so that people of color and Black instructors could participate and share the way that they teach because I think we just give it a little different flavor," she says. "...And I think everybody benefits."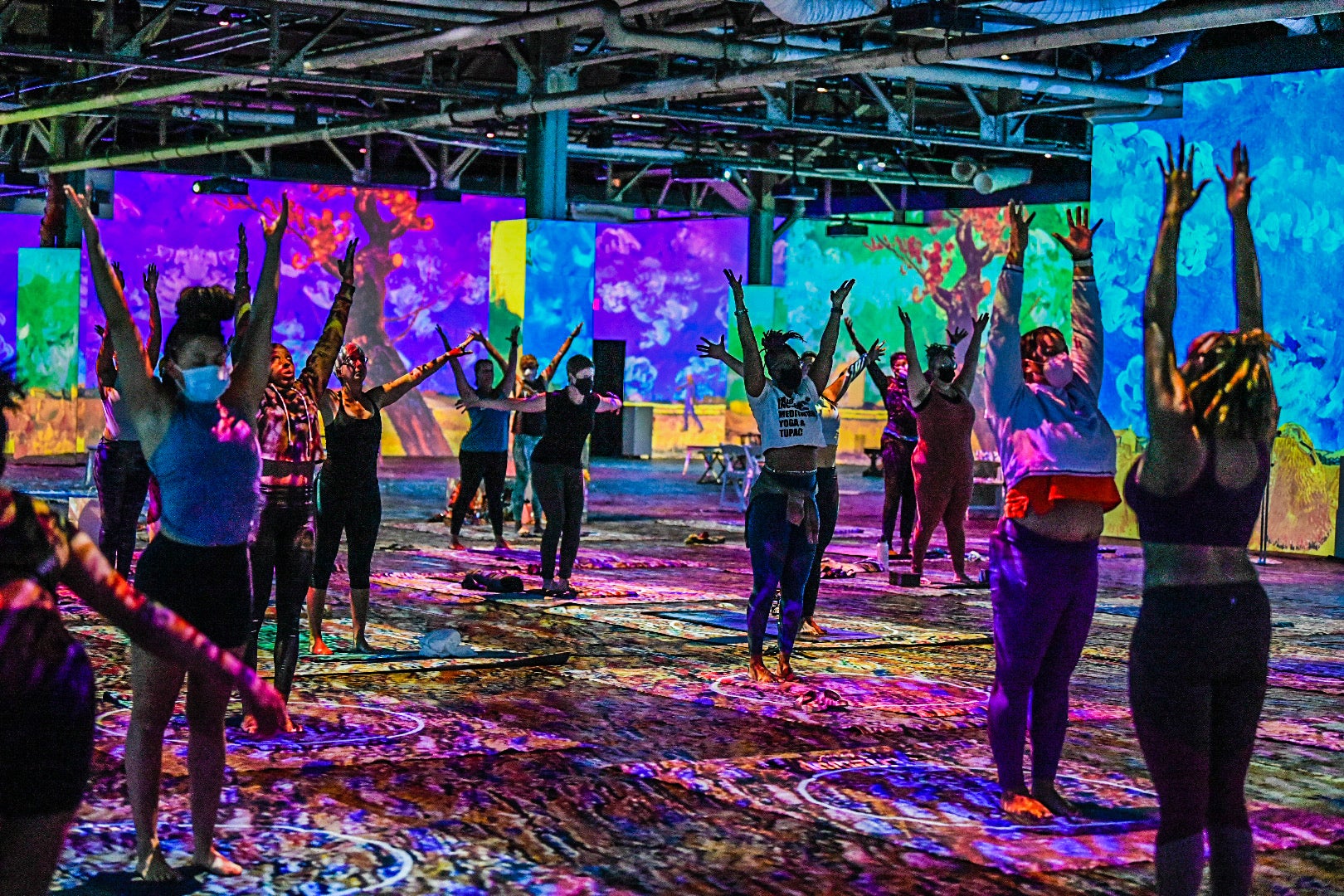 Blumenthal, through the leadership of Stallings and Boris "Bluz" Rogers, director of creative engagement, has intentionally focused on hiring Black women as instructors at Immersive Van Gogh.
"We need more of that in Charlotte… to bring more into the folds of traditional spaces but in nontraditional ways," Hines says. "We've really got to think more outside the box, and the arts is one of the best places to do it. And I think that Charlotte is so super lucky that we do have such amazing, talented artists that are helping to break the mold."
Only TWO Gogh with Lifeway Kefir Immersive Yoga classes remain (December 26th and January 2nd)! For tickets, visit: https://vangoghclt.com/yoga-classes/